YouTube Marketing: How To Grow Your Small Business' Brand
Sam has run a small business for three years now. What started as a small shop is now a full-fledged business, and she cannot wait to grow it more.
She knows the audience exists, and the business has the potential to go big.
But this cannot happen without her embracing social media to its fullest. So a couple of months ago, she dove into research and to figure out where to begin. And YouTube marketing for small businesses caught her eye. This is no surprise since YouTube is one of the most popular and densely populated platforms with 2.29 billion active users.
If you are in the same boat as Sam, you are also poised to take advantage of the same opportunity.
A cursory look at your YouTube homepage will show you that the scope to create content on YouTube is huge. There is a lot of variety, so you can pick what feels comfortable and on-brand for your business.
But, what to pick? What content types work the best? And the biggest worry – isn't YouTube more of a creator space? Can a brand survive there? Will it bring sales and revenue, or is it just for brand exposure?
Taking on a new platform is always challenging, and questions like these are all but natural.
Before we tell you how to create content on YouTube to grow your business, let us take a look at the platform's impact.
YouTube Marketing For Small Businesses
When you invest in YouTube marketing for your small business, you are usually operating on a tight budget, schedule, and with limited resources. So the platform needs to be worth it to deliver the ROI you are looking for.
So why is YouTube a good platform for small businesses in 2022?
Second largest platform
YouTube is the most popular social media platform, right after Facebook in terms of the number of users. With over 2.29 billion active users, you can reach your ideal target audience easily on YouTube.
Content creation only has meaning when the content reaches the audience. And when you invest in YouTube marketing you don't just get a platform to post content on. You also get a platform that promotes your videos and makes them reach more people.
Reach diverse audiences
You know how Facebook is said to be for Boomers and Generation X while Snapchat, Instagram, and TikTok lets you engage Gen Z? What if you could create content and market on a platform that has the best of both these worlds? And everything in between?
Over 75% of Americans between the ages of 15-35 are on YouTube. And research shows that baby boomers and Gen X are the fastest-growing demographic on this platform. And their watch times are higher. Overall, 81% of US adults widely use YouTube.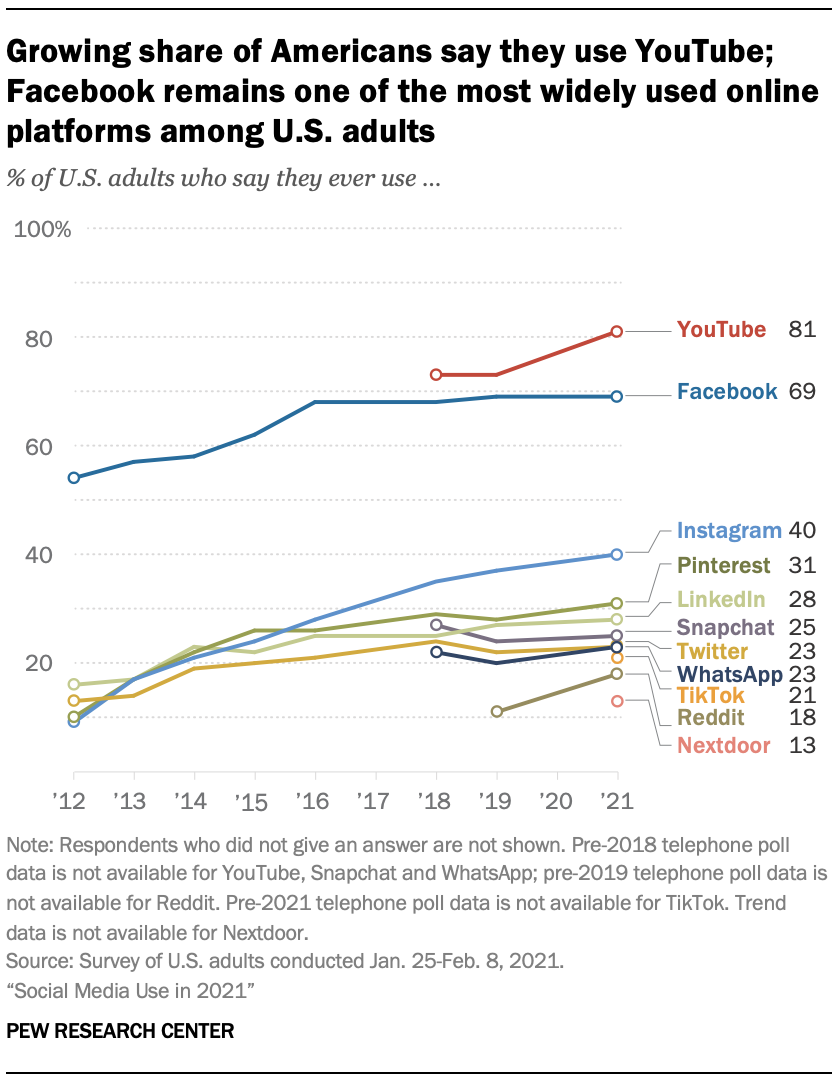 A juicy piece of information for marketers on YouTube marketing is that the decision-makers and authority figures of large brands and Fortune 500 companies are active on here too. In fact, almost 50% of B2B decision-makers use YouTube for research.
Grow branded video content
Video is the present and the future of content marketing. There is no denying it. A Cisco study predicted that 82% of global internet traffic will come from video content by 2022. Well, we are 2022 now and if you haven't invested in video marketing yet, yesterday was the best day. The next best day is today!
And also, branded video content drives sales and revenue. 70% of YouTube users agree that video has convinced them to make a purchase. An Ahrefs study says that 52% of the top 100 searches contained branded searches. This means customers are using YouTube as a discovery platform to know more about their favorite brands and creators.
And that is why over 62% of businesses in the US view YouTube as a primary content distribution channel.
So now you know: YouTube is not just a place for creators and entertainers. It is a platform that holds a lot of value for brands too. And if you want to know more about video marketing, check out your blog on video marketing statistics.
10 Small Business YouTube Marketing Ideas
We know your YouTube content marketing strategy needs video content. But what do you create on this platform to stand out? A strong content strategy with diverse content is important to attract and keep your audience engaged for a long time.
In this section, Kimp brings you the top video content ideas for your small business to grow on YouTube. Let's dive right in.
1.YouTube Marketing: Brand Story
Once you have set up your branded YouTube channel, the first video must be an introduction to your brand. Now, this is a video, so it can't be in the same tone as how you write your "About Us" page. It has to go beyond that and make customers feel good about interacting with your brand.
We recommend adopting a storytelling approach to describe:
Your mission/vision
The problem you are solving and the solution you propose
Your USP
An overview of your products
Generally, every YouTube channel has a channel trailer that you can pin to the channel's page to tell your customers about you. Use this option to display your brand story video.
Kimp Tip: The brand story video can follow a straightforward business-like approach or go the cinematic way. Consider it as a trailer to promote your business. And if you feel producing a cinematic video is beyond your capacity, get a design subscription like Kimp Video for animated videos.
Animated videos are becoming increasingly popular nowadays to present a visually engaging brand story.
2.YouTube Marketing: Unboxing videos
Small businesses face more friction in the sales process than any established brand. Even though social media has made a huge difference in reducing this friction, the apprehension is still there amongst consumers.
But your content marketing can change that. The more content you create to share your brand transparently, the less your customers will be apprehensive. One video content idea that is quite popular on YouTube, and also helpful here, is an unboxing video.
Yes, unboxing videos help consumers know what exactly they are getting into. If you can collaborate with a subject expert/influencer on this, all the better.
We already covered that customers use YouTube as a discovery platform, so with unboxing videos, you can tap into this and make a great first impression. Use the right tags and product descriptions to make your video easy to discover.
Kimp Tip: The YouTube algorithm promotes videos when customers seem to like them. So focusing on the little things can improve the user experience on your videos. Include text overlays, closed captions, chapter markers, and well-edited intros/outros.
Sometimes editing makes all the difference and makes the simplest videos shine. Looking for a video editing team with unlimited design requests per month? Try Kimp Video!
3.YouTube Marketing: Product promotion videos
When you know customers are combing through YouTube content looking for product recommendations, the pressure is high to make yours shine. Informative content can drive sales and revenue for your small business. 
But what can you create for your YouTube channel that is promotional and informative?
Well, according to the 2022 Video marketing trends report, this is what you need in your YouTube content calendar:
Product demos
How-to videos
Tutorials
FAQ videos
Gift guides
70% of the Millennial YouTube audience is there because they think they can learn something new from the platform. So, how-to videos and tutorials are widely popular. And gone are the days when people preferred to read instructional manuals. Specifically, YouTube users are 3x more likely to watch a product tutorial or demo than read the same via text.
How-to videos work for SaaS companies and product-based companies too. This is a format you should not miss out on.
If you need any inspiration for creating engaging how-to videos, check out our guide here.
4.YouTube Marketing: Leverage the Community section
Did you think YouTube is just a place to upload videos and then hop on to other platforms to promote them? Well, it was that way. And the comment section was the only place a brand and the audience could interact.
All this changed when YouTube introduced the community feature on the platform. Now, you can announce your videos, promote them, interact with your audience, and create fun content to keep the momentum alive.
This is another attempt from YouTube to keep its creator community and the user base firmly inside the app itself. And it seems to work.
And if you want your videos to reach your audience base quickly, we recommend you leverage this feature to the fullest.
Create interactive content such as product teasers, video countdowns, GIFs, polls, and more to engage your audience.
Kimp Tip: Do not stress yourself thinking about all the additional content you have to create. Remember repurposing your content is good. You are already creating promotional content for your videos for other platforms. Just repurpose them here, and you are good to go.
5.YouTube Marketing: Know the team
The need for authenticity is constantly growing in our world. People no longer want to engage or buy from faceless brands and care about the people behind the brand. So, you cannot get away with creating just product-based videos and expect the audience to transform into loyal customers. You need something more.
Being a small business, you may have a very close-knit team with less than 3-5 people working on a myriad of tasks. Bring that side of your business out for the world to see.
Some popular video formats that can achieve this are:
Company Culture videos – Showcase your values, the purpose that drives you, what it is like working for your brand, and so on.
Employee profiles – Highlight your employees; showcase their talents, unique value proposition, and why they make a difference in your organization.
Employees as influencers – Why go to influencers for your unboxing videos, FAQ videos, and so on when your employees can take the spotlight. It is much better listening to someone who knows and cares about a brand than an influencer who may not be connected directly to the mission.
6.YouTube Marketing: Video blogs
Do you consume a lot of content on YouTube or Instagram? If yes, then you know how popular vlogs have become with audiences. People like seeing unedited footage of what goes on behind closed doors, and this applies to branded content as well.
As a small business, your biggest USP is that you are not as faceless or distant as large brands are. So leverage this and launch vlogs on your channel right away. It can be anything you feel customers will enjoy seeing. You can even conduct polls on the community tab to understand what customers will want to see.
Some video content ideas for vlogs are:
A day in the life of your CEO
Product launches prep and setup
BTS of commercials
Factory visits to show the manufacturing process and display transparency
Store visits or tours
Travel vlogs
Kimp Tip: Vlogs are actually some of the easiest content forms to produce on YouTube for a small business. Just shoot with your smartphone and hand your footage over to an experienced team at Kimp Video to edit and sync it all up. You can also enhance your footage with stock audio, intros, text overlays, closed captions, and promotional links depending on your vision and goal for your video.
7.YouTube Marketing: Trending YouTube Shorts
Trending content is like a superstar cameo for your small business' YouTube channel. It does not have to be there for a long time, but hey, that 5-minute appearance can make your channel a runaway hit.
Trends and topical content are great for capturing user attention and making a little money from easy-to-access topics. But coupled with the YouTube Shorts platform, you have a recipe for success.
Short-form content has been becoming the internet's golden child for a few years now. Ever since TikTok and Instagram reels gave people a taste, they want nothing else. And YouTube also has a platform to promote your quick 30-second to 1-minute long videos.
And you do not have to worry about creating just topical content on it. You can:
Repurpose product demos
Create quick tutorials or FAQ videos
Launch cinematic product trailers or teasers
Promote discount campaigns or ongoing sales
Kimp Tip: YouTube shorts are quite similar to Instagram Reels or TikTok, so the optimization techniques are similar too. Work on capturing the audience in the first ten seconds itself. Focus on engaging thumbnails as well to stand out. And most important of all, optimize your YouTube shorts for mobile viewing.
8. YouTube Marketing: Testimonials
Social proof is the biggest asset any brand can have. As a small business, you have the space and culture in your organization to build close relationships with your customers. So collecting meaningful reviews, video testimonials, and so on becomes even easier.
Customers are more likely to be convinced by a testimonial than any product video you can create. So ensure that your small business' YouTube channel features reviews and testimonials frequently.
You can also create a playlist for testimonials on your channel's homepage so that they are easy to discover. Just like Kimp has done on our YouTube channel.
9. YouTube Marketing: Emotional storytelling videos
What would you prefer – an outright statement about a product's value or a story that shows it? We know what we prefer, and we think you would agree too.
Having emotionally connecting storytelling videos about your products and services on your YouTube channel can be a huge advantage. And this applies to all industries, every product benefits from these types of videos.
This is ideal for:
Fitness brands
Tech brands
Makeup brands
Health brands
Ecommerce brands, and so on
Some examples of these videos are:
Transformation videos for fitness/health brands
Before/After videos for decor brands
Problem-solving videos for ecommerce and tech brands
Personal stories for makeup brands
These videos can be a little production-heavy. That is why we recommend mixing it up with a few animated and narrated videos to save costs and resources.
Kimp Tip: Having a brand mascot makes an emotional connection with your audience much easier. It puts a face to your small business and gives people something to visualize when they think of you. And video creation with animated brand mascots is quite fun too.
Consider a Kimp Graphics unlimited graphic design subscription for a brand mascot design. And if you would like to animate it, try a Kimp Video unlimited video design subscription!
10. YouTube Marketing: Interviews with Experts
Information is gold, and if you give it away for free, then you have the chance to build a loyal community that values you. That is why branded podcasts work so well. But how can you apply that formula to YouTube in a way that is not connected to your products?
Invite your peers, colleagues, and industry mentors for interviews on your channel. Pick their brain on important and relevant topics for your audience.
For example, if you run a sustainable products business, you know your audience cares about these concepts. So call upon energy experts or sustainable supply chain management experts to elaborate on these topics.
These videos have many benefits:
Builds a relationship with your audience
Establishes your authority in the industry
Showcase the value of your products and the big picture to your customers
Improves the engagement rate of your channel because customers are more likely to view these videos fully
And the best part is, these videos work well on other platforms too. You can repurpose them as podcasts, Instagram reels, YouTube Shorts, Twitter videos, Audiograms, and so on. But remember to ensure that the audio quality is top-notch.
Looking for ideas to repurpose video content? Check out our guide here.
How to grow your small business with YouTube Marketing: A Checklist
This blog was long and full of information, right? TL;DR? No worries, we've got you covered with a summary so that you retain the main points – another feature your YouTube videos should have, by the way.
Create videos that can build an emotional connection between you and your audience. Brand story videos, team introductions, video blogs, storytelling videos, and testimonials are some great examples.
Instill value into everything you create. Bombard the customer with information so much that they look nowhere else. Create product demos, tutorials, how-to videos, and expert interviews for this.
Leverage trends and community features to the fullest and get maximum reach.
Optimize all your video for a good mobile viewing experience. Do not discount the value of audio content.
Build your Small Business' YouTube Marketing campaign with Kimp
Starting a YouTube channel or maintaining it is no easy task. It literally requires a village to set up a channel, come up with ideas, execute them, and repeat. Not to mention, keeping up with trends and changing guidelines is a challenge in itself.
But when the reward is so good, who can resist it?
And to make it easier on you, Kimp offers an unlimited video design subscription – Kimp Video for all your editing and design needs You can request unlimited design requests and revisions at a flat monthly fee. No hidden charges and no compromise on quality.
If you want a service that handles graphic design too, check out our Kimp Graphics unlimited graphic design subscription as well.
Sign up for our free trial to see how it all works!