Facebook Marketing: 8 Design Tips For Small Businesses
What do you think of when we say "social media"? Probably Instagram, Twitter, or Snapchat based on your age.
But social media as we know it would not exist if not for a platform many have come to see as kind of boring. Yes, we are talking about Facebook.
Facebook is a pioneer in the social media world and is also the reason why businesses can now reach their customers instantly.
But with all the hype that Instagram, Twitter, TikTok, and Snapchat get, some businesses have stopped concentrating on this platform. And we truly think that is a big mistake.
Facebook can change the way you do business and take you in front of so many potential customers faster than you can imagine. After all, who knows how to improve your engagement and reach more than the OG?
Mastering the Facebook algorithm can be a challenge, and we totally understand your apprehension about investing in yet another platform. But, the benefits are too big for you to ignore Facebook. Especially, if you are running a small business.
Facebook Marketing & Small Businesses
Contrary to what many people may think, Facebook continues to be the top social media site based on the number of users. As of 2022, 2.91 billion users are active on Facebook. And when we factor in the fact that there are only 3.96 billion users worldwide, that number is too big to ignore.
And it is not just the total number of active users. Even in terms of time spent on the app, consumers spend 19.6 hours per month on Facebook. This number is close to the number people spend on TikTok, closely followed by YouTube.
These numbers clearly tell us that Facebook is still one of the best platforms for small businesses to invest their efforts in. Businesses have to be where their customers are, and they are certainly on Facebook.
Organic reach is a little challenging on Facebook because of the iOS 14.5 updates and Facebook's algorithm prioritizing intra-user interaction over their engagement with a business page. Standing out is also a challenge as Facebook sees a very heavy volume of content every day.
And that is why 93% of marketers use the paid channels on Facebook to improve the reach of their content.
Traditionally some topics do better than others, and if you know how to tap into the hot topics, you can skyrocket the reach of your business. A breakdown of the most popular topics on Facebook is below for your reference.
So if you are a small business, how do you approach Facebook marketing? What content should you create, and what are the tips to look out for?
We know that this is a challenging topic for small businesses, and the next section by Kimp covers all you need to know.
8 Facebook Marketing Content Ideas for Small Businesses
The Facebook algorithm values content creators and business pages when they bring out variety in their content. Unlike other social media platforms that promote one type of content over others. So for Facebook, you need a healthy mix of images, videos, GIFs, interactive, outbound links, textual posts, reviews, and other user-generated content for success.
Facebook also needs you to post over one post a day, and brands actually see a drop in their engagement rates when they post just once.
All this means is that you need a horde of content if you are gonna be successful in Facebook marketing for your small business.
But what to create? What is relevant? Let's take a look.
1. Facebook Reels
Let's begin with the blockbuster content type itself. We know that short-form video content is taking over the world, and there is no escaping it. Everyone loves to scroll through quick, engaging, and informative content, and the audience on Facebook is no exception.
So even if you are working on Facebook marketing and content, reels or short-form video content must be on top of your list.
Facebook reels have many benefits such as:
Video watch times are higher for short videos and this boosts your business' overall engagement rate.
Engaging and viral Facebook reels can take you to Facebook's suggested pages and help in follower acquisition.
You can attract younger audiences by creating this type of content.
Kimp Tip: If you have an existing Instagram account and have reels there, we recommend repurposing them for Facebook initially. But, as you grow on Facebook, you must analyze your engagement data and customer demographics to tailor the content to them.
Check our blog on Instagram reels ideas for businesses for inspiration if you are looking for some. And if you want to create some engaging short-form video content for your brand, take a look at Kimp Video.
2. Facebook Stories
This may be another Instagram and Snapchat-esque feature but trust us, when we say Facebook stories are in another league altogether. Around 300 million people view and use stories on Facebook every day, and you can easily reach a wide audience with this feature.
The team at Forbes believes that businesses that use Facebook stories can better engage their audience and also generate higher inbound links for their website and stories. They also feel that this is a feature that will make a large impact in 2022.
What can you post on Facebook stories?
BTS of production processes if you work in the food business
Quick tutorials and how-to content to make life easier for your consumers
Employee feature to connect with the audience
AMA sessions
Teasers and trailers for your product release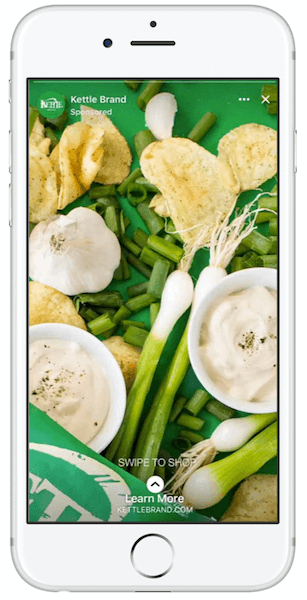 Kimp Tip: If the budget allows, we also recommend working on paid story ads or sponsored stories. They have a higher reach and can be instrumental in follower and user acquisition. Video works the best in stories, so we recommend using that to promote your brand and product.
3. Facebook Carousel Ads
We know that organic reach is a pain point for all businesses on Facebook. While there are ways to achieve organic growth as part of your Facebook marketing, you should not limit yourself to them.
Facebook ads are some of the best types of social media advertising because of the ROI they deliver by targeting the right audience for your business. If you get the design right, you can create a successful campaign with the help of Facebook's advertising tools.
In fact, Kevin Simonson, CEO – of Metric Digital wholeheartedly vouches for its effectiveness. He confirms that one of his ecommerce clients witnessed a 300% increase in sales with remarketing ads on Facebook.
But why Carousel ads?
As a small business, you have to optimize your costs, and most of your sales will come from remarketing efforts. Carousel ads allow you to feature a lineup of your best-selling products without running multiple ads.
And if you want any inspiration for designing Facebook carousel ads, check our guide here.
You can incorporate images and videos in your carousel ads. And with Kimp's unlimited graphic design service, you can experiment with both without hampering your bottom line.
4. Facebook Long-form Videos
Facebook is actually one of the few social media platforms wherein video content is not just about Reels or Shorts. Here, actual long-form informative, engaging video content works well. While the watch time for short videos is indeed higher it does not mean the reach for long-form video is dead.
In fact, Facebook has a separate section for videos known as "Facebook Watch", it is a separate tab that means if you create good videos, you can reach new customers on Facebook.
Video ads also have some of the highest CTR and success rates on the platform, so overall video content is a must-have in your content plan.
Some ideas for video content for a small business Facebook marketing are:
Product demo videos
Product explainer videos
How-to content
Storytelling videos on product evolution, brand evolution, and so on
Reviews and testimonials
Kimp Tip: Video production can be a heavy cost for a small business. But when you have a strong video editing team through a Kimp Video design subscription, even videos you shoot on your smartphone can work wonders for your brand. And if you want, the subscription involves simple explainer video designs too. They work well for explainers and demo videos without the production cost.
5. Infographics
As a small business, helpful content must be your weapon of choice in all your marketing campaigns. It shows people that you care and makes them more comfortable shopping for you. And most small businesses usually have a very good blog to handle this niche.
But why not extend it to Facebook as well?
Yes, your audience on Facebook will also love it if they can access your informative and engaging content straight on the platform. You can post links, but we have another idea for you.
Repurpose your blogs and other long-form content into attractive infographics. That way, people can access the same information without leaving the site at all. And they can access it via a visual medium rather than text, which is a huge bonus too.
Infographics are also highly shareable and win large on social media. So this is your sign to repurpose your blogs and podcasts into infographics for your Facebook marketing.
Here is a quick guide by Kimp on social media infographics. And if you need a team to design one, a Kimp Graphics design subscription is just a click away!
6. Memes
What do you eventually want from all your social media efforts? To generate sales, yes, but what is the other bigger ambition you hold? We are willing to bet that it is to go viral with your content. And that is a dream that every small business holds. But the secret to creating viral content is more complicated than ever.
That said, years of creating designs for social media have taught us that if there is one content type that holds the most potential to go viral, it is memes. Yes, we live in a generation when some people exclusively use memes in conversations.
So if you want to make your small business a household name, we strongly recommend investing in creating some high-quality branded memes. Pick up pop culture topics and current events that interest your target audience for higher reach for your memes. Just make sure they're a part of your marketing – they are a must for every small business.
Some even say that Facebook runs on memes, and it is time for businesses to embrace this culture.
Looking for a design team to create branded memes for you? Try a Kimp Graphics design subscription!
7. Interactive content
Anything that keeps people on your posts and profile for a long time is good news. Especially for a small business without a huge advertising budget. But how do you achieve that? In the era of constant scrolling, how do you ensure that someone stops and interacts with your post?
Well, you can ask your audience directly. Sounds absurd? Well, it is not because when there is a clear CTA on posts such as "leave a comment", "share with your friends", it provides better direction to the audience.
But just asking won't help. The content has to entice them to engage, and that is why we recommend small businesses create interactive and gamified content. This includes polls, puzzles, questions, and giveaways. Anything that incentivizes customers to click on the post and engage will help you.
8. Localized marketing
Ever since the pandemic started in 2020, local marketing has become stronger and stronger. People are more interested in service providers who can help them without having to travel a lot. And that is why 60% of Facebook users visit a local business page once a week at the minimum. This means that if you can create locally relevant content for those users, you can easily convert them.
So any local marketing designs you have such as posters, flyers, newspapers ads, and so on can be repurposed for Facebook marketing too.
Choose Facebook as the platform to announce store timings, discount campaigns, store events, and so on to gain the attention of your local audience.
Kimp Tip: Small businesses gain a lot with a good content repurposing and content distribution system. But repurposing print designs for digital channels can get tricky, as the color schemes both differ. If you do want to implement this strategy, inform your design team in advance so that they can design accordingly.
Confused about color schemes and how it affects designs? Check our guide here.
Facebook Marketing for Small Businesses: A Checklist
We have covered some of the most important content pieces to have in your content marketing plan for Facebook. But before you start implementing them, there are a few basic points that you must know.
Following them allows you to build a strong foundation for your Facebook marketing efforts:
Start by understanding your target audience to tailor the content to them. For instance, Gen Z prefers short-form video content while older audiences watch longer videos too. You can also pick colors, fonts, and imagery to build an aesthetic for your Facebook profile.
Understand your Facebook marketing goals. Do you want to build brand awareness, run product-centric campaigns, or build a community? The path for each of these is very different, and it is good to know what you want.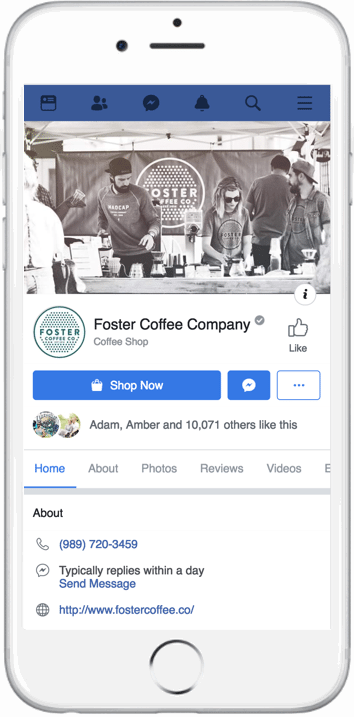 Invest in social media branding before you go live. Design branded profile pictures, cover photos, and a design style guide to maintain branding consistency.
Run marketing experiments and understand what your audience likes and does not like.
98.5% of Facebook users access the platform via mobile, so ensure you optimize all your content for mobile to ensure that the user experience does not suffer on mobile devices.
Ace Facebook Marketing for your small business with Kimp
You may feel that including another platform on your social media marketing plan is not workable, but Facebook can be really instrumental in your success. And if you are worried about design budgets, have you checked the Kimp Graphics and Kimp Video unlimited design subscriptions?
We offer unlimited graphic design and video design services wherein you can access unlimited design requests and revisions across tons of different design categories.
Sign up for our free trial to explore the service before committing.