2022 Instagram Trends: Make The Most Of IG This Year
For many people, trends and Instagram are synonymous. Even if a particular trend originates on TikTok, Instagram has made significant progress in putting its own unique stamp on things.
So keeping all this in mind, the platform released its first-ever trend report: The Instagram 2022 Trends report.
You may be thinking that these trends come and go. Why such a fuss about this report specifically? Well, this is because the 2022 Instagram trends report is customer-centric, creator-centric, and, more importantly, Gen Z-centric.
This is not a report that some marketing execs released in isolation. This trend report and many other announcements for Instagram over the last couple of weeks have prompted this detailed blog from Kimp.
Social media marketing is void without Instagram, so here comes the blog with all you need to know to make the most of IG in 2022.
But before that, let us take a look at what ruled Instagram in 2021. 
What ruled IG in 2021? A look at 2021 Instagram Trends
The year 2021 was a rollercoaster of a year. With the pandemic entering its second year, people turned to social media for work, community building, engagement, and entertainment.
Instagram made a huge push for its favorite content to reign supreme, and that reflects clearly in the trends we will look at now:
Instagram Reels got a huge uptake with a separate tab that allowed customers to access this section instantly.
Reels also got an edge in paid reach with sponsored reels becoming a major trend in Instagram ads. 
Stories grew in viewership and creators. Instagram acknowledged this and brought in a horde of features for Stories. Some of our favorites are the link sticker, "Add yours" sticker, and the many AR filters that graced our screens in 2021. 
Giving a bigger push on video content, Instagram also introduced ads in IGTV to play in the video.
Shoppable content also saw an uptake with Instagram, helping creators tag their sponsored posts and allowing them to be more transparent than ever.
These were the Instagram trends in 2021. But what is the outlook for 2022? Are the same trends sticking around, or do we need to experiment with new formats once again?
Well, to answer these questions, you've got to scroll to the next section. So here we go!
10 Instagram Trends to follow in 2022
Before we explore the Instagram trends to follow in 2022, let us take a minute to address the elephant in the room. While trends are great to gain quick attention and bring a lot of traffic to your Instagram profile, brands are always wary of following trends blindly.
And that is a great practice to have in place. But the trends we will analyze now are the trends that will shape content creation and consumption on Instagram in 2022. 
So what marketers and brands must essentially do is to ensure they adopt the right Instagram trend for themselves. This will help them create trendy and authentic content for their consumers.
And that is very important, as you will see from our first point itself. 
1) Transparent and Authentic content
Health, beauty, and fashion are some of the most popular content categories on Instagram. And our first Instagram trend for 2022 also comes from these popular industries. 2021 saw a huge uptake on the #Nofilter and #bodypositivity movement. In 2022, we expect a lot of other industries to follow similar principles in their content. Yes, we are speaking of showing unedited, authentic, and transparent content to your consumers. 
Transparency in content tells consumers you are an honest brand with nothing to hide. And they value that a lot.
But how can you do that just via content? Well, according to a survey by Sprout Social, consumers consider video to be the most honest, so that is a good starting point, yes?
Kimp Tip: Authentic does not mean unprofessional. So set a mood board for your Instagram content that speaks well of your brand but seems unpolished on the surface. 
2) IGTV videos 
People seem to love video, and Gen Z is no exception to this. Our next Instagram trend of 2022 is the most coveted and almost lost art – long-form content or IGTV videos. Instagram is taking IGTVs to the next level by introducing vertical videos play in the feed itself.
IGTV is no longer in a separate section but is now a part of the main feed itself with a preview post. This means customers can access your long-form videos with no friction in the process. Creators and consumers have loved IGTV videos for a long time, and now Instagram has bowed down to this love.
Forget the 60-second limit on feed videos. You can now create 60-minute videos that will appear in your customers' feed and play automatically too. We also saw an inkling of IGTV ads in 2021, and we expect that to pick up heavily in 2022.
Kimp Tip: Since IGTV videos will play automatically, we strongly recommend optimizing them for mute play as well. Include closed captions, text overlays, and subtitles if they apply. Looking for an affordable service that allows you to edit, design, and create videos for Instagram? Look no further than Kimp Video!
Vertical long-form videos are here to stay on Instagram. 
3) Instagram Live Video
Live videos are becoming an increasingly huge trend across all social media platforms. And Instagram seems to participate in this trend heavily. Instagram Live saw a huge viewership in the pandemic with brands using this for:
Sharing tutorials and demos of their favorite products
Live streaming product launches
Hosting AMA or FAQ sessions
Influencer takeover for improved reach
Interviews and collaborations
The best part of investing in Instagram Live videos is that you can always repurpose them for Instagram video feed as saved IGTVs. You can also employ them in your newsletters, other social media channels, and so on.
So, this is the time, Go Live on Instagram.
Instagram Live video became the brand's favorite in 2021 and will continue to be so. 
4) Instagram Reels 
Originally, a feature that everyone considered to be a spoof of the TikTok app, Instagram reels is so much more today. In fact, Mark Zuckerberg recently mentioned that Instagram reels have now become the "primary driver for engagement growth" on Instagram. So, if you want your profile to go viral and get a lot of views, you know what you need to do. 
Reels will also get a bigger push with sponsored reels, and Reel ads becoming a major trend in Instagram in paid engagement.
Instagram reels hold a lot of potential for brands to reach a wider audience, improve their chances of going viral, and create snackable content for their target audience. For the on-the-go Gen Z audience, this is the perfect medium.
Dance challenges are also here to say, with music going social and visual, according to top Instagram creators.
Brands must now invest in repurposing advertisement sounds for Instagram reels and create easy to replicate and remix Instagram reels.
Looking for inspiration for Instagram reels that are trendy? Check our blogs for Instagram reel ideas with a separate section on faceless reels too if you don't like the idea of being on camera.
5) The Rise of AR 
What initially started as a movement in the beauty and fashion industry is a platform-wide phenomenon now. Yes, we are talking about filters. Filters are everywhere on Instagram now. Right from reels to stories, you cannot escape them. So why not embrace them to promote brand awareness?
Yes, branded effects and filters are a thing now with a huge following on Facebook and Instagram. But this 2022 Instagram trend has a bigger potential than just a face filter or the brand's name appearing on the screen.
Brands can now leverage the magic of AR to show how a product will look like in real-time situations such as decor products, lifestyle products, and so on. You can now try a sunglass on Instagram and proceed to buy the one you like. Brands can greatly reduce the friction in the shopping process with the marriage of AR and Instagram features.
Kimp Tip: Even if you cannot invest heavily into this feature, we recommend starting small and launching smaller filters that customers can explore to know more about your brand. 
Need help creating engaging and affordable filter design? Work with Kimp Graphics and Kimp Video.
6) Instagram Stories 
This is an Instagram trend that we already experienced in 2021 but looks like it is here to stay. Studies show that brands that leverage Instagram stories in brand engagement and outreach see a better ROI on their Instagram marketing efforts. 
In fact, a study tells us that brands saw 2x viewership in 2021, even if Instagram stories only reached 50% of people than feed posts. In terms of what works best on Instagram, photos have a higher engagement rate than video stories.
Video stories have a higher bounce rate within the first five seconds, so if you are putting up a video, ensure that the first 5 seconds are absolutely on point.
Instagram also removed any restrictions on branded accounts to use the link stories feature, so generating inbound traffic for your site just became so much easier. 
Kimp Tip: Acing Instagram stories is a tightrope walk. Some have splendid success while some struggle heavily, so designing them needs utmost dedication and planning. Leverage the vertical orientation and optimize all your content for vertical viewing. Include captions, links, and texts for improved accessibility as well.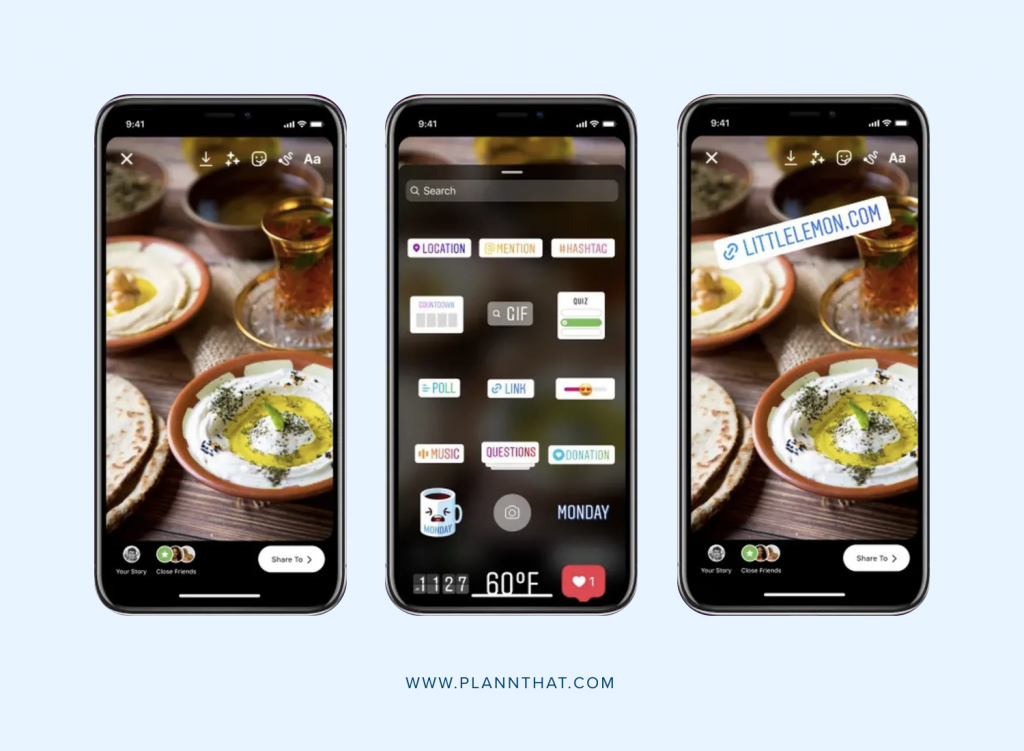 7) Social Commerce 
Shopping on Instagram is something all of us have considered, and many of us have experienced it as well. If you are a small business running your shop on Instagram, you know how vast the growth for this feature has been in 2021.
So there is no doubt social commerce, aka, shopping on Instagram will be a huge trend for Instagram in 2022. In fact, Instagram has also introduced a checkout on Instagram feature that allows customers to complete their purchases without leaving the platform at all.
So what does this mean for a brand/marketer or a small business?
It means that your Instagram feed aesthetic has to be on point, enticing enough to make people click on the posts and shop away. Invest in product photography and catalog designs that can grace your Instagram feed in style. 
Kimp Tip: Shoppable content has to look good enough to click for customers. So ensure that the images or videos you post follow your brand style guidelines, Instagram aesthetic, and your target audience's taste.
Wondering how to get the holy trinity in place? Get a Kimp Graphics or Kimp Video design subscription to make it happen with ease. 
8) Cause marketing for NGOs
Good news for NGOs, Instagram has its back in 2022, as this trend suggests. As Gen Z becomes a primary consumer on Instagram, voices for valid social causes and fundraising movements are only getting louder. Keeping this in mind, Instagram now has a "Donate now" button and link stickers open for all NGOs to raise funds for their causes. 
This is great, isn't it? But this also means that the competition is only going to get stiffer. And this is where you must employ your designing and storytelling skills. Make consumers feel for your causes as much as you do, and help them understand the gravity of the situation.
Leverage design aids like Infographics, videos, Instagram guides, Reels, Stories, carousel posts, and so much more to bring your cause into the limelight.
9) Gaming culture 
Gaming culture has exploded in recent years. It is now mainstream and not as much of a niche field as it was a few years ago. Instagram also has many gaming brands, creators, and streamers as some of their top creators. 3 out of 10 creators expect to stream games in the coming year 2022.
But how can brands leverage this gaming culture Instagram trend in 2022? Well, the fashion industry has co-opted this culture with gaming-inspired design styles in clothing and makeup. Similarly, you can adopt the styling and trends to attract gaming-oriented customers within your target audience.
Kimp Tip: There are some signature styles, colors, and patterns you can adopt on Instagram to make the most of your profile in 2022. It is almost similar to how Pop culture influenced design to bring out Pop Art. 
Check out our blog on Pop Art designs for inspiration and understanding of this phenomenon.
10) User Generated content 
We started this section on 2022 Instagram trends with a point on authenticity, and we bookend it with another feature that celebrates it. And that is user-generated content. For a brand to be transparent and honest, customers expect more than manicured photoshoots and catalog images.
Reposting user-generated content can help you gain the trust of your community. By featuring customers instead of models, you end up showing the product in use, which is huge validation in itself. 
As brands in 2022, you have the responsibility to actively solicit user-generated content with branded hashtags, challenges, and giveaway contests. You can use Reels, stories, and feed posts too to reshare your best user-generated content.
If you are looking to incorporate branding consistency in UGC too, consider launching templates or filters for your brand.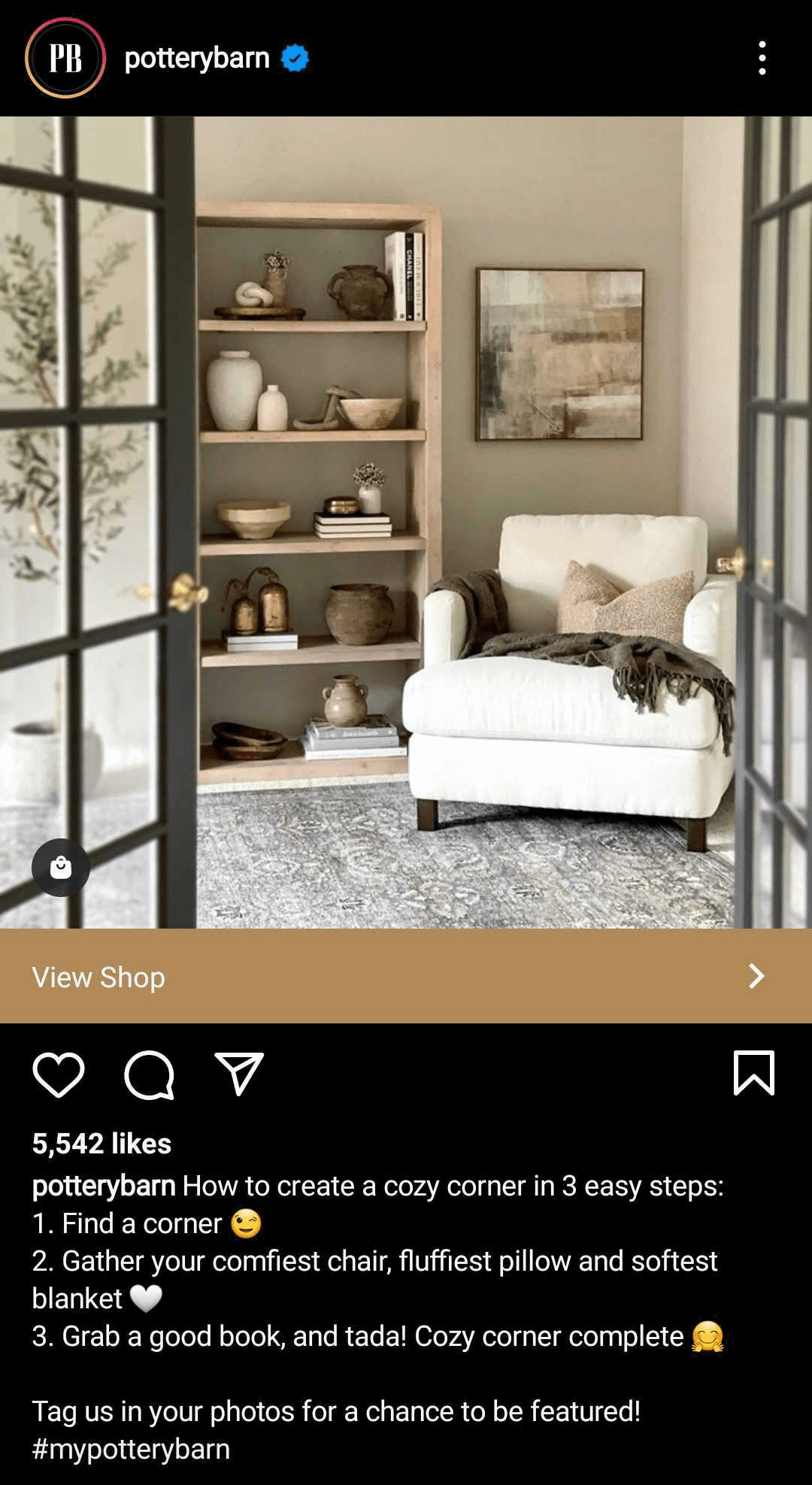 Make the most of IG in 2022 with Kimp
We hope learning about the best Instagram trends for 2022 was interesting for you. It sure was for us. We cannot wait to explore the full potential of this platform in the coming year for our customers.
Across all trends, it has become obvious that visual content is here to stay, and brands have to prioritize it over everything else. But how do you balance content creation and design too?
That is why Kimp Graphics and Kimp Video offer unlimited graphic design and video design services for brands at a flat monthly fee. You get unlimited design requests, revisions, and brand profiles across a ton of design categories for your brand to leverage. 
Sign up for the free trial to get a taste of what Kimp can deliver for your Instagram marketing.