7 Proven Tips To Increase Organic Reach On Facebook
Organic reach on Facebook is especially important to small businesses and marketers. Usually, they're either limited by their marketing budget or lack the insights to make their ads shine. But is it really possible to increase a social media page's reach with organic methods alone?
The short answer? Yes, with some strategic moves.
Social media platforms, especially Facebook and Instagram, have become mazes for creators. And their winding paths don't often feel worth the puny little cheese of engagement at their ends.
This is why Pay-Per-Click campaigns, other paid advertising, and promoted content have been their priority rather than organic growth. And it has been working too. Small businesses and digital marketing companies have seen great returns on their investment in Facebook Ad campaigns.
But this is all going to change, especially for Facebook.
Why is Organic Reach on Facebook more important than ever?
Instagram and Facebook's algorithm changes have been stressing marketers for a long time now. However, as things were stabilizing, an update from Apple seems to have stirred the pot again.
The iOS 14 and 14.5 updates included many new features. Including one that threw social media marketers and the marketing world in general for a loop. The company decided to reaffirm its commitment to privacy and allow Apple users to know when an application uses their data and provide the option to opt-out if they choose to.
This would mean that valuable insights and data that businesses used to target their customers, is now out of bounds from Apple-device-owning customers.
How does Facebook figure in this iOS update?
Facebook's a platform with 2.8 billion monthly active users and 25.439 billion dollars advertising revenue reported in the first quarter of 2021. So you can be sure they had a lot to say about this change.
The social media giant is not happy with this change and is extremely concerned about the fate of small businesses in particular. To that end, it's been trying to spread the word about how small businesses are being limited in reaching their customers. But changes are here and have to be dealt with.
Organic Reach on Facebook
We know that it can be frustrating to constantly hear about a problem but not be presented with any actionable solutions to overcome this hurdle.
So, as a business that deals with Non-profit organizations, small businesses, and digital marketing companies, Kimp wants to help you navigate this. We're invested in the success of our clients, so let's see how to scale this mountain together.
Before we move ahead, we want to emphasize one thing. This update from Apple is a big one. But it's just one of many in the world of Internet privacy and advertising insights. So, it is to see organic growth as a goal not just in this case. But in the overall growth and development of your brand.
7 Proven Tips to Increase Organic Reach on Facebook
Regardless of a small business, or a non-profit, or a digital marketing firm, the reality is all of us are on social media platforms to find and reach our target audiences. And we know that effort is a requirement for both paid and organic campaigns that are successful.
The difference is that for organic growth strategies, you have to do the work of the AI too. But, hey, what's marketing without some trial and error, right?
1) Smart Content Creation
Though we're focusing on Facebook in this blog, it's fair to say that all social media platforms are people and content-driven. So whether you're dealing with paid or organic content, that content has to be hiqh-quality and tailored to your audience.
But when you want to improve the reach of a Facebook Page organically, high-quality content alone won't do the trick.
You need:
Consistency
Variety
Experimentation
There are more than 100 million business pages on Facebook, and the algorithm favors the most consistent ones.
If you want your page to reach more people, and potentially your customers, you must be consistent.
However, consistent posting does not mean that the content has to follow the same format. Remember that you want to be someone who stops scrolling thumbs and grabs the attention of wandering eyes.
So, mix it up. Create a variety of content like images, videos, infographics, polls, quizzes, informational how-tos, product demos, or testimonials, to name a few. If you are running out of content ideas, we hope that this blog by Kimp on Social media content ideas helps.
You have many ways to reach customers on Facebook – on their feed, stories, and Facebook Watch. Experiment with different content types on all these avenues, monitor your analytics, and repeat to give your customers what they truly want.
2) Believe in the power of Images
Often, social media content calendars become draining. How do you know what to do? Yes, there are sources for ideas and analytics. But, don't you wish there was a secret shortcut to success?
We wish there was but if anything came close to a shortcut, it's this – the power of design.
Organic reach is all about impressing your immediate content consumers with what you show them and using their reaction/engagement to take the content into other feeds. Visual content is your gateway to this process.
Visual content or content with graphic design or visual elements gets much more reach than usual text-based content. People remember images more than text, so that's where you should be looking to capitalize on. Graphics are also highly shareable when compared to static text-based posts.
It is not just about posting images on Facebook, but how you post matters too.
Things to remember while using Graphics and Images on Facebook are:
Treatment of the Image: Poor quality, non-branded, and poorly-formatted images can ruin your reach and the credibility of your business too. You don't need fancy equipment to shoot photos, but you need a reliable designer who can make them Facebook-worthy.
Unique Images: Stock photos are helpful as placeholders, but they can be enhanced with the help of a good designer. Or you can opt for custom-designed images that uniquely reflect your brand. The idea is to establish yourself as a leader in your industry. Blog posts with custom images can help you reach a wider audience.
Branding and Visual Identity: All the content you share on your Facebook page must carry the branding element and reinforce your visual identity for a wider reach. Non-branded content can be considered generic, not eliciting engagement from your readers, and killing your reach.
Design and Visual marketing play an important role in attracting customers to your profile. Facebook's belief in the power of images and visual marketing led them to Instagram, so if they believe in it, it's time to really harness that power. It is a huge proof of concept.
3) Content Repurposing
So, you have a content calendar with innovative, unique, and shareable content with graphic design. What more can you do?
Well, if you truly want to make the most of the hard work you have put into steps 1 and 2, turn to content repurposing.
Do you have a great product post on your Facebook page? Are you looking to improve the traction of the video you just posted? Repurpose it. Content repurposing is a natural, easy, and effective way to bring your followers and readers from other platforms to your Facebook page.
You can embed your product post into a blog on your website and redirect people to your Facebook page for a detailed update. Pick an audio clip from the video you want to boost and share it on Twitter. Bring your tweeples to your Facebook page and get the views you want.
Content repurposing is the goose that lays golden eggs. Use it well to increase organic reach on Facebook.
4) Native Videos
It almost goes without saying that video content is outperforming all other content forms across social media platforms. So we're saying it again! And Facebook is a big part of that trend. If you want organic reach, videos are the way to go. With Facebook Watch reaching 1.25 billion people every month, native videos make the case for themselves.
So, why create a native Facebook video (video uploaded directly to the platform as opposed to uploading to YouTube and sharing)? Because Facebook wants people to stay on their platform and is less likely to promote a link that takes them away.
Also, users looking for quick information and entertainment would be averse to a link that would redirect them somewhere else. Facebook recommends keeping your videos short. Between 3-15 seconds, with an attractive thumbnail and minimal text.
Read Kimp's guidelines on creating videos that convert to optimize your video content and increase organic reach on Facebook.
5) Profile Design
What most people don't realize is that the look of their Facebook profile as a whole matters as much as the design of individual posts. If you want to retain the attention of a user who stumbled upon your page, or pique the interest of someone who sees your post on their timeline, you must take care of profile design.
Right from your profile picture and cover image to how you approach Facebook-page branding, it all speaks to your standards as a brand.
Similar to a business branding and visual identity, you need to choose the right imagery, colors, and design style for your Facebook page.
6) Gamification
The pandemic, with its increased social media usage, also impacted another industry in a significant way. And that's gaming. Gaming quickly became the way people spent their time in a virtual world, connecting with strangers worldwide.
Gamification meanwhile, is the process of applying game thinking and mechanics to other content forms. An increased number of polls, quizzes, or even puzzles on social media is a result of this phenomenon. It engages your audience and keeps them on your page/post for longer, thereby, propelling your content into multiple new timelines.
You can create puzzles, interactive videos, animations, GIFs, and polls to educate, engage, and connect with your audience on Facebook.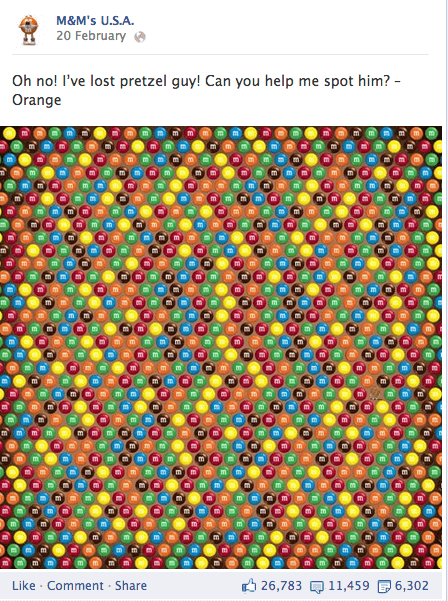 7) Engage with your Audience
Engaging your audience is a two-way street. Yes, it is about creating content that brings out an emotion in your customers. Something that will make them think, feel, and comment on your posts.
But, you have to react back. A huge part of engaging audiences and keeping them connected to your brand involves talking to them. Even in the gamification example, merely running a contest is not enough. You must respond and make them a part of the conversation you wish to have.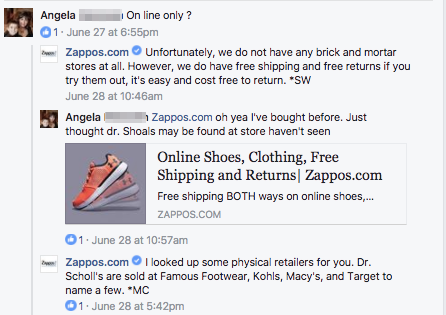 Design and Organic Reach on Facebook
We hope we've made it clear that organic reach is not some unscalable mountain. Instead it's one you can tackle with the right training and tools. One of those being a great design team.
Visual marketing is showing results for businesses of all sizes. It is the perfect way to capture and retain the attention of your always-busy, always-scrolling customers.
But creating images, handling design, and creating content to navigate the changing waters of digital marketing is not an easy task.
So why do it alone? Kimp has a team of talented designers waiting to be your design partners so that you can focus on growing your business; online and offline.
Talk to us to see how we can leverage design to boost your organic reach on Facebook. Our flat-rate plans and free trial will help you see if it's the right fit for you. And get more bang for your buck! Book a call to learn more.