10 Easy Hacks to Identify and Adopt Color Trends in Marketing
You know what's more important than spotting color trends in marketing? Spotting them on time! You do not want to start using them when the market is saturated. And new trends have started popping up!
The role of colors in marketing needs no introduction. But what some marketers do not realize is that when choosing colors for your designs, knowing what's trending is pretty essential. Don't worry, we'll tell you how. Because we keep talking about trending colors for the year. But we hardly ever speak about how to spot them before your competitor does. Let's change that! In this blog, we'll tell you tips to identify color trends and relevantly incorporate them in your marketing.
How to Identify Color Trends in Marketing
Well, we call them marketing color trends but they are not disconnected from the rest of the industries. In fact, when Pantone announces the color of the year, you do not just see the color in advertisements. You see them everywhere. On the runway, in the world of gadgets and technology, in interior design, and in several other places. So, these are great places to look for when you need to know the colors trending that year.
1. From the world of fashion
Has the Barbiecore madness of the season grabbed your attention? For the past couple of months, hot pink has been ruling the runway. You see celebrities flaunting them, designers embracing them with full enthusiasm.
This trend takes after the Valentino Pink color that Pantone had created for the Italian luxury fashion brand, Valentino.
So, if you use hot pink in your ads right now, you are sure to grab eyeballs. As long as the color does not drastically deviate from your brand's style that is!
Similarly, keep an eye out for such color trends on the runway. You will see big brands endorsing new collections around these colors. These will be colors that people talk about a lot on social media.
2. From the world of technology
Beyond marketing with colors, brands dealing with gadgets and technology also tap into color trends through their product design. Have you seen the chic Alpine Green iPhone 13 that Apple released in March? (remember we spoke about green being one of the color trends for 2022?)
Similarly, you see certain colors trending in the world of technology. When one smartphone brand introduces new phones in that color, others soon follow. If this happens, then it is most likely a color to follow.
For example, have you seen shades of purple a lot recently? When we talk about the Metaverse and even when we talk about space and futuristic designs! No wonder, Pantone named Very Peri the color of the year.
Microsoft even brought this color in many of its gadget releases this year. And as a theme on Microsoft Edge.
Kimp Tip: Look out for the Pantone color of the year announcement that comes in December. Pantone's choice is based on a collective observation of various trends. And so, this would be a color that you definitely see popping up in the world of marketing.
Finding it tough to keep up with color trends? Check out our blog for regular updates on color trends and design trends in marketing. Here is our post on the Very Peri announcement and some tips on how to use it in your marketing.
3. From social and political cues
Come pride month, you suddenly see brands adding the signature rainbow color theme to their websites, and even their social media display pictures. This is one example of how you can identify and adopt color trends by taking cues from social trends.
Brands turn toward green close to world environment day and even St. Patrick's Day. Pink close to breast cancer awareness day. And so on. These are color trends you can never go wrong with. But when there is a political or social cause behind the color, use it mindfully. The emotion you try to evoke with that color in your marketing should not violate the association of the color with the particular event.
Wondering how to subtly incorporate color trends in marketing? Kimp subscriptions are here to take care of all your marketing designs for you.
4. From interior design trends
Like fashion, interior design is a world of its own. One year you see industrial details popping up. And the next year, eclectic furniture and bold colors are the rage. If you have the habit of tracking these trends, then you are in luck. You will definitely find some useful insights to include in your marketing strategies.
For example, in our previous blog about color trends for 2022, we had spoken about using earthy and neutral tones. These colors have been trending in the world of interior design as well. Subscribing to that architecture magazine was not a bad idea after all! ?
5. From your competitors and other big brands
You can gain valuable insights from your competitor's hits and misses in marketing. And one such insight will be the colors to use. If you see your competitors suddenly use a particular color in their campaigns, then do some research to know if it is a color to watch. This holds good even if you see big brands using a particular color a lot. Both within your industry and outside.
Tips to Effectively Adopt Color Trends in Marketing
So, you know what colors are trending. And you know where and how to spot them on time. But then comes the big question, how do you use them? We'll tell you.
1. Stay away from your competitor's brand colors
So, you see that Very Peri is the color of the year. And you want to somehow introduce that color in your marketing. But what if your close competitor has a purple logo, purple product packaging, and purple everything? When you suddenly use this color on your billboards or even on social media, won't your audience be confused? If Pepsi suddenly introduced an all-red can, wouldn't you think it's Coke?
That's why, when you choose from color trends, it is important to choose colors that are nowhere near the brand colors of your competitors.
Remember when KFC hijacked Ikea's brand colors? The ad where KFC used Ikea's colors confused many. But then it was intentional. Because the new KFC restaurant advertised in that signage was opened in a location that was popular among the locals as the area "where Ikea is". Well, instances like these are rare to come by. But that was pure marketing genius!
Since both of these are big brands and since this campaign had a strong idea behind it, the approach worked. But that does not happen always. So, stay away from colors that are your competitor's brand colors.
2. Understand the psychology behind the trend
When a particular color starts trending, there is often a story behind it. It could be something from recent times or a bit of history. And when you choose color trends in marketing mainly from Pantone COTY or other global trends, there is often a deep meaning associated.
For example, Classic Blue was declared Pantone color of the year 2020. Here's what the company had to say about the meaning behind this selection.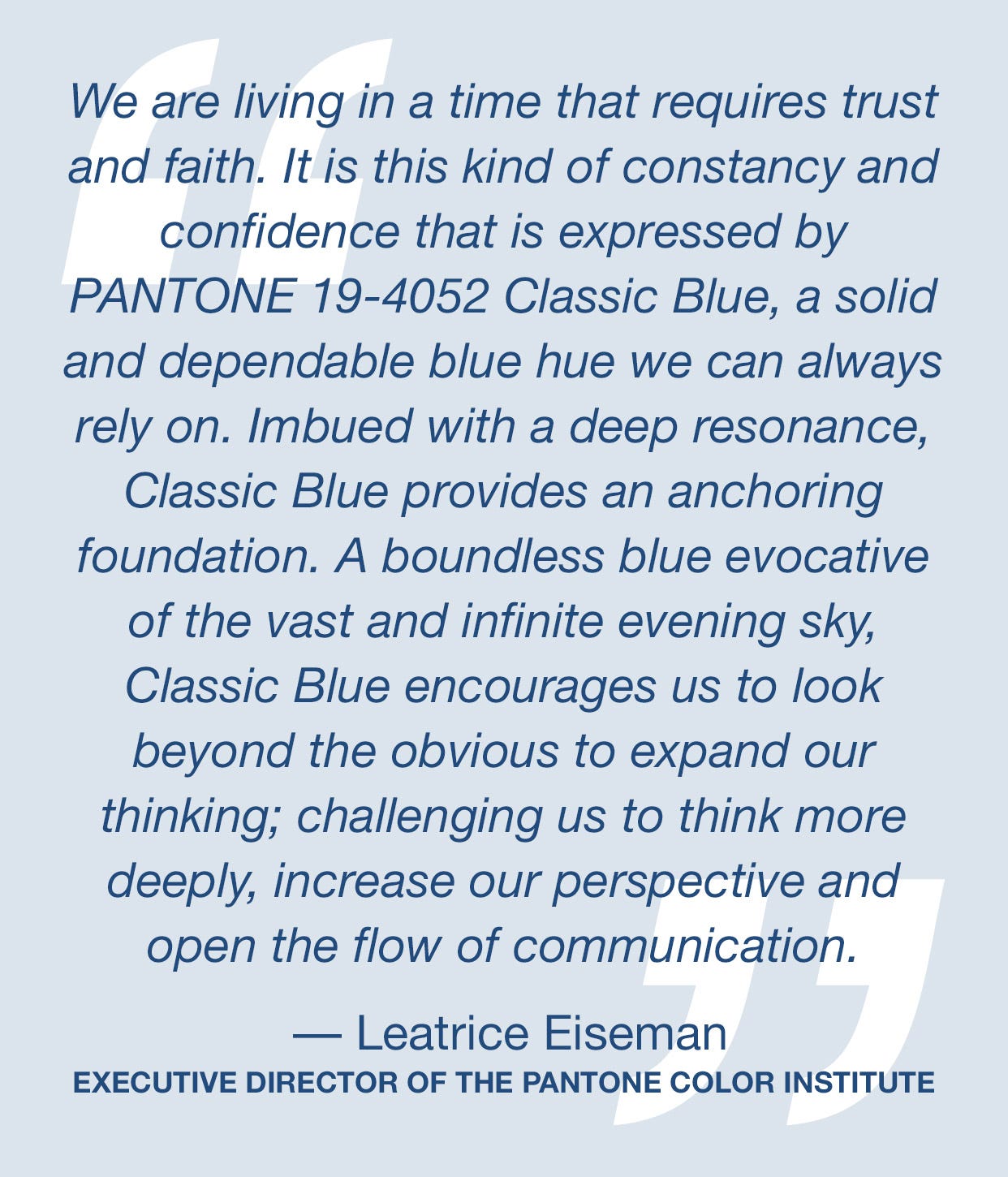 Similarly, when brands in different industries are embracing a new color trend, there might be an emotion attached to it. Understand this emotion so that you make relevant use of it in your designs.
If at any point you find that all the trending colors have no connection to your brand's values, it is alright to stick with your regular color palette. Instead of sending confusing signals.
3. Your brand colors are still on priority
Every color in your design has a role to play. When you see a lot of red and green you know that it's Christmas time. Or red and blue might make you think of the 4th of July. But because you use these relatable color trends in marketing, you cannot leave out your brand colors altogether.
For example, use it in the keywords or the title text. Or you can have a standard template where the text highlights or boxes where the copy appears are all in your brand color. By doing this, you can use the chosen colors from the color trends in other design elements.
For example, the below social media design has a bit of purple. Just enough to grab your attention. But not too much to distract you from the message or the brand name.
That's just one way to use the trending colors in your designs, without them dominating your brand colors.
4. Know what color schemes go together
Just because you see a list of colors labeled the trending colors of the year, you cannot start using all of them in all of your designs. That will do more harm than good. Find the ones that go well with your brand colors. This will keep up the aesthetics of your marketing designs while you explore the trends.
For example, the neutrals in the design below, go with the color trends of 2022 and also allow the product to take the spotlight.
You could go with color harmonies and perhaps look for colors in the complementary, triadic, or tetradic schemes for your brand color. If you find tints or shades of these colors appearing in the color trends for the year, then you have found your match!
Kimp Tip: Colors determine the emoticons of your design. So, if you are not too sure about color psychology and color combinations, it is better to leave it to the pros.
5. Understand where to use the trending colors
Finally, once you have shortlisted colors based on competitor brand colors, color psychology, your existing brand colors, and combinations, here are a few places where you can use them.
Packaging design – if you have plans to introduce any new product line, it would be a great place to use the chosen colors on trend. If the trend started because of a historic event, you will have a product that carries its memories in the years to come.
Social media aesthetic – we get it, you have a theme for your social media. But will you be able to add subtle changes? Like retaining the template but just changing the font color for a few posts to capture the trend? Of course, when you suddenly make such changes to your visual style, you should also let your followers know why you have used those colors. Telling them that you are embracing what's trending shows how your brand proactively adapts to the market.
Use them in social media ads – but be careful, these might be the first encounter with your brand for most people. So, your brand colors should still be the focal point.
As your brand colors – if you are launching a new business and the trending colors happen to align with your brand personality, you can also create your brand identity around it.
Outdoor ads – when you cross a billboard, color grabs attention before the text does. So, if you happen to use colors that have been the talk of the town, like the hot pink trend we spoke about earlier, you are sure to make people stop and notice your ad.
Taking on Color Trends in Marketing With Kimp Subscriptions
One of the perks of working with an unlimited design service like Kimp is that you get to work with a dedicated design team. Therefore, your team knows your brand's visual style by heart. So, when you ask them to use color trends in marketing designs, they quickly know how to do that without letting your brand colors down. This lets you confidently explore the trending colors of the year without losing the visual consistency of your brand.
Want to see how this works? Sign up for a free trial of a Kimp subscription today and find out yourself.