The Best Christmas Social Media Post Ideas For 2020
About 40% of the world population (3.424 billion users) are on social media. That alone makes this the perfect place for you to be marketing your brand and the products that you have to offer. Especially when a much loved holiday like Christmas is around the corner. It's the perfect time to roll out some Christmas social media post ideas. 
Christmas holiday sales are projected to surpass the $1 trillion mark in the US alone this year! And we all know that buyers look to social media for tips and ideas for their purchases. If you know how to leverage this to your advantage, you will be able to market your brand better and boost your sales in the process too.
Almost 64% of shoppers look at social media so that they can get inspiration for gift ideas. Some of the leading social media networks for this are Pinterest and Facebook. As a brand, for all these reasons, you must try and make use of the holiday season to create engaging content that can help increase the amount of traffic to your website.
On this blog, we are going to look at some Christmas social media post ideas, captions and hashtags that you can use to stay top of mind for your customers And if you need a hand with designing some of your posts, a Kimp Team is always ready to help!
Christmas social media post ideas for inspiration 
Ready to get started? Before you do, check out these social media post ideas that you can work with. Give them a unique twist that resonates with your brand and get that traffic coming in.
Christmas decor ideas 
A great way to promote your products is by sharing all the great Christmas ideas that you have with your customers. First, make a list of all the ideas that can be easily implemented for Christmas. When you make the list, think of how you can cleverly promote your products through those ideas as well. If you run a B2B business, this list could be one that is suitable for offices. The products that you want to promote should be clearly and easily linked to the ideas that you come up with. 
Holiday-themed merchandise 
People will be looking to shop in the spirit of the holiday season. And that is why you should be showing off what you have in store. Take attractive imagery of your holiday-themed products and promote them across all your social media platforms. Give people an enticing call to action that will make them want to buy from you.
Holiday recipe ideas
Christmas is synonymous with great food and quality time with family and friends. While we'll all be getting more creative about how we virtually celebrate this year, no doubt delicious treats will still be in the mix. Use the personal style of your brand and start publishing some catchy posts with recipes that people can try at home. Christmas is not a time where you should go all corporate. 
Instead, make it a point to be personal and create content that feels like it was done by people for people. Use words like me, you, us, we, our manager, our team, and the likes. You could also pose questions in your posts such as 'we decided to make some yummy gingerbread cookies for the winter chills. What have you tried out?' Holiday recipes are a good way to encourage people to engage with your brand. And hey, if your recipes are good people will start to engage with your posts more so too.
How-to-posts
People love how-to-posts, especially during the holiday season. With everyone at home and having a lot of time to pass, they are more likely to try out different ideas that will help make their holiday even more enjoyable. Give them innovative ideas for gift wrapping, handmade Christmas cards, new ideas for decorating the house and the Christmas tree. You don't have to limit yourself to these alone. Get creative and see how you can add value through your posts.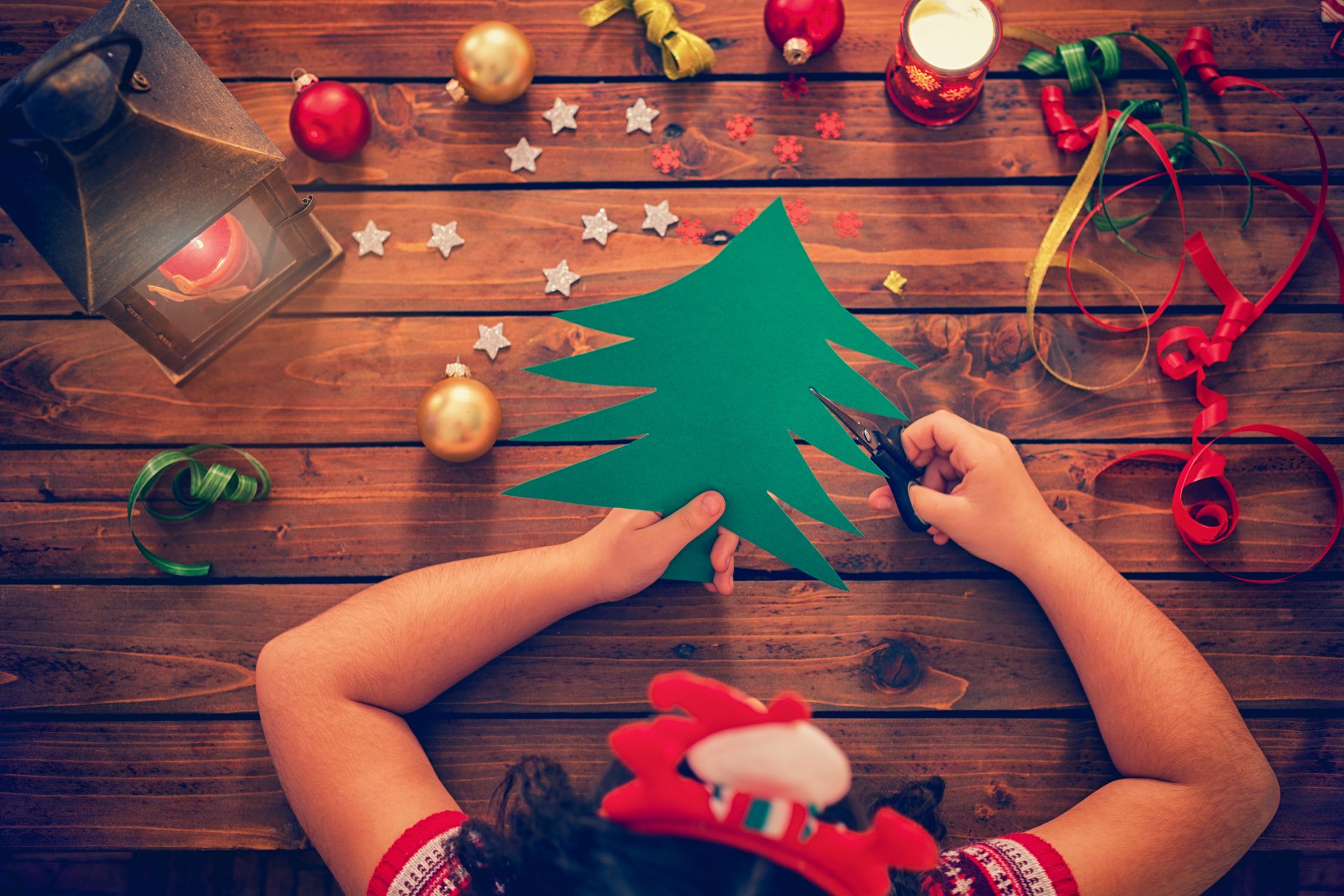 Promote your holiday offers
What better time to promote the great offers that you have for your customers than during such a beloved holiday? So get working with your designers and photographers to capture some snazzy imagery and holiday spirited designs for your bestsellers. Use colors and themes that carry the festive spirit and post them on your social media. Make it very clear that the offer is highlighted and that customers know what they will be saving at a glance. Try to highlight why this is an amazing offer in your post as well.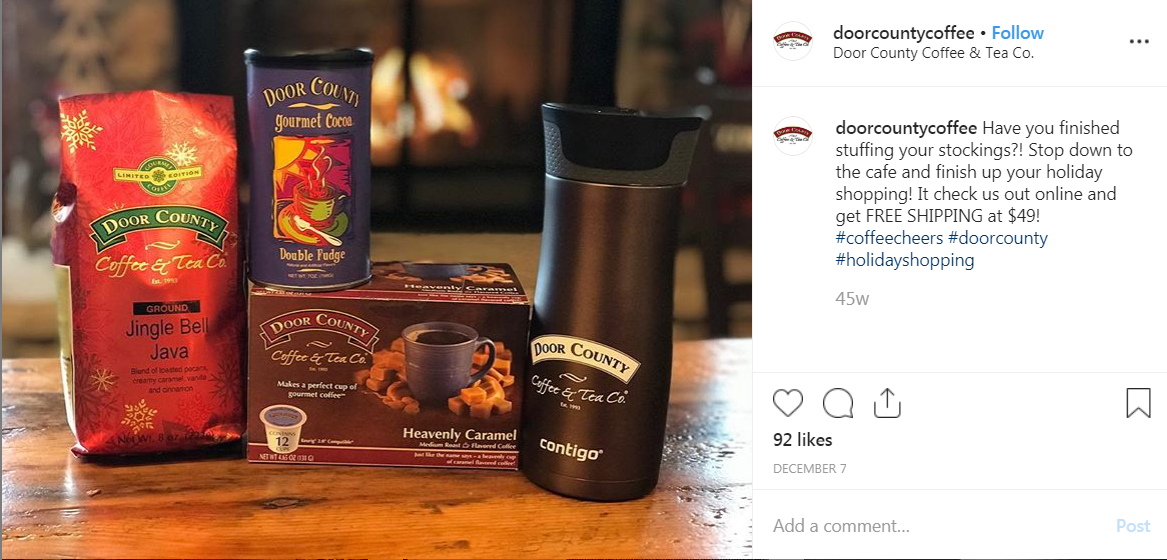 Christmas albums 
Another creative and fun way to help people connect to your business is by posting holiday photo albums on social media. This a best practice that is usually associated with Pinterest and Instagram. You can also use this on Facebook during the holiday season. If you feel that your business may not feature products that are photogenic, you can instead, post an album that features your team and how you all celebrate the holidays. You could even post pictures of your team with their families to create a collage of sorts.
Albums get a lot of engagement especially on Facebook. In fact, they get 180% more engagement than normal posts. So start thinking of fun ways in which you can get one done. If you pull this off right, don't be surprised when customers start commenting or even posting their own pictures from the holidays in your comments!
Christmas social media campaign ideas
So you may be thinking that you are too late to run campaigns for Christmas. Think again. The last Saturday before Christmas is known as Super Saturday for a reason, and you are still in time to take advantage of it! There are a whole bunch of campaigns that you can run across all your social media platforms so that you boost sales, engagement, and traffic. And a big part of this is using hashtags strategically. Keep reading for some inspiration for your own Christmas social media posts. 
User generated content contest campaigns
Some of the most effective campaigns that are out there require active participation from your followers. User-generated content contests, for example, encourage people to create content that relates to your brand. And they're incentivized by the prize that you have up for grabs. With contests like these, you can ask your customers to submit their entries by including a specific hashtag with their post.
A good example is Sun Maid's #12DaysOfSunMaid campaign. For people to enter the competition they asked them to share a special holiday memory. They could either post a story or a photo to their personal Instagram or Twitter and use the hashtags, #12DaysOfSunMaid and #SweepStakes for a chance to win a prize. You could ask customers to post similar content in the Christmas spirit and have gifts ready for the winners. Make sure your hashtags are relevant and branded.
Tell a branded story like Oreo did
This was Oreo's first holiday campaign after 2016 and they really outdid themselves. They combined festive music, Oreo cookies and an elf to create the perfect holiday atmosphere. The ad features a clerk who is teaching an elf the right way to enjoy an Oreo. The elf eventually gets the hang of the best way to eat an Oreo. When you run a campaign for Christmas, be sure to bring out the festive spirit. Keep things original and fun. People love lighthearted ads that tell a story.
Give back like Starbucks
"Project Give Good" was launched in 2017 by Starbucks. They offered a gift card to customers and gave them the opportunity to enjoy a coffee with their loved ones, or simply take a break. To make things better, they released new cups with lots of white space that customers could color up and personalize. This really helped drive the engagement as well.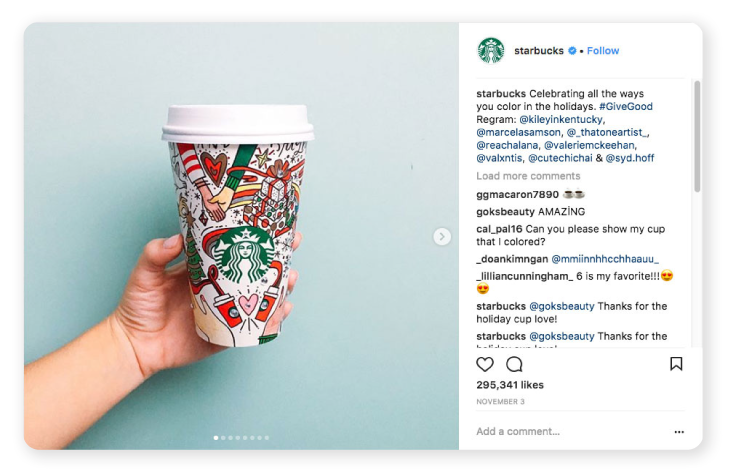 They then encouraged people to post the images of the personalized cups using the hashtag #GiveGood. They actually achieved two goals here by encouraging people to generate content and also by bringing out the festive spirit in customers.
Try instant wins and sweepstakes
Popular brand Bed Bath & Beyond ran a campaign titled "Oh What Fun It Is To Win" that really did pull out all the stops. They gave away some amazing prizes for 47 days leading up to Christmas. They had instant win games where the customer would know whether they had won or not immediately. Based on the wins, daily prizes would be handed out. 
At the end of the 47 day period, every person who entered into the game was entered for a chance to win a massive grand prize draw for a carnival cruise as well as a $1000 Bed Bath & Beyond gift card. Using a concept like this will help you build up the hype leading up to the holidays. There are not47 days left, yes, but you can still use the time that is remaining to build excitement among customers. This is also a great way to drive engagement and traffic, not to mention brand loyalty and trust.
Bring together good deeds and Christmas cheer like UPS
If you want to do a social media campaign, there is no better time than Christmas. UPS is a perfect example of this and they turned it into a global initiative that was inspirational. They brought together good deeds and the festive spirit in their campaign and used the hashtag #WishesDelivered. This just started off with a boy in Colorado Springs named Carson who had a heartfelt relationship with his UPS driver.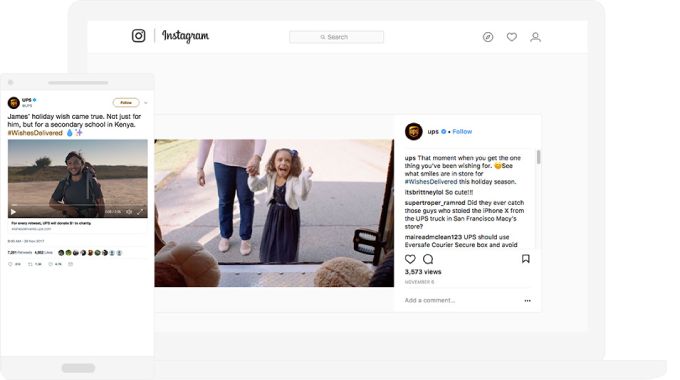 It transformed into a yearly campaign really fast. UPS brings out stories that are compelling and emotional. Customers are encouraged to use the hashtag #WishesDelivered to share their own stories or the stories from UPS. And if all that good wasn't enough, each time the hashtag was used, UPS made a donation to their partners in charity. Even if you do not have the option of donating, you can certainly bring out powerful stories that help people connect emotionally with your brand. What are the ways in which you support your customers? Share those stories. And find ways to give back to your community in ways that work for you. Believe us when we say, whatever you can do will always have an impact.
Caption ideas that drive engagement for this Christmas 
While you can have all the right campaign ideas and images or designs for your Christmas social media posts, having the right copy is a must too. A well-written caption can make a world of difference in the way people see your brand. You can be fun, entertaining, heartwarming, or simply bring out the festive spirit. Your captions can also be a reflection of your brand voice and personality. Here are some ideas for captions on social media that will work, along with examples to help you get some inspiration.
Keeping it cute
It's always nice to have short and cute captions that embody the spirit of the holidays. Depending on what your brand specializes in, you can decide on how these captions can be used. Here are a few examples:
There's no place like home (can be used with an image of a cozy decorated house).
Make it a December to remember. 
Magic is in the air. 
Dear Santa …. (add anything to the caption that you know will resonate with your audience). 
Can you smell the snow?!
Try cracking some festive jokes
One of the other types of captions that you can make use of are the ones that have Christmas humor in them. People love reading something that makes them smile and laugh. And especially this year, we all can do with loads of laughter. Despite the fact that we may not be able to meet up as much as we'd like to with our loved ones, laughter and wit are two of the best ways to spread some love this season. Here are some examples to get you started:
*Puts a selfie on top of the Christmas tree because I'm a star*.
Totally sleighed it.
Keep your friends close, your enemies closer and receipts for all major purchases.
I'm dreaming of a white Christmas. But if the white runs out, I'll drink the red.
One more cookie and I swear I'll fit in the Santa costume.
Instead of listing everyone in this photo, let's just call it, "The Naughty List".
Don't get your tinsel in a tangle.
Get inspired by holiday tunes
Music heals they say and it certainly is a universal language. You can create captions that are inspired by songs that fit the festive spirit of this last month of 2020. Let people know that you care with the right lyrics. Here are some great examples that have some magic of their own.
"Holidays are joyful, there's always something new. But everyday's a holiday, when I'm near to you." —The Carpenters
"A very Merry Christmas and a happy new year. Let's hope it's a good one, without any fear." —John Lennon & The Plastic Ono Band
"The party's on, the feeling's here that only comes this time of year." —Paul McCartney
"I don't know if there'll be snow, but have a cup of cheer."—Johnny Marks and Burl Ives
In addition to these, you can also use famous lines from movies and even quotes that speak about Christmas on your posts. You do not have to only go along with these categories. If you have the time and resources, creating original captions would be fantastic. Just make sure that they go hand in hand with the posts or the campaigns that you are running.
Let's make this a great Christmas 
It has definitely been a challenging year. But that is all the more reason why, as a brand you now have to send loads of cheer and good spirits to your customers no matter where they may be. Many people have had life-changing experiences this year and knowing that your brand is something they can consistently count on will help them smile a little more this Christmas.