8 Lucky Saint Patrick's Day Marketing Ideas + Design Tips
St. Patrick's Day, celebrated on March 17th, celebrates a patron saint of Ireland. Despite its origins in Ireland it's become an occasion marked around the world.
And for many brands it's become a chance to use Saint Patrick's Day marketing ideas to connect with their customers. 
Are you ready to design a Saint Patrick's Day campaign that will make your competitors go green-eyed? Wondering where to start or how to make your Saint Patrick's Day campaign stand out? We have some great ideas lined up for you. 
A bit of history before we begin
After all, knowing how it all started will help you respect the celebration a little more and thus plan a thoughtful campaign around it.
Saint Patrick's Day is celebrated as a tribute to Ireland's patron saint, St. Patrick, who is known to have built a number of schools and churches in the country. Green is perhaps the one color that comes to your mind when you think of this festival, right? But did you know that the original color of the Saint Patrick's Day celebration was blue?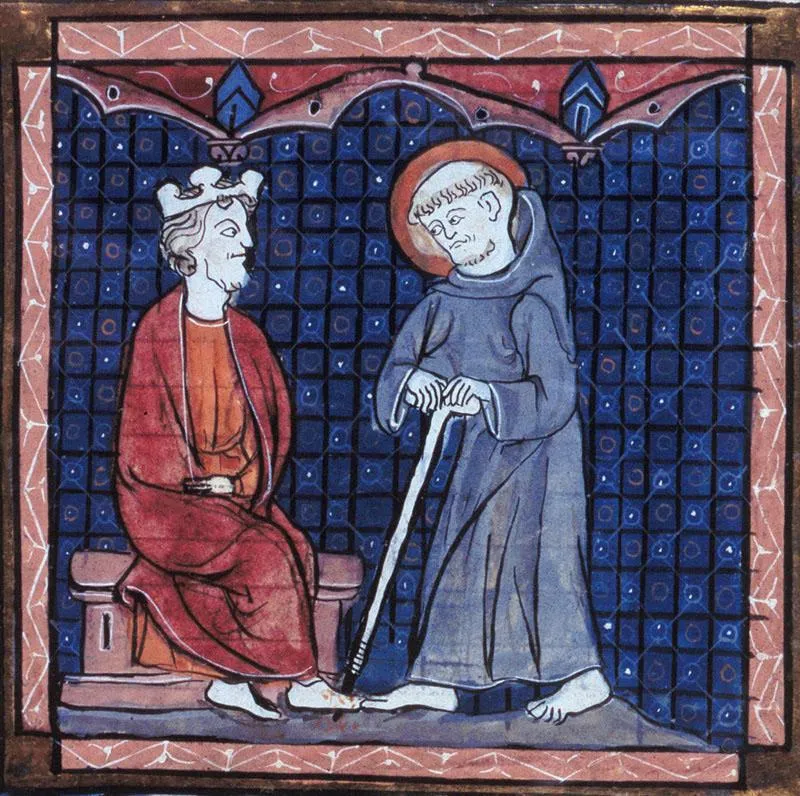 Though we do see a lot of St. Patrick's depictions in green, one of the oldest paintings of him showed the saint in a blue cassock. Today, the tradition of wearing green has evolved from the color of the Irish flag. And some say that if you wear green, leprechauns cannot see you. So, you wear green to keep the leprechauns from pinching you.
Either way, green has now become the signature color to celebrate St. Patrick's day. So giving your brand's marketing campaigns a green makeover will be one of the easiest ways to embrace the occasion.
Kimp Tip: When you decide to choose a particular color for your campaign, and if this color is not your brand color, then you should be careful so as to add some kind of imagery to represent your brand. Every piece of graphic design you post on social media should have some visual element that makes it easier for your customers to recognize your brand. 
Wondering how to incorporate green in your marketing? Check out our blog post on that. 
So, why should marketers create campaigns for St. Patrick's Day?
In 2022, consumers are expected to spend an average of $42.33 for a total of about $5.87B. These purchases could include things like:
Green-colored fashion essentials and accessories to dress up
Home decor
Food/beverages
People typically either host a party or dinner or attend one of the two. As you can see, there's quite a few industries that can benefit from this event. Provided the products and services are marketed well, of course. It is all about showing how your brand is ready for St. Patrick's Day. And how it can help people get ready for it too.
Be mindful of traditions in your promotions
A note on respectful marketing
As with any holiday marketing, it's important to be respectful when you're getting in on the fun. Be mindful of offensive stereotypes and make sure that everything from the imagery and elements to your copy in your Saint Patrick's Day marketing is engaging without unintentionally getting into negative ideas. This includes steering clear of ideas around getting drunk or hungover. Sure drinks are had during celebrations, but drinking to excess isn't what it's all about. While this might seem obvious, even big brands have made these blunders.
Take Urban Outfitters for example. They sold t-shirts with sayings like "Kiss Me, I'm Drunk," and even rolled out hats with the outline of someone appearing to be bent over, vomiting. The catchphrase for this one? "Irish Yoga: Downward Facing Upchuck."
Remember, the goal is to celebrate Irish culture alongside your audience. So look for ways to do this without reducing it to being all about drinking. 
Nike's Black and Tan controversy is another example. The black and tan shoes released by the brand around Saint Patrick's Day were meant to evoke the memory of stout and ale. But for the Irish, this is a color of the paramilitary groups that once terrorized the citizens. 
This is an example of how cultural perception of colors can have a huge impact on branding. Speaking of which, if you'd like to learn more about this topic check out our blog post on color perceptions around the world. 
Kimp Tip: Colors affect the way your customers perceive your message. Be mindful of the palettes you choose for your designs, be they ads or even your logo and landing pages. During holidays and in holiday marketing, the strength in colors becomes even more prominent.
Finding it difficult to come up with the right colors for your holiday marketing campaigns? Book a call with the Kimp team to find out how Kimp's unlimited design subscriptions can help.
Saint Patrick's Day marketing ideas 
So let's get into it. Here are some Saint Patrick's Day marketing ideas your brand can try out, along with pointers and tips to keep in mind. 
1. Showcase anything that's green in your catalog
If you hate to miss any chance to advertise your products, then this idea is for you. Creating a green theme for your campaign is the easiest way to run promos in and around St. Patrick's Day. One way to do this will be to showcase all the green-colored products in your catalog.
Even big brands like Mercedes Benz love this simple yet fool-proof idea. Check out the tweet below for the example. The subtle ad copy in the post adds the perfect Paddy's Day touch to it.
Kimp Tip: Showing off your green products during Saint Patrick's Day is an idea that works quite well. But it is also one of the most common ideas. So, be sure that you make your ad stand out by choosing the most creative product mock-ups.
Struggling to put together a fresh product mock-up? Kimp Graphics brings you the best product mock-up designs and so much more in a flat-fee design subscription.
2. And when you have nothing green, add the right props
Not all brands have the luxury of finding a green product to advertise. In such cases, you can come up with a festive campaign featuring your product. In such cases, while retaining your product as an element of focus, make sure that the design is more about the event.
Take a look at this Saint Patrick's Day Facebook post by Pepsi. It has just the right amount of green along with the traditional hat to add some festive cheer. 
This is another place where you might like the product mock-up idea we spoke about in the previous point. You can create a green background for your product display without losing focus on what you are advertising. 
3. Host a giveaway so customers can try their luck
Like the color green, the shamrock (a three-leaf clover) and the lucky four-leaf clover are things that cannot be forgotten while talking about St. Patrick's Day. While we often refer to the four-leaf clover as being lucky, shamrocks symbolize good luck as well. The three-leaf clover was associated with the Holy Trinity by St. Patrick. Hence the connection.
So, people wear shamrock-themed jewelry or you will find this symbolism being used in greeting cards and more for St. Patrick's Day. For all these reasons, the relationship between the cloverleaf and luck can be great to tap into for your Saint Patrick's Day marketing.
Life is Good, an American fashion brand, hosted a giveaway right around Saint Patrick's Day last year. People love to try their luck by participating in giveaways. And what better occasion to have a giveaway for then St. Patrick's Day! 
Giveaways are great to get your customers into the festive spirit. And by strategically planning the giveaway rules you increase your follower count on social media. You'll also get to boost your engagement rates.
4. A post that boosts awareness never fails
One of the most powerful ways for a brand to engage with its audience during holidays is to actually talk about the holiday itself. Get into the history, the traditions, or some facts about how it all began. This will make your post informative. And customers love to know more about events that are important to them.
This can be in the form of a straightforward post or even a trivia quiz on your Instagram Stories, or polls on LinkedIn. There are so many ways you can incorporate this idea into your Saint Patrick's Day marketing.. 
Kimp Tip: Story and feed posts help show customers that your brand stays active on social media.Tap into this and give your Instagram aesthetic and Stories a Saint Patrick's Day makeover to show your audience that you're celebrating right alongside them. 
Does keeping up with the fast pace of the social media world feel daunting? With a Kimp Graphics unlimited design subscription your dedicated design team will get all of those designs off your to-do list.
5. Focus on a bigger cause
88% of consumers like brands that make a difference. This means focusing on a bigger cause and contributing to society rather than merely focusing on selling their products.
A few ways you can do this are:
Sharing how you're making Saint Patrick's Day celebrations special for a less fortunate community
Taking time to thank the people behind your products/brand with a Saint Patrick's Day themed celebration
Talking about the difference your brand makes to the lives of people around the world – just look for a tie-in to St. Patrick's Day

The below video from Guinness, an Irish brewery, is an inspiring example for marketers.
Interestingly, the brand that is known for its iconic beer that sells like crazy during the St. Patrick's Day, talks more about the culture, the essence of the celebration than about the drink itself. That's a masterstroke when it comes to marketing. Ads like these win hearts and strengthen brand recognition. 
6. Special promotions to boost sales
Festivals are happier when joy is shared. Seasonal discounts are great ways to share your joy with your customers and help them celebrate their day better.
Stickies Bar has a wonderful way of bringing more customers to the bar this festive season. Its seasonal discounts are on the most relevant products for St. Patrick's Day. This means that there are better chances of the promotions being a hit among customers.
7. Everybody loves a touch of humor
Even if your brand's personality is generally more so on the serious side, holiday marketing is a great time to add some levity with clever ad copy and designs.
But how do you do this without falling into the trap of using tired old stereotypes. Well, check out the email from Harry's below. Harry's is a brand dealing with men's grooming products. And they found a clever way to tie in their products with Saint Patrick's Day celebrations without going anywhere near hurting the sentiments of customers.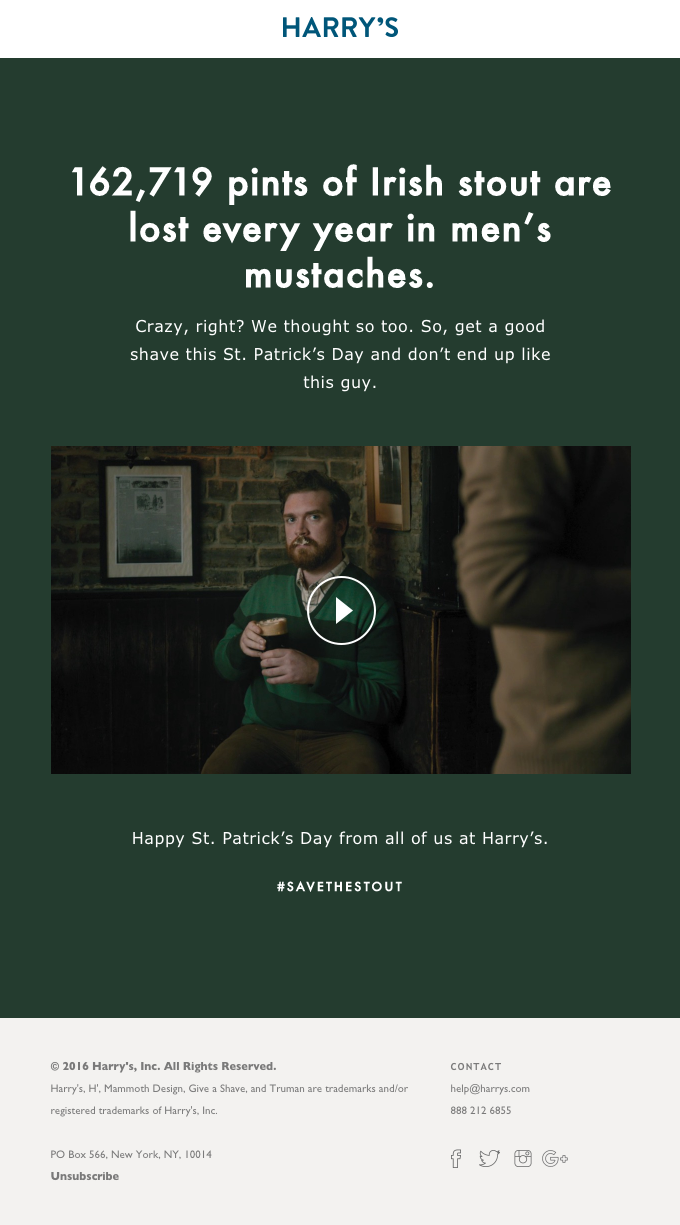 After all, when your customers are eagerly getting ready to celebrate, marketing your product as one that will save them time is a good way to boost conversions. 
Kimp Tip: Notice how Harry's incorporated a video in the email to make it more interactive. 52% of newsletter subscribers like to receive emails that contain a video. So, consider adding videos to your emails to refresh your brand's marketing strategies.
Looking for crisp and catchy videos to add value to your marketing strategy? Try a Kimp Video subscription to get refreshing videos for your brand for a flat fee. 
8. If nothing else works, get straight to the point
When you need a last-minute plan, you might want to keep your campaign simple. Or maybe you just prefer keeping it to the point. Either way, you can always be part of your customers' celebrations by wishing them on the special day. A simple wish on social media or even an email is very effective. 
Hipmunk, a travel search site, keeps it crisp and coherent with its email marketing style in the email below for St. Patrick's Day. With a design like this one, it is hard to miss the CTA button too.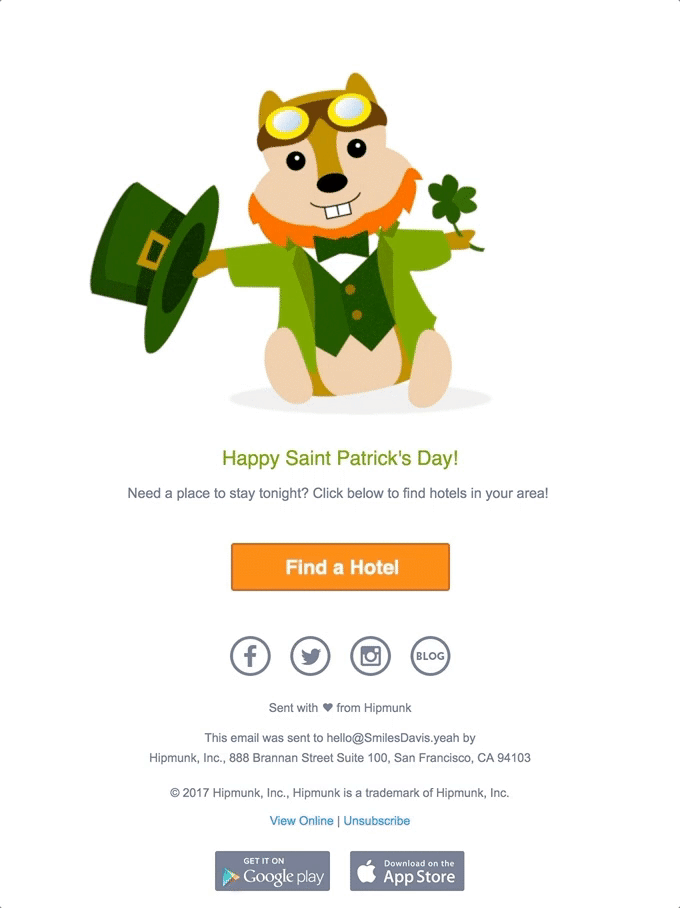 Set the stage for your Saint Patrick's Day marketing with Kimp
With Saint Patrick's Day just around the corner, you might be wondering whether you can still get in on the fun with a few Saint Patrick's Day marketing ideas. And the answer is yes! Your Saint Patrick's Day marketing can be as simple or complex as you'd like. But if it's a holiday that resonates with your target audience be sure to think about at least adding some related content to your social feeds, and pulling together some promotions. It could be a great opportunity to connect with, and delight, your customers.
Need help getting started? Try a Kimp Graphics or Kimp Video design subscription – or get the best of both with Kimp Graphics + Video. Our experienced design teams can help you with everything from print ads to digital ads, social media posts, landing pages, outdoor advertising, custom illustrations and videos!
Sign up for the free trial to get started!