13 Valentine's Day Marketing Ideas You'll Fall In Love With
The season of love is just around the corner. Valentine's day is one of the most awaited celebrations around the world.
For consumers, it's an opportunity to celebrate love and their loved ones. For businesses, it's a chance to celebrate increased sales thanks to Valentine's Day marketing ideas.
In the year 2021, in the US alone, total consumer spending on Valentine's Day was projected to be around 22 billion US dollars. That number has been steadily increasing year after year. So, as a business owner if you pay extra attention, now would be a great time to take your Valentine's Day marketing to the next level.
Start by understanding what people search for once as the special day draws nearer. Valentine's Day searches build throughout January, spiking from February 11 to February 13.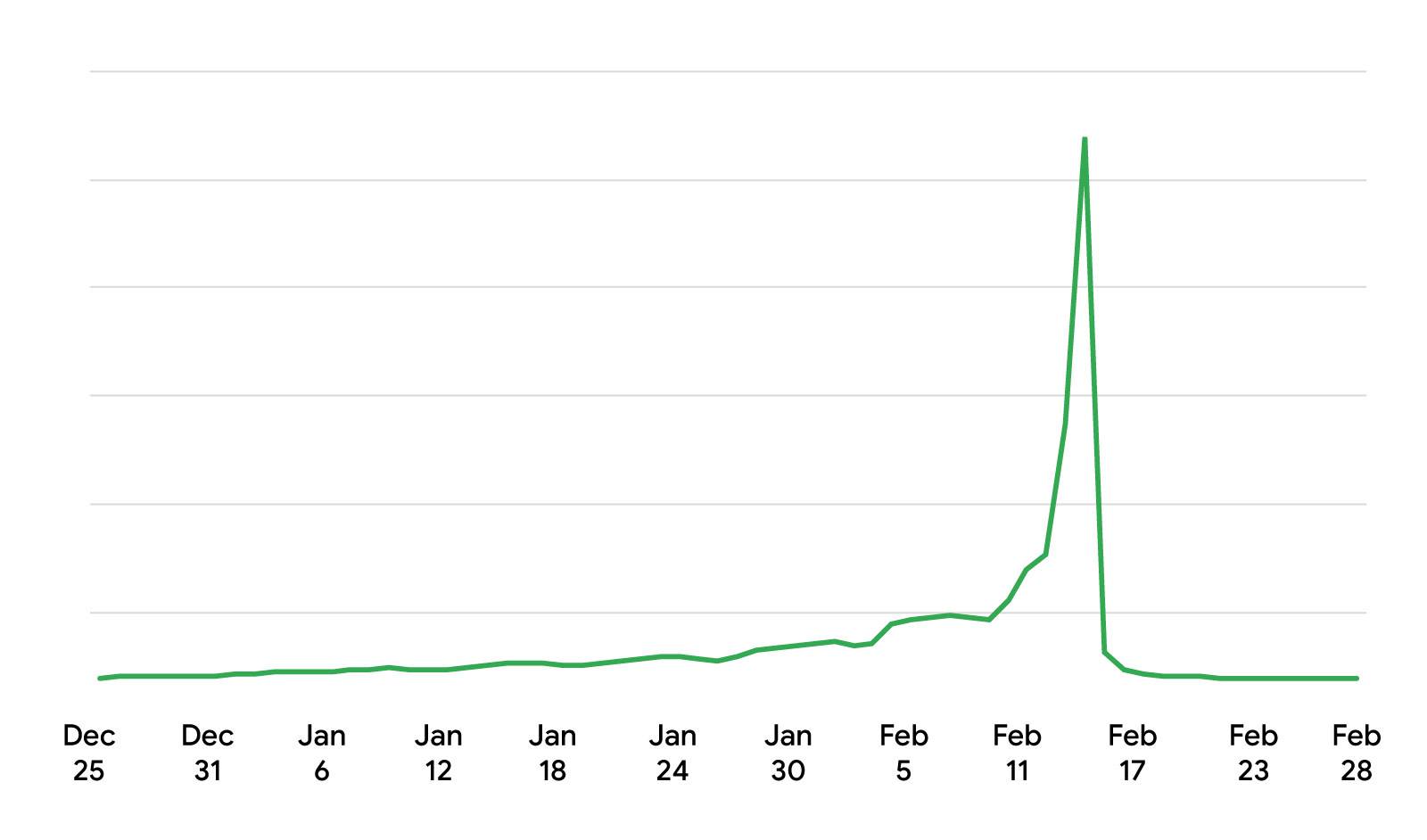 Optimizing your Valentine's Day marketing ideas based on these searches will help you engage with your existing audience, and connect with new ones too!
Before we talk about some creative Valentine's Day marketing ideas your business can try, let's delve into the history of this event. Who knows, you might even get some cues to design your campaigns once know how it all started
Valentine's Day – a peek into the history
Today Valentine's Day is a celebration of love, a day of exchanging gifts with loved ones. But have you heard about the origins of this tradition? There are several stories in history, all of which took place in the month of February. And they all eventually lead to the practice of celebrating Valentine's Day. Let's talk about a few of the most popular ones:
Some connect this day with the Lupercalia festival of the pagan culture that involved many primitive fertility rituals including the union of men and women through a lottery system. This festival is said to have been celebrated on February 15.
Another story is that during the reign of Emperor Claudius II in Rome, young soldiers were not allowed to marry. They were expected to serve in the armed forces. A priest named Valentine helped young men get married secretly. When the emperor found this out, the priest was beheaded. Some believe that the festival is named after this priest who gave up his life trying to support true love.
There is another story involving a priest named Valentine, again. In this story, the priest is said to have been imprisoned. And during his imprisonment he wrote a letter to his lover, the jailer's daughter, with the signature "from your Valentine ". This is said to be the reason behind today's trend of sending handwritten notes to a loved one as his or her "Valentine".
So, you have three different stories to be inspired by. Yours can be a brand that celebrates traditions. Or one that helps bring people closer to their loved ones. Or even one that makes gifting easier. Based on these concepts, let's talk about the best Valentine's Day marketing ideas to try this year.
Valentine's Day Marketing ideas for 2022
Valentine's Day is not far away. Now is the perfect time to target all types of shoppers:
The meticulous planner who has an organized gift list ready
The romantic who needs something personalized
Or even the last-minute shopper
And below are some ideas for each of them.
Embrace love in all shapes and sizes
The definition of true love goes beyond "guy meets girl and they lived happily ever after". There's love between friends, love for pets, loving oneself, and love after breakups. And of course all of these span different gender identities too.
Yet all too often most marketers ignore them. But these are ideas that help you target specific types of audiences and that too with a great success rate.
1) Try the Galentine's Day trend
The 13th of February is known as Galentine's Day. It's a day for girlfriends to meet up with their besties and celebrate their bond.
Is your target audience made up predominantly of women? If so, this is a day you'll want to incorporate into your marketing strategy. And if you do your marketing just right, you can drive an entire social media campaign based on this day. #galentinesday is a hashtag you cannot ignore in your social media marketing calendar for February.
Need some inspiration? Below is a set of Galentine's Day gift ideas for besties, from Bath & Body Works:
Kimp Tip: When you design female-focused campaigns, stay away from exclusively pink themes and color-based gender stereotypes. There are many other ways to add a feminine touch to your design.

Need some help figuring out how this can look for your brand? Not sure how to design graceful ads and posts that target female shoppers? With a Kimp subscription you can get as many different iterations as you need for your designs – and revisions too – for a flat fee. Book a call with the Kimp Team to learn more.
2) Celebrate the special love between pet parents and their pets
Pet stores as well as supermarkets and ecommerce stores selling pet supplies can make the most of Valentine's Day with pet Valentine campaigns. After all, ask any pet parent about true love, and their furry friend is perhaps the first one that comes to their mind.
Most pet parents love to spoil their pets with gifts on this special day. Valentine's Day discounts on pet products can be used to boost sales. Contests, giveaways, and other strategies can be used to improve engagement on social media. But make sure that you keep your customers informed about all that's brewing for their pets this Valentine's Day.
Mars PetCare, a popular US pet supplies brand conducted a contest last Valentine's Day. People were asked to share the best picture of their pet Valentines on social media. Campaigns like these can easily skyrocket the social media engagement rates. And your customers will spread the word and thus bring in new customers to you.
3) Breakups don't always have to be sour
Valentine's Day is not just about present-day love stories. It is about overcoming past love hiccups and breakups too. It is about embracing the new "you" that emerges after a relationship that doesn't work out. Some people and brands do celebrate Singles' Day but Valentine's Day can also be about making all those singles out there feel included.
The email belwo from Calm, a meditation app, embraces the many ups and downs of love close to Valentine's Day.
Brands that target single people make them feel included and engaged, and in turn definitely win hearts. Campaigns that let people share their breakup stories or lessons that their past relationships have taught them help strike up a meaningful conversation with your customers.
Campaigns like these let people share their stories and maybe even have a good laugh about it. It gives them a chance to know that they are not alone. Something we can all use a little more of in the pandemic.
4) No love is better love than self-love
"You cannot pour out from an empty cup," they say. This Valentine's Day remind your customers of the power of self-love. Self-love can mean so many different things. A pretty bag or wallet for oneself, a spa day at home, a good book, movie night, or even a day spent exploring a new city.
As you can see, brands selling personal care and beauty products, books, travel agencies, and even digital content subscription services can all target their customers this Valentine's Day. Just highlight the need for self-love and taking some time out for themselves.
Again, this can be in the form of special discount codes for personal care products or a discount for new subscriptions to OTT services. It could also be in the form of engaging campaigns on social media asking customers to share what special thing they did for themselves this Valentine's Day.
Below is a message from Dove, a globally popular personal care brand, to its customers on Valentine's Day. Even a simple Valentine's Day wish like this will boost your brand's social media engagement on Valentine's Day.
Diversify your marketing channels
When you have a list of different types of audiences to target, you should also be ready to explore different channels and ways to reach your customers.
5) Valentine's Day-themed Emails
You do not have to wait until February to send out Valentine's Day-themed emails. In fact, starting early gives you a head start. Announcing sales and discounts in late January makes it easier for the 'organized' shoppers to find gifts on time.
Build anticipation for an upcoming sale and remind them to place their order early so that they get their favorite gifts before the stocks run out and before the rush of the holiday season sets in.
Use catchy subject lines that tempt them to open the emails and make the copy as interesting as the subject line itself. Ideally, we'd say that you should start scheduling these email reminders at least 2 weeks ahead of the day.
This will help to ensure that your products are what the customers think of before anything else when they want to give a gift to somebody special in their lives. Reiterate your track record of timely deliveries.
You can also use a quick infographic to show relevant data like:
The number of orders placed by customers last Valentine's Day
Locations your brand served last year
Types of gifts that were most popular last year
The email below from the food ordering app Ritual Co is a great example of a design that's on brand and taps into the visual appeal of Valentine's Day.
6) Blogs or Emails as Valentine's Day gift guides
Nowadays people think beyond "chocolates" and "flowers" for Valentine's Day gifts. Many of them look for gadget gifts or even personalized gifts relevant to the person receiving them. Shoppers are also curious about what's trending in the Valentine's Day gifting category.
As a marketer or entrepreneur, if you manage to promote your gift as something that's trendy and something that's relevant for the occasion, your campaign could be a big hit.
Shopping guides are the best ways to implement this idea. You can do this through detailed blog posts on gift lists or even through a simple email gift guide as this one from Apple.
Kimp Tip: Emails and blog posts with gift guides work really well when you have crisp text and visually appealing graphics. Need some help creating designs that deliver results? Work with Kimp's graphic design team to get the best blog post images and email graphics designed.
7) Get Social Media prepped for the season of love
Maintaining consistency will improve the effectiveness of your Valentine's Day campaign. It is not enough if your emails talk about it. Your social media should too. You can use your posts to link to blog posts in this theme or directly to link products for the occasion. You can also use Stories to conduct polls and encourage customer engagement.
The post from Chanel, seen below, is a crisp and clean way to drive traffic to relevant products for Valentine's Day.
Tips to get it right
We hope the previous sections helped you narrow down the right type of audiences for your campaigns and also identified the best ways to reach out to them. Next up we've got some Valentine's Day marketing best practices for you to keep in mind before you launch your campaign.
8) Find the right audience
Customers will only spend an average of 2 – 5 seconds reading your email! If you don't get your foot in the door during those few seconds, your email will be deleted, added to spam, or just ignored. The same applies to social media posts and ads as well. So, strong customer targeting strategies are now more important than ever.
So when you're planning your Valentine's Day marketing ideas make sure that you take into account all of the data that you have gathered about your email subscribers. And keep in mind that for this particular celebration the gender custom field is extra important as behaviors will vary quite a bit along these lines.
If you have a clearly segmented email list, you are in luck. Otherwise, you can send out a generic email with specific triggers for different genders. Based on the metrics, find out who clicked on what. With this, you will have different segments of audiences to target based on preferences. You can use similar strategies for social media posts as well.
Stories on social media can be used to conduct polls and based on the responses and social media analytics you can group audiences with similar interests. All this will ensure that you send out relevant emails and place relevant ads for the best conversion rates.
While you do all this, you should also look for customers who are not interested in Valentine's Day by shortlisting those who do not engage with any of these posts and emails. Not bothering them with your future Valentine's Day-themed posts will be equally important.
9) Add variety to your Valentine's Day hashtags
Most social media platforms now allow hashtags for better segregation of posts and better visibility. This Valentine's Day, take hashtag research seriously. Your hashtags should be a mix of the following:
Trending hashtags for Valentine's Day – for better discoverability
Brand hashtag – for consistency in branding
Campaign hashtag – for easier engagement
Also, remember that hashtag trends tend to be different on different social media channels.
Above you'll see a recent campaign from Tiffany & Co. for Valentine's Day. The brand makes it a point to create a hashtag for every Valentine's Day thus making it easier for the audience to engage with it.
10) Share vintage love stories
People love 'love stories'. And what better season to celebrate famous historic love stories than the Valentine's season! This Valentine's Day, if you are looking for a creative way to boost your social media engagement, look for the best historical love stories and share them with your social media audience through temporary content forms like Stories or Reels.
You can create a whole series and even create a hashtag for it, sharing one story per day. And then use your Stories to give a hint about the story that is coming up the next day. This will have your audience anticipating your next post. And on Valentine's Day, you can do a roundup of all the posts.
You can take this up a notch and ask your Instagram and Facebook followers to use a specific hashtag like say #vintagelovestories or #loveintheolddays and post the stories of their parents and grandparents.
You can then feature some of your favorites (i.e. the ones that will resonate most with your larger audience). These are campaigns that will automatically draw people to your products and services even when you do not mention them anywhere specifically.
Kimp tip: For such series posts on social media you should pay attention to your social media aesthetics. You can create design templates for the whole set of images you plan to share. Or even design an organized aesthetically appealing grid for this.
Need some help with this? Kimp's graphic designers can help you design your posts right in time for your Valentine's Day campaign.
11) Send out some product samples
Incorporating product samples into your Valentine's Day marketing campaigns is a great way to use the holiday to increase brand/product awareness. You can simply include a product sample with each order up till a certain date or send out a product sample to all those who sign up (a great way to build your email list as well!).
Sending out product samples as a part of your Valentine's Day marketing provides the following benefits:
A way to introduce new products
Cross-selling to existing customers
Means to showcase your bestsellers
Option to draw attention to products that have not yet gained traction
When you send out your samples, consider adding a personalized thank you note to let your customers know how much you value them.
12) Do not forget last-minute shoppers
Last-minute shoppers create sale opportunities you cannot afford to miss. They will be leads that convert easily and often the ones that spend the most. These are people who trust your shopping guides and click that call-to-action button in your emails. So, have some carefully crafted emails and social media posts curated for last-minute shoppers.
You'll also want to tailor your offers and messaging to the pain points that last-minute shoppers deal with – namely getting the right gifts on time. And then ensure that your posts show how your brand removes these pain points for them and makes it easy to shop for Valentine's Day.
Clearly mentioning the details below will help them make quick decisions:
Dates by which orders should be placed to ensure timely deliveries
Details about expedited shipping options you offer on these special occasions
Other options like curbside or in-store pickups – and the cut-offs for ordering for these services as well
You can also talk about gift card ideas for shoppers who miss out on the option to place an order on time for delivery.
Be sure to include this info across all your channels in a timely way. We are talking about social media, your website (e.g. blog updates, sliders, pop-ups, a dedicated page for Valentine's Day), and promotional emails.
13) Leverage the potential of user-generated content
We are big fans of user-generated content. It's an important type of social proof that gives potential customers more reason to trust your brand and feel more inclined to buy from you. Besides, when customers post about you on their accounts, by tagging you or using your hashtags, they act as ambassadors for your brand. While this often happens voluntarily, don't shy away from asking and incentivizing your followers to do this.
Dunkin' Donuts has a great reputation for its fantastic user-generated content campaigns. They play to the fact that their customer base is loyal. On Valentine's Day they typically ask their customers to take part in a Dunkin' Love contest on Instagram. They've also done a live stream on Facebook. And they've even implemented Snapchat's Geofilters at various Dunkin' locations. This brilliantly coordinated, omnichannel strategy allowed them to leverage their user-generated content on different platforms on the same day.
Transform your Valentine's Day marketing strategies with the best designs
Valentine's Day trends come and go but it will always remain the season of love. So, this is a great time to evolve from a brand your customers 'know' to a brand they 'love'. A carefully crafted Valentine's Day campaign can help you with that. Work with Kimp's unlimited graphics and video design services and give your Valentine's Day marketing plan the push it needs. Sign up for a free trial today.