7 Types Of Instagram Aesthetics + Tips To Create Your Own
What is the first thing that comes to your mind when you think of Instagram? The imagery, right? Reels and videos may dominate the platform today, but no one can deny its scenic image roots. In fact, in so many ways, Instagram is the reason the word aesthetic is used as much as it is today.
But what exactly is an aesthetic, and what has Instagram to do with it?
Simply put, it involves a set of principles for the appreciation of beauty and artistic taste. They say beauty lies in the eyes of the beholder. Well, so do aesthetics. What you may find appealing may not be someone else's cup of tea.
This unique quality of the subjectivity of aesthetics has allowed users and brands on Instagram to set themselves apart from the 500+ million daily active users' network.
And we want you to be able to do this too! So Kimp is bringing you a guide on the most popular and unique Instagram Aesthetics with tips to create your own.
Before we get into it, let's take a quick look at how Instagram aesthetics can help your brand.
Why the fuss about Instagram Aesthetics?

Instagram today is a pivotal element of social commerce. Brands are increasingly setting up shops directly on Instagram, or merging it with social commerce. So a unique but meaningful aesthetic becomes even more vital for a brand to attract its niche audience.
How?
Well, think about it. The marketing world never seems to stop speaking about the vitality of a unique branding and visual identity. That is because you have to stand out in this competitive world and connect with customers on a deeper level. Design and visuals allow you to do that.
The same principle applies to Instagram, essentially a digital marketplace and brand showcase platform. You need a cohesive visual identity here too. And that comes from a dedicated Instagram theme or aesthetic.
It brings consistency in the visual content you post on Instagram, enhancing your brand identity on the platform. And studies show that 60% of the best-performing brand accounts on Instagram display consistency in their post designs.
All in all, having branded Instagram aesthetics help brands leave an unmissable mark on the platform. That's because when you consistently follow an aesthetic your posts become that much more recognizable.
Now the question is how to pick one from the wide range of Instagram aesthetics out there?
Don't worry, we've got you covered.
Let's begin by understanding the process of creating Instagram aesthetics before we explore the options out there.
Creating your Instagram Aesthetic: A Step-by-Step Guide
At this point you might be wondering why it's necessary to have a checklist to pick a theme. And why you can't just use your brand colors and your personal preferences to lead the way.
Well you could. But like branding, there is a bigger picture here. You don't want just a pretty feed; you want Instagram aesthetics that serve as a communication medium that reinforces your brand and connects with your audience. And that is going to take some steps. Easy, but necessary steps.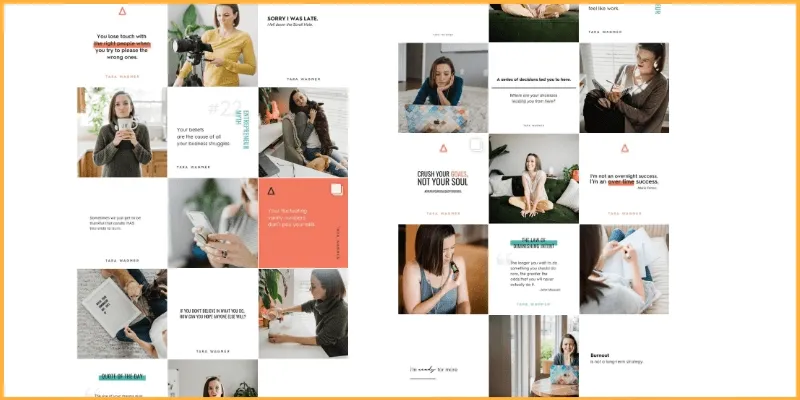 1) Understand your brand aesthetic
Your brand aesthetics are an extension of your brand's visual identity online. They start with your brand colors and elements, but need a color and image palette that complements them.
Just consider this – your brand colors may look great in your logo, but if your feed is filled with only these colors, they won't pop and stand out. That's where the complementary colors come in.
For best results, consider the content your Instagram feed will feature – what genre are they? What do the posts look like? How do you want to represent your brand personality via your Instagram feed?
For example, if your brand identity has many elements with neutral tones, you need an aesthetic that highlights it well on the platform. You must also consider your target audience on Instagram while finding your brand aesthetic.
Ask yourself which colors best complement your brand, and appeal to your audience. And then shortlist these options before moving forward.
2) Scout for Inspiration
Now that you have an idea of the pieces you're working with, it is time to look at what others are doing. Analyze the Instagram feeds of your competitor brands, popular brand accounts, and the accounts your audience follows to understand:
What are the Instagram Aesthetics they adopt?
Is it similar or contrasting to their brand identity?
Will it work with your brand identity and for your target audience? If so, how can you adapt and build on it to uniquely represent your brand?
3) Choose a theme
Instagram aesthetics have two components primarily: theme and design elements. Let's start with the theme. Work with your design team to choose a theme:

That reflects your brand personality to your Instagram followers.
Which is compatible with the content you have planned for the platform. For example, a tinted filter-based theme may not work well for a fashion brand as the products may not shine through.
That is flexible to adapt and modify for holidays, seasonal content, and new product launches.
We have curated some popular Instagram themes and aesthetics to inspire you below: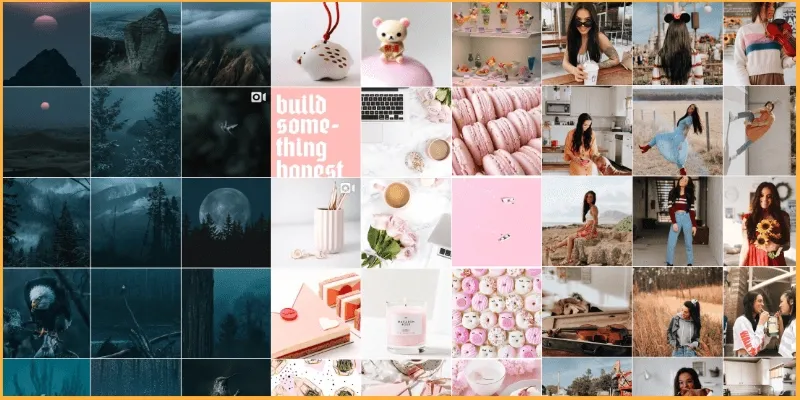 4) Choose design elements
Once you have the theme in place, pick and place your design elements. How are design elements any different from your theme? Well, the theme highlights the overall aesthetic and design style of your Instagram profile. Design elements include things like colors, font, filters, branding element placements, borders, and individual layout style.
These help you execute Instagram aesthetics with the theme you chose. And the consistency of these design elements makes your theme and aesthetic effective in their purpose.
5) Create a style guide
When automation dominates the creation process it brings about quality control. One way to incorporate automation and standardization in your design on Instagram is to compile a style guide.
As we just discussed, many design elements and themes come together to build that Instagram aesthetic for you. And consistency is going to make it effective. A design style guide helps you monitor every content that goes out on the platform to ensure it stays in line with the look you want.
Building a style guide also makes it easier on the content creation process itself. Even if inspiration strikes at the last minute, you have a template that can help your design team dish designs out quickly.
Apart from specs for your post layouts, you can also incorporate photo shoot guidelines, product placement guidelines, brand representation guidelines, and so on.
6) Extend your aesthetic beyond the Feed
Finally, we would like to urge you to extend your Instagram aesthetics beyond the feed. Ideally, every customer interface must carry the same design style so that your brand becomes easier to recognize over time. On Instagram, this means incorporating the design guidelines for Reels, Stories, and Guides as well.
You may create some of these pieces of content spontaneously. But you have to try to stick to the same aesthetic across content forms for building brand awareness.
Now that the process is clear, let's explore the options available to understand what will work best for your brand.
7 Types of Instagram Aesthetics – Inspiration from Top Brands
The possibilities that come with design are endless. Design styles and aesthetics are quite subjective, as we know, so there can be multiple good options here. But your presence on Instagram has a purpose beyond flaunting your personal design style.
Instagram is your chosen platform to showcase your products, build a connection with your audience, and attract them closer to your brand. Your aesthetic is one of the aces you hold in your quest to achieve all of this.
So how do you decide? Start with some inspiration from Kimp Graphics. 😉
1) Minimalistic Instagram Aesthetic
A minimalistic theme comes with a no-fuss approach. You showcase your products and let them do the talking. This Instagram Aesthetic will work perfectly for a brand looking to showcase its products over any other content.
However, you must understand if a minimalistic brand aesthetic works for your business and the target audience. For example, if you are a furniture brand dealing in contemporary furniture with clean sharp lines, this is totally you. But if you are a Gen-Z targeting apparel brand, you have to rethink the choice.
If you are a brand that will create Reels, IGTV posts, Carousel postss, and image posts, a Minimalistic Instagram aesthetic can work for you with the right cover image. Check out Stac Fine Jewellery, for example. All their posts are clean, simple, and product-oriented, irrespective of format.
Kimp Tip: Cover images and thumbnails for videos become extremely important when you adopt this theme. Also, minimalistic themes can focus on one or two colors only to achieve the right aesthetic. So pick a palette that works for your brand well.
2) Text-Based Instagram Aesthetic
Instagram is visual, correct? But what if you create posts that are educational and need to include words more than anything? Do you choose an Instagram aesthetic that does not match your brand just to follow a trend?
The good news is you don't have to be. Instagram lends itself well to text-based themes to create the aesthetic that fits your brand.
Take the Shopify feed, for example. Shopify shares a lot of text-heavy posts such as statistics, carousel posts, and other static images. But it does not shy away from featuring text. Instead, Shopify has created an entire aesthetic using colorful backgrounds that support its brand identity while championing text based posts too.
Kimp Tip: Shopify chose a colorful rainbow palette to champion its words. It works because it fits the brand's identity in the market. It is a fun, explorative, and playful brand. Want to try this out? You can always alter these color palettes to suit your brand's personality.
3) Vintage
Old is gold, yes? Well, with the vintage Instagram aesthetic, you can bring that touch of gold to your brand's Instagram feeds.
This Instagram aesthetic works brilliantly for brands that deal with lifestyle products, such as clothes, accessories, or books, to name a few. To achieve this aesthetic, you have two options:
Shoot all your photos with a color theme that is consistent with the vintage aesthetic
Apply a filter on your photos and posts to bring the vintage element in
You can choose what works best for you. A post-shoot edit with a filter is inexpensive and allows you to showcase your products in their true colors.

Kimp Tip: Applying filters to your photos sounds easier than it is. If not done well, you can seriously hamper the quality of your Instagram feed. Also, when you allow a professional to work on your images to bring them into the vintage era, you can enhance lighting, composition, and style for better results.
4) Color-block
Color is the easiest way to connect with your audience. Humans are hard-wired to respond to color and colorful visuals faster than any other design element. So aesthetics that rely on color always have a higher retention rate in customers.
Color-block specifically is one of the most popular Instagram aesthetics among younger generations. Gen Z is a huge fan of brands that use color-block and use it well. For this aesthetic, you have to bring two or more contrasting colors together to create an extremely engaging feed.
This aesthetic can be as loud or as understated as you want. There is absolutely no restriction.
Check the Instagram feed of Bespoke Bride, for example. It is full of contrasting colors that pop the minute you see its Instagram profile. It works well and is truly an extension of the brand's visual identity. In fact, the colors they use feature on their logo as well.
5) Monochrome / Monotone
From color block and a riot of hues, we now go the opposite way. If there is a market for Color Block, there is a market for monochrome as well. In fact, monochrome or monotone is one of the oldest trends of the design world. There is something very soothing about the repetition of colors and tones.
Monochrome feeds usually feature just one color throughout the profile. But this is not always possible for a brand when you have models, user-generated content, and products to showcase. The key is to design the posts in a way that the chosen monochrome elements feature in a subtle but obvious way to bring it all together.
If you want a splash of color but in a very connected manner, opt for the monotone Instagram aesthetic like Brit & Co. This brand uses its pastel peach color in every post with other colors of the same pastel palette for a very pleasing and fun aesthetic.
6) Puzzle Instagram Aesthetic
This Instagram Aesthetic is especially for brands that are extremely image-heavy in their content. Fashion brands, photography studios, art agencies, and modeling agencies are just some that come to our minds.
As the name suggests, you break the images into smaller photos that fit the Instagram tile, eventually making the bigger picture. You can divide them into 2 sections, 3 sections, or even 6 to 9 sections based on how you want the feed to look in the end.
But do not go overboard with this aesthetic. It is good to have a little breather between some puzzles so that your customers do not get bored with it.
You can also combine this theme with other Instagram aesthetics like vintage, color block, or minimalist.
7) Flatlay
Flatlay is a product photographer's favorite theme. Simply put, your Instagram feed will be full of product images taken from the top angle if you choose this aesthetic. One of the popular themes right from the platform's beginning, it works brilliantly for a retail brand.
But it does not have to be boring with just still images. Flatlays works great for videos as well, as you can see from Sharpie's feed.
Just like minimalism, this is an extremely product-focused aesthetic. But it allows you to experiment with designs and styles by varying the colors, props, and backgrounds to suit your preference.
Turn your Instagram Aesthetics around with Kimp Designs
To create an engaging Instagram feed, people usually spend hours and hours on the Internet for inspiration, presets, and tools. But as a brand, you have to devote that time to running your business. And you can't always rely on DIY tools to give you the best results.
That is why Kimp Graphics offers unlimited graphic design services at a flat monthly fee. To help brands grow with designs that make an impact.
With a Kimp Graphics subscription, you can create unlimited designs for social media, and request unlimited revisions. Need video content too? Kimp Video has you covered.
Sign up for the free trial today and get designing.