How Uniqlo's Marketing Goes Global & Stays Local
Who doesn't love shopping, right? It is one experience that actually connects the entire globe. Now, the love of shopping can extend to anything – clothes, gadgets, books, food, or cars. It can be anything.
But universally, it is usually lifestyle goods like clothes, shoes, and other accessories that seem to be a crowd favorite.
And that's why we see new lifestyle brands launching all the time.
This means fierce competition amongst these brands. Especially since customers can sway easily, trends often change, and one advertisement can change a brand's fate.
But there is one brand that has stood the test of time and even expanded its global footprint. Uniqlo, a Japanese brand launched in 1984, is proof that putting customers first and thinking out of the box can solve any challenge.
In March 2021, Fast Retailing, the company that owns Uniqlo, touched a valuation of $105 billion, overtaking Zara's valuation for the first time.
But this victory did not come by in a day. It is a culmination of the company's 35 years of constant effort towards building a brand, global expansion, and customer experience.
Uniqlo's marketing strategies have aided the company's strong localized branding identity and an ever-growing global image.
Before we get into how Uniqlo achieved this unique combination, let's look at the brand a little more in detail.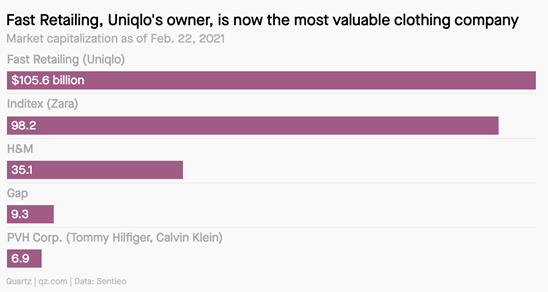 Uniqlo's Marketing: A global trendsetter
The fashion industry is all about the "In-thing", the trend, the popular. And if marketers know one thing about trends – it is that they keep changing at the drop of a hat.
And most fast fashion companies for the last two to three decades keep trying to bring the runway to the streets in the shortest time possible. Uniqlo, in complete contrast, chooses to focus on quality, produce everyday basics, and limit changes in design unless absolutely unnecessary. And that sets a trend of its own. There is a popular belief in Japan that Uniqlo brought back comfort clothing and flannels back on the street.
The company owns the entire production process and focuses on technology rather than fashion changes.
Not that Uniqlo is not a company where design shines. Uniqlo's simple and aesthetic designs have won over the young consumers in a major way. Their design style is simple and relatable, which comes across in their brand identity, too.
The Secret behind Uniqlo's Marketing's International Success
Uniqlo opened its first international store in London in the early 2000s. But it was not until 2014, the brand went on full global expansion mode. Building on 840 successful stores in Japan, this was an enormous challenge that the company embraced. But it all worked out as Uniqlo's international revenue exceeded Japan's revenue by 42% in 2019.
When you look at Uniqlo's international success, you understand the brand cultivated roots in Japan before it spread its wings. Uniqlo believes, "To be great globally, you must be great locally". And this does not just mean having roots, it also means understanding each individual market and co-branding them successfully.
Uniqlo provides an authentic experience while also adapting itself to each market in each store it opens.
While the brand has always aimed to be a tech company rather than a fashion company, we think it is also one of the best branding and marketing companies in the apparel world.
It is this innate understanding of visual marketing and branding essentials that established Uniqlo as a global brand with a wonderful local identity. We know it's a Japanese brand at first glance, but we also feel at home when we shop in its store.
Are you looking to expand your business outside your home base? Wondering how to maintain your roots while also assimilating with a new culture?
Well, you are in luck because this guide by Kimp is here to answer these questions and show how one of the biggest global brands did it.
Behind the success of Global Brand: Uniqlo's Marketing Strategies
Some of the marketing strategies and campaigns that Uniqlo built for itself were truly ahead of its time and visionary. The advantage for small businesses today is that you can use this information to take note of what works for your brand and implement it.
Kimp has curated some of the most noteworthy marketing strategies and campaigns that made Uniqlo the success it is.
Building a strong brand
Uniqlo has very strong branding in place. Right from the logo to its storefront design in Japan, you understand the brand values clearly. The logo's white denotes minimalism and simplistic designs. The combination of red and white connects the brand to its Japanese roots.
Beyond the logo and the brand name, the tone of the brand messages is also very straightforward. You get what you see with Uniqlo. Many often perceive the brand to have an easy-going and laid-back brand personality. The clothes they offer are also more about comfort than any trend-chasing.
Uniqlo is an all-inclusive brand; it stocks the most sizes and most colors compared to any other mainstream company. And their store designs reflect that. You will see that every store makes you feel welcome, and displays the abundant variety they have.
This strong brand identity across verticals makes Uniqlo stand out from its competitors in every market they enter. Any Uniqlo store you walk into, you will see a little bit of Japan coexisting with the local culture.
Kimp Tip: Building a detailed visual and branding identity not just guarantees success in the home market but also in new territories. Always think big and ensure that when you design a brand identity for your company, you choose something true to your roots that conveys the right message about your values, personality, and products.
Need help building your visual identity? Try a Kimp Graphics subscription and work with a dedicated team of experienced designers.
Consistent Branding Experience
We often talk about how important branding consistency is, and there is no better example than Uniqlo for it. The company ensures that no matter where you shop from and what store you walk into worldwide; you get the same experience.
In fact, the Uniqlo bags and the signboard is a very distinct identity for the brand. And no matter what changes they make in the store design or the collection for a particular market, they never change that. That design is Uniqlo's face and will always remain so.
Now you must also realize that consistency extends beyond branding design and goes well into every touchpoint a customer has with your business. Uniqlo ensures they train every customer service officer or shopping assistant in customer service essentials.
Uniqlo wants customers to feel really special when they interact with the brand. So they even released a video on their YouTube channel to show how their store managers spend their day.

Kimp Tip: Having a consistent brand identity that helps you build brand awareness while also being able to adapt it to different mediums and locations is very important. Fluidity in branding design can help you in your expansion plans immensely. Talk to your design team to understand how your logo, brand name, symbols, and other branding elements will work in different scenarios.
Memorable Store Design
Imagine you are a brand opening a store in a locality that is completely different from your HQ. You have two challenges: blending in without losing your identity and making people comfortable enough to walk in.
Well, Uniqlo seems to have cracked the code for these, and how! Uniqlo's global expansion goal was to be relevant and also keep its unique brand identity. In every location, the stores have a design that perfectly combines the brand's values with the local culture.
In London, the store is an homage to the city's urban hip lifestyle where the local artists also hold events, making it a Starbucks-esque place for apparel. Meanwhile, in Singapore, the company worked with local artists to celebrate local culture and the multi-faceted heritage.
But that's not all. Uniqlo acutely analyzes each store's location and the region's culture to choose the store. In fact, in New York, the store is all about Japanese culture with books stacked near checkout counters, and other artwork that resembles a small Tokyo in SoHo.
This combination of its local roots and the city's local culture is a brilliant example of co-branding. The way it works in Uniqlo stores is that the product, the storefront design, and other major elements speak of the brand while the aesthetic connects it to the local community.
Kimp Tip: It is a legitimate concern to be worried about having your brand image drown out during market expansion. But you can control that by setting the narrative. Spend time understanding what you want the design to convey and draft a design brief with your intentions for each design.
Also, hiring a team like the dedicated design team at Kimp Graphics that do end-to-end design can help you create marketing materials for different locations with branding consistency.
Combining Ecommerce Success & Retail Sales
No brand can truly become a global brand without a presence on the Internet. Customers must be able to access you with ease from any corner of the world. It also solves a lot of retail space issues in far-reaching cities worldwide.
A good internet presence starts with an ecommerce store. And Uniqlo has one that works brilliantly for it.
But it doesn't operate in isolation. Uniqlo uses its digital presence to boost the footfall and retail sales in its stores. The company understands that customer behavior leans towards a hybrid shopping tendency where they check the styles online but choose to buy offline or vice versa.
A study shows that the brand employs the lure of coupons and discounts to have customers follow them online on social media, download their apps, and also buy from offline stores. They do this by giving customers coupons that only work on offline purchases.
The presence of retail also helps the success of the ecommerce stores. Customers like to try the products in the stores and understand the brand's offering in detail and then shop at their convenience later.
This ease of shopping is a pivotal reason for the brand's global success. Now, not every brand has the resources to have both. But if you're an ecommerce brand customer doing pop-up events to promote your products.
Kimp Tip: Yes, an ecommerce store can help you push sales offline and vice versa. But there is one catch. Your customers must experience the same design, shopping experience, and products on both platforms. One way to do this is to mimic the storefront design on your website's homepage.
Can't keep up with all the designs you'll need to successfully brand your store on and offline? Get Kimp Graphics!
Build a Global Brand Identity with a Kimp Subscription
Market expansion is always quite challenging. The merging of brand identities and the need for your products to stand out in new spaces can intimidate and worry any founder. Even if we're talking about different cities and towns and not countries altogether.
But Uniqlo has shown us that if you build the foundation well enough, the expansion can become a cakewalk.
Building a strong brand identity requires a design team that understands your values, requirements, and messaging. It also requires a team that can provide a plethora of solutions to you at an affordable price.
With Kimp Graphics and Kimp Video subscriptions, you get unlimited design requests in a record turnaround time. And you get to work with a talented team of designers.

Sign up for a free trial today.