Netflix + Money Heist: Marketing Lessons From A Viral Hit
Has the word "Professor" taken on a new meaning in your life post-2017? Do you also want to sing the Spanish freedom anthem "Bella Ciao" all day? Can you not stop thinking about the fate of the Heist gang in Season 5? 
Well, then, just like the entire world, you're probably hooked on Netflix's successful series "Money Heist". Ever stop to think about how this happened?
5 years ago, consuming any content except for mainstream TV shows and movies was an anomaly. Now it is a way of life, thanks to the explosion of content on OTT platforms like Netflix. A Spanish show, set in Spanish culture, becoming a major hit and even a pop culture phenomenon worldwide? Not something anyone expected. 
So how did this happen? Is it just the story, or is there a mechanism at play that no one has realized yet?
Well, conspiracy theories aside, the success in making the show a global phenomenon comes from incredible branding and marketing!
Consider it a domino effect. Take the awesome branding and marketing. And add to it the algorithm and networking pushing the show in front of everyone's face and creating a buzz! 
Netflix and Money Heist have captivated and sustained the attention of audiences for over 4 years now. Not a minor feat where everyone moves on from a show in a couple of months. Analyzing the method to this madness holds many vital marketing lessons. And we're bringing you a rundown of them in this blog. 
Want to create a viral product that has local roots but a global audience? You need to read this piece. 
Let's get right into it.
The Global Phenomenon called Money Heist 
People who know Money Heist as the show that expanded Netflix's reach in many countries will be shocked to know its origins. It was initially intended to be for a local network. And the show was even on the verge of getting off the air! It initially had a lukewarm response from audiences.
Netflix acquired the show at the now unbelievable price of $2. And the network has made it one show that turns anything it touches into gold.
The first week it aired, this show had an audience of 34 million even. And that's without the aggressive promotion the show received post the first two seasons. From 34 million, the show saw a massive jump in international viewership. The fourth season's second part touching 65 million viewers. 
The show takes the cake in being one of the most popular Netflix non-English shows too. Every episode, every character, and the entire idea of holding the Royal Mint of Spain hostage captivated the world audience to an astonishing extent. 
After Netflix realized the reach of the show the platform left no stone unturned in promotions. These promotions, both digital and offline, played a massive role in propelling the show and the entire brand to greater heights.
Understanding how Netflix strategically invested time and resources can truly help any marketer and small business, too. In their quest to create viral content, Netflix's marketing playbook for Money Heist is a godsend. 
So with no further delay, let's get right into it.
Money Heist marketing lessons
There is no taking away from the quality of storytelling. But marketing definitely played a huge role in giving Money Heist the stature it enjoys today. The promotional campaigns from Netflix are innovative, tailored to different audiences, and some of the best work we have seen in TV and movie marketing. 
As a small business, many of these ideas may not be easy to replicate frame by frame for you. But if you imbibe the essence for your business, it can be game-changing. And, of course, Kimp is here to help you put your own unique twist on these marketing gems.
For now, let's begin by taking a look at some of the outstanding marketing strategies and campaigns by Netflix for Money Heist.
Taking marketing to a higher level 
Netflix is one of the few OTT platforms that brings in new titles almost every week. With over 15000 titles under its belt, the brand cannot afford marketing for each and every new show. 
But for Money Heist, Netflix did everything to sustain the attention of existing viewers and create brand awareness among newer audiences.
Some strategies by Netflix under this category include:
Red Carpet Premieres and launches for the show with the entire cast and crew in attendance. Events like these seem like they've always been in play. So, while this was straight out movie marketing's playbook, doing this for a regional-turned global web series was a stroke of genius by Netflix.
Social media buzz generation and sustenance. Netflix's social media channels and their content include material that legends are made of. Whenever a new Money Heist season is about to drop, all these handles go abuzz with teasers, trailers, fan theories, reaction videos, memes, and whatnot. The internet then overflows with this content so much that unless you live under a rock, you cannot miss that a new season is about to drop.
Kimp Tip: Whether you are promoting a product, a new movie, or even a service, you need the audience's attention. A combination of experiential marketing and social media marketing techniques work brilliantly in these situations. So build up the curiosity and buzz with PR pieces, video teasers, trailers, interviews, and even quizzes so that you involve the audience in the launch from the get-go.
Looking to create engaging and thought-provoking teasers and trailers for your product drop? It is easier than you think. Just contact the Kimp Video team with a simple design brief and you'll get unlimited requests, revisions, and fast turnaround under a flat monthly subscription plan.
Offline promotions 
It is very tempting to concentrate purely on digital marketing because of the day and age we live in. Even more so for Netflix, given that most of its target audience is internet-savvy.
But you have to step out of your comfort zone if you want to take your brand to newer heights and capture audiences that you normally will not. And that is exactly what Netflix did. Branching out its horizons, Netflix launched a series of offline marketing campaigns to promote Money Heist.
Right from a Times Square Billboard, to print ads, the brand did it all. The intention was to build awareness for the show, and it was heavily successful in this. In fact, Netflix took out full-page ads for Money Heist characters, designed as "Most Wanted" posters to generate buzz for the show's launch in France.
Probably, one of the most bizarre campaigns has been the flooding of airports with suitcases marked with city/character names that relate to Money Heist. It is a brilliant play on how the characters have pseudo-names in the show, and appearing at one of the most unexpected places – luggage belts made this campaign a tremendous success. This shows that pushing the envelope with marketing can help you generate great results.
Kimp Tip: Your brand needs to explore every marketing avenue that can help your brand reach your target audience. While doing so, brand identities on digital and print mediums must perfectly match with each other. Ensure that your design team knows the purpose of your design and is aware of how best to represent your brand across platforms. 
With Kimp Graphics and Kimp Video design subscriptions, you can create unlimited design requests for unlimited brands so that each creative follows your brand design guidelines to the tee.
Collaborations with Brands 
We live in the world of co-branding, whether or not you like it. You can only scale your brand so far without collaborations. Netflix understands this and also knows that collaborating with large brands can bring in a wider audience for their show. However, like everything Netflix does, it outdid itself here, too.
In France, especially, the cast of Money Heist or La Case De Papel's heist team took over the ad spots of some very popular brands, creating a buzz unmatched to none. While it looked like a parody of sorts from Netflix, this was actually a co-branding effort from the brands and Netflix to gain the TV viewers' attention.
Brands like Seat, Dominoes, and Lindt reaped heavy rewards from this collaboration, but not more than the cast of Money Heist that became household names overnight. 
Kimp Tip: Collaborations can be tricky because you always worry if it matches with your brand identity or if you will have to worry about being overshadowed. So work with your design team to create a visual identity that is a combination of both your brands while also maintaining your individual brands.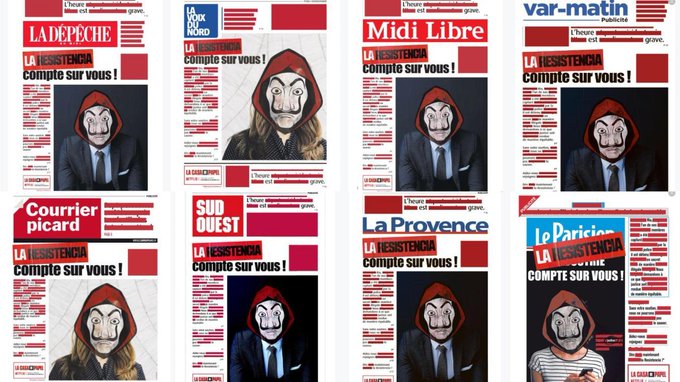 In one campaign, Netflix took co-branding to a whole new level with fake front pages for France's regional daily newspapers.
Region specific campaigns 
What many tend to neglect while building a global brand is that you have to treat each region based on its individual cultural identities. Money Heist, being a Spanish show, has strong local roots. So if you want to make it global, you must respect its identity and try to merge with the region you are promoting it in. And that is exactly what Netflix did.
We all know how strong Money Heist's branding elements are in its branding identity. Right from the Dali masks to the red jumpsuits, these items are now eponymous with the show. Capitalizing on that, Netflix installed a larger-than-life statue next to a popular middle finger statue. Bringing Money Heist next to a well-known French landmark propelled the buzz on the show to new heights.
In complete contrast to this, Netflix adopted a very influencer-marketing-esque strategy to promote Money Heist's last season in India. Given how popular the movie culture is in the country, Netflix brought popular TV stars and filmmakers to create skits, jingles, and monologues about the show's new season drop. This campaign went viral and enjoyed attention from the non-OTT audience too, because of the presence of popular stars. 
Kimp Tip: Understanding the local audience is what increases your ability to appeal to them more precisely. While launching your product or service in a new market, you must walk the fine line of sticking to your brand's language, culture, and tone while also merging with the demands of the local population.
Need help creating your designs? Try a Kimp Graphics subscription and you'll be able to get all the designs you need to suit different target audiences for a flat monthly fee. 
Build a viral brand with Kimp
Netflix's success in building a globally viral campaign reinforces the importance of brilliant design and great content for every brand. In a world of reducing attention spans and increasing visual mediums, you need good design to build your brand and create a viral campaign.
Creating consistent and excellent content improves your chance of becoming the talk of the town. With Kimp Graphics and Kimp Video unlimited graphic design subscriptions, you can do all this at a flat monthly fee that does not break your bottom line. 
Sign up for the free trial today and get ready to go viral