10 Halloween Social Media Marketing Ideas For Your Brand
Halloween is a special occasion that's recognized around the world, and across generations. That's why it's also a much-loved event for marketers. With just a few Halloween social media marketing ideas, it's easy enough to get in on the fun. And get some engagement and brand awareness while you're at it.
So, if you are planning your Halloween social media posts, we want to help you with some spine-tingling, spooky content ideas that you can try out. Read on to find out what's in store.
Why Halloween social media marketing matters
According to the National Retail Federation, around 69% of people are planning to take part in the celebration this year. And this is a drastic increase post-pandemic. This is good news for brands because celebrations call for purchases. So there are more orders coming your way.
In fact, the Halloween spending for 2022 is projected to reach $10.6 billion. 
There are a wide range of items that people spend on as they prepare for Halloween. This includes costumes, candies, and decorations. The purchases span several industries. Even if your brand does not belong to one of the relevant industries, you can still join your customers in their celebrations and promote your brand in the process. You can do this with Halloween-themed posts or simple social media contests that drive engagement. 
4 Spooktacular Examples of Halloween Social Media Marketing 
1) Engage followers like Dunkin Donuts
Dunkin Donuts ran a contest that required followers to dress up in a Dunkin-themed costume. By doing so they gave their followers a fun way to dress up and promoted their brand too. And this meant they received a lot of user-generated content and engagement. When you run contests that require user-generated content for entries, your role is simply to post the contest rules and then monitor, engage with participants, and share their entries. Be sure to share your contest and its rules with a well-designed social media post that gets your audience's attention. And clearly written captions.
2) Offer limited edition products like Fanta
Fanta is a regular when it comes to celebrating the Halloween spirit. There is often a spooky-themed limited edition product released close to Halloween. 
The 2021 Halloween edition of Fanta packs came with QR codes for users to scan and find out if they won a prize. This attracted more purchases and strengthened brand awareness. In 2020, the limited edition Halloween pack campaign led to a 6.5% increase in sales. In short, Fanta's strategy of using limited edition packs for Halloween works for the brand, almost all the time.
As you can see, the campaign goes beyond a few tweaks to the packaging. There is an attractive reward or other add-ons to convince customers to interact with the brand. That's your takeaway from Fanta's idea.
When you plan a Halloween campaign, figure out ways to boost engagement in addition to focusing on an increase in sales.
3) Theme your foodie creations like Food Network
People are always on the lookout for creative ways to spice up their Halloween decorations and treats. So, any leads you provide in these areas will be welcomed by your audience.
That's exactly what Food Network does in the below post. In fact, Food Network does Halloween-themed posts and recipes every year.
The brand does not stop with just one post. You will find a series of simple to complicated recipes and ideas that amateurs and professionals will both enjoy. Catering to the expectations of all types of audiences is good marketing.
Food Network's content regularly includes recipe videos, including cake-making videos. In this case, they just themed their post and it was a hit. In the spirit of Halloween, Food Network also posts recipes for unconventional cocktails like bloody margaritas. Food Network's social media posts work because they are fun and relevant to the theme while also staying within the niche.
If you want to try something similar for your brand, all you have to do is to find a way to add a Halloween theme to your product. Is there a feature that you can connect with Halloween symbolism? Or is there a product from your lineup that feels relevant to Halloween? Or perhaps a creative way to use your product to make Halloween preparations simpler.
4) Put a spooky spin on your brand like Lush Cosmetics 
We get it. Some brands are hard to connect with the eerie idea of Halloween. But you still do not have to miss out on the fun. Lush Cosmetics shows how it is done. An artistic manipulation of its regular product sets the theme right for the occasion.
In 2018, the brand also launched an exclusive Halloween collection.
As you can see from the above image, simple tweaks to your mockups and creative edits are all it takes to make your product images Halloween-ready.
Not only are these posts perfect for Halloween, but they are also on brand. This win-win situation is exactly what you'll want to aim for with your Halloween social media marketing ideas.
10 Halloween social media marketing ideas 
So now that you have a sense of the types of Halloween posts that perform well, let's take a look at what you can incorporate into your own!
1) Have a Halloween countdown
Post daily until Halloween, sharing a fun fact, spooky tidbit, or a sale that you have going on. You'll tap into the excitement that builds up towards Halloween, and get into the spirit yourself too. This can be an especially effective strategy if you have an event (in-person or virtual) lined up to take place on or around Halloween.
To avoid your posts becoming too repetitive, try to avoid using the same idea or design every day, and have some fun with variations on layouts and color combinations. But yes you can always have a template that defines the color palette and font styles to repeat in these designs so that they all look like they are part of a series of posts. 
2) Use the right hashtags to amplify reach
Use a combination of your branded hashtags along with niche-specific Halloween hashtags too. You'll be able to use tools to find out which of these will be most effective to help you reach your audience. And you'll want to keep switching around hashtags creatively. Rather than use the exact same ones on all your posts,  you can vary them slightly based on the particular topic or audience you're focusing on. Check out our blog on choosing the right hashtags for your brand, for more tips.
3) Try posting Halloween memes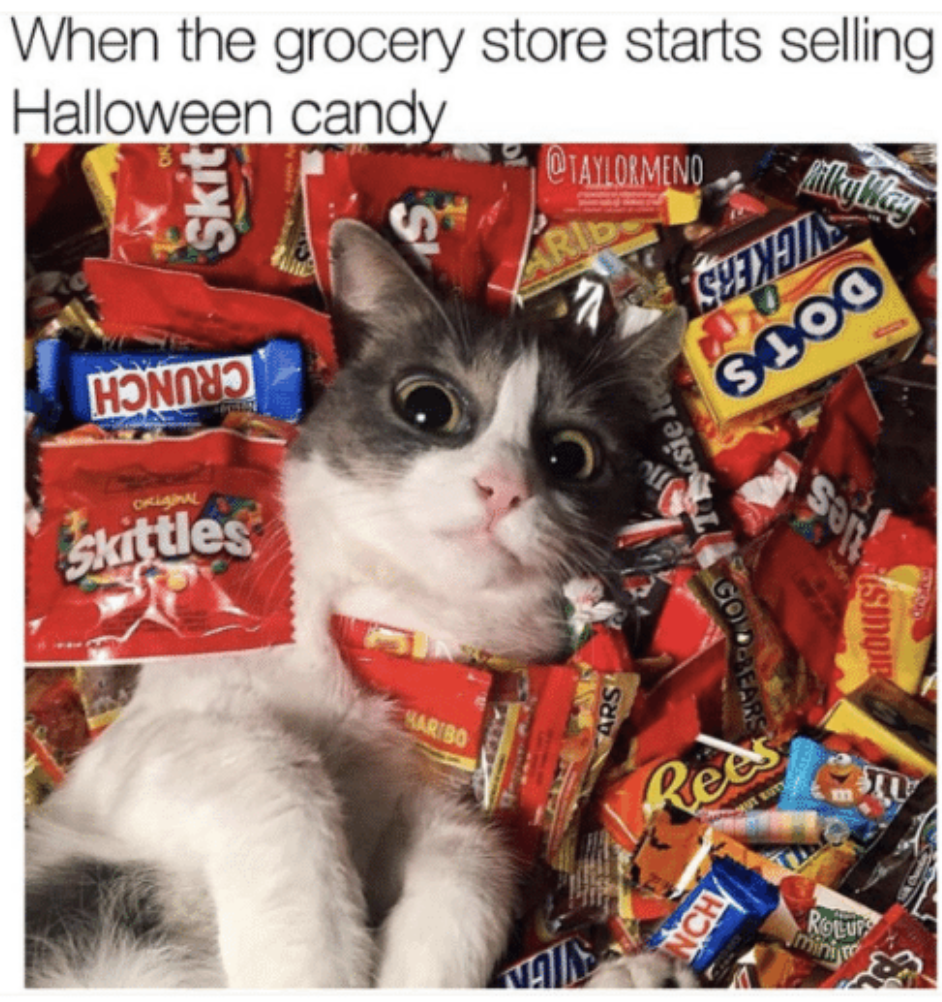 Memes are widely popular and now they have become the secret weapon that many marketers resort to for seasonal marketing. When you want to strike up a conversation with your customers but do not know where to start, memes can be your ice breakers. When you want to show your customers that your brand is all decked up for a special occasion, memes come in handy. In short, memes are great for seasonal marketing. Memes are great for Halloween marketing. And what better place to show off your branded memes than social media!! 
And when you have a great idea and relatable humor, you are sure to get plenty of shares. Thus shooting up your brand's reach!
Want to try branded memes for Halloween but feeling stuck? Leave it to the Kimp team. 
4) Organize a spooky shopping spree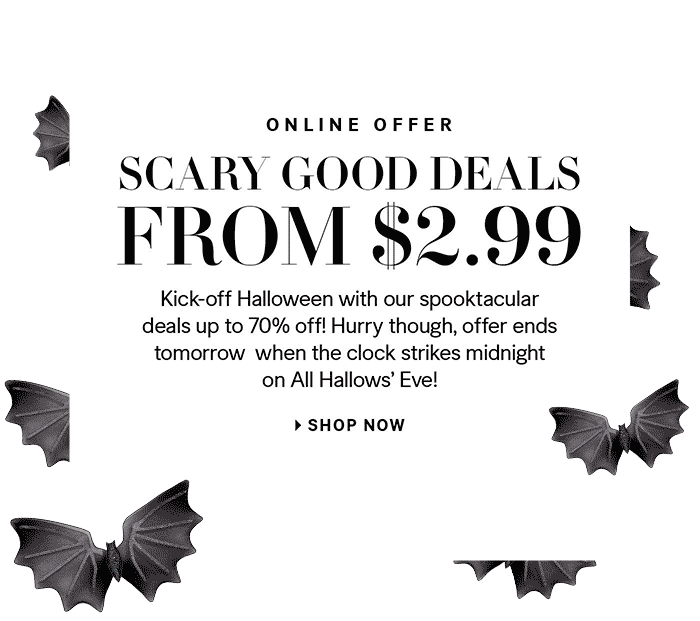 Whether you have a brick-and-mortar business, or an ecommerce shop, offering customers a spooky shopping spree is a great way to generate some sales. You'll want to prepare Halloween-themed posts promoting the particular products you'll have on sale. And if possible try to get your team members in on the fun by dressing up and taking pictures with the sale items. Or short video clips of them demonstrating their uses. This will give you a lot of content you upload on your newsfeed or as Story posts.
To make sure loyal customers don't miss out, send out a Halloween-themed email as well to your subscribers. And try reaching out to bloggers, vloggers, and influencers as well. By offering them exclusive discounts or discussing other possible incentives you can tap into a great way to promote your sale.
5) Give your social media profiles a revamp
Give your social media a revamp by updating your profile image and cover images or cover videos. You can definitely keep your logo as your profile image, but try working with your designer to add some Halloween-themed elements. Or even try swapping your usual brand colors for a Halloween color palette.
When it comes to your cover images or cover videos, you can have a bit more fun with Halloween-themed imagery that is fun and spooky. This little refresh of your social media profiles will make your audience look twice, and help with generating organic traffic.
Similarly, you can update hero images and banners on your site to keep the Halloween aesthetic coordinated across all your digital channels. 
6) Share seasonal tips and advice
If you offer services rather than products, or if you just aren't looking to roll out a ton of sales for Halloween, you've still got options. Share relevant advice with your audience instead. To make sure that the advice you're sharing is relevant, consider what ties into your brand and Halloween.
For example, if you're a health and fitness brand, you can share advice about healthy alternatives for the usual unhealthy Halloween treats. Or how to stay fit after a Halloween cheat day.
If you're a marketing agency, you can share tips about running different types of ad campaigns around Halloween. Or if you're in the food and beverage space, you can share Halloween-themed recipes like the Food Network post we spoke about earlier.
7) Organize a group costume with your team
A group Halloween costume is a great way to build up some morale and connect with your audience. Even if you have a fully-remote team, you can still host a virtual dress-up party and post videos and pictures from the event on social media.
By talking about your team on social media, you'll reinforce who the faces behind the brand are. And this will allow your customers to feel more connected to you.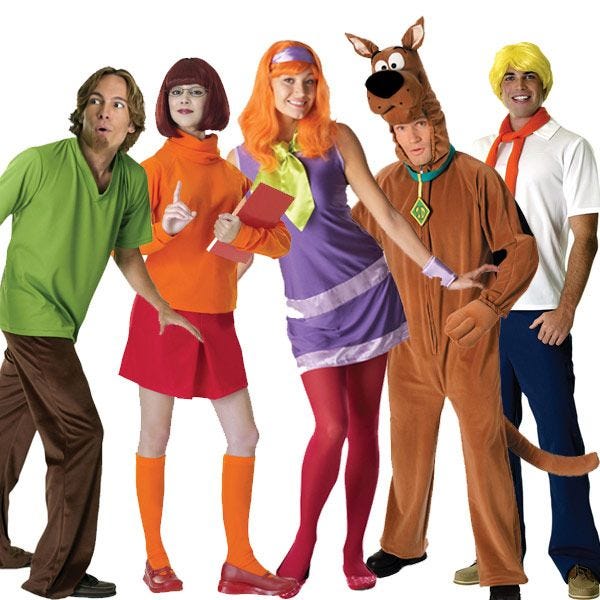 To really get attention with your Halloween social media posts, try to make your costumes silly, over-the-top, or culturally relevant. Keeping it casual is the perfect way to make your brand appear more approachable. Just avoid doing anything that's outright offensive. Your goal here is to put a smile on people's faces.
8) Try a pumpkin carving contest
Give your followers an image to carve into their pumpkin. Maybe it's your logo or your product. Ask them to share their entries on social media tagging your brand page or send them via email. And then give them a contest-specific hashtag too.
You can either choose the winners yourself or share the user-generated posts to see which gets the most likes and/or comments. The rules of the contest are up to you. Create a post that elaborates the rules or link to a landing page that does this.
Kimp Tip: When you have connected designs that are part of the same contest, there should be some visual elements that remain common. This makes it easy for customers to relate to them all.
And if you need help creating your landing pages and ads all in one place, sign up for a Kimp subscription. 
Color palettes for you Halloween themed posts
Not sure which colors to use to add a bit of Halloween flair to your posts? The most popular colors are orange, brown, black, purple, green, red, white and yellow. You might not have expected to hear much more than orange and black, but you've actually got a few options to work with that you can mix and match. 
Before you create your Halloween posts, think about what will work best with your brand colors or how you can adapt your brand colors, color palette you're going to use. You might want to get your designer to create a few different versions of the posts you have in mind so that you can see which palette works best with your brand.
Don't have a dedicated designer? Now's a good time as any to try out Kimp, and work with a dedicated design team. You'll get all the designs you need and unlimited revisions.
10) Imagery for your Halloween themed posts 
Whether you're just adding Halloween-themed elements, or creating posts that are full of Halloween imagery, here are a few ideas for what you can incorporate:
Pumpkins
Bats
Lanterns
Spiders
Monsters
Ghosts
Witches
Full moon
Tombstones
Jack-o-lanterns
Spiders and cobwebs
5 Things To Avoid In Your Halloween Social Media Campaigns 
We spoke about all things to include and some creative ideas to try out for your social media campaigns for Halloween, but at the same time, you do not want to deviate from your brand too much. You also do not want to appear too out of sync with your usual brand tone of voice. Finally, your campaigns cannot be too plain or forced. For all this, here are a few things that you should definitely avoid in your Halloween social media marketing:
1) Not having a goal
Many businesses have vague goals like 'more followers' or 'more traffic'. That's great for a general idea, but how about coming up with some specific numbers? This can be based on your existing social media analytics reports. When you set up your Halloween marketing, your goals should be:
Attainable
Measurable
Timely
Relevant
2) Taking on too much 
You should never bite off more than you can chew. As a business, you should have a very good idea about what your limits are and what you can or cannot achieve. So while you want to take advantage of the holiday, you want to do it within reason. And what that is, is up to you. Especially bearing in mind that Black Friday, Cyber Monday, and Christmas are around the corner. In addition to this, as we discussed before, not all brands and products feel relevant to Halloween. So, don't push the "sales" aspect too much.
3) Don't be basic, get witchy 
Whatever you do, do it well. Your posts and campaigns represent your brand and you don't want to come across as careless. Check out what your competitors are up to. Look at what your efforts in the past have achieved. You do not want to perform below the standard you had set for yourself in the past. The more thought you put into your Halloween social media ideas, the better your results will be. Let those creative juices flow.
4) Ghosting is never good 
You know how you feel about ghosting in real life? Yeah, not good. It is exactly the same when it comes to how your business interacts with its audience. When you run a campaign and it does not give you the best results, don't hide from your followers. Reply to comments – even if they're not encouraging. At the end of the day, you have the most to learn from your critics. So always try to respond as professionally as possible.
By-standers form an opinion about your brand seeing the way you respond to negative comments. So, instead of posting and forgetting to engage with your customers actively. Talk about your campaign on Stories in the form of polls, questions, and more.
5) Avoid spooky spamming 
Post too much and customers look at it as spamming. Post too little and customers forget your brand. The key is to find the sweet spot in between. You do not have to post too much or too often in order to gain visibility. Monitor the metrics and identify the right time to post based on when your target audience is most active.
Make your Halloween social media marketing spooktacular
There you have it. We've taken you through tips, tricks, and strategies for creating some great Halloween content for social media. And we hope that you'll be able to try at least one of these ideas this year to help you get a boost in your engagement and sales. If this is your first year giving it a go, don't worry about trying all of these ideas at once. Look for efficiencies wherever you can, like repurposing posts. Pace yourself. And most importantly have fun with it!
And for the design part, the Kimp team is just a call away. Book a demo or sign up now for a free 7-day trial.