Video – The Secret Ingredient In Affiliate Marketing
Affiliate marketing is a productive business. That is when you have the right marketing strategy to make it work! And videos should have a special place in this marketing strategy. Wondering how to use videos or how to create them? We got you covered. In this blog, we'll talk about videos for affiliate marketing.
But why exactly do you need to take videos seriously? Marketing has changed over the years. The way people consume content has changed too. Videos are entertaining, engaging, and easy to share.
And we know the adage, "A picture is worth a thousand words". Well, a video is worth a thousand pictures. So the easiest way to communicate your ideas to a diverse group of audiences with short attention spans is through videos.
As an affiliate marketer, you make profits when you manage to convince customers to trust you and purchase the products you recommend. What better way to do this than with videos? So, let's talk about videos for affiliate marketing.
Why Should You Start Using More Videos as an Affiliate Marketer?
Yes, why? We have seen people make progress by simply creating written content like blogs to propel their affiliate marketing. But is that enough? Not at all.
There was a time when most affiliate marketing only happened through blogs. But now you do not even have to own a website to become an affiliate marketer. There are many who make a good profit using social media to drive traffic to their affiliate links. As affiliate marketers are using diverse channels to target their customers, it is also important to diversify your affiliate content type. And it is important to add videos that continue to be among the most popular content types for social media.
You still need blogs – there's no doubt there. In fact, 65% of affiliate marketers use blogs as the primary channel in their businesses. But then a video helps add more value to your strategy. Still not convinced? We'll give you a few reasons why.
Videos are easier to consume
There are some products where customers spend days gathering information. And some, where they place an order, hours within an intent arises. So, the type of content that actually adds more value to your affiliate site depends on your niche. However, if you have to compare all content types in terms of ease of understanding the information conveyed, videos are top on the list.
When you make it easier for your customers to understand the product they are planning to purchase, you are simplifying their shopping experience. And when you do that, they look up to your affiliate site as a reliable source of information before making a purchase decision.
They help you stay ahead of the competition
Consumers are becoming more cautious shoppers. Nearly 74% of online shoppers in the US check several affiliate sites before they make a purchase decision. Customers want to educate themselves about all the available options, gather all the information they can, and then make the purchase.
So, if they only find text content on your site and another affiliate site in the niche has video demonstrations and video reviews, who do you think the customers will pick? Naturally, the site that lets them choose the type of content they like. So there goes your lead! Now after all the effort that goes into bringing customers to your website or landing page you do not want them to click on a different affiliate link than yours. So, create videos to survive and thrive in a competitive market.
Videos help you build a better brand
As an affiliate marketer, you are directing leads to the brand that is actually offering the affiliate program. However, it is important to create a brand for your business too. Whether you recommend products or services on social media or whether you do it through a website, you should focus on creating your brand. Videos are very helpful in strengthening your brand.
Kimp Tip: There are many affiliate marketers who use videos in their strategy but not all of them manage to build a strong brand. Do you know why? This could be because of a weak video plan. From the content of your videos to the visual style, everything should feel like they are all pieces of the same puzzle. Branding is about consistency. Videos that look cohesive and have the same tone help build a better brand.
Unless you have an in-house designer or you have enough time to spend on creating all the videos yourself, how can you remain consistent? An unlimited video subscription with a designated design team is your answer. Try Kimp Video.
They help you gain traction through social media
About 67% of affiliate marketers connect with their target audience through social media. Social media platforms like Instagram, TikTok, and Facebook are all about visuals. Even the once text-heavy Twitter is not filled with images, videos, and GIFs and not just Tweets. So, to connect with your customers and ensure continuous engagement rather than just getting them to click one link, you need to have a strong social media strategy. You need videos.
And when you gain traction on social media, it can also help boost the performance of your affiliate marketing website. So, it is a win-win.
Now that we have spoken about the "why's" of using videos in affiliate marketing, let's talk about some tips to create great videos.
5 Useful Tips To Create Videos For Affiliate Marketing
1. Plan your content
To plan your content effectively you should understand how affiliate marketing works.
As an affiliate marketer, you are promoting a brand or its products and driving more sales to the site that offers the affiliate program. So, you need to:
Introduce customers to the brand/product
Help them compare the options
Convince them why a particular brand/product is better than the others
A product demo video can help in the first case. And for the second point, you need comparison videos where you show the features and working of two or more products side by side. For the third point, you need a detailed product review video that explains your experience with the product.
All types of marketing videos that help traditional businesses can also be of help to an affiliate marketer. By creating a diverse mix of these video types, you end up connecting with customers in different stages of their purchase journey.
2. Identify colors and the visual style
We are talking about a visual theme or a mood for your videos. Do you want them to appear more trustworthy or do you want them to look more fun and easy to connect with? Colors affect emotions and so choosing the right colors for your videos can make a big difference.
When we talk about colors they do not just mean the colors in the scenes or the actual background of the video footage. They also include the colors that pop up in the form of text, animations, and other visual elements in the video. Overall, these colors should resonate with the niche and also with your brand.
3. Add an intro/outro or both
Opening with a bang and closing with a memorable frame make your videos more impactful. So, how do you do this? Plan an intro or outro or both. This can be an introductory voiceover or a logo animation or even a simple animation to introduce your channel.
Consistently using these in your videos helps establish a strong connection with your audience. It builds familiarity and also provides scope for introducing your brand identity and brand personality to your audience.
4. Be authentic – be transparent
Most platforms now support the inclusion of a "paid partnership" label. That's a clear indication of stepping towards transparency. In the case of affiliate marketing, you are not paid to endorse the product but the sales do earn commissions. So, maintaining transparency will help build trust.
For example, here is what you see in the video description on one of the videos by a popular entrepreneur YouTuber Aurelius Tjin.
Clearly disclosing that you have affiliate links makes your content and your website or social media page more credible.
5. Have a clearly defined CTA
The ultimate goal of content for an affiliate marketer is for the customers to click the link. Unless your video has a clear CTA, how will customers know that there is a link for them to click? When you do place the CTA, give customers a convincing reason to click on it.
Some affiliate programs offer rewards for both the person who clicks the link and the affiliate. If that's the case, let your customers know of this reward. Otherwise, create content that is informative so that it helps your audience make an informed decision. This way customers will have a reason to click the link and they are more likely to take that step.
And Now to Make It Happen
Now that you have gathered some ideas on what to include in your videos and how to make them useful for your affiliate marketing strategy, you should also know how you will make it happen. Here are a few questions to ask yourself.
Who or what will the videos feature?
Some of your videos can be talking head videos that feature an actual person demonstrating the concept.
If you do not want to appear in the video, you can still include the product or service you are promoting. Check out Kimp's blog on Reel ideas for introverts. You will find some creative ideas for shooting videos without featuring yourself in them.
The above videos are often useful in the case of product reviews and product comparisons. But when you are doing promotions for your own brand or if you want to create a short sneak-peek video that tells your audience what you are going to talk about in your next video, they can be simple animated videos. Animated videos are also useful when you have to create video ads for your social media page or website.
Putting all these together here is what you need
A strategy for shooting videos
One for editing them
And finally a plan for designing videos and animations
How will you record these videos?
Shooting videos is the easy part. Most vloggers create all of the content for their YouTube channel with a smartphone. All it takes is a good space with natural lighting, a tripod, and a smartphone preferably one with 4K video recording capabilities. With this setup, recording your videos will be easy.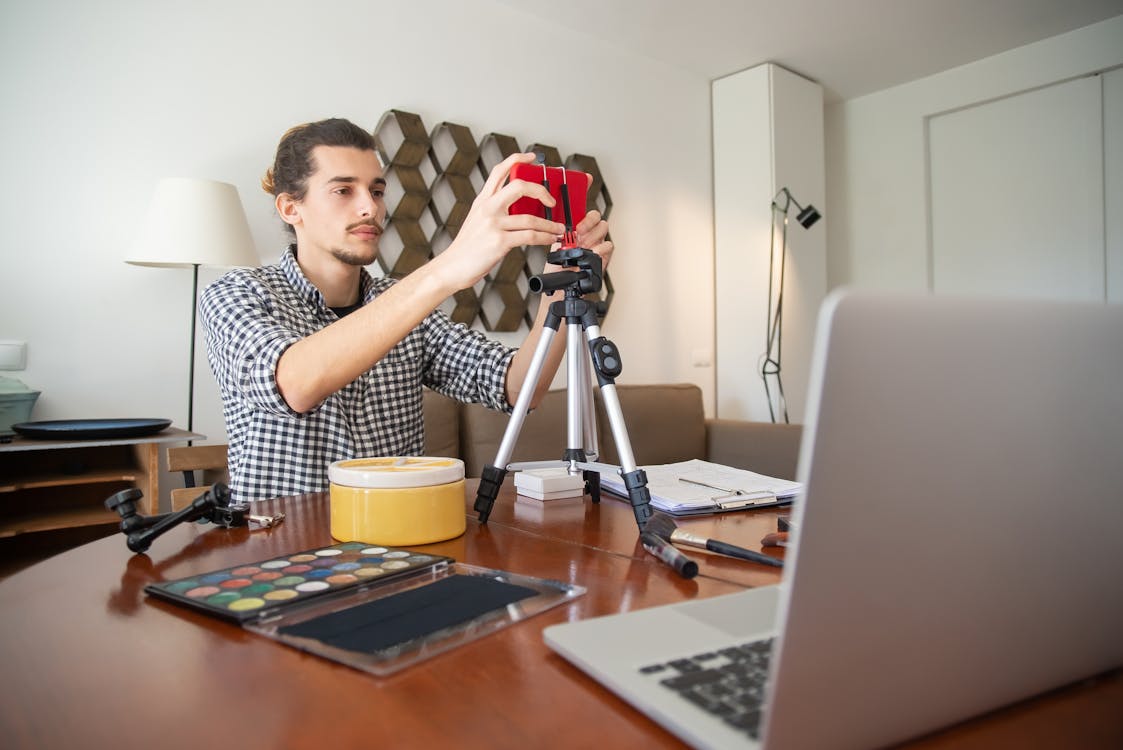 How will you edit them and make them more professional?
Even with the best camera, the raw footage will still need some touchups. These can be in the form of:
Text overlays- They help compartmentalize your videos and supplement the message your voiceover provides. In some cases, text overlays can convey the information even when the video is played muted.
There should be a catchy thumbnail for the video to attract attention at first glance. And this thumbnail will also be an essential branding element on your YouTube channel.
You should add captions that do not look intrusive.
Sometimes you need to edit portions out of your video and add transitions to join two or more sections. These help in bringing the video to life.
Those were just a handful of the different types of editing you might be doing on your videos before you post them on your website or social media. The question is how will you do them?
Kimp Tip:
While you can use online tools for all these editing functions, you can save a lot of time by leaving it to the professionals. And when you choose a video design subscription like Kimp everything from editing the raw footage to creating animations, GIFs, and video ads will be taken care of in one place. And that too at a fixed monthly bill. So you can focus on growing your audience while the Kimp team takes care of the video part for you.
One Kimp Subscription to Elevate Your Affiliate Marketing Videos
Videos are crucial components to help elevate your affiliate marketing performance. But they are not the only type of visuals you need. A logo that defines your brand, custom graphics to communicate to your audience on social media, social media Story posts, landing pages, emails and so much more are part of your marketing efforts. If there is a way to work with one design team for all these designs wouldn't it make things so much more convenient? That's why Kimp might be that cost-effective time-saving upgrade your affiliate marketing needs.
Sign up for a free trial now.