Year In Review Campaigns: 8 Tips To Make Yours A Success
Throwbacks seem to be a fan-favourite with our generation, don't they? Facebook memory posts, Instagram #Throwbackthursdays, and even Google Photos' memory section capitalize a lot on this trend. 
Modern brands have understood the sentiment behind it and invented the biggest Year-end marketing trend ever. Yes, we are talking about the Year In Review emails and social media posts that start hitting you in December every year.
This tool is more than just another piece of content to connect with your audience. It may be one of the biggest game-changers in the coming years. Everyone loves a good throwback, and when a brand's throwback is all about you, it is just amazing.
So if you have not already begun, this is your sign to start thinking of your brand's Year In Review campaigns.
If you are not sure how to go about it and what the real value is in it, this blog is for you. Learn all about Year In Review campaigns and check out some great examples to inspire you.
So what are we waiting for? Let's dive right in. 
Year In Review Campaigns: Just Another Trend or a Value-Add?
Before a brand commits to any new marketing trend, a feasibility study is the first step. Not every marketing trend suits every brand, but this trend just might. Hear us out.
Customer engagement is vital for every brand. You want them to feel like a part of your story so that they have enough incentive to see you succeed. But this feeling is not easy to induce. Your Year In review campaigns might just help you with that.
With Year In Review campaigns, you can:
1) Create personalized campaigns for your loyal customers 
This is hands down the best part of the Year In Review campaigns. Personalized campaigns are always special, and when they help customers make sense of their year, it hits the bull's eye. Spotify, YouTube, Google, and other platforms set a great example of personalized Year In Review campaigns.
Even if your brand does not have this tech yet or has limited insights, you can still create personalized Year In Review campaigns. Examples of this include stats on your customers' favorite products, stats on the favorites in their location, generation, and more.
This depth makes customers feel seen and understood. In this big world, they can feel their worth towards you. This builds loyalty and makes them come back to you repeatedly.

2) Delight customers 
Personalized or not, Year In Review campaigns hold the potential to delight customers. It is not just the data, it is how you present it too. When the customers see the effort you put in recounting the year just for them, it delights them.
Reading about your accomplishments and even your goof-ups has got to be fun, yes? Consider Year In Review campaigns as a way to show your unfiltered side to customers. And a way to emphasize their role or importance in the past year.
3) Enable brand building 
You may have a large audience base, but it is conversions that cinch your success. Your email subscribers, social media followers, or daily visitors – they are not just your customers. They are all potential leads. A Year In Review campaign shows a snapshot of your brand's value, products, service, and success in the previous year.
Even if an email subscriber has not purchased from you, this campaign brings them closer to the brand and incentives transacting with you.
The best Year In Review campaigns also get a lot of traction on the Internet. Do it right, and your customer will not stop talking about it. What better way to build brand awareness and set the momentum for the coming year?
These are all great reasons to create a Year In Review campaign for your brand. And to make it easier for you, Kimp has curated the top 8 tips to create the perfect Year In Review campaigns.
That and the examples of best Year In Review campaigns over the past few years will get you set up and ready to roll.
So let's dive right in.
8 Tips to create the Perfect Year in Review Campaigns + Examples 
Like we said before, Year In Review campaigns' success depends largely on the presentation than anything else. Get the design right, and it's a home run for the most part. But how do you do that? Is there just one right presentation format or design style? If not, how do you choose something that resonates with your target audience?
We answer all these questions in this section, so sit back and read on.
1) Focus on Storytelling 
If there is an ace in marketing, it is the art of storytelling. Year In Review campaigns are usually long for obvious reasons. But you want customers to stay with you and get to the end of your content. That is where the punchline, CTA, and other important details are.
And how do you achieve that? By adopting a storytelling approach. The aim of your Year In Review is to weave a narrative that takes the customers through your journey in the past year. They must connect with it to view it as something more than a collection of facts, numbers, or milestones.
Include visual aids wherever possible so that the story becomes engaging, interactive, and fun. We will expand on this more in the coming sections.
Kimp Tip: Design elements can make storytelling easier. Even if you choose a text format, you can include GIFs, emojis, and relevant images to break the flow for a better reading experience. 
Sign up for the Kimp Graphics and Kimp Video plans if you want to custom design the elements in your brand's Year In Review story. 
2) Choose your data wisely 
Irrespective of the format, the crux of Year In Review campaigns lies all in the data you share via these campaigns. Now you have two options :
You can make it all about you by boasting of your accomplishments and make it a monologue.
Or
You can choose to make the data relevant to your audience by personalizing it and presenting it in a way that will bring value to them.
As mentioned before, customers like to be seen and understood. In your Year In Review campaigns, you must celebrate the fact that they chose you over other competitors. You must also show them the value you bring to their lives so that they continue to stick with you.
And the data you choose to feature in your Year In Review campaigns will decide if you accomplish these goals.
Consider this example from Texture. They could have spoken of how many customers use their services and why they are the best this year. But no, they score major points by making it all about the customers. And they went a step ahead by showing the customer's impact on the environment by using Texture.
All in all, a great use of data and presentation techniques. 
Looking to create similar visual campaigns for your brand for 2021? Contact the Kimp Graphics team today to get your designs done for a flat monthly fee!
3) Choose a format and design style 
Now that we have covered what to say, let's move on to how you say it. Like any other content form, the Year In Review too has many formats. Some popular formats for this are:
Letter from the CEO
Multipage document or report
Social Media posts
Infographic
Videos
These are all straightforward formats and can help you get your message across with ease. Now, how do you choose what is best for your brand? Well, it depends on your brand's personality in the market and the characteristics of your target audience.
Customers are more likely to expect a letter from the CEO from a traditional and/or conservative brand, while a social media post is more in line with a small business.
We recommend using a mix of formats for various channels so that you reach everyone in the audience.
Coming to the design style, always remember Year In Review campaigns help greatly in brand awareness. So choose a design style that follows your brand style guidelines.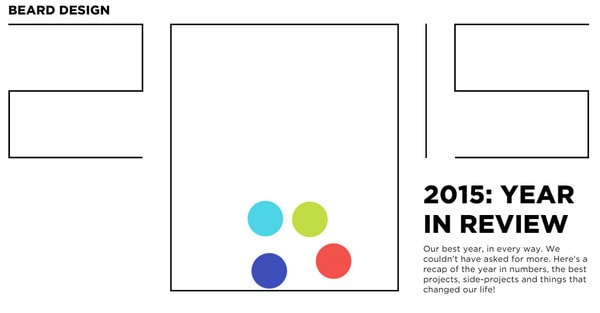 Are you wondering how to step up the quality of your Year In Review campaigns to floor your customers? Sign up for the Kimp Graphics + Video plan, and our team can help you try out different formats for a flat fee.
4) Visualize your content 
You have seen a few examples of Year In Review campaigns in this blog up til now, and you will see more as you scroll down. Did you notice a common characteristic of all these examples? While we are not negating the value of Year In Review campaigns that come in the form of letters and other long-form texts, you have to agree that visuals add charm to these campaigns.
Chances are customers expect to see a horde of Year In Review campaigns just as December begins. Nowadays, as the expectation keeps going up, the attention span keeps going down. If you want customers to feel excited and engaged throughout your data, you need visuals.
Many brands adopt popular techniques like the use of custom illustrations, infographic elements, charts, pie diagrams, emojis, and more. Visual hierarchy principles also tell us that customers see images before text, so if you visualize your data, you can be sure it gets noticed. 
By making the data easier to read and understand, you are improving the chances of your campaigns' success. 

Kimp Tip: When you use visual aids to interpret data, you can also guide customers' emotions with them. Leverage the power of color, fonts, and other symbolic design elements to show customers what the data means over and above the number.
5) Create shareable content 
At the start of this blog, we spoke of how brands can create viral Year In Review campaigns if they get the design right. Well, a huge part of that process is the availability of shareable content. You created a stellar Year In Review campaign, but you cannot go viral and become the talk of the town if only your email subscribers see it.
Given how newsletters are the most popular channel of delivery for these campaigns, the need arises for you to create content that people can share on other channels.
In our blog on how to create viral content, we describe the tips that work the best for this objective. Some formats to explore for this include:  
Infographics
Visually strong content
Content with strong storytelling components
Videos
Memes
Out of these, we recommend video and infographics for your Year In Review campaigns. Even when you create newsletters, include shareable visual elements within them. You want your customers to share the statistics and data you are giving them on social media and only good design can make that happen for you.
That's why video Year In Review content is so great. Videos are the most shared content on the internet, so you increase your chances of going viral. And with Kimp Video subscription, video design and editing is easier and more affordable than ever. 
Kimp Tip: Trend-hopping is also a great tool to make your Year In review campaigns go viral. And do not discount the power of memes. If you want to step up your 2021 campaigns, connect with the Kimp Graphics team to create topical branded memes.
6) Optimize, optimize, and optimize 
Once the campaign is ready, it is time to make the Year In Review ready for the go-live moment. And trust us when we say you have miles to travel between creation and publishing. This stage helps you get ready for intense distribution strategies, promotions, and engagement drives.
So what are the different types of optimization to focus on?
Mobile Optimization: Mobile accounts for 41.6% of email openings, 99% of social media users, and 54.8%  of overall web traffic. And that means mobile optimization of your content must be your first priority. Customers take less than 5 seconds to judge your content, and nothing is worse than poorly formatted content. So optimize for mobile right off the bat. 
Optimization for an omnichannel presence: We spoke of the role Year In Review content plays in your ability to build brand awareness. And that can only happen when you step up your distribution strategies. Omnichannel presence is your boon to this, but you cannot directly upload a newsletter to YouTube, can you?

So, repurpose your content strategically. Make it appropriate for social media, video sharing platforms, and email marketing for maximum reach. 
Optimization for print: Some brands come up with coffee table books or branded swag for Year In Review Campaigns. And those can be great places to feature your Year In Review campaigns in the professional circle. So print optimization is a step you cannot ignore. The color schemes vary vastly for digital and print designs. Be sure to let your design team know if you'll need Year In Review campaigns for print and digital placements. 
7) Build CTAs into Year In Review campaigns 
You create your Year In Review campaigns for a reason, right? You either want web traffic, brand awareness, social media chatter, or sales conversions. But how will customers help you achieve those goals if you don't tell them what to do? Campaigns without a strong CTA do not qualify as campaigns at all.
So your Year In Review campaign must carry a strong CTA that is easy to spot, understand, and action.
Leverage the principles of visual hierarchy and make your CTA pop right off the screen so that no customer can ever miss it. You can also include CTA buttons throughout the content if it fits the screen.
For video campaigns, the end screen is very important, so ensure you engage the customer until then with your design and editing skills.
Looking for design teams that help you design effective CTA elements for your Year In Review content? Sign up for the Kimp Graphics + Video subscription, and your search ends today! 
9) Engage on social media 
We spoke of the creation process in detail, but we will be amiss if we do not share our insights on the distribution process too. So for your Year in Review campaigns to be a success, you must promote them and create engagement on social media.
Start with buzz generation. Create teasers, countdown timers, and reminder posts to inform everyone that the review is coming up. It will create anticipation and make the final launch that much more rewarding.
Throughout this blog, we encourage you to create shareable content. Now, how about you engage with the audience when they share it so that those posts get traction too. Repost your customers' shares and comments and be sure to respond to them as well.
Spotify begins teasing and creating hype for its annual Spotify Wrapped content ahead of December. 
Ace your Year In Review Campaigns with Kimp
If you were not considering it before, we hope this blog convinced you to launch your own Year In Review campaign in 2021. We will not deny that it is a lot of work and is probably one of the biggest campaigns you will launch in this season that is not holiday-centric.
But is it ever worth it! Both your team and your target audience will get a boost after reflecting on the greatest moments of the past year.
Need some help creating the design for your campaign? Sign up for Kimp Graphics, Kimp Video or get both for designs that make your brand shine. 
With unlimited design requests, revisions, and more than 100 design categories available under a flat monthly fee, a Kimp subscription is an absolute game-changer. 
So let's go. Sign up for the free trial now and start working on your campaign today!