7 Holiday Swag Ideas To Keep Your Brand Top Of Mind
The holiday season of 2021 is officially here. For most businesses, the time flies away in planning marketing campaigns and end-of-year sales. Every living moment is spent finding ways to optimize this last month's revenue.
Every brand ensures they try out every trick in the book, right from digital marketing, influencer marketing, local marketing, billboards, sales, and paid ads.
What if we told you, you are still missing one essential piece of the puzzle? A great deal of your holiday marketing campaign's success depends on how well you reward customers for engaging with your brand. And what efforts you take to build brand awareness and brand loyalty to ensure the customers only come to you.
SWAG or Stuff We All Get is the common name for merchandise in the market. The concept of giving merchandise to customers is now more popular in the last few years than ever. And freebies and branded products pair very well with the holiday season, so SWAG is how you hit gold this year.
They work well as gifts and help you build a stronger and more meaningful relationship with your customer base. But the thing to note is that your swag can't be just anything and needs a design that works well for your brand.
And that is exactly why Kimp brings you the top holiday swag ideas for 2021 in this blog.
SWAG: The Latest Trend in Holiday Marketing?
The holiday season is primarily for gifting. Most marketing campaigns, if not all, center on products in the context of gift-giving. So, it makes sense for brands to also take part in this tradition during the holiday season by gifting exclusive products to their customers. This can mean new customers or old customers.
The brilliance of SWAG is that it comes with so many advantages that you can practically write off the investment as a brand-building endeavor.
By introducing Holiday SWAG as part of your holiday marketing campaign, you:
Build customer loyalty by opening up a transaction where you are the giver, and the customer is the receiver for a change. Also, exclusive branded merchandise makes customers feel part of a community, and that builds loyalty as well.
Can drastically improve your brand's visibility in the market. By using and/or wearing your holiday SWAG, your customers agree to become the non-official spokesperson for your brand by proudly claiming their affinity to it. For all intents and purposes, they function as mobile and live billboards for your brand.
Boost awareness. Holiday SWAG can also come in handy during holiday marketing when you are looking to run giveaways or offer discounts and freebies to your audience. Most brands choose to run these contests in collaboration with other brands, and branded merchandise can boost brand awareness.
With so many benefits, holiday SWAG can be an essential part of your holiday marketing campaigns. Hence, getting it right must be on top of your to-do list. So how do you ensure you effectively add SWAG to your holiday marketing campaign in 2021?
We have it all laid out for you in this blog. Let's get started.
Choosing the SWAG idea that best fits your Brand
The beauty and the problem with Holiday SWAG ideas are that they can be anything. The category is truly limitless. Brands usually pick the most common gifting products and proceed to instill their branding on them to convert them into SWAG.
But the fact is that it may not be the most ideal approach. As a brand in the middle of its holiday marketing season, you are launching SWAG in the market to build brand awareness, generate revenue, and grow the brand's goodwill in the market. And the success of these objectives depends on the type of SWAG you choose.
Yes, if you end up sending random products, customers may remember your brand favorably at that moment, but the long-term effects will be less useful.
So how do you choose the best holiday SWAG options for your brand? Follow these simple steps, and you will get there with ease:
As a brand, you may have many customer bases, but you have to analyze who is the end-user of this holiday SWAG. Choose products and designs based on that.
Determine the aim of this holiday SWAG launch. Is it brand awareness, a particular product launch promotion, or holiday-themed SWAG to generate brand loyalty?
Choose products that have utilitarian value but also align with the product and services you offer. A good piece of holiday SWAG is a perfect marriage of your brand value and a product that customers will cherish for a long time.
Remember that the SWAG you choose will carry your brand's visual identity. So the product you choose must be easy to brand.
Not sure what products will complement your brand's visual identity and personality? Why don't you try a few out with Kimp Graphics' unlimited graphic design service before you go live with the campaign?
7 Holiday SWAG Ideas for your brand in 2021
We have told you the process to arrive at the best holiday SWAG for your brand in this holiday season. But how can you make a concise decision unless we tell you what the options available in the market are? Yes, we understand that. And that is why Kimp Graphics brings you a roundup of the best holiday SWAG ideas for your brand.
All you have to do is take a look, follow the process we set forth above, and contact our team for designing it. And your holiday marketing campaigns will work like a charm.
1) Tech products and accessory holiday SWAG ideas
Who doesn't like gadgets? Especially in this extremely tech-driven world where we are all glued to all gizmos, thanks to the pandemic. Tech accessories also rank quite high on the utility-scale and are universal to most audience groups. People of all professions, demographics, and interests like them, so in a way, it solves most of your selection dilemmas.
So what are the common gifting products that make the best holiday swag products in this category? Well, some popular ones are:
Power banks
Phone chargers
Phone covers
Laptop sleeves
Mouse pads
Gadget organizer bins and bags
Stickers and patches for gadgets
These holiday SWAG ideas are best for brands that work directly or closely with the tech/gadget industry. Customers will feel a lot more confident buying actual accessories from experienced brands. However, sleeves, covers, organizers, and stickers can work well for any lifestyle brand dealing in health, home and living, apparel, and other similar industries.
Kimp Tip: When you create branded designs for these products, it is important to keep them simple and stylish. Do not go overboard so that your SWAG ends up looking like a poster or flyer. Minimalism is great here. When it comes to stickers and sleeves, ensure that the colors and font work for a print design.
2) Wellness Kit holiday SWAG ideas
If the pandemic has increased how much we talk about something, besides gadgets and working from home, it is the absolute need for self-care. Stress levels are at an all-time high, and the holiday season is only going to elevate it more. When everyone else is thinking about what to buy for their friends and family, you can help them put the spotlight back on them with your wellness kit holiday SWAG.
Popular and common utilitarian products to include in a typical holiday SWAG wellness kit are:
Bath bombs
Bath salts
Selfcare products such as shampoo, moisturizers, creams, and more
Perfumes
Candles
Face masks
Sanitizers
Unless you are a brand dealing directly with these products, chances are that you will curate these products from well-known brands. So, ensure that the brands you choose are of good repute to make your customers truly appreciate your holiday SWAG.
For branding curated holiday SWAG boxes, you can either strike a collaboration deal with to launch a limited edition wellness kit. This may not always work for a small business, so concentrate on branding the packaging and including at least one item from your brand's holiday SWAG such as a T-shirt, journal, or just stickers too.

Kimp Tip: For establishing an unforgettable experience from your holiday SWAG on curated boxes, think outside the box for packaging design. You can choose Pop Art, illustrations, or graphic design to make it truly spectacular. We have these options available under our Kimp Graphics subscription, so you can get these done for the same flat monthly fee.
3) Apparel collection holiday SWAG ideas
This is probably one of the most common and popular holiday SWAG ideas of all time. In fact, there was a time when SWAG mainly consistent of quirky and well-designed branded tees and hoodies. You know how they say old is gold. Well it is true in this case with no doubt.
One of the biggest holiday SWAG ideas is that it works for literally every industry. No matter what your original product/service is, branded apparel always works in raising brand awareness and improving the overall visibility in the market. It is this category of holiday SWAG that brings in the notion that SWAG turns customers into walking billboards.
You can launch this SWAG either as a collection or a standalone unit. Some popular ideas under this category include:
T-shirt
Hoodies
Sweatshirts
Wallets
Face masks
Holiday-themed products such as Christmas Sweaters, socks, and scarves
Kimp Tip: Contrary to what the internet wants you to believe, designing a branded T-shirt is a complicated task. Yes, you can get away with printing your logo on random plain t-shirts, but when you are looking to use them in your holiday marketing campaign, you need more. You need professional designers who can ensure that your logo and brand colors come out the way you expect.
Kimp Graphics Teams are experts at ensuring digital designs work well on print mediums too. With our services, you do not have to worry about these issues at all.
4) Drinkware Holiday SWAG ideas
After apparel, drink ware is the second most popular category. Everyone drinks something, and objects of convenience with style always make great Holiday SWAG. All of us have a favorite bottle, coffee mug, or a sipper that we take everywhere. If your brand can manage to swap out your customers' current favourites for your branded holiday SWAG drink ware, you are golden.
Here, the original brand of the bottle or the mugs is not so important, so you can choose a generic product and add your branding through design. This is, of course, unless you deal with such a product.
Even if your drinkware Holiday SWAG comes out of your own product line, we recommend having a unique design on it. This will make it special for the customers and make them feel they are part of a unique and limited edition collection. You can always try to holiday-ify these products when you make them into a holiday SWAG collection.

Remember, Drinkware Holiday SWAG makes a great giveaway or freebie with your Christmas holiday marketing campaign. And you can work with the Kimp Graphics team to bring some little North Pole vibes to your products.
5) Stationery Holiday SWAG ideas
Christmas and New Year's are mostly about new beginnings and people get especially excited for the new year. At such times, it helps to launch a holiday SWAG line that helps promote these feelings and experience them fully. Stationery works very well in this category.
Choosing products for your holiday SWAG line that one can use throughout the year bodes well for your effort to improve brand awareness. Also, if you are launching a new product, you can use its imagery and branding for the SWAG, too. People will eventually get curious about the product.
Some popular stationery holiday SWAG ideas are:
Notebooks
Pens
Paper weights
Diaries
Calendar
Daily Journal and Gratitude Journals
Bookmarks
As always, based on your budget, you can either use these holiday SWAG ideas individually or combine them to make a "New Beginnings" holiday SWAG box.
Kimp Tip: Notebook covers, journal covers, and bookmarks are whimsical products by nature. So you must ensure that your holiday SWAG line of these products also carries the same personality. It will make it even more attractive for your customers.
6) Green Holiday SWAG ideas
A trend that has been going strong for a long time is the eco-friendly craze in the market. People are concerned about the planet and like to contribute in any way they can to sustainability. Additionally, brands that support sustainable and eco-friendly values always stay in a favorable light among their patrons.
So if you work in a service industry where no product feels obvious or right for your business' personality, we suggest a green-themed holiday SWAG for you.
It can be something as simple as a seed bag and as extravagant as a planting kit with pots and plants included. Anything would do as far as your heart is in the right place. Some other ideas include bags and stationery made from sustainable products.
Now, you may wonder how you brand something that people have to plant in the soil? Well, for starters, you can consider stickers on the pots if your holiday SWAG line includes one. If not, we can also work on the old packaging route, where the bulk of the branding is on the box itself.
7) Luxury Holiday Swag
Some brands look to give their customers the very best time during the holiday season. So if you are looking for a way to make existing customers feel even better about your brand, luxury holiday swag is the way to go. You can either opt for expensive gifts, luxury experiences via gift cards, or a combination of both.
For brands that don't have a luxury line in their offerings, we recommend:
Offbeat experience gift cards
Cocktail kits
Branded/expensive backpacks
Branded Airpod cases
Premium engraved leather wallets
Luxury swag can be anything that you feel signifies prestige to your customers or partners, from a wine glass set to an expensive accessories set.
When you choose a luxury Holiday SWAG for your brand, you have to match it up in design, too. An expensive backpack cannot just carry a logo slapped on it without consideration of placement. It has to work well with the product and make the customer proud to own it.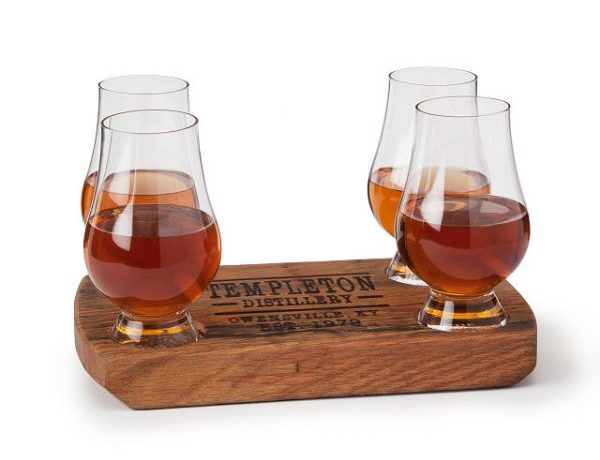 Work with the Kimp Graphics team to design something extraordinary for your brand's luxury SWAG line.
Launch your best Holiday SWAG line with Kimp this holiday season
With your holiday SWAG line, the aim must be to get one step closer to your customers. Freebies, giveaways, and personalized corporate gifts for your customers are an incredible opportunity to do that. But only if they're well-designed.
Customers will base their impression on your brand from what they see on your Holiday SWAG. When you spend a lot of money on holiday marketing campaigns, you cannot afford to miss an opportunity to make a good impression.
That is why we recommend working with the Kimp Graphics team to design all your holiday SWAG. And if you want videos to promote it, the Kimp Video team is right here to hlep.
Sign up for the free trial today to get started on your SWAG line.