Marketing 101: 7 Lessons From The Disney Brand
Once upon a time, an enthusiastic animator from Chicago created a short animated silent film, Alice's Wonderland. After many stumbling blocks, he went on to launch the Disney Brothers Studio‍, which we know today as The Walt Disney Company‍.
Yes, we are talking about Walt Disney! The man behind The Disney brand. A brand that is now the epitome of inspiration for marketers.
The fact that nearly half of the highest-grossing films are from Disney tells enough about its dexterity in marketing, don't you agree?
Furthermore, the brand has touched the lives of millions of people around the world. Not to forget, its audience spans different age groups and cultural backgrounds. And the best part is that it manages to make the same impact on a toddler as it does on an adult.
That's exactly why today we are going to talk about Disney's marketing strategies. The brand that made toddlers sing "Let it go" just over a million times. And one that makes adults feel like kids again as they take a Disneyland tour.
So, if you are looking for some inspiration to give your marketing strategy a nudge, look no further. We'll have some of the best marketing lessons to take away from the Disney brand.
Growth That Inspires
Walt Disney's first commercial venture was the launch of Laugh-O-gram Films, an animation production company. He co-founded this with his friend Ub Iwerks, in the year 1922. It's been a century since then and today, The Walt Disney Company is actively laying down its plans for a residential community, Storyliving By Disney.
From creating cartoons to producing movies in Hollywood, running 12 of the most successful theme parks around the world, and owning more than 300 Disney stores, the brand has grown quite a lot. Not just that, it has diversified its presence across industries.
Essentially, the brand's tactful marketing strategies have played a critical role in this journey. And in the tremendous growth and customer engagement, the brand has achieved over the years.
Branding Tactics to Learn From The Disney Brand
Above all, the brand outperformed its projections and made a revenue of US$7.2 billion from its products, experiences, and parks in the first quarter of 2022. So, it has a lot to teach us in the world of marketing.
From creating nostalgic content to keeping fans always in a state of anticipation about what's in store for them, the brand has its unique strategies in branding. Let's look at a few of them.
1. Inspire your audience
Disney as a brand might be many things but at the crux of it, it is a brand that brings quality entertainment through engaging content. Movies continue to be the major drivers of this brand. The brand that managed to bring all our childhood fairytales to life now creates more than just fairytales.
If you look at Disney movies of recent times, there have been many inspirational storylines and realistic characters. Moana and Ratatouille are just a few examples of how Disney continues to create content that motivates people to chase their dreams. These are feel-good movies that move people young and old. And such movies will keep people coming back for more.
Branding lesson:
When you meet your customers' expectations, you satisfy them and make a sale happen. When you excite your customers, you gain a competitive edge. But when you inspire them, you create a lifelong bond.
So, when you plan the content for your marketing strategy, create inspirational themes and add flavors of positivity.
2. Storytelling as a branding strategy
Disney has always been identified as a brand that celebrates the people behind it. From the artists who work in the movies to the real-life characters who inspire the stories, the brand honors all the stakeholders.
We'll give you an example. You might already know the story of Tiana, a waitress whose life changes after she meets the frog prince. But did you know that Tiana's character from The Princess and the Frog was actually based on Leah Chase, an iconic New Orleans chef?
You will find more about this inspiration in the below Tweet from Disney.
This is just one way in which Disney honors its human connections. This is important because the humanization of the brand is critical when it comes to long-term customer relationships with the brand.
Branding lesson:
Talk about your team, the people behind your brand. Tell customers the story of how your brand was born. Or show them behind-the-scenes videos that show how your teams meticulously create the products or services for your customers. By incorporating content that shows the people who make it happen, you succeed in humanizing your brand.
Kimp Tip: If you are struggling to acquire the art of storytelling as a means to strengthen your brand, try to use more images, videos, and infographics to communicate your message.
Wondering how to consistently find fresh content to support your brand storytelling strategies? You get unlimited graphic designs for your brand with a Kimp Graphics subscription.
3. Tap into the perks of emotional advertising
In the year 2020, a Christmas ad made headlines for being one of the most emotionally impactful campaigns. Do you know what brand this ad was from? None other than Disney of course. It features the journey of a small Mickey Mouse soft toy that makes you think about the beauty of old family traditions during festivals.
Following the success of the 2020s From Our Family to Yours campaign, Disney also released another heart-warming ad the very next year. This one features a stepdad trying his best to win the hearts of his stepchildren. And it is sure to leave most people teary-eyed. See for it yourself.
Most of Disney's movies have featured strong emotions. It is this emotional connection that strengthens the bond between the brand and its customers. What really matters here is that the brand uses similar emotions in its ads too. By nurturing these emotional bonds with its customers, the brand cultivates the excitement of visiting Disneyland parks and collecting Disney merchandise.
Branding lesson:
Creating an emotional connection with your customers makes it possible to earn their loyalty. And customer loyalty not just pays off by bringing in new customers through word-of-mouth marketing.
Kimp Tip: For seasonal campaigns, emotional advertising can be your biggest strength. And videos work best for emotional advertising. When your video ad manages to bring a smile to people's faces you end up strengthening brand awareness and creating brand loyalty.
Looking to create powerful video ads for your campaigns? Sign up for a Kimp Video subscription today and take care of all your video design requirements in one place.
4. Turn customers into fans
When the movie, The Lion King of 2019 was announced, it triggered some serious nostalgia. By incorporating celebrity influencers, posters, billboards, live events, photo booths, and a host of other activities, Disney managed to build anticipation for the movie way ahead of the release. And that's just one way in which it managed to push the movie to become the highest-grossing animation film.
Among the many social media ads and campaigns that Disney used for this movie, a notable one is the LinkedIn campaign #IJustCantWaitToBeContest. This was a campaign that asked people to share what inspired them.
Without a doubt, campaigns like these, when executed well, turn customers into fans. They make people fall in love with the brand. Another key point is that these campaigns motivate them to share their experiences with their friends and family as well. And thus your existing customers help the campaign gain traction and bring in new leads.
Branding lesson:
When you have customers you can make sales happen consistently. But when you have fans, you can take daring steps for your brand in new directions. You can confidently introduce new products or venture into new industries. All this is because you know that your fans will be ready to support your growth and try your new services or products.
To sum it up, if you want your business to be ready to embrace growth, focus on delivering a quality experience that converts customers into fans.
5. Work with relatable themes
Disney's marketing efforts are always on point. From planning its merchandise to creating its promotional materials, the brand always keeps the target audience in mind. One perfect example is the brand's marketing efforts for the movie Finding Dory.
For this movie, most of the posters and marketing materials targeted not just kids but also adults. The fact is that the movie was released 13 years after its first installment Finding Nemo. Hence adults who were kids when the first movie was released were part of the target audience. The brand incorporated bespoke marketing content. For this, it kept the ads and posts relatable. Consequently, it managed to boost customer engagement.
Branding lesson:
If you think that there is a new movie or a game that your customers enjoy, you can create interactive posts and initiate discussions on these topics. This is where social listening comes into play. Look for hashtags that your customers follow or influencers they actively engage with.
Kimp Tip: When you have to create conversational posts for social media, having a design template can be very useful. This lets you use the same template and maintain design consistency across the posts corresponding to this discussion.
Finding it overwhelming to consistently create posts for your social media campaigns? Leave it to the design team at Kimp by choosing a Kimp Graphics subscription.
6. Brand collaborations and cross-promotions
Finding McDonald's products at Disneyland parks or Disney merchandise in McDonald's Happy Meal is not new to us. In fact, this is a decades-old brand partnership.
As a matter of fact, attracting Disney merchandise collectors has been productive for McDonald's. On the other hand, by promoting movie merchandise through a world-famous burger chain, Disney has managed to get people talking about the movies and the characters. All of these show how strong cross-promotion strategies can help two brands help each other grow.
Branding lesson:
Knowing your competitors is important but what's even more important is identifying your allies. Profitable brand partnerships and collaborations for campaigns can benefit most brands. Especially when you are struggling for better reach, cross-promotions with other brands can be of great value.
7. There's always something new for fans
Besides the regular rides, Disneyland parks always have new lands and rides based on upcoming movies or recent launches. For example, The Avengers Campus became a sought-after attraction after the Avengers movies.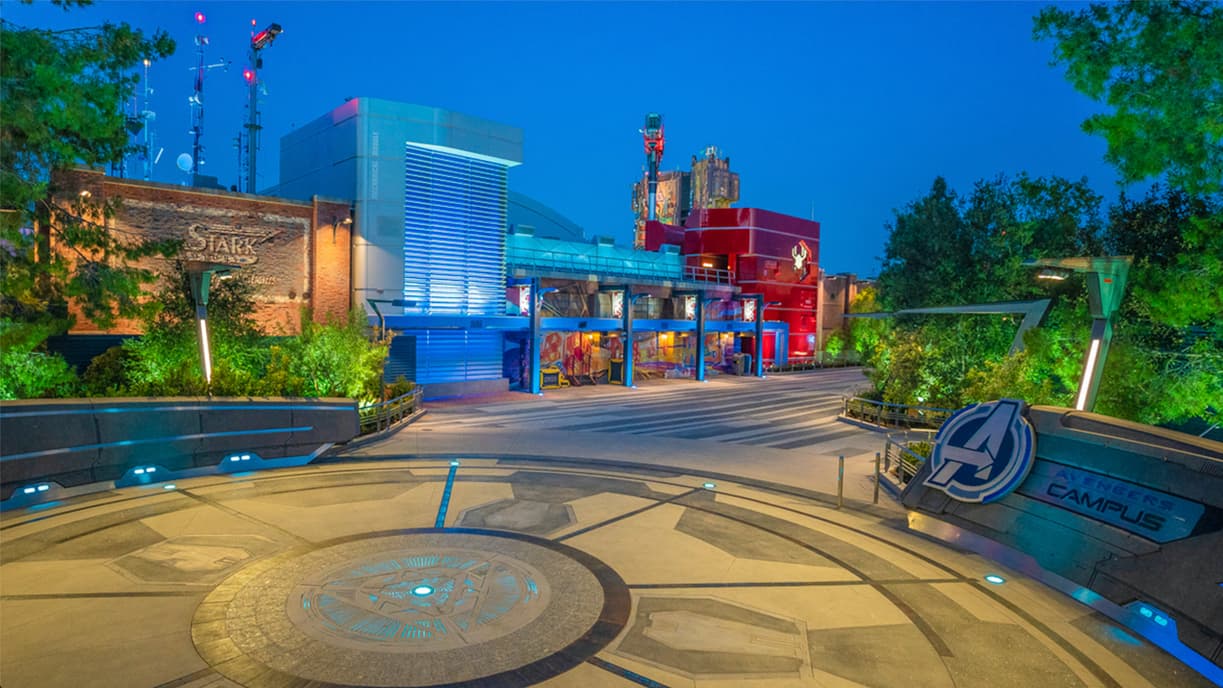 Like all other lands in Disneyland, Avengers Campus provides a highly-interactive experience for everyone who enters. Also, there are new attractions added to this section regularly. So visitors have something new to try every time they visit.
Branding lesson:
Introducing a whole new product line or a new service regularly might not be on the cards for all businesses. But there are more ways to keep the spirit alive. You can actively plan social media campaigns that engage your customers.
Here are a few quick ideas that might help:
Themed posts for different days of the week
Regular live sessions
Q&A interactions on Stories
Polls on LinkedIn Feed
By including such interactive posts on your social media page you ensure that there is always something new for your customers. And this can skyrocket your social media engagement rate.
All of these branding lessons from Disney can be useful for brands big and small to figure out ways to revamp their marketing efforts. But then you also need strong campaigns to back up the idea you come up with. Let's also talk about some of the most popular campaigns from Disney that can inspire you to think out of the box and create memorable ads for your customers.
Campaign Inspirations From Disney
Disney has always managed to add magic to its marketing efforts by delivering memorable experiences to its customers. While each of Disney's campaigns has somehow made an impact on its fans, here are some popular ones that truly made a difference.
Dream Big Princess
Dream Big Princess campaign focused on female empowerment. Besides, it also showed how Disney always manages to make a difference.
The campaign consisted of an entire video series focusing on inspirational women entrepreneurs. People could use the campaign hashtag #DreamBigPrincess to share their own posts. Disney announced that for every post shared and for every like on these posts it was going to donate US$1 to the Girl Up campaign by The United Nations. Without a doubt, the campaign was a big hit.
Replacing the decades-old floral display at Disneyland
From the day Disneyland Park was opened, back in 1955, several things have changed but there was one thing that did not change. The park entrance featured a large floral display of the face of Mickey Mouse. But as a part of Women's History Month celebrations in 2022, the floral display was changed to Minnie Mouse.
If there is anything to take away from this big step by Disney it is this. Iconic elements of your brand might have made strong connections with your customers. So, a decision to change them might be tough. But when you show that your brand is open to changing even such conventional practices for a noble cause, you win the hearts of your customers.
Share your Ears
The Share Your Ears campaign by Disney from 2018 is the perfect example of cashing in on user-generated content to enhance brand loyalty.
As a part of this campaign, users visiting the Disney stores in the U.S. and Canada could share a picture of themselves with decorated Disney ears. And for each post on social media with the hashtag #ShareYourEars, the brand donated US$5 to the Make A Wish foundation.
Not only did the post earn publicity for the brand but also showed how the brand has always been an advocate of contributing to society. To summarize, this campaign increased the number of store visits and the social media interaction for the brand.
Healthily Ever After
Disney has been a hit with the family audience for many reasons and the Healthily Ever After campaign just reminds us why.
The campaign focused on healthy living and advocated the need for healthy eating habits in kids. It managed to make a difference because the brand used some of its iconic characters to represent the ideas and convey them through storytelling. This made it easier to communicate the message to the little ones as well. Coming up with campaigns that have the desired impact on all your audience groups can bring in the best returns on your marketing investment.
Give Your Branding Efforts a New Makeover With Unlimited Graphic Design Services From Kimp
You will see that even big brands like Disney extensively use visuals in all of their advertising strategies. That emphasizes the fact that to make your brand shine in a competitive segment, you need strong graphic designs. From outdoor advertisements in the form of billboards to merchandise marketing through printed t-shirts, regular print ads like flyers, and digital ads like social media banners and carousels, all of your design requirements can be met with a single graphic design subscription. And that too at a flat monthly rate.
Start your free trial to see how the subscription model can benefit your brand.