Everything You Need To Know About Branded T-Shirt Design
"Oh! We should totally make T-shirts for this event!" How many times have you heard your friends, employees, or coworkers say that? We are guessing too many unless you're the one who usually says that!
Custom T-shirts have increasingly become must-haves.
People love wearing matching T-shirts that signify their allegiance to a sports team, a music band, a pop culture entity, and so on. And as an extension, coworkers or loyal customers of a business have also begun sporting custom T-shirts to show their allegiance.
This applies to big brands, small businesses, content creators, and any popular personality. The Amazon merch section's successful run to date is a clear testimony to this fact.
And it doesn't stop with T-shirts that promote a brand alone. T-shirts that celebrate individual products, taglines, brand elements or even the community you have created, can induce loyalty and a sense of belonging.
So even if you do not run a T-shirt business, it will bode well to know a thing or two about T-shirt design and how to ace the process.
The emergence of the T-shirt industry
As a brand, every investment needs justification. And unless you see a clear advantage in a T-shirt line, it is hard to part with even a penny.
But when you hear the case for investing in branded T-shirts, you will head to the printers immediately.
T-shirts have become a staple worldwide. People across locations, cultures, and generations are happy to sport them. That is why the custom T-shirt industry crossed 3.64 billion dollars in 2020, and experts expect it to grow 9.7% from 2021 to 2028.
This industry did not get hit by the pandemic like others. Even though the apparel industry took a major dive, the casual wear industry, where the T-shirt dominates, grew by 47%.
Bottom line: Customers love custom T-shirts because they perfectly combine comfort, style, and community.
Trends in the T-shirt Industry
In the overall T-shirt segment, some varieties stand out for their ever-growing popularity among the masses. One significant niche is corporate T-shirts that you can leverage for branding, customer loyalty, employee loyalty, community building, and so on. In fact, experts predict that these T-shirts will form a large part of the overall sales numbers for T-shirts.
In terms of design, graphic design and custom artwork are the two types that are most popular in this business. Currently, over 56% of popular T-shirt designs belong to the graphic design segment in which T-shirts with pre-printed graphics are purchased. In other words an existing design is taken, as is and printed on to a T-shirt. The perks of this category? A quicker turnaround and a lower price point.
The next biggest segment – and the fastest growing one – is that of T-shirts with custom artwork. This involves the creation of custom artwork to be printed onto T-shirts. Here, people choose custom artwork to replicate their favorite artist's designs on T-shirts with on-demand printing services.
As a brand, you may wonder why do I need input on the design? A simple logo on the T-shirt, and I am good to go. Well, yes, that is one way to approach T-shirt design.
But if you want to stand out and build a long-term relationship with your audience, you must explore more design possibilities. Because you can achieve a lot of your marketing, branding, and business goals with the right T-shirt design.
Intrigued about the possibilities? Check out the next section to learn more.
When does a brand need a custom T-shirt design?
We told you that the right T-shirt design can do a lot for you. And, we completely stand by that. Gone are the days when the T-shirt design business was just about selling a product. Today every brand and creator has its merchandise line to help grow their brand.
So what are the instances when a good T-shirt design can come in handy for a small business, retail brand, and/or corporate brand?
Employee branding
Whether you are running a small business or a big corporate company, you need to take advantage of every marketing opportunity. And what is the best form of marketing? Inbound marketing – where customers come to you. Referral and word of mouth are two tactics that make this possible. With employee branding, you can tap into both.
When your employees sport unique, custom, and high-quality T-shirts that celebrate your brand identity, there are many advantages:
They feel connected to the brand
You get walking, talking, and real brand ambassadors for your business.
Brand awareness peaks because your employees expose your brand to people from all walks of life. Something even the most targeted marketing and advertising cannot achieve.
So, every brand needs an employee T-shirt design.
Customer loyalty
To ensure your one-time customer comes back to you, build a bond. You want the transactional nature of your relationship to go to the next stage, right? Well, what did we just learn that helps build bonds and establish a sense of belonging? Yes, custom T-shirts.
And this is nothing new. From sports teams to multinational corporations, people have been sporting corporate T-shirts as customers for a long time. Apple does not even have an official merchandise line, but there are a lot of Apple fans, and fanatics, that represent the brand.
Event promotion
Do you host events a lot? Are you an event management firm looking to spread the word about your company? Well, don't just stop at posters and flyers that people too quickly forget. Incorporate T-shirts that people keep forever. Yes, even if it is obviously promotional, people do wear these T-shirts either to informal gatherings or around the home.
And this act of launching and distributing T-shirts cements your brand's presence in their life for a long time, and that can bring returns.
Product promotion
A lot of time, effort, and resources go into creating a product. So, brands go beyond all means to promote that product. But, they often overlook the most obvious ways because they are just so simple.
If you want to create a superstar product, treat it like one. Release a merchandise line and promote the product's features, USP, and value proposition via that. You do not have to sell those too. Make it a part of your product launch giveaway.
People love freebies and will not let a T-shirt go to waste. Especially if the quality is good. They will sport it and become walking billboards for your product. And if you make the T-shirts as limited edition, FOMO marketing techniques kick in accelerating sales.
7 T-shirt design tips for your brand
While we have already done a blog on custom T-shirt designs, this piece is specific to corporate companies and small businesses. There are many unique considerations to pay attention to while designing T-shirts for them.
Understanding the elements of T-shirt design can help you protect your branding identity and brand reputation in the industry. So in this blog by Kimp, we will equip you with all the knowledge you need to launch the best branded T-shirt(s) for your business.
Let's dive right in.
1. Understand your audience
Every business has a target audience. But that entire target audience may not be the audience for your T-shirt project as well. Maybe there is one section of your consumer base you want to attract first.
Even if you want to launch T-shirt designs for your entire audience, you cannot expect all of them to like the same designs. You need a variety in color, font, imagery, T-shirt type, and so on.
Specifically, for employee T-shirts, the senior management may prefer a different T-shirt style than the younger employees. Based on the styles they prefer, you may have to change the design as well.
You want your T-shirt recipients to sport them regularly to achieve your marketing and community-building goals. So pick designs people will wear regularly. And that will only happen when you have identified your audience correctly for each design.
Looking to mock up some designs to get an idea of the direction to go in? Work with Kimp Graphics for unlimited design requests at no additional cost.
Even customers love company T-shirts if you get the design right as you can see in the tweet above.
2. Your design must match the intent
In the previous section, we mentioned that T-shirt designs can work for more than one intent. But once you have identified your audience, narrow down that intent as well. If you try to make your T-shirt design do too many things, the end result may be quite disappointing.
So pick an intent and ensure that the design matches the intent. Wondering what that means?
Let's see how design varies across some of the most common types of intent: Branding awareness, loyalty, and promotion.
For branding-related T-shirt designs, the branding design elements such as logo, brand name, tagline, brand imagery, and so on will take the spotlight. All other design elements come secondary. When someone checks out your T-shirt, their eyes must go to those first.
For promotion-related T-shirt designs, branding and other marketing designs and elements must co-exist. Based on the design brief and the size of your company, their relative sizes and position will vary.
For employee or customer loyalty-related T-shirt designs, branding designs will feature along with some other design elements. Some employee T-shirts feature their name, company motto, and so on. The presence of logo and brand name is often subtle with other branding indicators such as color, font, and imagery.
Kimp Tip: Based on the intent you pick, your design team will play with the design elements to establish the visual hierarchy that works best. This is a substantial investment for your firm, so ensure you pick the right intent and work with a team that can translate that on to the fabric.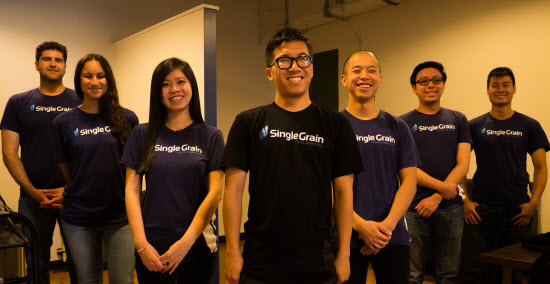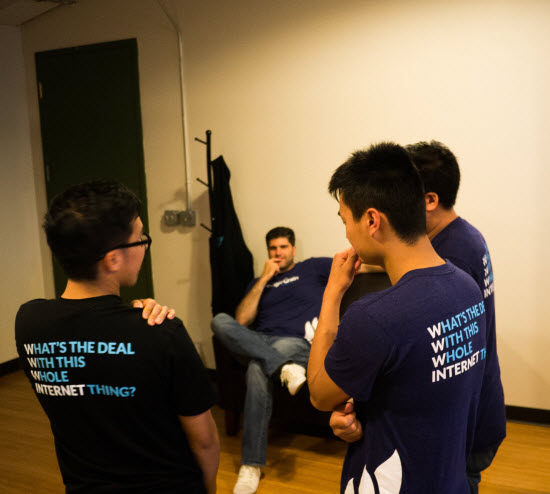 Single Grain intended to start conversations, and the design above achieved this in spades.
3. Pick custom Designs
The era of choosing stock images for everything is gone, especially for brand awareness and corporate T-shirts. With these T-shirts, you want to stand out from the competition to ensure the market easily remembers you.
So opt for custom designs that truly reflect your brand's personality, branding identity, and unique value. Also, custom designs do not carry the risk of copyright infringement, and you can safely monetize the designs.
When you pick custom designs for your corporate T-shirts, some ideas to consider are:
Trending designs in terms of colors, models, T-shirt styles, and fonts to easily relate with the audience.
Universal designs that have a foundation in pop culture such as movies, TV shows, sports, local culture, and so on. You must license these designs appropriately or create your own custom art inspired by them.
Solid color T-shirts with minimalistic designs to bring the focus on your branding and make printing easy as well.
Looking for a team to conceptualize designs for your T-shirt line? Try a Kimp Graphics design subscription!
4. Color selection
What is the first thing you notice about a T-shirt design? Before your eyes can check out the intricate design or the pattern, they notice color. And that is why color is one of the most important features of a T-shirt design.
For a custom T-shirt design line, the color options are endless. But, they become restrictive for a corporate company or small business.
First off, your color selection will greatly impact the printing costs. If you have too many colors, this will increase your costs. Also, too many colors can hamper the final printing quality since the colors can bleed into each other if you are not careful.
Second, you must feature your brand and product colors in your T-shirt designs. We spoke about how with employee T-shirts, designs have a subtle representation of branding in terms of color instead of a big logo on them. So it's that much more important that your color choices center on brand colors and other complementary colors.
Kimp Tip: Since you must feature brand colors on your T-shirts, work with a design team to choose complementary, analogous, and monochrome schemes. Vary the designs and see what works best before you go for printing.
And even when you do print, start with mockups to check for flaws before going live.
Think of your logo colors and other elements before picking the T-shirt color.
5. Font selection
What comes after color? Yes, we're talking about fonts. Now, a T-shirt merchandiser or business can go with any font that they like. It may not matter much. But that is not the case for a corporate T-shirt design. The font like every other design element on the T-shirt reflects your brand.
Pick a font that:
Is an extension of your branding identity
Conveys your brand's personality
Works for your target audience
This font can be anything you wish it to be, provided it satisfies these conditions. For consistency's sake, we recommend you use the same font across the T-shirt. And make it one that you already use in your branding and/or marketing. You can modify its properties such as size, style, and weight for visual hierarchy, but keep the font constant.
6. Design layout
Once you have the branding elements and other design elements in place, it is time to focus on composition. This is one of the most significant parts of the T-shirt design process. If you can get this right, then the design will be a success. Otherwise, even if the design elements are good, they may not work.
So how should the design layout be?
Well, the design layout must allow every design element to shine without overcrowding, dominating, or edging each other out.
It must also be compatible with the T-shirt style. For example, if the T-shirt has a front pocket, the design team has to shrink the design so that it does not interfere.
The overall design you want to print must not be too close to the edges of the T-shirt, any pocket, or the collar. This may reduce the impact of the design.
Do not place the branding in a place that many may consider unflattering or offensive such as the lower back, upper neck, or too close to the shoulder.
The overall design must have balance and be aesthetically pleasing to the eye.
Kimp Tip: If you are going to order one size and style of a particular design, ensure that you create and test mockups in each design. It must be equally effective in all sizes and styles, with no exception.
7. Think templates
When you start creating branded T-shirt designs you'll find that you need them on an ongoing basis. They can be for new events, products, marketing campaigns, or new employees.
But since our aim is branding awareness and consistency above all, all these T-shirts must look similar even if you print them years apart. How do you do that?
Well, once you have your first successful T-shirt print in each category, work with a design team like Kimp Graphics to create templates from your successful designs. Then, all you need is a little edit, and your designs are good to go.
Template building ensures branding consistency, reduces the turnaround time for printing, and does not mess with a successful system in terms of colors, fonts, and other element selection.
Experimenting is also easier with templates because you have to just work on one variable instead of building the design from scratch.
Kimp Tip: Along with templates, it is time for brands of all sizes to consider and invest in brand style guidelines. This must contain instructions on color usage, font usage, and brand imagery usage in all instances. And once you've created them, your design projects will be a breeze.
Looking to build one for your brand? Check out our guide here.
Create exceptional corporate T-shirt designs with Kimp
Branded merchandise can be a super effective marketing tool. It is one of the most cost-effective, time-saving, and popular ways of building communities inside and outside of a company. And design plays a major role in its success. People are visual creatures, and they don't want to wear something they don't like.
So investing in T-shirt design will pay off for your brand.
And with Kimp Graphics' unlimited graphic design service, the investment is affordable and smart as well. We offer unlimited design requests, revisions, and an expert team that can handle a wide variety of design styles.
Sign up for the free trial and get designing today!