10 Ways Squid Game Is Inspiring Marketers Around The World
Netflix is truly becoming a marketer's favorite platform. Not just by inspiring people every day by the way they enhance their brand's value in the market. But also how the platform is consistently creating shows and content that turns the world on its head.
The latest addition to Netflix's long list of viral content is the worldwide runaway hit Squid Game. The Korean Drama has captured the world's attention and created a buzz that you could only miss if you were a monk or someone on a digital detox.
Twitter, Facebook, Instagram, and even LinkedIn cannot stop talking about it. Dissecting the plot, making memes, and discussing fan theories are just some of the things happening online.
Naturally, marketers and brands won't miss out on the tremendous opportunity to improve their engagement and be part of this scintillating trend.
All major brands have now created content, centered campaigns, and taken part in Squid Game-related conversations. And it is probably one of the most inspired and organic trendjacking done in the marketing world. 
The Kimp Graphics and Kimp Video team have come together to bring you a breakdown of the most popular Squid Game-inspired marketing campaigns. We hope this helps you create trendy and authentic content for your brand too.
The new Netflix phenomenon – Squid Game
Before we dive into the vast ocean of Squid Game content that has taken over the internet, let us understand why Squid Game is so important for brands. For any brand to associate with a TV series is a decision that needs a lot of consideration.
When thousands of brands instantly jump on the bandwagon, you know that a show is gold. In fact, it is this sentiment that drove a lot of skeptics into watching the show.
Netflix recently announced that Squid Game had crossed 111 million viewers and officially became the most-watched show on the international streaming platform. In almost over a month, the show gripped the entire world and became the talk of the town.
For example, Twitter gets a minimum of 800 tweets in an hour with the #Squidgame tag, Instagram has over 700,000 posts under the same hashtag, and LinkedIn cannot stop talking about it.
So it makes good sense for brands to jump onto trends like Squid Game quickly to engage their audience and stay relevant. 
10 Ways Squid Game is Inspiring Marketers around the world
Sometimes, trends spring up out of nowhere just like how it happened here with the Squid Game. In such cases, not every brand can come up with innovative campaigns or elaborate videos to take part in the trend.
These moments are for quick thinking and adapting the trends to your brand's identity. The marketing world typically calls this trendjacking. Brands quickly take over a trend, even if it does not relate directly with them. This enables customers to enjoy content related to a trend they're interested in while connecting with the brand as well. 
To help you understand how trendjacking and marketing around global social media trends happen, the Kimp team has put together some examples. These popular campaigns that revolve around Squid Game will give you an inkling of the process and inspire you to enter the game, too. 
So, with no further ado, let's get started.
1) Esports 
This Twitter post by Esports hits all the right notes. Whenever a new trend pops up, the instinct is always to make memes. And that is good. It is memes that mostly make content go viral on the internet. But sometimes, brands and marketers cannot find the right thread to make a meme about.
Trendjacking does not mean that you can create any content and expect the audience to enjoy it. Customers on the internet can spot fake content from a mile away. 
Esports chose something relevant in the Squid game with the gaming industry and made a meme that will excite a gamer who is also a fan of the show.
Additionally, the brand remembered to place a small logo in the meme, making it proprietary content. These small touches make the trendjacking exercise fruitful. 
Kimp Tip: When a brand makes a meme, the stakes are different than for a social media user creating a meme just for fun. Coming from a brand, customers expect high-quality, branded, and relevant content. With a Kimp Graphics subscription, you can quickly create memes that tick all these boxes, along with all your other marketing creatives, for a flat monthly fee. 
2) Domino's Pizza 
Squid Game imprinted some geometrical shapes with new meanings in everyone's memory. So, of course, it is a central element in all the memes, content, and analysis we see online. But what happens when the brand takes those shapes and makes them relevant to its products?
It will surely make the customers appreciate the brand and interest them to see what they have to say.
Domino's Pizza in Malaysia posted this image on its social media handle announcing a Squid game-style invite for a giveaway contest. The shapes are similar to the pizza joint's products, and that made it an excellent design.
Did you notice the classic tagline, "It's all about you" in the post? That's what we call establishing brand identity while sticking to a trend. And this is one of the best examples of it we have seen.
Kimp Tip: It can be tempting to impose your brand's visual identity completely on the content to make it yours. But you may end up losing the actual essence of the trend and miss out on an opportunity to connect with your audience. 
A good social media post that hinges on a trend needs balance. With a Kimp Graphics team working with you, you don't have to worry about how to navigate that. Our talented designers will handle it.
3) Amul India 
Amul, the dairy brand from India, is very popular for its trendy content. Every major national and International event finds its way into an Amul ad. The brand, this time, took Squid game out of the internet and into print media.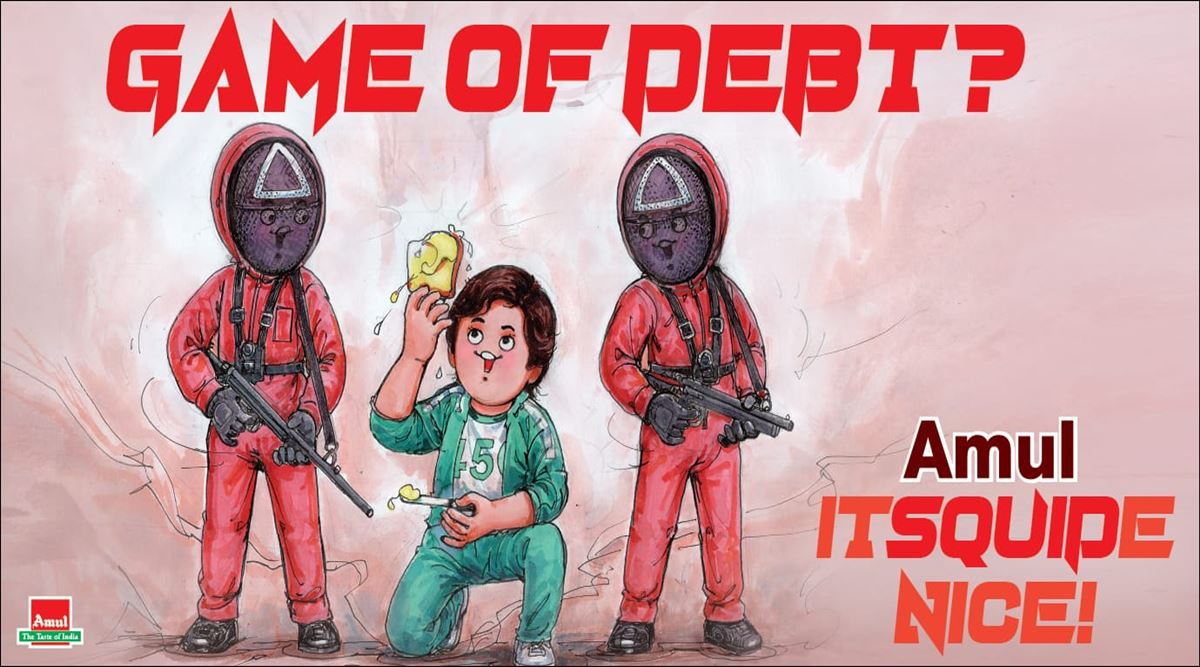 A topical local language ad that completely worked with the brand's identity and the game has become extremely popular in the country. Not to mention, India and other South Asian countries feature in the list of places of highest viewership for Squid Game.
The incredible success of this ad shows us you can take a trend outside of the internet if that means staying true to the brand's nature.
4) Universiti Kuala Lumpur 
Now, while most brands approached Squid game content as something fun and frivolous, some institutions blended in a message. The show is a commentary on the incredible economic divide in our society and how it ends up shaping our lives. So, the University of Kuala Lumpur posted a message that reassured prospective students that they didn't need Squid Game when they had a wide range of financial services from the school itself.
The message resonated with many people and showed us that meaningful trendjacking can be a value add to a brand's image in society.
Below is the gist of the caption which accompanied the post on Facebook:

"Why risk yourself in #Squidgame and worry about funding when continuing your studies to a higher level?

UniKL provides various education financing facilities to realize your dreams in your future career.

Bachelor's Degree intake for September 2021 intake is still open. No need for an invitation!"
5) Sungei Wang 
Another example of Squid Game crossing the internet barrier is this display put up by the mall Sungei Wang. Getting people excited to come back to the shopping mall in the middle of a pandemic is not an easy task. But, if you give them an activity or interaction to look forward to, you improve your chance immensely.
For example, by getting the iconic statue from Squid Game and the people dressed in costumes, the brand replicated the show so closely that people wanted to see a live-action enactment of it.
Now that is marketing done well.
6) Shopee 
Food brands seem to have been some of the first ones to jump on the Squid Game bandwagon. Perhaps it is the connections that food seems to have with some of the games in the Squid Game show. Or perhaps it is that they're always on the lookout for opportunities for trendjacking.
Either way the app Shopee, a food brand, recently put up this innovative and Squid Game-inspired post on its Facebook page. The design transformed the popular shapes into food items much like Domino's did but with a clear branding design done.
No one can miss the Shopee brand identity on the post, but the Squid game-based content stands out too.
7) Adobe UK 
Coming to memes again, Adobe UK seems to have hit it out of the park with this subtle and minimalistic meme design. The design software company has a pretty young audience base. Hence, jumping on the Squid Game trend train was almost inevitable.
But, the meme that the brand came up with incorporated its brand identity so well that it delighted the audience. Using its logo in the meme replacing the famous Dalgona candy brought in a ton of engagement for the brand.
Between the simple design and a witty caption below, Adobe pulled off a great post:
"You: Creative Cloud is great! I wouldn't want to use anything else.
Us: Prove it. #SquidGames#SquidGame"
Kimp Tip: Not all social media posts have to be over the top. Sometimes all it matters is that you show up on time and connect with the audience using something unique to your brand. 
8) Wendy's
Another food brand. Another candy-inspired meme. Wendy's and Adobe UK's Squid-Game-themed content are quite similar. But although both brands used the same template they made it their own, with a little editing.
Unlike Adobe UK, Wendy's meme has a more heavily branded approach to it. The design in the candy, the brand's logo, and the overall color scheme of the post tell you that a Wendy loyalist will spot the connection instantly.
9) Hypestalgia 
Netflix released Squid Game at a very opportune time. It came hardly a month away from Halloween and has now inspired a ton of Halloween costume ideas. The trademark red Jumpsuit and the Green jumpsuit are in huge demand right now. The other accessories, such as the baton and the helmet, are close to being sold out too. And sales for white slip-on vans have skyrocketed 7800% since Squid Game first aired. 
Have an apparel brand? Then you can look for ways to promote your own products for trending Halloween costumes too. Just like this brand. They put together a Lookbook of a typical Halloween costume that one can make from their products to mimic the characters from Squid Game. 
Kimp Tip: Trendjacking can be an effective promotional strategy for your brand if the trend intersects with your business. In such scenarios, you can create social media posts, ecommerce ads, and newsletters too, to make the most of a trend. 
10) Netflix X Walmart Partnership  
Till now, we spoke of how brands from all over the world are leveraging the popularity of Squid Game to promote their products. What if we told you that Netflix is also part of this list?
Yes, Netflix has now partnered with Walmart to start a merchandise hub where the official goods and merchandise from Netflix shows will be available. While this was in the works for a long time, the incredible success of Squid Game seems to be the current catalyst.
This partnership shows us that if you spot an opportunity to grow your brand based on a trend, you don't have to go it alone. Look for opportunities for strategic partnerships that can help you and another complementary brand grow together.
Plus when you cobrand with another company you gain the opportunity to tap into new audience segments. That's taking trendjacking to the next level.
Create Trendy & Engaging Content easily with Kimp
Did this list of trendy content make you want to be part of this global phenomenon? Are you looking for a service that will help you tap into the power of trends that can enhance your brand value?
How about an unlimited graphic design service where you can create memes, social media posts, branded promotions, advertisements, and so much more. All this for a flat monthly fee.
Interested in video content too? Try pairing a Kimp Graphics subscription with a Kimp Video subscription for the ultimate design solution.
Don't just take our word for it. Sign up for the free trial today and check it out yourself.