2021 Holiday Marketing: The 8 Designs You Need
What do consumers think of when the holiday season rolls around? Happiness, joy, and the excitement of parties and shopping, right? 
That is indeed the case with many. But for marketers and entrepreneurs the holiday season means it's time to go into overdrive with marketing campaigns, advertising budgets, and sales. 
Planning a holiday marketing campaign can be daunting, and overwhelming. Most businesses limit themselves because of the sheer volume of work a holiday marketing campaign entails. 
But it can also be exciting and help you reap many rewards. We're not just talking about sales here. Holiday marketing brings the opportunity to improve brand value and bottom line via the biggest shopping season.
So the Kimp team is here to share the ultimate holiday marketing checklist and design ideas you can use to build your campaign.
But before we dive in, let's take a look at the significance of holiday marketing for businesses worldwide. 
2021 Holiday Marketing: Key Statistics and Figures 
Ever wonder whether your holiday marketing efforts bring in any real value to your brand? Do customers really find the content and advertising campaigns helpful? Can you influence their shopping decisions with all this effort?
Well, the numbers say yes to these questions. According to a market survey, 80% of customers admitted that holiday marketing campaigns and information on the internet affect their decisions. 
In fact, over 30% of them agreed that most of their purchases came from weekend holiday promotions. 
Ecommerce brands specifically saw a revenue of $188 billion during last year's holiday season.
Now all these numbers must have convinced you that investing in holiday marketing is fruitful for your brand.
But when do you begin? What is the right time frame for your brand to influence and impact your audience base?
According to a report on Statista, most US consumers began shopping right from October with 38% vouching for this. This number goes down to 23% in November before Thanksgiving and 22% in November after thanksgiving. 
This makes the time period between Halloween and Cyber weekend one of the most significant periods for holiday sales. 
What does the 2021 Holiday Marketing calendar look like?
We have been saying "Holiday marketing" broadly, but it is time to get down to the specifics. Knowing how the holiday season calendar looks in the coming months will allow you to plan your content and promotions accordingly.
So, here is a quick snapshot for easy reference of holidays that you can tie promotions to: 
Halloween – October 31, 2021
Diwali – November 4, 2021
Thanksgiving (beginning of Cyber weekend) – November 25, 2021
Black Friday – November 26, 2021
Small Business Saturday – November 27, 2021
Hanukkah – November 28 – December 6, 2021
Cyber Monday – November 29, 2021 
Christmas – December 25, 2021
Kwanzaa – December 26, 2021 – January 1, 2022
New Year's Eve – December 31, 2021 
Kimp Tips:
Depending on who your target audience is you may opt to build promotions around some of these holidays and special events and not others. But whichever events you decide on, be sure to plan out your campaigns so that they build on and complement one another. 
You want to connect with customers meaningfully when they begin their holiday shopping, and offer them relevant promotions over time. Avoid sending the same offer under different themes. This may seem like a simple solution but you'll miss out on opportunities to promote different products or services and target different audiences who they appeal to.
Launch campaigns in the second or third week of October. This means ideation, themes, sales preparation, and creative sourcing must begin before this.
How to Ace 2021 Holiday Marketing
Before we discuss the designs you'll need for your holiday marketing and planning for your campaigns in detail, here are a few keepsake tips that will help you ace it when you go live.
Email marketing campaigns have a high conversion rate and engagement rate in all holiday marketing campaigns. But it is up to you to elevate it with some strategic planning. Segment your email list based on customers' previous shopping experience, lead source, and demographics. Send personalized emails that customers find meaningful.
Most searches for ecommerce and other small business websites come from mobile phone users. Not to mention, most of your leads and diverted traffic originate from social media platforms. So it is vital that your advertisement designs, marketing material, landing pages, website, and all other lead forms work well in mobile usage.
Create a list of discount codes and offers well ahead of the season. This way, you can have your discount and promotion-related advertisements prepped well in advance. And optimize your promotions process for a better sales experience. This means make sure that discount codes are easy to copy and paste from promotional materials and/or are included in caption text.
Your content calendar must have a healthy mix of educational, promotional, inspiring, and fun content. This will improve your overall engagement rate across social media platforms, blogs, and other sites. The higher your engagement is, the better reach you can expect for your advertisements and deals.
Concentrate on creating an omnichannel presence for your brand during the holiday season. Leave no platform unposted. Work on promotional content for Facebook, Instagram, LinkedIn, Twitter, Snapchat, TikTok, PPC ads, SEO, retail store advertisements, and OOH advertisements.
Kimp Graphics and Kimp Video offer unlimited graphic design services for mobile-optimized, omnichannel compatible, and versatile designs. So if not having enough designers is holding you back from holiday marketing, book a demo call or start a trial to see how Kimp can help. 
The 2021 Holiday Marketing Checklist: 8 Designs you need
There are so many innovative ideas you can try for each holiday to bring your brand on top every time.
But this 2021 Holiday Marketing checklist for Designs your brand will need is even more special. This checklist will help you build a base to make your life easier in the coming months. Armed with these designs, the sky is truly the limit for your 2021 holiday marketing.
1) Holiday-themed design assets 
As the golden rule of branding consistency says, your marketing designs have to work as an extension of your brand's visual identity. Every piece of content you publish has to carry the mark of your brand. It is like a signature.
Now when your brand is in the holiday spirit, don't you think your branding must be too? Yes, holidifying logos and other brand identities is a popular technique that major brands employ to celebrate the holiday season. 
If you begin by creating a set of holiday-themed design assets and the corresponding branding guidelines, you are halfway done. These designs can then guide on other design choices, such as color palette, font style, and so on. And you will have consistency across all mediums. 
You can also create custom illustrations for your brand that relate to the holiday. For example, pumpkin shaped characters for Halloween, festive illustrations for Thanksgiving, animated Christmas trees, and so on. Kimp Tip: When you give your brand's visual identity a holiday-theme upgrade, ensure that the resultant design also aligns with your brand and its values. Considering their usage across mediums (both digital and print) and appearance on the existing website is also important.
2) High-quality images
2021 holiday marketing means putting a spotlight on your products and services. It is the season of sales, so the focus will be on your product(s) and/or service(s). You will have many new visitors coming to your website and previous customers checking you out to see if they want to make another purchase.
So it is time to go all out on creating the best first and second impressions you can. And that begins with having high-quality images customers can zoom in on and get a real feel for what you're selling.
This is especially important for ecommerce brands since customers cannot physically see the products they are buying. However, having quality product images on a site can also help brick and mortar stores send the right impression and invite walk-ins to the store.
High-quality product images mean products featured in the right line, right backdrop, and with clear details. Or in the case of services, it means images that clearly demonstrate the value of what you have to offer.

Even if your existing photos are not so great, you can also have an editing team touch them up a little more.
Kimp Tip: Many times, editing and finessing an image can come to the brand's rescue if they are not looking to invest a lot in getting images taken for marketing. Another thing to remember is that high quality should not mean large sized files with slow load times. That is a true buzz kill. Need some help? With a Kimp Graphics subscription, you can secure high-quality and mobile-optimized images for your products with quick turnaround times.
3) Holiday-themed product catalogs 
Gift guides are very popular at this time of the year. You will notice that a gift guide is a marketing idea that features on every holiday marketing blog. Now, how do you ensure that your gift guides look the absolute best?
Start with designing them, keeping the holiday in mind. Do not just put product images together in some random order. Instead, consider your guide to be a shopping mood board you create for your customers. If the mood board connects with them, they will be much more likely to click "Buy Now" or "Learn More".
Create and curate some holiday-themed product catalogs even before you go live with your campaigns. This way, you can work on segmentation, personalization, and advertising budget without worrying about preparing these creatives.
Gift guides work well in paid advertising campaigns and email marketing campaigns as well. Having the product catalog handy will also help you in closing some in-store sales.
When working on your holiday gift guide, consider coming up with different iterations that cater to different audience segments. You can also have one comprehensive version that takes consumers through suggestions for different audiences.
Kimp Tip: Gift guides have a vast application in holiday marketing. So when you work with your design team, ensure that the design you finalize is versatile and flexible to work in digital advertising, social media marketing, and print designs as well. 

4) Discount and Sale related Announcements 
The "SALE! SALE! SALE!" ad is a staple during every sale season. The 2021 holiday marketing season is no exception. But while you want to get your target audience's attention you also don't want to make them feel spammed.
So try to come up with creative ways to hook your audience that don't involve too many exclamation marks or messages in all-caps. You can do this by playing with different types of color combinations, eye-catching imagery and designs and short, action oriented messaging.
Whatever combination hits that sweet spot for you, of attracting customers and getting your message across, aim for consistency across channels. This way your audience will associate your designs on your website, social media, and in PPC ads to be part of the same overall campaign.
Creating a set off holiday brand guidelines and getting as many of your designs prepared in advance as possible can take a lot of pressure off. Just be sure to map out all of the different channels you'll be hitting up and then coming up with the designs needed for each. Planning these logistics out early will help clear up your time for more strategic campaign decisions.
5) Infographics 
As we mentioned in the tips section, your content calendar has to be a healthy mix of educational, inspirational, and entertaining content. Educational content helps customers gain faith in your products and brand. This improves your conversion rate in the marketing cycle.
But you cannot serve educational content in a plain dry form when your competitors are jazzing up every content piece. So add a little spark. We suggest going with infographics for this one. Infographics make information fun, easy to understand, and, most importantly, visual.
Visual information is retained longer by customers, so it is an added advantage. Transform your product How-To's, policy information, and other educational content into Infographics. They are one of the highest shared content forms over the internet. So yay for engagement there!
6) Holiday marketing videos 
Speaking of engagement, the best way to make your 2021 holiday marketing campaigns go viral – or at least get shared a lot – is to incorporate videos. Just think about it. The holiday campaigns most people remember are those that are highly visual and engaging. That's why so many of us remember warm, fuzzy, and holiday-themed videos. Nothing gets the nostalgia and sentiments of the holiday season across quite so well.
So for your marketing campaigns look to create marketing videos that celebrate your brand, product, customers, and most importantly, the holidays. If a picture says a thousand words, well a video can do the work of a thousand pictures. 
Having a repository of videos such as holiday-themed ads, product videos, social proof, and company culture videos can bring the magic touch to your campaigns. And by magic touch we meant that push for customers to convert.
Kimp Tip: Videos can truly enhance any marketing campaign, and holiday marketing will benefit immensely from it. Don't have a ton to budget towards video marketing? Don't worry. With a Kimp Video subscription, you can turn ordinary video footage into a Christmas miracle.
7) GIFs 
Customer engagement in the holiday season is very important. Customers love being heard and seen by the brands, especially during the promotion season. A fun way to interact with your customers on most social media platforms is through GIFs. So why not go a step ahead and create your own branded and custom GIFs? It will be great for your brand awareness efforts. 
You can use GIFs as short-form videos as well for quick interactive content creation. You can create countdown ads, product-centric content, and much more with this type of design.
8) Holiday Cards 
What is a holiday season without greeting cards? So obviously your brand must have one too. A custom-made digital holiday card will help you connect with your audience, peers, and partners deeply. Holiday greetings add a personal touch and can be an amazing conversation starter.
But they don't have to be sent out in a conventional, forgettable way. Here's a few ideas for how you can spread some holiday cheer:
Welcome Emails or as part of email newsletters
Social media content
Packaging inserts, inside of your product packaging
Inserts tucked into shopping bags as part of an in-store sale
Website pop-ups
While a festive holiday message is nice, try to add in a discount or special offer that will make your recipients more likely to make another purchase with you.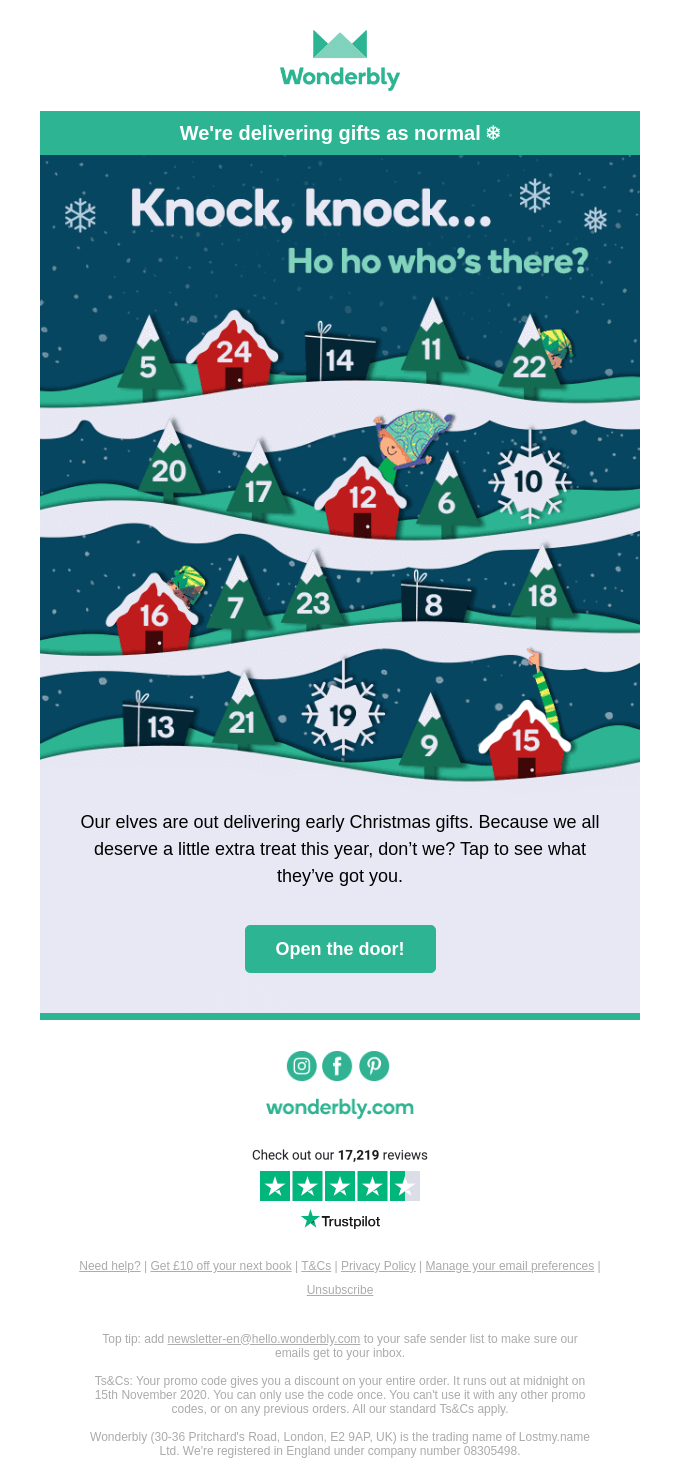 Spruce up your Holiday Marketing designs with Kimp
You can see the vital role design plays in making your 2021 holiday marketing campaign a resounding success. Content and design is the starting point for all campaigns, and it is important to start with the best in hand.
Kimp Graphics and Kimp Video subscriptions give you access to unlimited design requests, with unlimited revisions across a wide range of design categories. This means being able to launch and run as many holiday marketing campaigns as you'd like.
And the best part is it is all at a flat monthly fee. No extra charges.
Sign up for the free trial today and start creating.