6 Thanksgiving Marketing Ideas Your Brand Needs To Try
When you are a business owner, the holiday season can be exciting and stressful. There is so much competition worldwide that the pressure to go out there 1000% and ensure you get your customers' attention is immense. And with good reason. 
Brands across industry verticals see a jump in their brand mentions, revenue, and even profits when people are celebrating. This extends to every country and every demographic you can think of.
And that's why no brand can miss out on launching marketing campaigns during the holiday season.
Some festivals and holidays have become so synonymous with sales that customers worldwide wait for them to arrive with the awaited offers and discounts. Thanksgiving and the big Cyber 5 holidays surely top that list.
Cyber 5, is the week from (American) Thanksgiving through Cyber Monday. Customers know that brands are going to roll out the red carpet and get ready to spend.
Since this weekend kicks off with Thanksgiving, Kimp is bringing you a curation of Thanksgiving marketing ideas to attract, convince, and convert your target audience.
But before we get into the ideas, let's take a look at why investing in Thanksgiving marketing is a must. 
Thanksgiving Marketing and its magic
The digital world influences and affects your business decisions on a very large scale today. So, it is only natural that as a brand you consider investing in Black Friday and Cyber Monday campaigns more than Thanksgiving marketing campaigns.
For some businesses, it may be the right choice too. But the data shows us that holiday shopping starts early. Consumers start weighing their options for purchases in the three to four weeks that precede the holiday. And by launching campaigns in this window of time you can help your business set up for the upcoming holiday season.
Last year, even with the COVID-19 pandemic going strong and affecting businesses, Thanksgiving day saw a record sale of $5.1 billion. Brands worked hard right from early November to rope customers in, and that seems to have worked. 
Additionally, as brick-and-mortar stores stayed closed because of the pandemic and social distancing requirements, online sales went steady showing that the interest in shopping is still strong. 
Smartphones, board games, clothes, groceries, electronic goods, and gift vouchers were the winners in volume of sales over the last two years. 
We hope we've got you excited to plan your Thanksgiving marketing campaigns. And now, let's get to some Thanksgiving marketing ideas for your brand.
6 Thanksgiving Marketing Ideas for your brand
The holiday season is here. Once October hits, brands have to be on their toes, planning campaigns one after the other. And these include campaigns that reflect their relationship with their customers, their brand identity, and the goals they set for themselves in the market.
Businesses look to attract new customers, expand into new territories, and strengthen their hold on the existing ones during this season. Of course, you can run sales, and they help. A lot. But every one of your competitors is also running sales, so you need marketing ideas across the board to tell customers why they must pick you.
The ideas that follow here from the Kimp Graphics and Kimp Video team will help you do just that:
1) Update Your Website & Landing pages 
Website pages and landing pages are the places first-time buyers come to know about you. They are also the places where leads from your advertising campaigns land after clicking on your ads. So, if you want to rope them in, and keep them on your site you need to include design elements that will resonate with them.
When you run Thanksgiving campaigns you need more than just campaign creatives. Your site needs to reflect the theme too. Revamp your web pages with Thanksgiving-themed designs in the header, footer, product page design via graphic design, custom illustrations, or videos.
The website must scream holiday season to anyone who clicks on it.
Dolling up the pages is also a great way to engage your audience and give them something to explore on your website. Once you get that first impression right, you can get started on promoting and messaging.
Thanksgiving design updates are not just for ecommerce brands or retail brands. If you're looking to run a Thanksgiving marketing campaign, you've got to jump on this bandwagon.
The two examples below show you how thanksgiving-inspired designs can add some seasonal touches to your otherwise usual web page: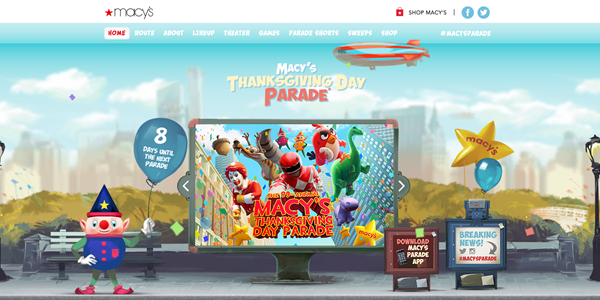 For landing pages, this design update is even more important. You will be directing a lot of traffic via ads, social media campaigns, and other channels to this page. Your landing pages must match your ads to keep the customer feeling connected to your marketing.
Kimp Tip: Your web page and landing page designs must be consistent with the overall branding and marketing design of your brand. So use the holiday colors without losing your brand identity. That is the only way you can build long-term brand awareness. 
With the Kimp Graphics subscription, you can get the same team to create your marketing collateral and achieve the ultimate branding consistency. All at a flat monthly fee. Talk to the team today to see how the subscription can help you during the holiday season.
2) Digital Ads 
When the stakes are higher (remember the billion-dollar figures tied to holiday marketing), you must invest more too. And while you cannot miss out on social media marketing any time of the year, this is even more true during the holiday season.
While the organic reach of your posts on platforms like Facebook, Instagram, Twitter, and LinkedIn will help you talk to your existing customers, ads can help you do more.
Using social media ads on these popular platforms, you can raise brand awareness, promote your products, discounts, and any unique deals that are coming up. This way, you gain new followers and more people who will become customers.
Some tips to create a Thanksgiving ad that the customers gobble up are:
Attract customers with holiday-inspired images such as Turkey, decorations, happy families, and your Thanksgiving-themed products, if any.
Keep the message clear so that you stand out in the crowd. Stay visual as much as possible with minimal text in the image and captions.
Opt for video ads across platforms to improve your reach and engagement rates.
Create relatable and emotional content that forms a bond between you and the customer.
Check out this guide on Facebook ads by Kimp for more ideas and notes on best practices. 
3) Local marketing 
In 2019, a billion people went out to shop in retail stores. Last year was hard on the stores because of the pandemic, but 2021 looks a little more optimistic. As people head out to shop outside their homes, brands must look to invest in local marketing for their Thanksgiving marketing campaigns.
This means storefront signs, billboards, posters, flyers, and standees, if you will. Anything and everything that can make a customer see you in a crowded marketplace, literally and figuratively.
Local marketing does not mean you neglect your online presence. If you have a billboard for your Thanksgiving campaign, it makes sense to update the image in your local business profiles on Google My Business, Yelp, to name a few. Upload your promotions and offers there too, so that the customer knows what you have to offer, however they come across you.
Brands can also look to participate/sponsor community events during the holidays. People spend time with their families at these events during the holidays and buy from the brands that brought them here. It's also good press and a great boost for brand recognition.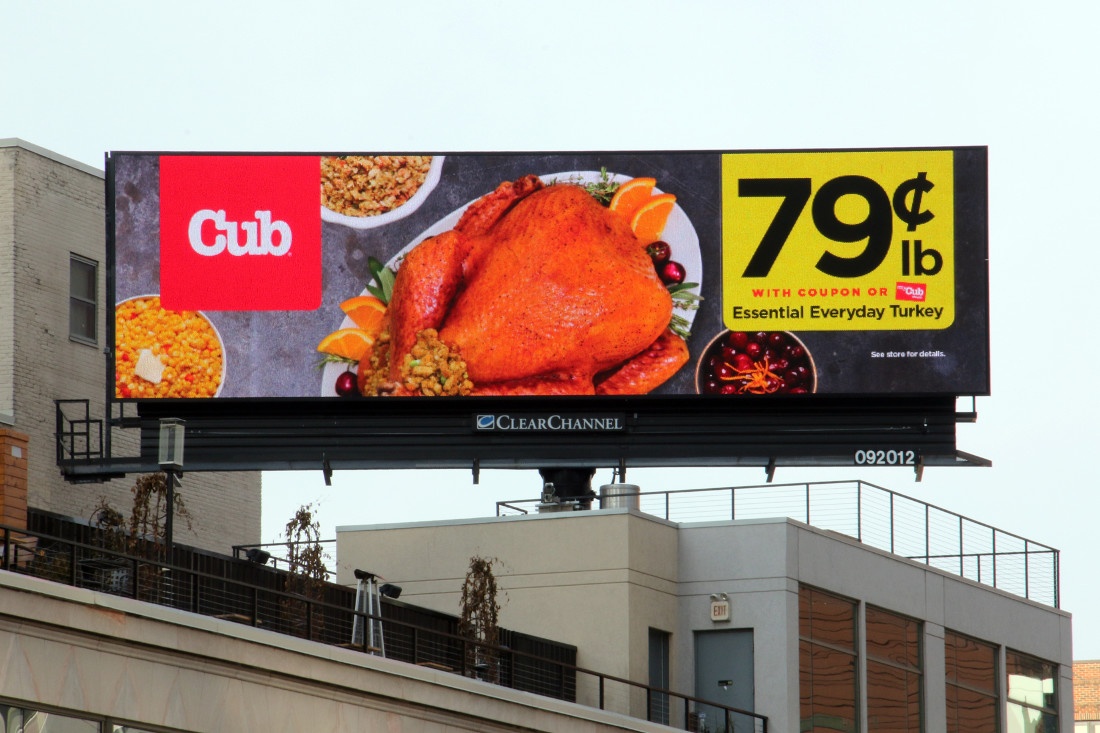 4) Video marketing campaigns 
The holiday season is also rush season. Everyone is in a hurry – planning events, family gatherings, holidays, finishing up work, and going about their life. In this state, you cannot expect the customer to notice you on their own. No. You have to grab them by their eyeballs at every instance.
And the best way to do this is via video content. Every platform promotes and boosts video content over any other format, so your reach will be phenomenal. Engaging video content also keeps customers on your profiles longer so that the content reaches more people organically. Also, you can repurpose video content to other channels seamlessly.
So, creating a video is just a perfect win altogether.
Some thanksgiving marketing video ideas that can boost your brand are:
Teasers and trailers for the upcoming Thanksgiving promotions 
Heartwarming holiday content that keeps the focus on the holiday with families and happiness all around. If you don't have the budget to shoot, opt for animations and stock audio to create Thanksgiving-themed videos. 
Customer testimonials to instill trust among new customers and delight existing customers. 
Tutorials and informational content to educate customers on Thanksgiving-specific products.
Kimp Tip: Video content is extremely versatile. You can design videos for every sales funnel stage right from attracting new customers to rewarding existing ones. However, the design approach and style of each of these video types will be different. Read more about designing for different stages of buyers' journey here.
With a Kimp Video subscription, you can create a variety of videos right from Instagram Reels to longer explainer videos with animations, if you need. With a monthly subscription, create unlimited videos and elevate your marketing campaigns to new heights.
5) Email marketing 
While other marketing channels can seem more flash, email marketing is not a tactic to ignore. Even in off-seasons, email marketing brings a 420% ROI and that actually translates into revenue during the holiday season.
Some Thanksgiving-themed holiday campaigns to launch via email are:
Thank you emails to customers who shopped with you to date with some exclusive discounts and offers on referrals.
Product curation by Thanksgiving themes: gifts, recipes, electronic products, clothes, and other categories that fit your business.
Ask customers to share their "#Thankful moments" in the year. Reward the best answers with discounts and curate the others for use on other channels.
Kimp Tip: Add a holiday touch to your emails. You can opt for a holiday-themed font, background image, and header/footer design too. As soon as the customer sees the email, they must know it is tied to Thanksgiving. Add video, custom illustrations, and animations to your email to make it engaging. 
Check out some more newsletter ideas from the Kimp Graphics and Kimp Videos team to try during the holiday season and year-round here.
6) Embrace the Festive Mood on social media 
Not every marketing campaign must actively promote a product or a sale during the holiday season. Especially for Thanksgiving. This holiday is a very cozy, and sentimental affair for most people. So extend the sentiments onto your campaigns too.
Engage your online customer base with:
Thanksgiving-themed polls on Instagram Stories
Throwback images of holiday celebration images of your team
Thank you posts for your customers and/or testimonial posts where customers share their appreciation for how your product or service helped them out
Holiday-themed GIFs, greeting cards, and animations
Gamified content such as "spot the turkey", "match the ingredients to the recipe", or "create your thanksgiving look", to name a few.
The aim here is to actively engage your existing customer base so that you stay on top of their mind when it is shopping time. 
Kimp Tip: Place your products seamlessly in your designs without making them too obvious in some of these campaigns. While it is best to stick to just logos and basic branding on the holiday greetings, you can include your products in the gamified content or GIFs.
Taking your Thanksgiving marketing campaigns up a notch
Now, across these ideas and channels, some things can elevate your Thanksgiving marketing campaigns:
Most online shopping happens on the phone. So, optimize your ads, landing pages and ecommerce sites for mobile.
All the marketing material you put out there must speak the same language. Using different styles, messaging, or even themes can confuse the customer and break the chain of brand awareness.
Update your social media profiles to reinforce your campaigns. Update the display picture, cover picture, pinned content, etc.
Choose colors that are traditionally associated with Thanksgiving so that you don't spend time telling it is a Thanksgiving campaign. People will just know.
Need help with this? Subscribe to the Kimp Graphics + Video package. We do all of this and more.
Create branded Thanksgiving Marketing campaigns with Kimp 
People make impulse purchases during the holiday season, but many do plan their shopping months in advance. That's why Holiday Marketing is serious business. You need to make your brand visible as your audience gets ready to shop.
And Thanksgiving essentially kicks off the entire holiday season with promotions beginning in the Fall. If you want to go hard and start imprinting your brand on everyone's shopping list, start soon.
Planning and managing sales are hard enough without taking on everything that comes with promoting them. So get design off your to-do list with the Kimp Graphics and Kimp Video team. Concentrate on the turkey. Leave the sides to us. 😉 
Sign up for a free trial to see how Kimp can help you ramp up your campaigns.