How To Market An Online Course + Increase Sign Ups
Gone are the days when learning happened exclusively in dusty classrooms and through thick textbooks. Education happens through much broader and more exciting applications today.
Now, if anybody wants to learn to code, programming, digital marketing, public speaking, or any number of topics, they would likely choose a teacher who does that kind of work every day rather than a book.
So it's no surprise that more and more people are opting for online courses from subject matter experts. In fact, the E-learning industry is a billion-dollar industry with a projected growth rate of 21% between 2021-2027.
Prospective students today have lots of options to choose from for online courses in practically every field. While this is great news for the learning community, it poses a challenge to the teaching community.
If you have an online course built and ready to start, you have to aggressively market to stay ahead of the herd on the internet.
Give your students a reason to choose your course and pay (if applicable) instead of opting for one of the other options out there.
To understand how to market your online course and increase sign-ups, Kimp is bringing you a detailed guide so that your hard work pays off.
What makes a student sign up for an online course?
Before you start your marketing campaigns, understand the market and your customer. The marketing experts call it market research. And this consists of building a customer persona and establishing brand positioning.
For this exercise, the first question to ask yourself is: What makes someone choose an online course for their education?
The main reasons for this include the availability of global resources, flexibility in schedules, and cost-effectiveness.
For example, you can learn from someone in the UK gaming industry sitting in Vietnam, have peers from all around the world, and pay less than many local options. That's a pretty enticing combination.
So, keeping these ideas in mind you can tweak, update, and enhance your marketing to speak to these factors that influence sign-ups.
The next thing to consider is why they should choose you.
The answer to this question will define your USP, brand personality, and your marketing material.
Are you a top professional in your industry?
Do your courses cover something that others don't?
Is the course cost-effective, accessible to everyone?
What should students expect to take away from your course?
Answer these questions, and you will have the foundation to build a stellar marketing campaign for your online course.
Marketing your Online Course and Increasing Sign Ups
It takes time to build a course from scratch. You pour all the knowledge you possess into it and hope that it reaches and helps the audience, as it did for you.
For a product that probably took years to build, the marketing should also be well-thought and nuanced.
Marketing an online course is a journey and takes consistency to bear fruit.
So, without further ado, let's take a look at the crucial steps in this journey of marketing your online course.
Establish a Brand
E-learning is a billion-dollar industry with at least a million courses spanning a wide range of trending topics. So, just having a course on a platform will not be enough. You can run all the ads you can, but until you give your customers a reason they should learn from you, it will not succeed.
Personal branding is an essential part of creating, launching, and promoting an online course. Who you are makes the online course valuable.
Now you may wonder how you can market your personal brand and the course together.
Here's how it works:
Build a strong branding identity across all digital and physical mediums. This includes business cards, websites, and your social media profile.
Define your core values, target audience, and how you want people to perceive you. The logo, color palette, and imagery must reflect the choices you made in those categories.
Now, extend this branding to your online course's marketing too. When the online course's marketing has a similar visual identity to that of your personal brand, customers will understand that the course is an extension of you.
Kimp Tip: In the world of branding, colors, images, and even logo shapes have meaning. So, discuss the emotions you want your designs to generate with your design team to get the best results.
Consistency is key for improving brand awareness and brand recall. Ensure all the content, graphics, and videos you share are branded so that customers associate them with you.
Becoming a thought-leader
Customers in the E-learning industry have a lot of choices. So, to bring their attention to you and hold it, you must create content that adds value to their life. And expect nothing in return.
When you browse through platforms like LinkedIn, Twitter, and Reddit, there are scores of entrepreneurs, business owners, and founders dropping wisdom just to gain the trust of their followers.
Consistent, informative, and engaging content will bring you engagement and propel you into the feeds of many like-minded people.
This effort will also turn you into a thought leader in the long run. People will turn to you for advice in your field and trust what you say.
And so naturally, if all these teachings were available to them in a course, they would willingly enroll.
Kimp Tip: Use a shareable post format such as infographics, images, or videos when creating content to share. This will improve your reach. Use a professional to design these assets for you to build a credible brand in the market.
Try Kimp Graphics, Kimp Video, or Kimp Graphics+Video to create fun, and engaging visual content for your personal brand.
Generating Demand for your Online Course
Maybe you have a course on public speaking. And it helps people understand body language, crowd sentiment, communication techniques, copywriting, and so on.
You cannot get by just targeting public speakers for this course. You need to generate demand for it across professions. Make it something everyone needs. Instill a message that it is not something they can afford to miss.
But, how do you do that?
Instead of repeating what the course is all about, change the positioning for different target audiences and show them what it can do for them.
To make your online course marketing campaign a success, tick off these three boxes:
1) Social Proof
Consider this: What do you think is more effective? Is it you talking about your own course and its benefits, or someone vouching for the results after taking your course? The latter, obviously. Testimonials and social proof sell and build trust in the market for you.
Videos are one of the effective formats of sharing customer testimonials as it humanizes the review and makes it easy to share too.
Kimp Tip: Is your customer not willing to create a video? Do you not have the time to compile all the testimonials you have? Get a Kimp Video subscription and you'll be able to create an engaging video for you to share with your followers.
2) Outcome
Have you noticed how Fitness brands and gyms win big with the Before-After transformation ads? Why is there a transformation arc in every product ad?
Customers have small attention spans and aren't going to sit there assuming the results of the claims you make in your ads. So show and sell the outcomes.
In every one of your marketing ads talk about the transformation arc, the before-after image, and the changed life people will experience after signing up for your course. The promise of these outcomes will then bring people to your landing pages and sales pages.  
Shock Value 
Before you consider engagement, you need attraction. Your marketing materials – visual, digital, and print must attract the audience to engage them. And that starts with creating some shock value and/or intrigue.
You can achieve this through an attractive opening to a video, a mysterious first page for your brochure, and so on.
The shock value or intriguing elements must make the outcomes of your course clear and then entice people to learn more.
Kimp Tip: Thumbnail exploitation is a classic technique to create shock value by all marketers. Instagram allows you to add a cover image for your Reels, and your Facebook Ads, and YouTube videos can have a custom-designed thumbnail to make people click on them.
Use these features and get professionally designed thumbnails from Kimp Graphics to increase the click rate for your ads.
Promoting for your Online Course
You built a personal brand, became a sought-after thought leader, and have a content marketing and advertising strategy ready.
What's next?
Well, you can go two ways: organic promotion or paid promotion. Or you can combine the two. There is no right way here, it depends on what you seek, how long are you going to play this game, and what your budget is.
So let's take a look at the kind of content that can help you with either of these promotion techniques for your online course sign-ups.
Let's dive right in.
Some must-have content to promote your online course and increase sign-ups are: 
1) Blogs 
Blogs are the lifeline of organic content. They are versatile, evergreen, and an SEO favorite. Creating blogs that provide a sneak-peek into your course content is a hook that works every time.
You can also repurpose blogs into text-based social media posts on platforms like LinkedIn, Twitter, or Facebook to create a reputation of being a thought-leader. Linking these posts back to your blog will increase inbound traffic and improve your site's ranking. 
Kimp Tip: Blogs with images are easy to read, scan, and break the monotony in text. You can use custom-designed blog images from Kimp Graphics to support the branding of your course for best results. Kimp also has a guide on how you can repurpose these images into social media posts, check it out for more ideas.
2) Videos
YouTube is a video streaming platform, right? Did you also know it is one of the most visited social media sites on the internet in 2021? YouTube is now an effective education tool, and this shows if you want to promote your course, you need video content. 
Videos can contain course summaries, overviews, and case studies. And they perform better on almost every social media platform when shared directly on the platform instead of using a video link.
Kimp Tips for Videos:
Redesign your videos to suit the standards of different platforms for best results.
Use an eye-catching thumbnail to improve the click rate.
Have a clear CTA in the video so that customers know what to do next.
Promote outcomes and tips rather than the coursework to generate curiosity.
Ensure that all videos follow a similar branding style across platforms, and you involve a professional team in the editing. Videos represent your brand, and you want only the best.
3) Newsletters 
Most marketers who work in the E-learning sector will tell you that newsletters can bring in a higher conversion rate than any other medium. Your email list is sacred. It is a list full of people who want your course and are eager to learn from you. They signed up for this.
Designing and delivering periodic newsletters will engage your audience and also generate regular sign-ups for you. These might be from your subscribers or those that they forward your emails to. With newsletters, you own your audience and the insights. No platform can take that away from you, and that's powerful.
Kimp Tip: Stay consistent and creative with the newsletter campaigns. You can try different formats, designs and share exclusive content to add value to your subscribers. Try some of the marketing newsletter ideas by Kimp to keep subscribers clicking.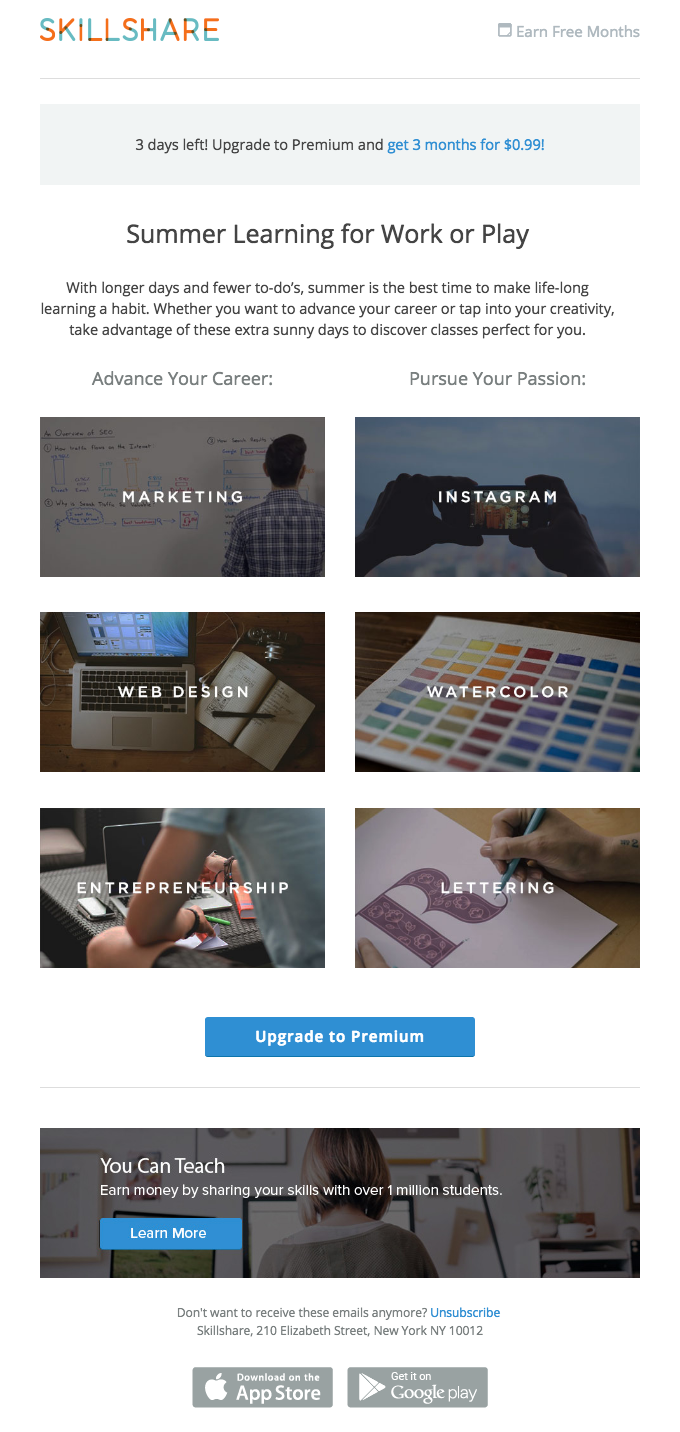 4) Digital Ads
Organic content is good when you are in it for the long run, as you should be. But, what if you want to understand your audience better? What if you want to promote a discount or bundle offer to bring in more sales?
Then you want your promotion to reach as many people as it can, and fast. This is where digital ads come in.
To advertise your online course on digital platforms, you can:
Choose platforms like Facebook, Instagram, Linked In, and Twitter too.
Invest in a Pay Per Click campaign and Google Ads campaign, to rank your website on the first page of search engines.
Opt for Banner Ads on popular websites.
Kimp Tip: If you choose social media to advertise your course, opting for video ads can be game-changing. You can also opt for Instagram Story ads for higher views. Check our Facebook Ad guide to see how Kimp Graphics can design engaging and high-conversion ads for you.
Kimp – A Trusted Partner for promoting your online course 
You know the value of having a professional on your side. Kimp is a seasoned design partner for businesses and entrepreneurs worldwide. We create branding, marketing, and promotional material that helps people run seamless and effective campaigns for their products.
You made the course. Let us create the marketing material so that you can reach as many people as you'd like. And without worrying about where to find your next batch of students.
Sign up for the free trial today.