7 Steps To Marketing Experiments That Grow Your Brand
Irrespective of being a small business or an established brand, every marketing team just wants their campaigns to be a hit among the masses. But how do you know what makes something click? 
Do you spend hours and hours investing an enormous sum? And just cross your fingers that one of those campaigns works?
Or do you take a more scientific approach and exert some control over your outcomes? 
We're pretty sure the second option sounds a lot more appealing. The trouble is it's not always clear as to how to approach that. That's where marketing experiments and A/B testing come in.
At first glance you might have some reservations. Like how can designing experiments and creating multiple variations be any cheaper or better than running a single campaign?
Well, marketing experiments allow you to pick your battles, divert marketing spend on concepts that drive results, and look for measurable growth. Above all, they solve an age-old problem about quantifying and qualifying ROI on different marketing spends.
How exactly do they do all this? Keep scrolling down to find out.
Marketing Experiments 101 aka Why do you need them?
Experiments are not just fun in a science lab. They can be equally, if not more, interesting when you apply the same principles in real life, especially marketing. As we said, marketing experiments allow you to control the output of your campaign and tweak them to become more successful.
But how? Is there truly an ROI benefit to marketing experiments? Check out the following facts about marketing campaigns to find out why your brand needs them:
Understanding your target audience is important for your growth as a brand. You can tailor campaigns, products, offers, and sales strategies better with this knowledge. And marketing experiments provide an insight into consumer behavior in an easy-to-measure and analyze format. 
Marketing experiments allow you to sneak a peek into the future by conducting sample tests and extrapolate those results for devising data-driven campaigns. 
You can safeguard your brand, marketing campaigns, and product launches from changing consumer behavior, market trends, economic status, digital algorithm changes, and so much more by testing your campaigns in a controlled environment before going all out.
Analyze buyers' journey with your brand by designing marketing experiments for every stage of the sales funnel. These insights not only help you create better-performing campaigns, but they help you build your brand better in the long run.
Kimp Tip:
Always factor in the role of design in your marketing. Design is an essential part of any marketing experiment – even if you are not explicitly testing for it. Time and time again people have shown that they take their cues more from visual elements rather than textual elements. Hence, your creative choices will drive consumer decisions and determine the effectiveness/success of any campaign. 
Design choices in marketing experiments also aid in building brand awareness, brand identity, and maintaining brand image. You can also evaluate how customers react to different mediums and branding identity displays within the experiment itself.
So, now that we know what marketing experiments are and how they help businesses make their campaigns and customer interactions successful. What next, you ask?
We're bringing you a step-by-step guide to building the perfect marketing experiments to help your brand grow methodically.
Let's dive right into it. 
7 Steps to designing Marketing Experiments that grow your brand
Rewind a bit to your high school science classes. They all begin with your teacher telling you to follow the steps in the instructions, and all will be fine. Well, to borrow a leaf out of that book Kimp is giving you the steps to designing your marketing experiments:
Step 1: Brainstorm it out! 
You know what they say, if you are stuck, try starting at the beginning again. And the beginning of every experiment is always the problem statement. In a business, identifying the problem is harder than it sounds. With multiple departments working with a varied set of goals, the choice keeps getting harder and harder the more you think about it.
So, how to begin?
Well, the first step follows the basic rules of design thinking: think from the customer's perspective and involve different perspectives at every stop. One way to do this is to brainstorm.
When you brainstorm with your team, you can and must:
Set goals that align with your different business objectives and take a larger picture approach to the experiment.
Understanding the state of affairs from different perspectives: product-market fit, customer preference, email open rate, click rate on digital campaigns, and effectiveness of offline marketing campaigns, to name a few.
Identify the top issues, such as low-performing campaigns or customer grievances, to tackle first.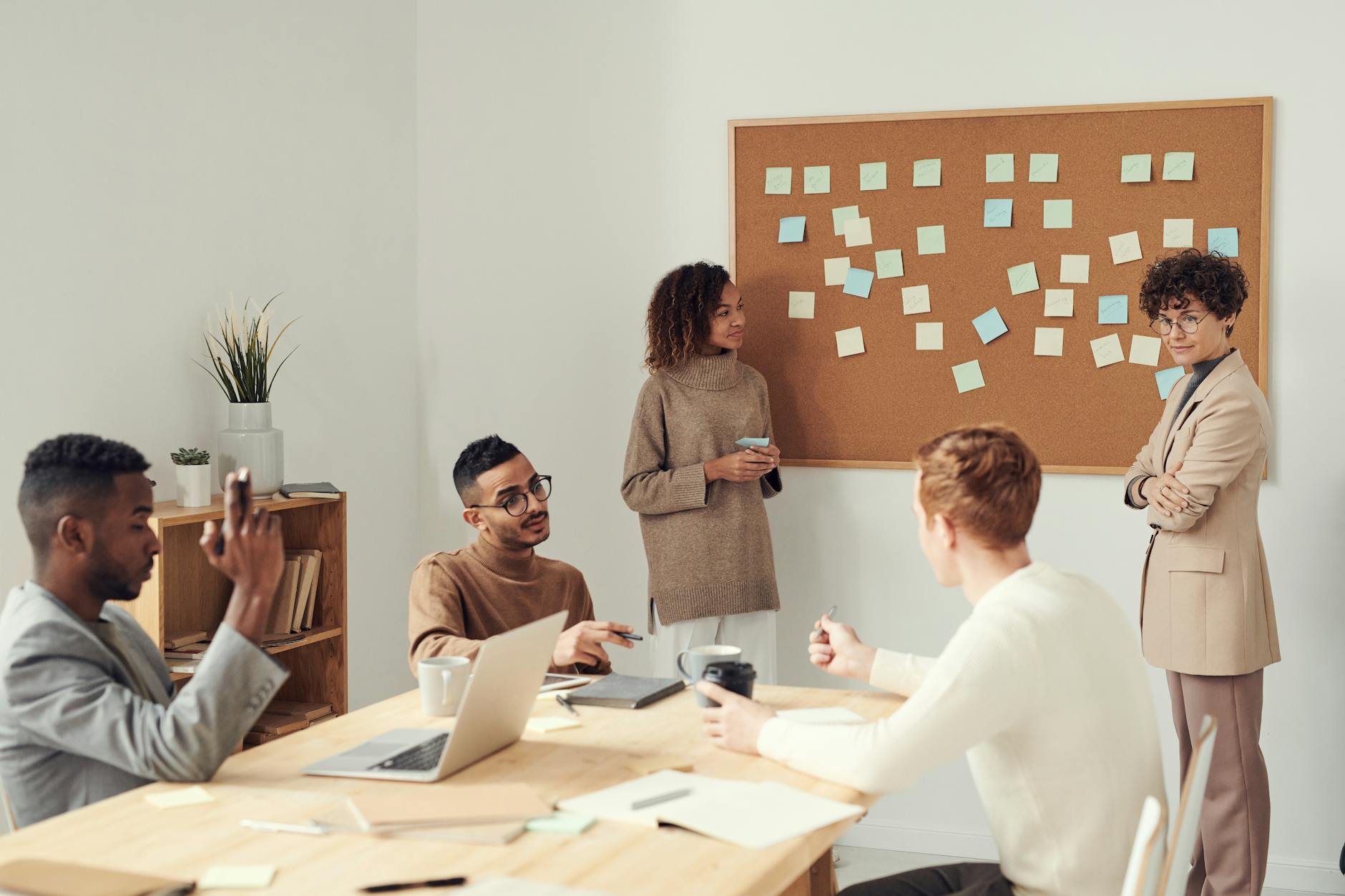 You can choose Google Analytics, Facebook Audience Insight, Twitter Insights, or other third-party tools to check your campaigns. 
Kimp Tip:
Problem-led design can help you arrive at a better solution. If you want to understand your customers' interactions in detail, try to analyze the different content forms they engage with across platforms as well. This will help your design team create experiments in the optimum design form. So that it is one variable down at least!
Step 2: Too many ideas, too little time? Prioritize and pick one! 
If you've got a ton of ideas to wade through then you're doing your brainstorming right! With a competitive landscape in just about every industry, and the challenging marketing world every business navigates, there's always more than just one problem to solve. So, how do you pick the one you must attack immediately?
To understand this, let's break down the problem first:
The problem statement here is that you have too many ideas for experiments based on the feedback from your team and your business goals. Right?
Now, these will not be equally important or urgent. Some will be important but hard to execute, some may not be so important, but the execution is a breeze, and while some balance both perfectly.
The right idea to experiment with immediately will be the one that is the most pressing for your business goals and the one easiest to execute.
This way, you can get the ball rolling with the easy ones and understand the experimentation process while setting the stage for the more challenging experiments.
Some common pressing goals for businesses are:
Increasing revenue
Getting higher newsletter sign-ups
Increasing in-app/web downloads
Generating brand awareness
Less pressing goals but easy to accomplish are:
Getting higher clicks on ads
Producing successful landing pages for data collection, newsletter sign-ups, and market surveys, etc
Increasing followers and organic growth based on platform rules
Kimp Tip:
Don't take the less pressing goals lightly. An increase in newsletter sign-ups can aid you in building a qualified lead bank, vital for your brand's growth. Each marketing experiment must get the utmost effort and resources for your business to succeed in its goals. So delegate your designs for your design marketing experiments to unlimited graphic design services. And then your team can just focus on product and copy-related tweaks.
With Kimp, you can devise experiments for both graphic design and video content at a flat monthly fee. Book a call with the team today to find out more!
Step 3: Hypothesis
The ideas are here, and it is now time to plan the hypothesis before you dive into experiment designing and testing. Hypotheses are statements or results that you wish to prove or disprove using the marketing experiments you design.
It can be anything right from changing copy, updating design, varying access paths, or the social media channels used to promote/run the campaign.
The right hypothesis varies only one variable so that it is easy to verify what worked and what did not. Your goal must be to design one hypothesis that is easy to measure at the end of the experiment.
Some examples of marketing experiment hypotheses include:
Emails with emoji in subject lines increase open rates by 5-10%
Facebook ads with videos have an increased engagement rate by 7%
Instagram stories with product links improve conversion rates.
Step 4: Research 
Once you have the hypothesis in place, research is the next step in the marketing experiment design. The data you collect in this process will guide your experiments. Based on the goals you are devising your marketing experiments for:
You must analyze buyer persona in detail, right from demographics, chosen platform of communication, their engagement rate with your previous content, and other content forms they consume.
Try to explore the data on different content designs for various target audience groups.
Check what your competitors are putting out and what their best/worst performing campaigns are.
Kimp Tip:
When you fill out the brief for your content and design teams to devise the designs for your marketing experiments, include as many examples and details as you can. Especially for design teams, information from the competitor analysis, buyer persona research, and target audience survey are vital to arrive at the best results. 
Step 5: Finalize your metrics, scale, and medium 
What are goals without the metrics to validate them? Choosing a metric that validates your hypotheses and aligns with your goals is the key to making this process successful.
A metric can be anything right from engagement (like, share, save), revenue, leads, email list, and so on. For the same marketing experiment, a metric will vary from platform to platform.
Once the metric is in place, you must determine the scale of the experiment. You can base the scale on the number of impressions/data points or duration. Again, there is no one size fits all solution. The scale must be big enough to collect data, but not too big that the data loses its relevance.
For example, for a landing page design, you need a sizable audience to visit and take action on the control (e.g. a call to action) and variant (e.g. a different call to action then your control) to understand the implications. This audience number can take many days to arrive at, and the data will still remain relevant as a whole.
However, for an email marketing campaign, the audience volume is constant irrespective of time. You'll have data that tells you how long it ideally takes for your customers to open your emails. Waiting for more than that for the results can make you lose valuable time in tweaking the next newsletter.
The medium of the marketing experiment is highly relevant in the final outcome. So for instance email sign-ups need a landing page and an advertisement rather than a social media post. Similarly, local brand awareness works better through flyers, billboards, and posters than websites.
Kimp Tip:
Design experiments are not just for online marketing campaigns. Offline marketing campaigns work just as well using the same metrics and methodologies. If you feel tracking is an issue, you can design a survey to check how your customers heard of you and if they come from the same locality as your campaign. 
Need help designing better converting offline marketing campaigns? Get Kimp Graphics at a flat monthly fee. Check out some of our design samples here!
Step 6: Design and execute 
With all the data, metrics, and decisions under your belt now, it is truly time for action. Based on what the marketing experiment is, you will need a cross-functional team composed of a design team, web development team, app design & development team, copywriter, and product specialist.
Irrespective of the team's specialty, begin with a brief that covers all the work you have put in to date so that they can make informed decisions.
Also, ensure the teams have all the current and previous branding, marketing, and product details. Treat your marketing campaigns with the same amount of care, regardless of whether they are for experiments or getting rolled out on a large scale.
Step 7: Analyze your results 
What's an experiment without the thrill of understanding the results? Now, if you have followed all the steps to the tee while designing and executing your experiment, this part will be easy to handle.
This part involves determining if your hypothesis was correct or incorrect, and allows you to then choose the better performing design/copy/product to move forward with. You can choose the same third-party analytical tools you used during research and understand the change in metrics.
Kimp Tip:
When you run a marketing experiment with over two variations, you may come across favorable features in more than design. Talk to your design/copy team to tweak the final product to incorporate the best of both designs and then try testing that out.
With Kimp's unlimited graphic design services, you can experiment to your heart's content with unlimited revisions. We know how hard marketing experiments can be, and the Kimp Graphics and Kimp Video teams are happy to be with you every step of the way!
Marketing Experiment Ideas to Grow your Brand
The process is in black and white for you now, all detailed. The next step is action. So here are some ideas you can try out for your brand:
Website updates:
If you run an online store or use your website as a source for leads, newsletter sign-ups, social media traffic, and more, begin experimenting on the website.
Change the visual hierarchy of the homepage, landing page, and product page to see if that improves click-on CTAs and navigation bars.
You can also try to include different styles of images in the header, footer, and banner to understand what resonates best with the audience.
PPC campaigns:
In terms of paid campaigns and ads, you can design an experiment on the low-performing campaigns in terms of copy, headline, CTA placement, format (image vs. text vs. video), typography, and platform. This will help you invest in a design that is scientifically tested for the best results. 
When you have a lot of paid campaigns in place such as Google ads, PPC, banner ads, and Social media ads, don't just stop at testing out your ad creatives. Once you land on your top-performing ads, devise an experiment for the landing page too. You can vary the background image, color scheme, typography, format (video vs. static), and copy to see what works best in achieving your goal from the ad campaigns. 
Social media marketing:
There is no end to creating marketing experiments on social media content. Social networks have so many pathways to content creation that you can keep varying and never run out of ideas. Keep experimenting with different formats, posting schedules, and placements (stories vs. feed vs. Reels/Shorts) to arrive at what works for your goals.  
Email marketing:
Since newsletters are quite valuable for brand growth and highly profitable too in terms of ROI, you can improve them via marketing experiments. Start by varying the content formats in the email, such as videos, images, GIFs, or a combination. You can also experiment with the subject line or sending times to understand consumer behavior while improving your click rates.
These are just a few examples. Everything and anything under the sun can be fit into marketing experiments to grow your brand. Remember, there are no guarantees in any business. The only way you can stay in the market is by staying relevant. And that needs data, so keep experimenting.
Step up your marketing experiments with Kimp
One of the biggest roadblocks companies face in launching marketing experiments is that there is never enough time or resources for those in the first place. Marketers and management find it hard to agree on this. There are many factors to consider, and honestly, it can be expensive too.
And a big part of the expenses can be hiring design agencies and/or finding the right freelancers.
That is why Kimp can be a gamechanger for your brand, just like the many businesses we work with around the world. You can request unlimited designs, unlimited revisions, for unlimited brands for both graphic design and video at a flat monthly fee.
No more paying by creative or keeping yourself or your brand from achieving its full potential. We want your campaigns to succeed, and our design teams are ready to help you do just that.
Sign up for a free trial to get started. And see what it's like to work with one of the leading unlimited graphic design and unlimited video design service providers.