Mindfulness Aesthetic: Creating Your Wellness-Themed Designs
If someone asks you, "Are you happy that you were born in the year you were? You know culturally, economically, and so on?" – the answer can never be a simple yes or no. Every generation has its own set of challenges and privileges. The endless debates between Gen Z, Millennials, Boomers, and Gen X are a testimony to this fact.
But hey, if you ask us, the people who are growing up and experiencing adulthood in the current generation must be thankful for one thing at least. And that is mental health and wellness awareness.
If you are feeling a little low and need something to get you out of your rut, there are tons of products and solutions to help you out. Even though the stigma remains, it is much better than what the previous generations had.
This is a great thing for people seeking solutions and brands with the solutions too.
It is safe to say that the COVID-19 pandemic sped up the growth of the wellness industry and the mental health segment gained a lot too.
Of all concepts in the wellness industry, mindfulness seems to gain widespread acceptance for both physical and mental benefits.
So what is it, and why is it so important in the wellness industry?
Mindfulness and the growing Wellness Industry
Before we talk about the significance of mindfulness, let us understand the size of the wellness industry. Studies predict that the global alternative healthcare industry that includes meditation, yoga, tai chi, chiropractic services, and acupuncture will reach a valuation of $296.3 billion.
Additionally, the Global Wellness Institute (GWI) released a report in 2020 wherein we understood that the wellness economy is a $120.8 billion industry.
Both these reports indicate that the current wellness industry is a billion-dollar industry and will grow more than 100x in 7 years. This is a huge market, and there are many players.
Out of all segments here including spaces, sleep medicine, self-improvement, brain-boosters, meditation, and mindfulness, what is trending the most?
Well, that has to be mindfulness without a doubt because while it may look like just one segment of the huge wellness industry, the philosophies are becoming a way of life that everyone needs to know.
The mindfulness industry got a $2.9 billion valuation in the GWI report, and over 14% of Americans practice mindfulness as a way of meditation.
So irrespective of your wellness brand has an association with meditation or not, associating with mindfulness can send the right message to the customer.
Mindfulness and meditation are becoming synonymous for most customers, so including them in your branding can truly pay off in the wellness industry.
How to do that? With a little something that is taking over the design world called the mindfulness aesthetic.
Let's take a look at what that exactly is.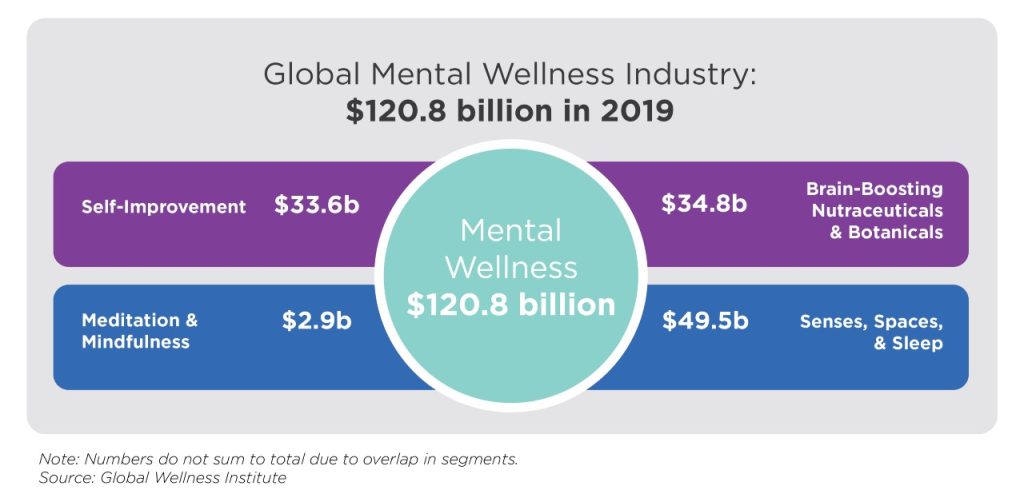 The Mindfulness Aesthetic – What is it and who needs it?
Every experience in the current world has become a visual experience. These are stressful times and people are finding it hard to focus, remember the smaller details, or even keep up with the pace. Visual data keeps them calm and centered.
Mindfulness Aesthetic is a design style or system that evokes the same emotion in the customer that a meditative sound of exercise would. Sounds incredible or maybe a little impossible?
Humor us for a second here.
When you practice guided meditations, what do you picture in your head? Some beautiful landscape, the image of your pet, or even a loved one? So your brain subconsciously associates these visuals with the sense of calm that you experience when you meditate. Mindfulness is the practice of concentrating on a particular thing to be present in the moment and center yourself.
So when you see these images that you meditate or are mindful about, the brain becomes happy.
Brands that use colors, fonts, images, and symbols that usually trigger the happy chemicals can stand to connect with their audience easily.
That is the mindfulness aesthetic. It is something that will "spark joy" in the person interacting with it.
Consider it to be a new language that connects people aware of the mental wellness space.
Brands in the wellness space including but not limited to health products, Yoga and allied industries, wellness apps, physical fitness brands, and holistic development firms can make use of the mindfulness aesthetic to connect with their customers.
Designing the Mindfulness Aesthetic
What may calm one person may not have the same effect on the other, right? This is a common concern that we hear every day. While it is true that each person's perception of happiness and objects that trigger those are different, a lot of human experiences intersect.
If you can identify your target audience, then you can pick some common aesthetics and visuals that can connect with them.
Let us take a look at some of the design elements that make up the mindfulness aesthetic :
1. Colors
While everyone has a very personal connection with colors, and we cannot generalize this, some colors are successful in achieving the mindfulness impact. For a mindfulness aesthetic, it is best to pick colors that have a positive association with color psychology or have a connection to nature.
Popular colors include blue, green, pink, purple, orange, yellow, and so on. Purple specifically is the 2022 color of the year and appears majorly in wellness brands' branding and marketing.
You can too use these in colors meaningfully for your brand.
2. Fonts
Next up is fonts, which may not seem like a pertinent decision in mindfulness design, but it is. The current generation, especially Gen Z and Millennials have a long-drawn love affair with typography, and some styles feature more prominently than others in their aesthetics.
Usually, handwritten fonts with brush strokes have a strong presence but fonts that have curves in them also give a soothing effect. So if you are wondering how to represent text in mindfulness aesthetic, such fonts should be helpful.
3. Visuals
In some cases, the visuals you use in your aesthetic become very significant. Again, the aim here must be to understand your target audience and pick images that resonate with your brand and the audience.
For example, if you are a healthcare product brand and the target audience is young, then picking images surrounding nature, interior decor, or even a cafe setting makes sense. But for the older audience, health means family and nature, mostly.
Now that we know what makes up a mindfulness aesthetic, let us explore how you can incorporate them in your brand communications.
X ways to demonstrate mindfulness via design
Do you want your customers to connect mindfulness with your brand and feel the same sense of calm that meditation gives them? Then, you must incorporate designs that express them across various customer touchpoints.
If you are a brand that works in the meditation field such as a yoga studio, a wellness counselor, and so on, then you must incorporate them in every touchpoint.
But how do you do that? What does a mindfulness aesthetic actually look like on these platforms?
This and a lot more is what we cover in this blog by Kimp. So, let's look at the many ways you can incorporate the mindfulness aesthetic via design.
1. Mindfulness aesthetic in Branding design
Even before you begin, you must think about your branding. When a customer comes across your brand, they must instantly connect you with meditation, mental wellness, and mindfulness. So pick your branding designs accordingly.
When you design your branding to suit the mindfulness aesthetic, you must ask yourself – what do I want my customer to feel when they see this? Mindfulness can be about happiness, peace, calm, focus, or similar emotions.
Leverage design psychology to pick patterns, colors, fonts, and designs for your branding to bring out the mindfulness aesthetic.
Usually, wellness brands looking to invoke mindfulness, use shapes like circles, spirals, and curves in their logo design. They stand for harmony, peace, and trust – so they are perfect.
In terms of colors, avoid too many bright colors. Pick one color and stick to it. As we said, mindfulness is all about focus and staying in the moment. You can vary hues for effective design but stick to a monochrome look.
Images of Buddha, sun, mediating humans, and so on also bring out the mindfulness aesthetic in your logo.
Kimp Tip: Less is more for a mindfulness aesthetic. Keep the logo simple and devoid of conflict. The simpler it is, the higher the impact will be. You can also include mindfulness-oriented branded illustrations as part of your branding designs to bring out the aesthetic.
Read our guide on Minimalist design here or connect with Kimp Graphics to implement these insights for your brand.
2. Mindfulness aesthetic in Store/ Studio design
We know that when we mention the word aesthetic, all the focus goes on online platforms. While the Instagram audience has truly made this word theirs, aesthetics can be anywhere. Any place where you create beauty and a particular pattern have an aesthetic.
For mindfulness-related wellness brands, it is important that their Yoga studios and stores also carry similar aesthetics. When you own a space, you have the advantage of engaging over one sense when you interact with the customer.
In terms of interior design, pick wall colors, paintings, and even signages that emotionally impact your customer. Choose light colors, classy accents, and nature-inspired murals to bring out mindfulness.
Kimp Tip: Mindfulness is a concept where one must truly immerse themselves in everything they do and experience. So, create artworks and wall accents your customers can focus on during your sessions.
3. Mindfulness aesthetic in Website themes and design
Like the store or studio is your physical address, your website or app is your digital address. For any marketing or branding campaign to be successful, consistency is important. So, extend the mindfulness aesthetic here too.
Especially in website and app interfaces, the UI and UX too have to be mindfulness compatible. Some principles to follow here are :
Creating a calm UI: Avoid too many sudden animations, transitions, or pop-ups. Do not create chaos, instead, aim for serenity.
Provide exit points: Sprinkle CTAs throughout the pages so that you don't push customers to peruse the whole section. It must be easy for them to drop off whenever they want to.
Discourage Binging – Yes, if you are a wellness brand, you know digital consumption can be harmful going over a limit. So, create a flow that allows customers to quickly complete transactions and avoid spending a lot of time on the interface.
Kimp Tip: You can also use peaceful sounds in your app or website that allows the customer to stay calm and not excite them too much in the process. Use muted colors to keep the pressure off the eyes too.
Simple things can make a huge impact. Looking for a brand to create a brand guideline system for you that imbibes these principles? Connect with Kimp Graphics today!
4. Mindfulness aesthetic in Instagram Aesthetic
How can we talk about aesthetics and not discuss Instagram? More than any other social media platform, it is Instagram that popularized stylized images because of its grid layout. Customers have treated Instagram as a search engine and ecommerce platform too.
So your Instagram must handle too carry the mindfulness aesthetic.
We know that there are many Instagram aesthetics that you can adopt for your brand. But what matches with mindfulness?
Well, while no one aesthetic fits like a Tee here, you can always mix and match to create a custom Instagram aesthetic.
Create a colors palette that works with your brands and ties in with the mindfulness theme too.
Analyze your social media images to see what images you have been posting to date.
We recommend using the theme of the border along with the Row/Column aesthetic so that you can focus on one product at a time. What more can be along with the mindfulness aesthetic than this?
Kimp Tip: Ensure that your design theme uses the same preset for editing your social media images to achieve consistency. Even in the case of videos, ensure that the thumbnail matches the aesthetic before you post.
5. Mindfulness aesthetic in Videos design
Last but not the least, let us explore how you can include mindfulness aesthetic in video design too. Videos are the IT thing on the internet, and no brand can escape its clutches. Instagram Reels, TikTok, YT shorts, and IGTV – you need to be everywhere.
But that does not mean that you compromise your aesthetic. In fact, videos are probably one of the best mediums to express the mindfulness principle.
Soothing pet videos, ASMR videos, Lo-Fi music, and so on are all a type of mindfulness. They calm people and help them focus on a particular thing. This means if you can include one or more principles of these videos, you can easily adopt mindfulness in your videos too.
For your wellness brands' video,
Create slow-motion video for your productions with a Lo-Fi music
Work on ASMR videos
Indulge in calming videos, therapeutic art videos, and so on that help your customers
For the mindfulness aesthetic to be successful in videos, the images, the editing, and the music have to be perfect.
Need a team that can do it all? Connect with the Kimp Video team today!
Build a beautiful mindfulness aesthetic with Kimp
Mindfulness is a fast-growing trend in the wellness industry. And in today's business climate, it pays to stay one step ahead of the trends and be known as the pioneer rather than the follower.
Design is one of the strong communication between the brand and the customer. So why not use that to express your mindfulness values?
Yes, you can. This needs the eye of a professional design team that can deliver across categories and ensures consistency too.
You need Kimp Graphics and Kimp Videos expertise and flexibility for that. We offer unlimited designs, revisions, and expertise across a hundred different categories.
So why wait?
Sign up today!