Fitness Marketing: 8 Ways To Promote Your Fitness Brand In 2022
Gym resolutions and fitness plans and the New Year go together like peanut butter and jelly. They're a solid combination that you can always depend on.
It has become so predictable that no one even bats an eye when someone says they are looking for a gym to join, some new equipment to purchase, or a trainer.
But the COVID-19 pandemic has made this trend bigger than you can imagine. It is no longer just a thing you say when someone asks "What's your resolution?" People worldwide are taking health very seriously and want to ensure that they are at their best – physically and mentally.
This makes fitness marketing challenging and exciting. Challenging because as we begin the third year of life in the COVID-19 pandemic, fitness has already been a huge theme. And everyone knows it. Exciting because there is so much more yet to explore in fitness marketing in 2022.
If you are a brand in this space right now, we know you are excited and getting ready to tackle your campaigns. But, you have to take on the challenging part too. Because that will set you apart from the millions of other brands in the fitness industry as you kick off 2022.
So how do you do that?
What ideas can you use that work but are still different from what everyone has already done?
We'll be answering all your questions, and loading you up on ideas for 2022, in this blog.
Scroll down to get started.
The ever-growing Fitness Industry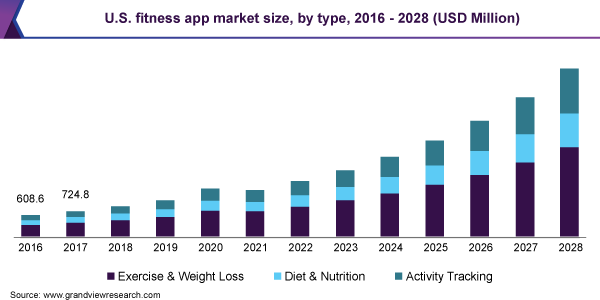 Everyone agrees that the Fitness Industry has taken a drastic turn, right from March 2020. Amidst the biggest health scare of our generation, people everywhere got very real about their fitness goals.
As MindBody's CEO put it in an interview, "It's not about bikini body goals, because who knows when we're going to go on vacation again. Covid-19 has pushed people to think about health more holistically."
And lockdown restrictions meant that even if a majority want to return to their pre-pandemic fitness routines, a hybrid setup with virtual classes is here to stay.
Research by McKinsey tells us that about 40 percent of people consider health and wellness a top priority in their life. They consider exercise, meditation, and HIIT (high-intensity interval training) essential for physical and mental health.
And this trend is here to stay, with 70 percent of people agreeing that their current routines will either increase or maintain at the level of their online classes.
But how do people want to continue these exercise and fitness regimes? Online or offline? Well, the response is mixed. In the same Mckinsey study, 50 percent of consumers missed elements of their gym routines and want to revert to their pre-pandemic routines. However, 60 percent of American fitness enthusiasts agreed they look to switch to a hybrid of home and gym schedules in the future.
We know, we know. All these statistics are very conflicting. You may wonder what do consumers really want? Well, the tricky part is they too are still adjusting to this "new normal" so a little bit of everything is what everyone expects.
And with the right branding and marketing strategies, you can be the brand that they turn to.
Fitness Marketing: 8 Ways to Promote Your Fitness Brand in 2022
Now that we are at the business end of the blog, you may wonder – how can I possibly tune my marketing strategies to an audience with such a wide appetite? And yes, that is a problem.
But hey, look at the bright side. The fitness industry just became so much bigger. There is a market for everything now.
Online Training Sessions – check
Offline Gym Memberships – check
Meditation and Yoga – check
Hybrid Classes – check
Corporate Fitness Programs – check
Health and Fitness Retail – double check
And so on and on
In this blog by Kimp, we run down the 8 ways to promote your Fitness brand in 2022. Whatever that Fitness Brand has to offer.
Let's dive right in.
1) Build your Fitness Brand
The variety in the fitness industry is both a challenge and an opportunity. While there are many options for customers to choose from, most customers are likely to have a singular predominant need. In such instances, it becomes very important for a fitness brand to establish its brand identity right from the start.
Since your brand identity is a medium of connecting with the customer, your visual identity is very important. The logo of a yoga class vs. a strength training gym has to be poles apart as is the norm. Your brand colors, imagery, symbolism, and more will be completely different.
Even on social media, a yoga brand needs to be all about calmness, audio sounds that replicate a waterfall while a HIIT Gym will have more of a high-energy vibe.
The smallest things make the difference, and that is why branding needs to set the right tone.
Develop a brand style guide for your fitness marketing campaigns for 2022 so that you hit the ball out of the park every time. Need some help? Attract the right customers with the right branding designs from Kimp Graphics!
2) Focused Lead Generation
After branding comes the selling part. And we don't have to tell you how important that is. January is the best time to run your lead generation campaigns. Everyone is looking for means to make their New year's resolutions stick, and you have to ensure that it is your brand that they see.
How you plan your lead generation campaign ensures the success of your fitness marketing in 2022. Studies and marketing experts strongly recommend investing in paid campaigns during this period for marketing your brand. Strike when the iron is hot.
In 2021, major fitness brands such as SoulCycle, Peloton, and Hydrow invested heavily in targeted social media advertisements. These centered on improving brand awareness, promoting home workout services (e.g. the Peloton bike), and growing the member base during the holiday season.
What does this tell us?
Facebook and Instagram Ads can be game-changing for personal trainers, fitness retail brands, Gyms, and yoga studios. Target people who want to change the new year and tailor your campaigns accordingly.
Kimp Tip: If you want to see your social media ads convert, focus on your website and landing pages too. Branding consistency drop from ads to landing pages can derail the conversation. Ensure that your design elements, copy, and overall style match so that the customer has a seamless experience.
Looking for a design team to make consistent advertising and landing page designs? Look no further than the Kimp Graphics + Video subscription.
3) Promote your Hybrid Model
You know that this is what the customers want. They want to go back to the gym but will choose a brand that allows them to take a rain check now and then without missing out on a workout. Position yourself as that brand.
Every marketing campaign you run, every creative design you release, and every piece of content you publish must effectively reflect your hybrid model.
How?
Choose visuals that reflect your hybrid model. Publish recordings of your Zoom workout and live Gym sessions in a singular advertisement to show customers you do both.
Even in static advertisements and content, use indicative images and copy that include things like "laptop", "virtual", and "at-home fitness equipment" for clear communication.
Across the board, attention spans are decreasing as we speak. Do not expect customers to look for clues or read a paragraph of text. Opt for visual communication and convey your message via infographics, GIFs, videos, custom illustrations, and more.
Kimp Tip: The more interactive your promotional content is, the better. That will help your fitness brand stand out in 2022 when other brands are competing for the same customers' attention. Tailor your design as per the target audiences' gender, age, location, earning capacity, and more for best results.Want to know how to do that? Read our guide or sign up for the Kimp Graphics + Video subscription, and we will take it from there.
4) Create and promote Premium Content
This is a major challenge for all Gym owners, personal trainers, and health brands. With the wealth of information available for free on the internet, how to acquire paid customers? How do you make your YouTube channel or Instagram profile a source of revenue?
Well, the key is to create premium content customers will pay for. The content available on the internet is usually generic, of low production volume, and not necessarily from accredited experts. That is your window of opportunity.
Leverage your social media following to bring them to your premium content, hosted behind a paywall.
Some fitness content that customers will be happy to pay and access include:
Personalized fitness training videos with a step-by-step guide 
Expert-written and verified ebooks on health and wellness 
One-on-one training sessions with expert guidance 

Creating these is great, but how do you promote them?
Repurpose your ebooks into infographics for social media content
Create blogs with excerpts from the ebooks to generate interest in the actual book
Edit the one-on-one training videos into cinematic and engaging trailers to give a glimpse of what you offer
Share a snippet for the personalized fitness videos for your YouTube channel, inviting people to sign up for more.
Kimp Tip: Some fitness marketing ideas for 2022 are easier than you imagine. You can grow your social media profiles just by repurposing and sprucing the work you already do. A few edits here and some branding, and you are ready.
Don't believe us? Sign up for a Kimp Subscription and kick things off with our free trial.
5) Tailoring Content to Customer Segments
McKinsey formulates four major fitness consumer archetypes. As you can see in the infographic below, the archetypes are wellness enthusiast, research-experimenter, traditionalist, and passive participant.
Knowing this and knowing the characteristics of each customer type can help you formulate your content for them. For example, for the wellness enthusiast content on health, progress, and mental health will tilt the scales in your favor.
But for a passive participant, you must create an emotional connection before you can hope for any sales. Each of these archetypes is essential for your business.
You can engage passive participants with Instagram stories, AMA sessions, or even a free online workout session.
In the pandemic, brands must focus on winning over the traditionalist customers since their routines are now broken. So attract them with at-home fitness programs, running/walking alternatives, and support them in this transition for a long-term relationship.
If you're trying to increase uptake for in-person programming, emphasize your safety and sanitation measures for traditionalist and research-experimenter customers.
Creating content also helps you build an omnichannel presence, strengthen SEO, and reach more customers for lead generation.
Kimp Tip: Attracting customers of every stage (brand awareness, conversion, and loyalty) is important for sustained business. Creating content for each stage can be challenging but pays off generously with sign-ups and memberships.
Need help with your designs? Try Kimp Graphics and Kimp Video subscriptions to create attractive and engaging as per the varied customer profiles for your fitness marketing plans in 2022.
6) Motivational Content
Fitness journeys are not easy, and more often than not, the urge to give up raises its head. Customers expect their trainers and Yoga gurus to keep them focused and motivated. Sometimes, your motivational content can become the reason they choose your brand over others.
So your social media profile must be a mix of:
Motivational Quotes on self-care, health and wellness, fitness, and mental health to name a few
Client testimonials and progress such as "Before vs. After" images, Milestones, and so on
Trainer stories to show personal achievements, how far they have come on their fitness journeys, and so on.
COVID recovery journeys because of fitness regimes to show the impact amidst the pandemic
Kimp Tip: As you know, all social media platforms including but not limited to Facebook, Instagram, Twitter, and LinkedIn promote video over other forms of content. Try to create video content for all these ideas so that it reaches more people on these platforms.
Wondering how to turn motivational quotes in engaging videos? Well, a Kimp Video subscription gets you an experienced design team that will use licensed stock images, stock video, and audio to make it very easy.
7) Giveaways and Freebies
We spoke of how January is the most ideal month to kickstart your fitness marketing for 2022. And add to that the most ideal way to kick off your fitness marketing – giveaways and freebies. These are very popular for two reasons:
Following the season of giving, it makes for great engagement.
People are all spent out after the holiday season and may not readily invest in gym memberships or other fitness products.
So, launch giveaways, discount campaigns, and free membership plans for select months on new sign-ups. That way, you gain new customers and goodwill too in the market.
Some other ideas for holiday-themed giveaway contests are:
Exclusive branded holiday merch for the winners
One-on-one training sessions for a few followers
Giveaways that involve a collaboration from other fitness brands to woo customers and reach more audiences
Kimp Tip: We strongly recommend choosing merchandise and giveaways to promote your fitness brand in 2022. These get you a lot of brownie points from customers and last for a long time too. They are also perfect for branding so that your brand's identity spreads far and brings you foot – or virtual – traffic.
8) Local Marketing
Fitness Marketing expert Richard Toutounji says that while digital marketing is extremely lucrative and attractive, fitness is still a very local business.
Promoting your Gym or Studio works better when you promote them within the local vicinity. Out-of-home (OOH) advertising can bring you qualified leads with lesser investment compared to social media ads at times.
Some avenues to explore to maximize local marketing efforts are:
Updating your local profiles on Yelp, gym portals, session booking apps, and Google My Business listings
Vehicle wrap advertisements to spread the word in a particular locality
Launch print ads in local newspapers
Reach customers in their homes via posters, flyers, newspaper inserts, and postcards
Target a high volume crowd with billboards, standees, and bench ads
The print medium is extremely versatile and can work wonders in local fitness marketing for your fitness brand in 2022.
Kimp Tip: Chances are that your fitness marketing strategy in 2022 has a mix of digital and print campaigns. Ensuring design consistency at every customer touchpoint goes a long way in building trust and brand recognition. So ensure that the design team you hire can deliver consistent results for print and digital designs.
Step up your Fitness Marketing in 2022 with Kimp
Fitness brands have a tremendous opportunity in 2022 as more and more customers focus on improving physical and mental health. If you can give it your 200%, you must. When there is so much competition in the market, there is no other choice.
Customers find fitness to be a very visual concept. They want to see what they will get from your brand. Right from the toned physique of past customers to the swanky facilities in your Gym, you have to show everything. And that means leveraging the power of visual marketing.
Sign up for the Kimp Graphics and Kimp Video subscriptions to handle these expectations with ease. With unlimited design requests and revisions, across a ton of design categories, fitness marketing has never been this easy. Sign up for the free trial now and get ready for success.