Landing Page Optimization- 8 Tips for Ecommerce Businesses
Do you run an online store? What do you consider your biggest challenge? Customer acquisition, correct? Ecommerce businesses struggle to bring customers to their stores and invest a lot in marketing, advertising, and branding to ensure it happens.
But sometimes the plan does not go as intended. You can do everything right and still not see the advertisements and marketing efforts turn into revenue. And that can be baffling and frustrating.
Advertising and marketing designs can help you capture the attention of your target audience long enough to hear what you say. However, what you say must be excellent for them to pick you over the thousands of other businesses vying for their attention.
How you say, what you say, and when you say that matters a lot here. And it all happens around a central element called the landing page.
Not having a customized landing page for your business is the biggest sin you can commit in any industry. More so when all your business happens on the internet. And another mistake will be neglecting landing page optimization.
Landing pages can change your ROI across different advertising and marketing campaigns so much that it will leave you in a permanent state of shock. Of course, we don't want that for you but we really want you to understand how valuable landing page designs are for your Ecommerce website.
So before we tell you about landing page optimization we want to show you why you must do that.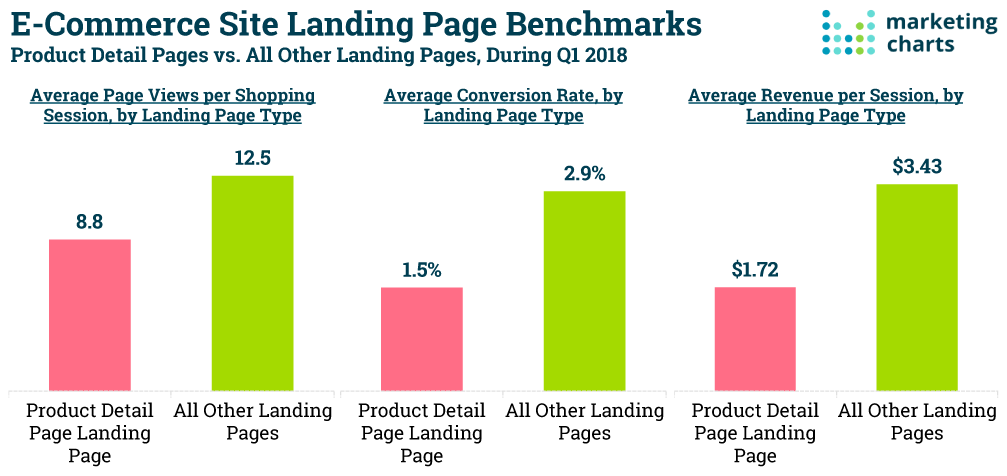 Significance of Landing Page Optimization for Ecommerce Business
Ecommerce businesses run ads across various platforms to attract users. These ads cost a lot of time and resources, not to mention the skill it takes to balance the data from many tools to get the targeting just right. Having spent so much effort, you want these ads to generate revenue and not just stop at clicks.
To ensure your ads convert well and your audience stays with you till the very end, landing pages need your attention. Ecommerce landing pages bridge the gap between initiating desire in your customer base and actually making the sale happen. This is where you pitch your product in detail to your customers.
But remember, the pitch is the operative word. Not every customer who clicks on your ad will complete the purchase right away. Landing pages are an opportunity for you to engage in brand awareness activities, display your company's merits, and build a relationship with a customer who liked your ad.
Landing pages are an essential component of every marketing strategy and most of the time the design here makes the difference between an interested customer or a lost lead.
Check these two landing page examples that both show up for a tech-related query
Now, as a customer do you want to see the first page when you click or the second one? Obviously, the second one is because it shows the brand spent some time optimizing it so that you get all the information easily.
That's what we are aiming for with an ecommerce landing page design always. At Kimp, our graphics team ensures that we never disappoint the customer who clicks an ad and comes to this page.
How do we do that?
Let's get right into it.
8 Design Tips For Landing Page Optimization
Your Ecommerce landing page is the golden ticket that brings you qualified leads and helps you turn them into paying customers. You want them to perform at 200% every time a customer lands here.
We know that it is harder than it sounds, but we also know how to get it done for you.
With these tips to optimize your Ecommerce landing page designs, you will love the conversion rate of every ad click that happens.
Excited? We are too!
1. Product display
The first thing to handle is how you present your product to the visitor. They are there to see what you offer and you must serve it on a silver platter to them. You may think that of course, your ecommerce landing page has the product's image but what you don't realize is that the quality, resolution, positioning, and format of the video make a huge difference to customer experience.
For retail goods, choose a product dynamic photo rather than a typical static/ stand-alone image. Seeing the product in use/action helps customers relate to the product more deeply.
Allowing customers to zoom in to see the minute details builds trust and stops them from navigating away from the page. Alternatively, create a product image with a feature breakdown for increased transparency.
If you are a service company, choose supporting images that help the customers understand the abstract concepts precisely. Opt for customized graphic designs or licensed stock images that best reflect your brand. (PS: All this is built-in with your Kimp Graphics subscription)
As you can see, product-oriented landing pages can resemble an ecommerce site as in the first example or they can have a storytelling format as you can see in the second example.
Iterate and see what works best for you.
Kimp Tip: Video landing pages are the rage now. It makes sense because video is one of the most popular content forms on the Internet currently. Creating product videos for your ecommerce landing page that combine all the features we just mentioned can surely skyrocket your conversion rates.
2. Social Proof
You showed what you offer, next you have to tell your customers why they must choose you. Now, this is possible in two ways. Either, you speak for your brand and you leverage a fascinating concept called social proof.
Adding social proof to your ecommerce landing page improves your conversion rate drastically. Most customers who are on this page are either first-time visitors or only interested in that one product they saw in an ad. To make them trust your business as a brand and invest in you, you need social proof – aka reviews, testimonials, and user-generated content.
Now there are multiple ways of featuring customer reviews – text, images, or video. You can choose what suits best for your ecommerce landing page design, but images and videos engage better than text.
You can also link to your social handles to let user-generated content work its magic.
What do you see immediately when you see this landing page? The big yellow box with the raving reviews? Did your eyes go to the adorable pictures of the dogs enjoying the product?
Social proof can go way beyond just uploading reviews. Showcase images and videos that supplement your reviews.
Kimp Tip: Ensure that all the reviews, testimonials, and user-generated content on your ecommerce landing page is branded and matches the tone of the landing page. Work with a design team like Kimp Graphics and Video to see how you can present social proof aesthetically.
3. Mobile Friendly
79% of smartphone users agree they purchased an item using their mobile phone in 2020. Mobile-friendly ecommerce landing pages are no longer a specialization or an added feature. It is mandatory.
Added to this, when you consider that most Google searches happen on mobile and your ads run on mobile-intensive social networks, your ecommerce landing pages must present well on a mobile phone.
Talk to your design team to understand the layout design, image size, color scheme, and user experience for the mobile version of the ecommerce landing page before it goes live.
Kimp Tip: Product image quality is an important aspect to pay attention to in your mobile landing pages. They must load easily but offer a quality that highlights the best of your product in all aspects. It is a fine line to walk but very important. With Kimp Graphics, you can choose the format and size of the final design file. Check the other perks of a Kimp subscription here.
4. Personalization
75% of customers say they prefer businesses that provide personalized digital experiences. Now, many brands leverage analytical tools and algorithms to achieve this, but did you know that design plays a vital role in this too.
The biggest difference between art and design is that design has a purpose to serve. Now, based on who you are serving, this purpose changes. The same design principles can't appeal to every visitor who comes across your ecommerce landing page. So, you must
Create ecommerce landing page designs that specifically cater to customers in different stages of buyers' journey. Based on whether they need information on your brand or a specific product to decide on the purchase (Awareness vs. Consideration) change, they must experience a different landing page design.
Check a detailed guide on this by Kimp for more information.
Understand the target audience for the various active advertising campaigns and then proceed to personalize the landing page design for them. There is a design style that appeals to millennials vs the GenZ. So design accordingly.
Personalize the product image, copy, and design style based on the information you receive from the analytical tools.
Kimp Tip: Design psychology is a vast field. Every design element has a strong connection to our emotional and cultural responses. Understanding them and then using them to your favor can change the way you do business. Connect deeply with every customer with the power of design. Talk to the Kimp team to know how!
5. Design consistency with Ads
Invariably, the audience for your ecommerce landing page comes from the different advertising campaigns you have in place. Design continuity and transition from the advertisement to the landing page instill trust in the customer. This consistency aids in building trust in the brand and also makes recall easier.
Nobody likes false advertising. Moreover, it makes no sense for a brand in terms of ROI and conversion efficiency. You know your ad worked because the user clicked on it. Abandoning that design will just waste all that effort.
Landing pages must work as an extension of the advertisement. The story you started there must seamlessly continue on the ecommerce landing page too. Engross the customer so much they forget moving away.
Kimp Tip: Landing pages and advertisements have different design objectives. So extrapolating one design into another is a tricky aspect. You don't have to make a bigger size of the advertisement. All you need is to carry the essence of it into the landing page. Enlisting a design team that understands this can improve your conversion rates drastically.
6. A/B testing
What does landing page optimization mean? Making the landing page design better for user experience. Now, you can research, see what your competitor is doing, or hear it from the horse's mouth itself. Yes, getting real-time feedback from the customer can help you optimize your ecommerce landing page design efficiently.
To successfully conduct A/B testing on your ecommerce landing page design, start by creating a design brief with a mood board of your existing landing page, your favorite landing page designs, and your competitor's landing pages that work well as per you.
Talk to the design team to create two or more variations for a niche audience by varying one or more elements in each of these landing page designs. Test them out and see what fares best.
Check our detailed guide on marketing experiences for more information on this.
7. Branding Consistency
Every customer touchpoint is a way for your business to build brand awareness. And this brand awareness eventually helps them come back to you when they are ready to buy your product. So, it goes without saying that your ecommerce landing page has a higher chance of converting when the design is consistent with your branding.
Branding consistency entails everything, right from the color choice, typography, imagery, logo, and copy. Every microelement must contribute to speaking your brand's language so that the customer builds trust and recognition in the process of perusing your product.
Kimp Tip: When you work with a design team for your ecommerce landing page, ensure you share all the original branding designs and the brand style guide if you have one. This will help them create a design that truly reflects your brand's aesthetic.
This is Designer Wellness's website.
And this is the landing page we built for them. You can see how the branding and design language flows seamlessly, making the user experience smooth and easy.
8. Layout Design and Visual Hierarchy
While you focus on individual elements, the overall layout design matters for the success of the landing page too. Designers in the Kimp Graphics team leverage the power of design to build a visual hierarchy so that we can control how the customer perceives the page.
Visual hierarchy is the concept of arranging various design elements such as color, typography, lines, patterns, imagery, and white space to guide customers on the visual flow.
By this, you can decide what the customer notices immediately when they view your ecommerce landing page. This can be a headline, a product image, the "Buy Now" button, or even the lead form.
Capitalize on layout design to improve the navigation and user experience on your site. Ecommerce landing pages must focus on a single CTA/Offer and gently nudge the customer in moving from perceiving information to sharing some with you.
For example, consider you are a shoe store and the landing page is for customers who have just seen your 50% off ad. Then you must begin by attracting their attention to the offer immediately when they land on the page. This builds trust. Next, the customer will move towards the product, its features, and then to the CTA (Buy now/ Add to Cart). You can also place trust seals like shipping policy and return policy next to the CTA to reassure the customer.
This visual flow makes the journey fruitful for you and the customer. That is how visual hierarchy and layout design works.
This landing page has three clear color-coded sections. And our design team knew that the white space and the blue sections would get immediate attention and used them to depict the most important information.
Simplify Landing Page Optimization with Kimp
Ecommerce landing pages are nuanced projects. The perfect design that brings you revenue comes from a team that has the experience, industry knowledge, and a flair for design that customers like.
In short, a team like Kimp Graphics and Kimp Video.
Our team of experienced designers is waiting to optimize and level up your Ecommerce landing pages. Avail of unlimited designs, revisions, and user accounts with exclusive access to licensed stock photos, images, and audio.
All at a flat monthly fee that rivals every other in the industry.
Sign up for the free trial today and experience the upwards trend in your ROI.