How Brands Adapted NFL Marketing In The Pandemic
Brands love sports marketing. Associating with the right league, team, or even athlete can easily make a brand a household name. Most large brands sponsor popular sporting events in some form or the other to skyrocket their brand awareness.
Especially the events with mass appeal like football, basketball, cricket, and golf, to name a few.
But what happens when these money makers come to a standstill? With a lot of money, resources, and time invested in these events, it can be quite devastating to the marketing and advertising partners.
And that is exactly what happened when the COVID-19 pandemic hit, and the world came to a standstill. With a priority on keeping essential services going above all else, live events like sports and entertainment took a backseat.
However, soon it became obvious that the sporting leagues could only put their operations on hold for so long. Especially the NFL. The sporting league was keen to get the show on the road and started rallying players and coaches for this. Even as organizers started adjusting to the new normal with testing and social distancing norms, brands too had their work cut out for them.
When games resumed, advertising and marketing partners needed new strategies to connect with audiences while effectively promoting their products.
Brands did adapt well to marketing in the pandemic, and it gave way to some truly amazing campaigns.
Before we take a deeper look into that, let's see how the pandemic impacted the workings of the NFL.
The NFL and the pandemic
The NFL is one of the longest running sporting leagues in America if you count both the off-season and on-season games. When the first lockdowns took place, the NFL had just finished its college drafts and team selections. The off-season was five months away, and the organizers were not too worried. But as time passed, they realized that if they wanted the games to resume as always, planning had to start early.
With a bubble being non-practical for a 5-month long season, the committee opted for stronger testing and hybrid workflows wherever possible. In fact, the NFL draft went online and happened over Zoom. But that did not deter brands as almost 100 brands came on board as advertisers for the draft.
So what is it about the NFL that makes brands want to be a part of it no matter what? Why do they go all out even for a virtual event from the league? Let's find out.
The NFL Marketing Playground
The Superbowl is legendary in marketing circles. Billions of dollars get spent advertising during the NFL's regular-season culminating in the Superbowl. In 2019 alone, brands spent $4 billion.
But it is not just the Superbowl that brings the advertisers in for this major football league. It is the viewership, the year-long opportunity to connect with the audience, and the power of sports influencers.
Even during the pandemic, 800 brands came together to advertise for the 2020-2021 season and spent a collective amount of $6.2 billion on advertising during the NFL telecasts. This is even bigger than the 2019 numbers. The NFL ended up with $3.4 billion in revenue from advertisement as a result of this.
Knowing how sacred the entire NFL viewing experience is for the fans and how the in-stadium experience would be missing, brands quickly pivoted to newer advertising strategies.
The focus was on enhancing customer value, emphasizing the connection between the brand and the sport, and also improving the at-home viewers' experience.
This meant out-of-the-box thinking, digital strategies, and sensitive messaging. And the 2020 NFL advertising season had this in spades.
Let's check out how brands adapted to the changing times and ventured into new-age marketing techniques for NFL marketing.
Marketing campaigns in the Pandemic by NFL Advertisers
NFL Marketing & Pandemic-oriented Messaging
With the pandemic constantly in the backdrop, and everyone working around it, it made no sense to avoid the issue. Fans knew the pandemic existed, and brands had to embrace it if they wanted to market with authenticity. The 2020 NFL season saw many companies evoke emotions and portray the sporting event as a much-needed distraction.
Microsoft went one step ahead and celebrated how their firm was enabling the players to stay safe, train, and get ready for games. In one of their advertisements, the team coaches, players, and managers show Microsoft products in use as they huddle every day, remotely, to strategize on their game.
The reason it works is that it is extremely honest and true to reality. The product is in focus and shows the true value it holds for these players and the viewers, too.
Kimp Tip: Creating a story that's authentic and includes brand placements are the two key elements of any successful ad campaign. If you get this right, you can easily connect with your audience.
Need help editing your videos into stellar advertising campaigns for your brand? Kimp Video can help you with that!
NFL Marketing & Inspirational Content
Sports inspire people. People feel the rush every time their team scores. Advertisers have been capitalizing on this for a long time now. And the need for inspirational content is higher than ever, owing to all the hardships brought on by the pandemic.
Many advertising campaigns have centered on themes of unity, brotherhood, and friendship as a result. Building on this, Frito-Lays launched a series of marketing campaigns for the NFL's regular-season games.
The Frito-Lays campaigns reminisce about the old times and seek to generate the same excitement people feel before major holidays. Another campaign speaks of how football unites people across the world, just like Lays chips do. It is a subtle plug but will make you want to reach for that bag of chips when you watch your favorite game.
When you look at these ads, you see that while the product and brand identities are front and center, there is no obvious selling. Reading the room, and understanding the assignment, the brand kept the products in the background, and it worked.
NFL Marketing & Direct Sponsorship
While digital campaigns and advertisements are always good, they are no substitute for in-stadium ads and sponsorship deals. The NFL brings in millions of in-stadium audiences, and most brands are banking for a profitable ROI.
So what do you do when the games go virtual with next to no in-stadium audiences? You improvise, and that's what the major NFL sponsors did.
Understanding that the NFL players will need mouth shields, Oakley took it on themselves to provide that. Now, when the camera zooms on any of the players, they will see the gear Oakley supplied.
Kimp Tip: Direct sponsorship is a great way to associate your brand with customers' favorite events to build positive connections in the market. Designing merchandise and sponsored products needs a nuanced approach so that it reinforces your visual identity without losing out to the other brand or getting lost in its limelight.
Need help designing co-branded merch? Try a Kimp Graphics subscription!
NFL Marketing & Enhancing customer experience
As we mentioned before, brands were not just concerned with pitching their products and capitalizing on the NFL's viewership. With the pandemic in full force, the focus shifted to how they can make the NFL season memorable for the audience.
This included contests, giveaways, and even technological solutions by the tech companies.
Pepsico launched a giveaway program, "Tailgate in a Box", where the winner gets an outdoor projector and custom corn hole sets to replicate the in-stadium experiences. Frito-Lay launched motion-activated Tostitos bags. These bags chant different team names when the chips get poured into a bowl.
While these ideas are a bit out-there as campaigns, the takeaway was that brands want to engage digitally with the audience and use that to build a stronger connection.
Verizon, NFL's longtime sponsor, also announced a way fans could host virtual watch parties on the Yahoo Sports app. The brand wanted customers to feel as normal as possible so that some normalcy returns to the market as well.
NFL marketing & Influencer marketing
As the world of influencer marketing was slowly getting ready to hit the gas pedal, the pandemic bought that car into full throttle. No one today is a stranger to influencer marketing. Across social media platforms, our feeds are full of our favorite celebrities and internet personalities pitching products to us.
Given how influential athletes usually are, this was, but a natural ascent for brands during the NFL marketing campaigns. When Superbowl ads cost upwards of $5 million for a 30-second spot, brands who want to build a lasting brand presence and awareness have to opt for influencer marketing.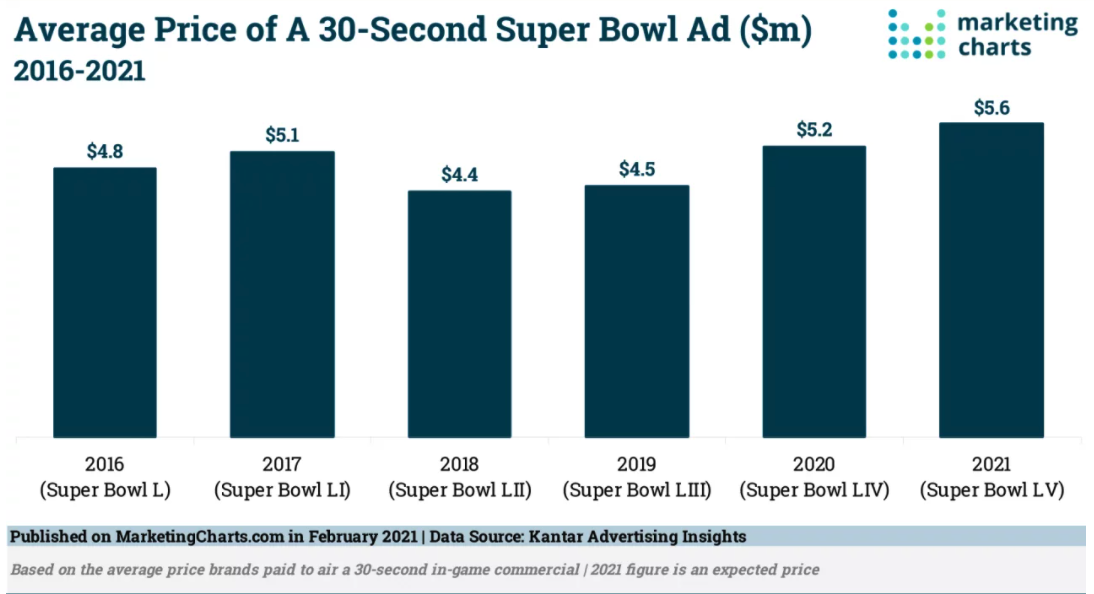 While major brands like Pepsico or Hyundai never disclose their revenues from TV commercials, a study on the effect of influencer marketing is now out. A collectible brand, FOCO, increased its sales numbers by 369% and improved brand awareness across all social media platforms by employing NFL athletes in influencer marketing campaigns.

In another example, a popular Hummus brand, Sabra enlisted the help of major pop stars and influencers to run campaigns across Tik Tok and Instagram. They also chose influencers who work with other lifestyle brands but have fewer followers to bring diversity and authenticity to their content.
Kimp Tip: With Influencer marketing taking over the internet, brands have to be careful that the content that gets put out follows their brand style guidelines. While authenticity requires the influencer to create content in their natural tone, brands do have to do some amount of prompting in terms of video direction, props, and content style so that the result represents their brand in the best light.
Developing a brand style guideline and a handbook for video production can help you make the most of the content you enlist from influencers. A design subscription like Kimp Video can help you develop that framework so that content quality never suffers.
NFL Marketing & Pivoting into Digital Campaigns
Even though digital marketing campaigns have become a necessity in today's world of sports marketing, the usual stuff won't cut it anymore. With an increasing number of viewers tuning in from their mobile phones and almost every brand running ads on YouTube, Instagram, and Facebook, brands have to innovate.
Miller Lite released unique giveaway content intending to distract viewers from their rival Michelob Ultra's SuperBowl ad. The brand released an 836 character URL as an image across social media platforms which offered the chance to win $8 in prize money for a six-pack of beer.
Another way to have fans of the game engage with your brand on game day is through AR. With everyone staying at home missing the immersive experience of stadiums, brands like Uber Eats, Frito-Lay, Pepsi, and Doritos launched filters on Snapchat and Tik Tok to lure fans into engagement.
Cheetos launched a filter that led to free goodies. It was an effective way to visually engage users while also making a sale proposition.
Kimp Tip: The face of digital marketing campaigns is continuously changing. But one thing is always constant, and that is the importance of good visual design. Your giveaways, filters, and influencer content have a chance of going viral only if it is good eye candy. So invest in design as much as in ideation and copy for the best results.
Enhance your branded content with Kimp Design Subscriptions
Marketing in the pandemic is a roller-coaster. You do not know what trend will pop up when or which way the customer perception will shift. Brands must stay on their toes and always be on the lookout for the next big thing to beat out the competition.
As we saw with NFL marketing campaigns, design is vital for your success. Customers engage visually before they even decide to read the copy of your ad. And you need a lot of designs, if you want your brand to be all the customer sees everywhere.
Unlimited design subscriptions by Kimp offer you both graphic design and video subscription plans, where expert designers put their heads together to build high-impact campaigns for you.