Holiday Marketing: A History Of Santa Claus In Advertising
St. Nicholas or Santa Claus, or Father Christmas as we fondly call him, is the most popular symbol of Christmas. After all, what better depiction of festive vibes than one with "jolly old St. Nick"?!
Come Christmas, you will find this red-coat clad plump and jolly fellow on almost everything from Christmas cards to ad campaigns about festive discounts.
But have you ever wondered how and when this legendary character was born?
The history of Santa Claus is as exciting and cheerful as Santa himself. For marketers and brands indulging in holiday marketing, the history of Santa Claus and the origin story of the imagery, colors, iconography, and messaging are especially interesting. And knowing this will help you better understand why he now has such a strong connection with holiday marketing. 
The story of Santa Claus
For children around the world it's a matter of fact statement that Santa Claus along with Mrs. Claus, the elves and the reindeers live at the North Pole. And that in his magic flying sleigh he comes through the chimneys and leaves gifts for kids during Christmas every year.
But was Santa always this jolly and happy gift-giving, sleigh-riding, old man we've come to know and love?
Let's dig a little into the history of Santa Claus to find out!
St.Nicholas – The Altruist and the History of Santa Claus
St. Nicholas, who is believed to have been a "bishop from Turkey" back in the 4th century, was the inspiration for the legendary character of Santa Claus. St. Nicholas was an altruist who strived for the well-being of the needy.
Based on the image of St. Nicholas, Santa Claus initially was a lean figure, not as cheerful as we know him to be today. And he wore not red but a green or tan coat. He was, back then, not someone who gave gifts, but a protector of the needy, like St. Nicholas himself.
The poem, A Visit From St. Nicholas by Clement Clarke Moore, was a turning point in Santa's depiction. In this poem, Moore described Santa as a "chubby and plump" looking cheerful elf with white beard and a tiny nose.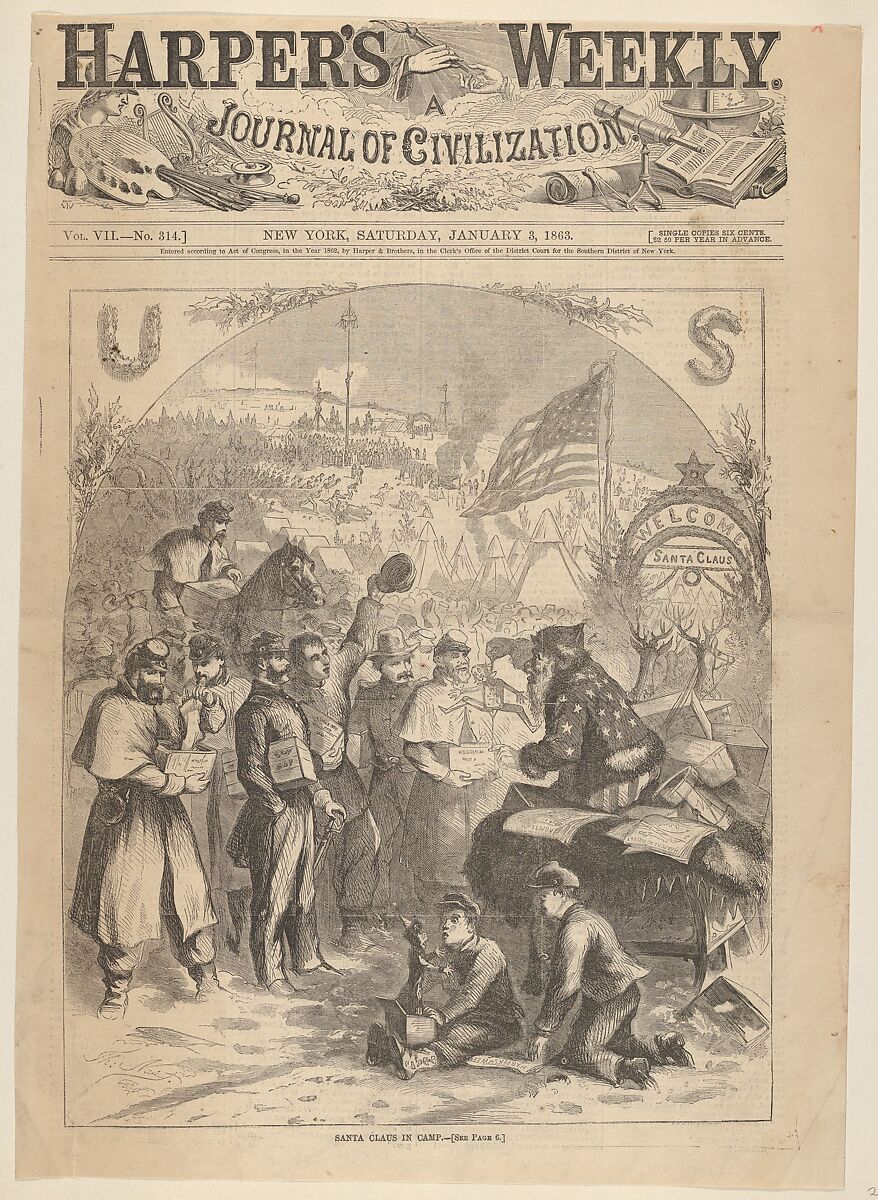 Sundblom and the History of Santa Claus
Most of the Santa Claus illustrations you see today depict a warm and friendly person from the North Pole. Haddon Sundblom, an American artist, had a strong role to play in the creation of this image. Like Nast, Sundblom also used Moore's description of Santa as the inspiration for his illustrations. Sundblom had created these illustrations of Santa as commissioned artwork for Coca–Cola.
Coca-Cola and Father Christmas – a bond that can't be broken 
Coca-Cola's Christmas ads have always been trendsetters. Take the recent one from 2020 that shows a father delivering his daughter's letter to Santa Claus in the North Pole. The campaign ran with the tagline – "This Christmas, give something only you can give". It featured Santa driving a Coca-Cola truck, with a mischievous glint in his eyes.
Though the concept was new, one thing that did not change was that Santa Claus still delivered happiness. And in this case, did so by bringing the little girl's father home for Christmas. This ad was among the best rated Christmas ads in 2020. 
This wasn't the first hit for Father Christmas and Coca-Cola. They have a long and whimsical history together. A bond so strong that some even think Santa Claus's red and white coat is based on Coca-Cola's brand color scheme. But it was Thomas Nast who gave Santa this red and white coat in one of his portraits, long before Coca-Cola started their Father Christmas series of campaigns. 
In 1931, Coca-Cola's campaign titled "My hat's off" was the first one to ever feature Santa Claus in the brand's ads. This was a design by Haddon Sundblom. He was also the artist who created all other Coca-Cola campaigns featuring Santa Claus over the next few years, like "Me too" during the Great Depression time, "Travel Refreshed" featuring Sprite Boy (another popular character in Coca-Cola's campaigns), and many more. 
These campaigns featuring Father Christmas set new trends in connecting Santa Claus to holiday marketing and the rest, as we know, is history! 
A history of Santa Claus in Advertising 
1) White Rock in the 1920's – delivering happiness like Santa always does 
While Coca-Cola gave Santa a "marketing" makeover, they weren't actually the first beverage company to do so. White Rock had Santa delivering Christmas cheer even earlier. 
In their print ad White Rock showed Santa riding a wagon carrying packages of White Rock Water. 
2) Whitman's Chocolates – a gift Santa would approve of
The print ads of this popular chocolate brand featured a happy Santa Claus. It focused on the fact that we all turn into Santas during Christmas and gather the best gifts for our loved ones. It also delivered the subtle message that their chocolates make convenient gifts for all, with Santa approvingly winking in the background.
3) Jell-O – leaving meaningful treats for Father Christmas
Jell-O's print ad featuring Santa was a cute take on the belief that Santa, after leaving gifts for the kids, relishes the treats kids leave for him. In this ad, Santa can be seen enjoying some Jell-O left out for him on a table. Underneath it meanwhile is the little kid who probably fell asleep after trying to secretly catch a glimpse of Santa. This is a brilliant use of a legend that people believe and ads like these are sure to bring about a smile.
4) Plymouth – Santa's gift for the adults in your life
Kids at the mall are usually seen taking pictures with Santa and telling him what they want for Christmas. But this ad shows a kid secretly asking Santa for a gift for his dad instead. And the gift he asks for happens to be a Plymouth car. It challenges the cliche of Santa giving gifts just to kids, and at the same time still creates a sentimental holiday moment.
5) BluBlocker – aviators for the world famous aviator 
Ads like this one show how light-hearted humor almost always works to connect with an audience. As a campaign focusing on the aviator range of sunglasses from this brand, this one was a fun take on the fact that Santa is an aviator too. Only Santa flies his sleigh instead of a plane.
6) Pepsi – when Santa was on a break 
The world knows the depths of the cola wars between the giants –  Pepsi and Coca-Cola – all too well. And back in 2011 Pepsi used this in their favour when they released a fun commercial featuring Santa enjoying a vacation and secretly grabbing a can of Pepsi. Given the well-known history shared by Coca-Cola and Father Christmas, this is trendjacking at its best. 
7) A special mention – Duluth Trading Company
While we do come across plenty of ads featuring Santa Claus, not much is spoken about Mrs. Claus, Father Christmas' right hand. This is why a recent ad by Duluth Trading Company won so many hearts. This ad reimagines and celebrates the unseen efforts of Mrs. Claus, conveying a message so strong about women across the world and how their efforts are often not acknowledged.
A history of Santa Claus in Ads that did not go as planned
Feature Santa Claus in an ad, and throw in some strong emotions – the result is either an ad that is remembered for the years to come for all the right reasons. Or a big disaster. Here are a few that belonged to the second category.
1) The NHS' 2020 Christmas Campaign
A recent example of a Santa ad fail would be an ad that showed NHS (National Health Services) staff nursing an ailing Santa back to good health. While the ad was intended to honor the unsung heroes, namely the staff in the hospitals during the pandemic, seeing Santa sick in the hospital did not really go well with kids. The ad was quickly withdrawn after the emotions it stirred. 
2) Tesco's take on the Pandemic
Another similar ad that focused on Santa and the pandemic was the Tesco ad that said that "Santa could be quarantined" only to show a double-vaccinated Santa in the next scene. It received a negative response from some people who vowed to boycott the store. And #BoycottTesco began trending on Twitter. If you're going to wade into a topic that may be controversial make sure that you're well prepared to address it.
3) Byrrh's Christmas blunder
The wine company Byrrh featured a drunk Santa in its 1934 print ad. And as a far cry from the Santa everyone knows and loves you can imagine what the response was like. Lesson learned here – you never mess with an icon. 
4) A smoky take on Santa
There were a few other such ads that tried to impart a dark shade to Santa and these were mostly either forgotten completely or instantly hated by most people. One other example would be the 1936 ad by Lucky Strike Cigarette featuring Santa smoking. 
Prince Albert Smoking Tobacco was another brand that featured Santa with tobacco. These ads would have received some pushback in the past. But by today's health-conscious standard they would've been on the receiving end of a massive backlash! 
5) The Arrow that missed the mark
An ad from Arrow Shirts published in 1947 featured Santa trying to shoot himself because he wasn't going to be able to fulfill all the requests for Arrow shirts that he'd received. That is until he received a large delivery. This was quite a disturbing ad that could have been approached a million other ways.
6) Good riddance to Rid-Jid's gift guide
There have been ads that celebrate women like the Duluth Trading Company ad mentioned above. And then there were print ads Rid-Jid's that advertised ironing boards as a gift that "even Mrs. Santa Claus wants". 
These were times when there were a chain of stereotypical print ads. The common element? Using Santa to advertise household products as the best gifts that every woman would love to receive. 
So, what can brands learn from these ads?
Remember that featuring Father Christmas in ads is a trend that has been there for almost a century now. So, if you really wish to stand out, you need to do something different.
Simply putting his face in your ad or mentioning him somewhere, will not be enough. Your brand's personality should be seamlessly intertwined with Santa's personality.
From every ad that ever became a big hit, or a big time disaster, by featuring Santa Claus here are some lessons you can learn to enhance your marketing strategies:
Popular characters can turn even a boring ad into something more impactful.
Be extra cautious about the message your ad conveys when you use a beloved character.
Make sure that you understand all the emotions the ad might trigger.
Understand the general feelings that people perceive with these iconic characters and try to build on them rather than experimenting with any other emotion, which might turn out to be a risky move.
Given the emotional history of Santa Claus, it is better to stay true to tradition. And steer clear from messages that even slightly deviate from the loving and lively personality of Santa that has been built over the years.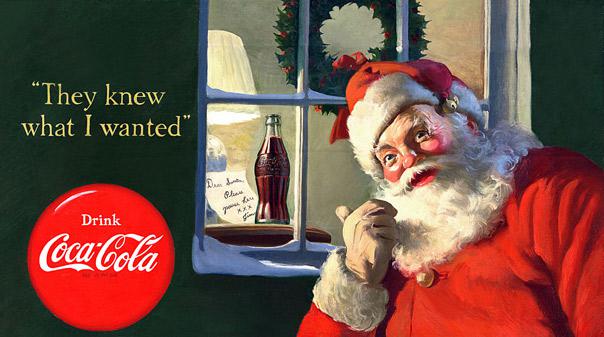 Leveraging Santa's strengths for your brand's holiday marketing
To really get it right when you incorporate Santa Claus in your marketing strategy, you need to understand how Santa can be connected to your brand. And how you can leverage his most positive traits that resonate with your target audience.
He brings a smile to people's faces. With Santa, it is more about giving than receiving. You could extrapolate this idea to focus on something that you give back to the community or a way in which your business manages to bring smiles to your customers' faces.
Santa resonates with happiness. While there was a time when the character was grim and not so lively as he is today, focus on the emotions that people of today feel for him. Show how your products or services can make people happy or how they are focused on making lives simpler and happier for your customers.
Santa is a symbol of hope. He makes us believe in magic. This is a very positive note and businesses in the service industry can creatively use this idea in their campaigns.
Another very important trait of Santa is that he is always on time when it comes to delivering gifts. You can relate this to your timely services or delivery, quality assurance and other aspects.
Everyone who knows of Santa also knows that he rides a sleigh. And it is for this same reason that some car companies in the past swapped his sleigh for a car and depicted how their vehicles are as reliable as Santa's sleigh. You can try a similar swap with your products.
Santa is a symbol of celebration, of families coming together and unwrapping their gifts. If yours is a family-focused business you could also build your campaign around this trait of Father Christmas.
Lessons from the History of Santa Claus
The key is to focus more on the emotions of the ad itself than to emphasize your brand. By allowing your customers, and their emotions, to take the front seat and your brand's presence in the ad to step back just a tiny bit, you will be able to make a world of difference.
With this strategy you can create the perfect print ad or social media post that celebrates the festive cheer that Santa is all about. And strengthen your brand image at the same time. Now that's the way into your customer's hearts. 
Establish the best branding design possible for your business with unlimited design services from a Kimp Graphics or Kimp Video subscription 
With unlimited graphic design requests, video design requests, revisions, and hundreds of design categories, you can do it all at a flat monthly fee.
Sign up for the free trial now.