2021 Social Media Trends Your Brand Needs To Know
Part of looking ahead to 2021 social media trends is looking back on all that happened in 2020. And when considering this year, there's one thing that especially stands out. How much time we've all spent on social media. And we know exactly why.
The pandemic arrived and our need to stay connected increased like never before. From March onwards countries around the world implemented rolling stay-at-home orders. And this led to a 21% increase in the monthly social media usage at that time Statista reports. With more and more people staying home and working from home, there is an increased use in social media to stay connected, keep customers informed, catch the latest news, shop online and so much more.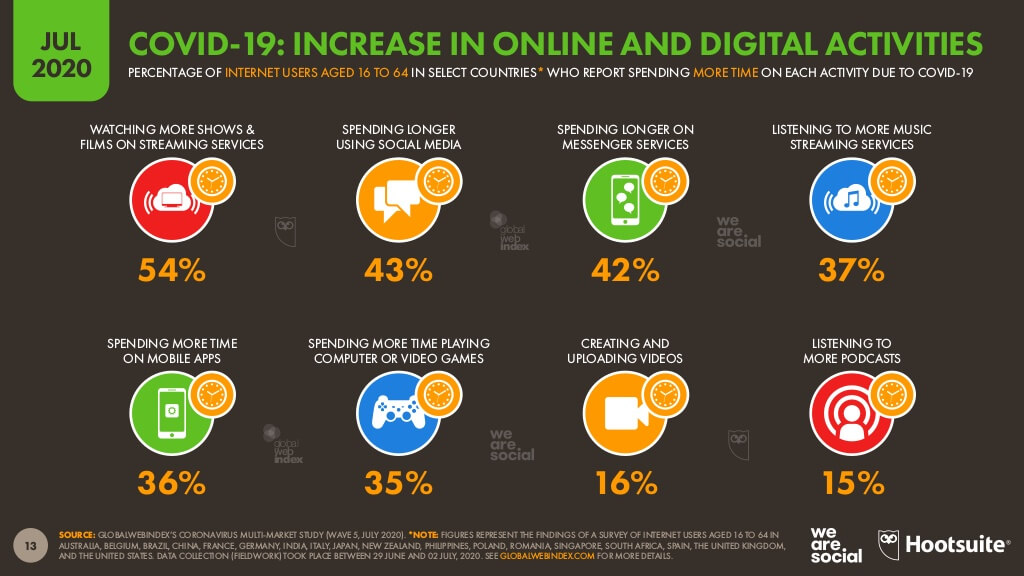 It has also become the way in which people get through difficult days; just scrolling mindlessly through videos and other entertaining posts.
Looking to 2021, the big question now for your brand is how to meaningfully engage a large audience on social media. People are online and on the lookout for great content. And they're likely going to stay that way for some time. The pandemic will still be a factor into 2021, influencing the 3.6 billion users on social media to increase their usage.
And you're likely also wondering what other trends will play a role in this evolving landscape? Well, in today's blog, we are going to be taking you through some of the most anticipated 2021 social media trends for 2021, so that you can plan for and make the most of them.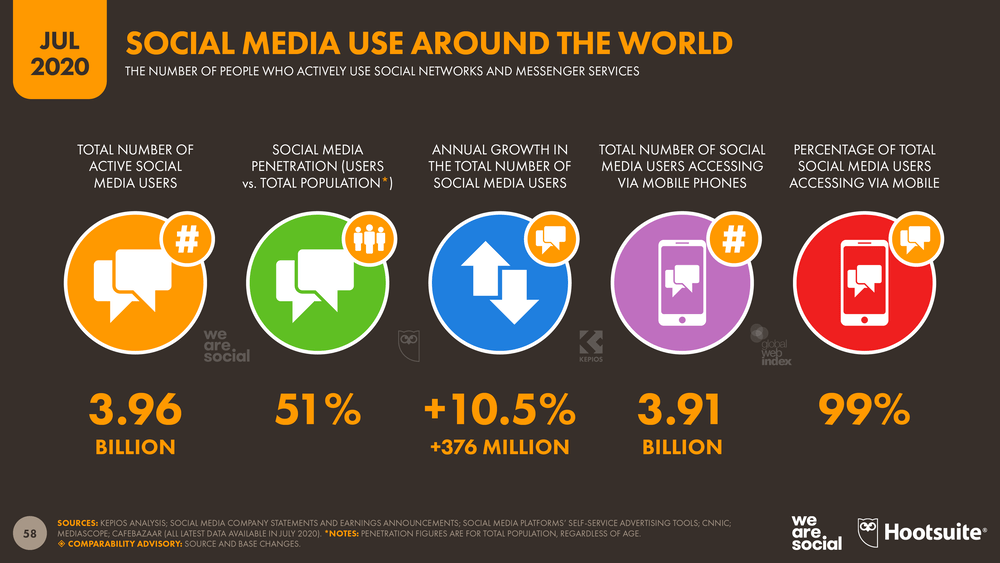 Social media challenges of 2020
2020 has been a challenging year overall and for social media marketers it was a whole new world to navigate. Below you'll find a snapshot of some of the most notable challenges that social media marketers faced this year.
Engaging relevant followers
While it would be great for any brand to see their number of followers increase rapidly, it is so important that these are actually relevant followers. If you aren't engaging those who are actually interested in your brand, you're a lot less likely to convert them into customers.
Managing consumer expectations
In 2020 current events have played a huge role in the ways consumers expectations of brands have shifted. Managing content calendars became a major challenge and consumers expected brands to react to and engage with events that were constantly evolving. Or even those that were completely unexpected. There were times when it was important to be vocal. And others when it was important to observe and remain silent, in order to thoughtfully engage. For many brands these were big lessons that are still being learned.
Optimizing for each channel
Whether we're talking about Facebook, Twitter, Instagram or LinkedIn, each social media platform serves a very unique purpose. And your strategy, as well as your content and designs, need to be optimized for each accordingly. You can't just hope that one size will fit all. Some of your posts literally won't be uploaded if you don't have them sized appropriately. With more and more updates getting rolled out for each platform, social media marketers are having to learn as they launch and execute campaigns.
Social media trends of 2020
While there were a lot of challenges this year, there were also some really interesting social media trends in 2020. Let's take a look back at some of them too.
More video content
Most brands shifted towards sharing their content in more strategic ways in 2020. The preferred medium for this seems to be video – long-form and short-form videos are some of these most widely shared types of content this year. And with people spending more time online scrolling through videos, it is no secret why! Audiences made it clear that they want to consume better quality and more entertaining content.
Demand for authentic brand voices
Brands had to challenge themselves to try and be as authentic as possible. People like to shop with brands that align with their values and the causes that resonate with them and this was clearer than ever in 2020. We believe that this is a trend that is going to stay on for many years to come.
Content that is useful vs. engaging
While the focus previously may have been on providing engaging content, this year it was all about shifting to useful content. Useful content is automatically engaging too and adds value to your customers. This is another trend that we'll likely see stick around through 2021 social media and beyond.
Listening became a priority
This year was a time when listening became a priority for brands. Conversations could change overnight and the requirements of your audience could change in a heartbeat. It became more important than ever for brands to listen and adapt to their target audience.
2021 Social Media Trends
Now, let's look into some of the trends that have been predicted for 2021 social media.
Using Reels for organic Instagram exposure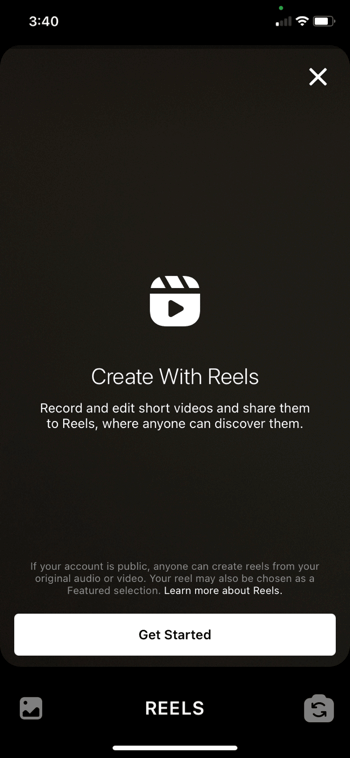 There is a clear trend towards promoting more and more video content and we believe that this will only get stronger in the coming year. Especially on Instagram, and especially short form video. The same pattern was observed when Stories came out in 2016. Engagement and reach for feed posts reduced with people focusing more on Stories that disappeared in 24 hours.
In 2020, the same is happening again. Reach for feed posts are dropping as it increases for Reels. It is almost as much as 10 times as you would see on your normal posts. Reels can be 15 – 30 seconds.
To create a Reel you can simply speak to your camera and add text and music so that you can keep them engaging. You can even time the text so that it appears and disappears according to the beat of the music. Another effect that has to be mentioned is the Green Screen Effect. It allows you to share photos and screenshots as well as videos in your reel. Need some help creating or editing those types of designs? Kimp's got you covered.
The photos that you use could be even in the form of before and after images that will let customers see how your business can change their lives. A great way to use screenshots is to share inquiries that your business gets. You can have them in the background while you share the answers. There are so many options that you can make use of but do keep Reels in mind for your 2021 social media strategy.
Using relationship marketing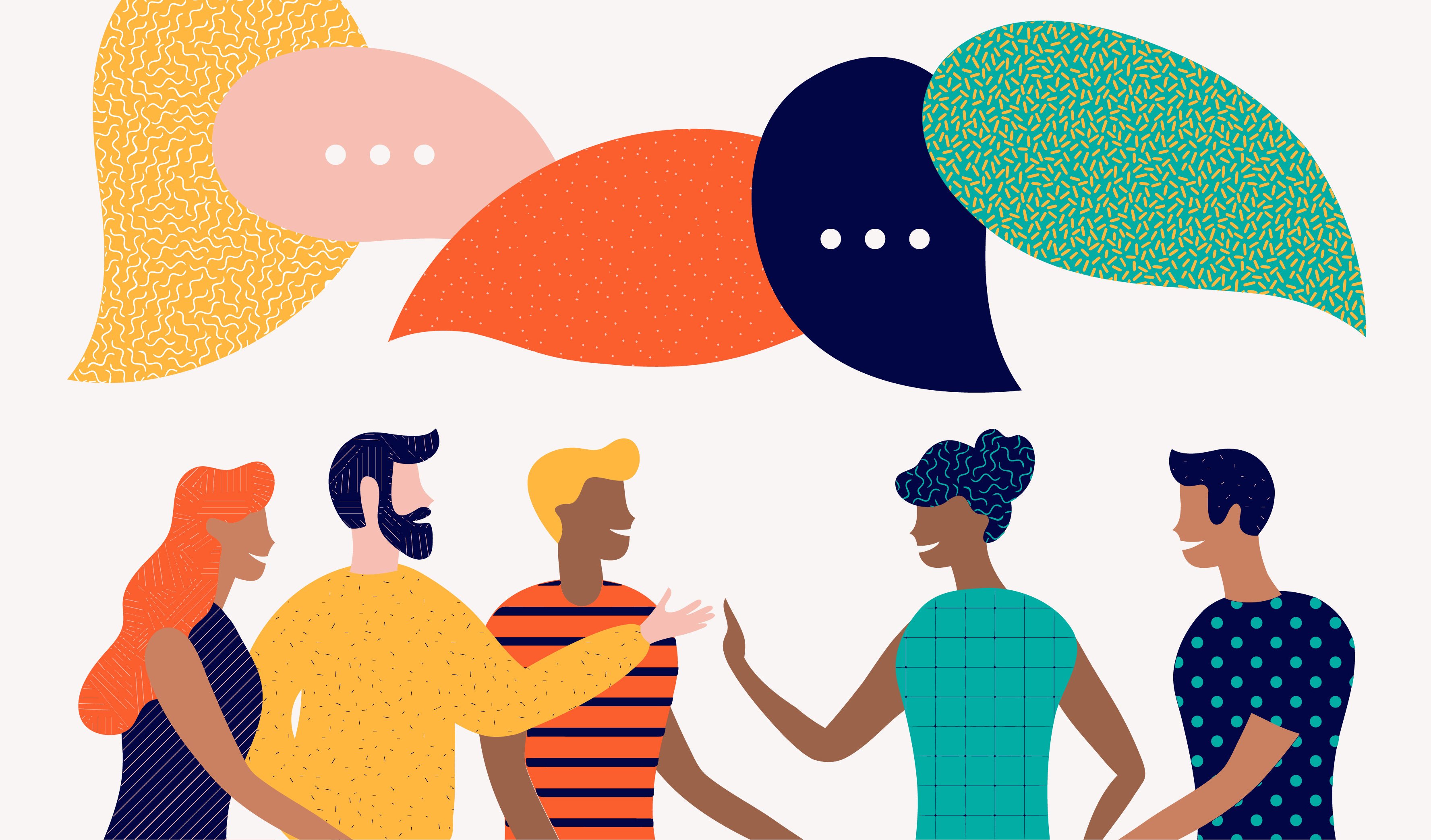 Consumers tend to be more critical and cynical these days and we can't blame them. Claims of "fake news" are everywhere along with concerns around breaches of privacy. Studies even show that 75% of people do not accept advertisements to be the truth.
So building trust with your social media audience is of the utmost importance in 2021. 63% of social media users feel that customer ratings are more valuable than any other kind of rankings or rating. And 70% of customers believe in the opinions of other customers. That's actually more than two times as many people who believe in ads!
All this to say, 2021 is the year to invest in your relationships. Your employees, influencers, and customers are the voices that others trust the most. And by building strong relationships with them, you'll help drive powerful word of mouth marketing.
The less is more approach will continue
During 2020 itself, many brands decided that they wanted to focus on quality and not just quantity. So they spent less time churning out content. Instead they focused on producing content that offered value, was thoughtful and resonated with the world as we are experiencing it.
This trend of less is more is likely to continue in 2021 social media as well. Especially with the landscape that COVID-19 has created, brands are beginning to wonder whether their customers even want to hear from them right now. And so, as a result, brands are expected to be more thoughtful in what they post and perhaps even post less, irrespective of algorithms. It is simply seen as the right thing to do. And so is pursuing partnerships and ad buys that are thoughtful. There has never before been a time where making sure that your audience obtains value from what you post has meant so much.
Social commerce will be a bigger player

Almost half the world population is using social media. So it only makes sense that we'll see spikes in the use of social commerce for online shopping. The introduction of Facebook Shops and Instagram Shops along with lockdowns all around the world are surefire signs that we'll all be doing more online shopping in 2021.
71% of customers are already looking for shopping inspiration from social media and 55% of online shoppers complete most of their shopping via social media channels. Because of this increased demand to buy through social media, brands all around the world have started selling their products via Instagram and Facebook Shops. And Pinterest Catalogues too. This includes the likes of ASOS, Gap, Fy, and Levi's.
Using social commerce gives brands the capacity to streamline shopping experiences for customers across many different channels and platforms. A big part of this is reducing the amount of friction in your conversion funnel. Eliminate unnecessary steps and give consumers the option to convert directly from your posts themselves. This will reduce the number of customers that drop off during the process of buying. Drop-offs are much more likely to happen if people have to leave your social media post, go to your website, and navigate through it, and then find the product that they need from there.
Playing with augmented reality
Right off the top, know that AR and VR (virtual reality) are two very different things. VR creates new experiences. Augmented reality enhances experiences by using technology that projects virtual and computer-generated augmentations on to the real world. This is a trend that we have seen as being favored on platforms like Facebook, Instagram and Snapchat. There has been a massive increase in the quality and quantity of AR filters on social media.
Content on our feeds is definitely getting more authentic but when it comes to Story posts we hardly ever see them without some kind of an AR filter. Recognizing its popularity and potential, Instagram has made it so that anybody – we're talking brands or influencers or businesses or even normal users – can create their own for others to use in their Story posts.
Retooling FB Ad strategies
The cost of running Facebook Ads continues to rise so it's important that your campaigns focus on efficiency. This is where a return to the fundamentals of advertising on Facebook and Instagram will be important. In fact, it might be crucial to your success as a brand.
In order to attempt this it's important that you know what your average customer's life cycle, and value, is. This is the only way you can make sure that your ad spend is in keeping with the actual value of the leads you're generating. Try following these steps:
Look through your records and analytics to see how your leads typically sign up.
Next, take a look at the amount of time in between them signing up and becoming a customer.
And finally, look at how much your average customer is spending with you.
Using this information you can develop a Facebook ad strategy that will be relevant and effective. And one that allows you to tap into and experiment with all of the options Facebook gives you for creatives. While everything seems to be skewing in favour of video when it comes to the highest ROI, try testing out a combination of video ads, Reels and GIFs to see which are best for you. If you need some help with coming up with multiple versions, in these different formats, Kimp can help.
Diversifying your reach
Social media has gone through quite the shake up this year and the effects of this will continue into the year to come. The pandemic has drastically transformed lives across every demographic. And users across age groups are online more than ever. Especially on social media.
Without many options to connect with people in the real world, it's important to diversify and try to connect with them across every possible social media channel. In the world of 2021 social media we expect to see brands heavily investing in social media platforms they were never even on before. We've already seen some of this, this year.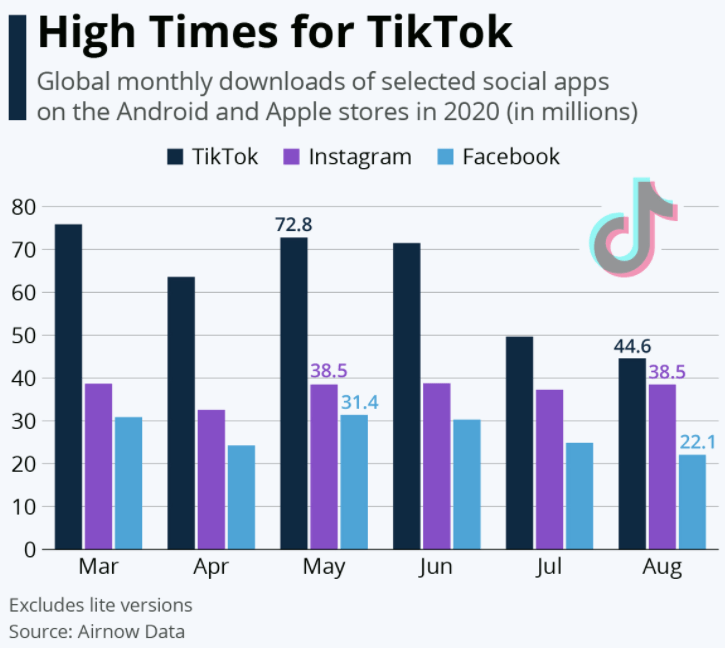 Tik Tok for instance peaked in March 2020 with over 76 million downloads and paved the way for a brand new approach to social media engagement. Tik Tok is now a very popular short form video sharing social platform. This is mostly popular with the audience base of Tik Tok that is aged 16 -24, which make up 41%. And of course Instagram followed suit with Reels in August. The interesting thing about this rollout is that Instagram already had over a billion users to engage with this new feature. And with the success of TikTok paving the way, Instagram's Reels took off and never looked back.
Winning with 2021 social media trends
2020 has been unprecedented in every imaginable way. It's a year none of us could have seen coming. But as much as we're still recovering from, and experiencing, the changes it's brought into our lives, there has also been a ton of resilience and adaptability that we've witnessed. Which is why the 2021 social media trends are very much so about building and strengthening relationships. It's the theme that's on everyone's' hearts and minds. And we hope that you'll get to see incredible ROIs with them, especially those in the form of heartwarming stories.