Engage Customers On Social Media With Brand Storytelling
We remember the stories that our parents, grandparents and teachers shared with us no matter how many years pass. Stories stick in our minds and shape the ways that we think when they are crafted well and are engaging. Which is why brand storytelling is so important. It offers you the chance to connect meaningfully with potential customers.
Good vs. great social media marketing
Good social media marketing uses storytelling to make an audience aware of a brand. This can include its backstory and what it has to offer.
Great social media marketing meanwhile tells stories that engage consumers and inspire them to act. In today's branding, we see a lot of really creative and innovative storytelling because it's the most effective way to make an impression on potential customers. And people are just savvier. They want to follow and buy from brands that have a meaningful mission or an interesting story. So how can you use brand storytelling on social media to engage your customers? Let's find out.
The fundamentals of brand storytelling on social media
Storytelling really is important. A story can help make your brand that much clearer and more memorable to your followers. And it can also provide them with entertainment. People are not just logical beings. We often engage more so with the world around us because of our emotions. And so it's not surprising that hearing a story is almost 22 times more likely to be more memorable, as opposed to listening to somebody lay out plain facts.
Most people have the attention span of a goldfish right now and are very easily distracted. If you become effective at brand storytelling you will be able to cut across all the distractions vying for your audience's attention. Also, just keep in mind that great stories often inspire great actions. Think about it. The last time when you heard a story that was powerful, did you feel compelled to take action? Some stories even give us shivers down our spine and goosebumps right? But for you to get good at brand storytelling in our digital world, you need to first get to know the fundamentals. Here they are:
Make your story relevant
The content of your story, from your designs to your copy, needs to be captivating to your followers. If not, then people will get bored and simply move along to another account that does it better.
Structure your story
Your brand storytelling must have good structure. Each post should have a beginning, a middle and an end or contribute one of these components to build on the posts before it. This is how your story will be clear to your followers. If you are telling a story and you want that story to drive action it should have an introduction (e.g. a headline), a body (e.g. description text) and a call to action at the end.
Your story must be backed by purpose
If your story has no purpose to it, it could come across as gibberish. It is often very easy to get carried away in all of the background noise of trending ideas, and lose the intention behind your brand storytelling. While the occasional meme or new post idea is good to experiment with, try to stick to your story and strategy consistently. Ask yourself with each post: why are you telling that particular story? What is the key takeaway that you want your followers to gain out of this?
Keep you story simple
Less is more. So try and keep your stories simple. You should try and cut out all of the extras that are actually not needed. It does not matter how good you think a sentence, a video or image is. If that particular piece of content does not add any value to your brand story, or doesn't perform well once posted, move on.
Be authentic with your brand storytelling
First of all, think about whether or not the story is true to your brand. Do not try and embellish it too much or paint a facade that will drown out the reality of your brand story. Your followers will be able to tell if you are being disingenuous and then, all the efforts you made will end up backfiring. The stories that you tell must resonate with your brand.
Developing long story arcs
Now that you know all the basics that are needed for a good story to be mapped out, let's look at how you can develop a story arc.
A story is basically a sequence of events that have an overarching theme and some consistent elements. With social media, you have plenty of options with which you can tell stories in new ways. These methods allow you to go beyond the boundaries of traditional storytelling and traditional advertising as well. You may be restricted along some lines, for example the length of a particular story. But restrictions can be a great way to spark innovation and creativity.
To take a methodical approach, before you start developing the social media content as a part of your advertising strategy, look at your goals. It is very important to look at what your end goals are, and then start working back from that point. What do your business goals look like months from now or a year from now? Where do you see yourself in terms of the target audience or the audience that you would like to have? What kind of growth plan do you have demographically and globally?
Every little bit of your story matters
Every single video clip, image, or Story post that you upload, needs to be a mini-story in and of itself. But, if you want to, you can take your audience and your customers on a journey of discovery that is much more than that. Consider the fact that every piece of content and each ad that you create will contribute to your brand storytelling. And that you can get people hooked in for the long run when you tell a story over time.
With all this in mind, you can think of your story arc as tying in with your long term business goals and expanding on the possible ways in which your service or product can enhance your followers' lives.
Let's now look at some of the strategies that you can use your brand storytelling.
Strategies for brand storytelling on social media
According to a survey by The Manifest and Smart Insights, 24% of social media marketers stated that missing a formal strategy is one of the top challenges that they face. Another 24% said that building a good community of followers was one of their biggest challenges. Fortunately, generating engagement is not a mystery. It is very doable. When you use brand storytelling on social media in a way that will resonate with your customers, they will be drawn towards following you. And the clicks, likes, comments, shares will increase as well. So let's dive into some great ideas that you can try out on your social media.
Write out your brand story on a Facebook post
NPR (National Public Radio) in the U.S. conducted a study that includes more than 3000 of their Facebook link posts. They discovered that the posts that had less than 120 characters had more click through rates. And those which had more than 280 characters had lower click through rates. But this doesn't completely explain what took place.
The longer posts had a higher instance of different types of clicks, including clicks on the "see more" links. This link will automatically appear on longer Facebook posts. The fact that people often clicked to "see more" of the longer posts could be an indicator that they actually gained everything that they wanted from the post itself. So they didn't feel the need to click elsewhere. If you're not trying to drive traffic to your site with a particular post, this can be a great strategy for getting engagement on your posts.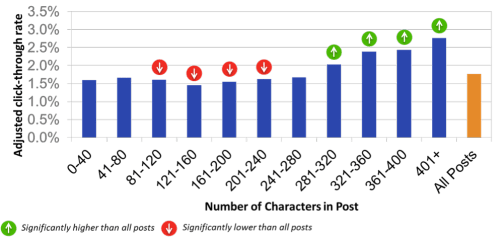 A very good example of this would be the Humans of New York Facebook page. The majority of its posts are rather long and require people to click on the "See More" link. You may think that people would feel that this is a hassle to read such long posts. But these posts actually get a lot of engagement. And they show the power of brand storytelling. Each story is unique, but it contributes to the overarching message of HONY that we are all much more similar than we are different.
Create a Facebook album or an Instagram highlight
They say that a photo can tell a thousand words. If that is true, then you can be sure that an entire album could speak thousands of words. You can share a brand story with your followers by creating an album of your photos. Event recaps can be shared this way, or product launches that show off your product's different uses. And similarly, Instagram highlights are a great way to organize and show off your brand's images.
Whichever formats and stories you opt to tell this way, invite team members and followers alike to share content to be added. There's nothing like user-generated content to help you make your content more relatable. If you're concerned about the images not looking close enough to your brand style, just have them edited and maybe even branded. Kimp can help with these types of design requests and much more to keep your profiles regularly updated.
Use brand storytelling to give back
When you're a brand that supports a particular cause or initiative, that in and of itself provides you with a compelling story to share.The Tote Project is a very good example of this. They give 10% of their profits to Two Wings, which is a US based nonprofit that is dedicated to the cause of helping sex trafficking survivors. All the bags that they make (which are made in Calcutta, India) are produced by women who are survivors of trafficking or at risk of being forced into it. The owners of this social enterprise are able to provide jobs for women who may otherwise not have any options at all because of their business model.
The Tote Project's social media posts always tie back to their mission. They want to end trafficking through spreading awareness, ethical manufacturing and also through giving back. Now the takeaway here is not that you must give away a certain amount of money. Or that you have to adopt a social enterprise business model to have a good story to tell. But if you focus on giving back to a cause that your customers are also invested in, you will not only get their attention. You'll also get their investment in your mission and vision.
Try brand storytelling with your Instagram caption
A high-quality image is a must-have for an Instagram post. But a great image without a captivating caption falls short of the impact it can have. For instance, Airbnb not only uses beautiful imagery, they also prioritize telling a story through each of their captions. And their stories get a lot of engagement because they make them so intriguing.
For the next Instagram post that you do, use brand storytelling and share a story in text alongside the picture or design that you post. Hook your audience with the first three sentences. And then use your comments to add more if you need to. Instagram captions are limited to 2200 characters and after three lines your caption gets shortened with an ellipsis.
Does your brand storytelling resonate with your audience?
Before you start telling your story on social media, you also need to understand who your audience is and what they connect with. One way to do this, would be to create customer personas. You can create these by collecting data about your audience. This can be done through customer interviews, Google Analytics and via social media platforms. When you figure out how to align your brand storytelling with the needs, hopes, desires and wants of your audience, you'll create lasting relationships.
Use the formats that get the most engagement
Brand storytelling is powerful. We hope we've gotten that much across loud and clear. And it can be especially powerful when you use social media formats that are known to get the most engagement. Like Instagram and Facebook Story posts. They can assist you in conveying emotion, authenticity, and immediacy in a very short period of time.
This is the kind of ephemeral marketing that is very popular today, especially with millennials and a younger demographic. It offers a snippet of real life and people are looking for authenticity more than ever from the brands they follow. So when you offer people a glimpse of your brand in the real world, they will appreciate it. And you can use your Story posts to create highlights too so that you can keep the engagement going beyond 24 hours.
The best part about these tools like Facebook Stories and Facebook Live, is that you do not need to create anything that takes a ton of preparation. You also do not have to use a lot of text. Simply sharing candid moments and relatable experiences is often more than enough. It is the best way to show off your product or service in the context of real life.
Are you telling your story the right way?
This is the question you need to ask yourself about each piece of content you share on social media. Is it contributing to your overarching story? Does it align with themes in your brand story? How is it representing the experiences of your customers? The way you tell your brand story may vary based on the particular platform and format you choose, but aim for consistency. And to keep building that long story arc. With these ideas in mind, you'll be able to encourage your followers to stop scrolling and start connecting more with your brand.