Your Guide To LinkedIn Company Pages And Why You Need One
Are you considering creating a LinkedIn company page for your business? Or debating whether you actually need one? You're not alone! And we're here to help. LinkedIn company pages can be a big asset for any brand. Though they can be overlooked in favour of focusing on other platforms.
In this blog we'll give you an overview of everything you need to know so that you can decide to get started, and make the most of LinkedIn for your business. 
What are LinkedIn company pages?
Your personal LinkedIn profile is ideal for sharing your own resume, promoting your own brand, or looking out for new opportunities. But when you're trying to build your brand, you'll need a LinkedIn company page. This will allow you to promote your products and services, post job opportunities, and more.
LinkedIn stats that you should know in 2020 
To start off with, in 2019, LinkedIn was ranked as the most trusted network in use. 
LinkedIn has over 690 million active users and in the Q1 of this year (2020 sessions on LinkedIn increased 22% compared to the year before). 
45% of internet users who make over $75,000 annually use LinkedIn. As a business, you should take note of this, as it means that you can market your products and services to those with a potentially higher amount of disposable income.
In a study that consisted of more than 5000 businesses, HubSpot found that traffic from LinkedIn generated the most visitor-to-lead conversion rate. It was marked at 2.74% which is almost 277% higher than Twitter (69%) and Facebook 77%).
Are LinkedIn company pages sounding more intriguing? Let's look at some of the reasons why a company page on LinkedIn is important for a brand.
Benefits of LinkedIn company pages 
When you compare it to Facebook, Twitter or even Instagram, LinkedIn may seem less flashy or exciting for a business. But don't let those superficial impressions deter you. LinkedIn accounts for more than 50% of social traffic to B2B blogs and websites. And the platform has been found to have a higher visitor-to-lead conversion rate than Twitter and Facebook. Want to know what other benefits you can get from LinkedIn company pages? We've got a few more detailed for you below:
You can share company updates and news
Like any other social media platform, LinkedIn is a great place to share articles and content, including company and product updates. Unlike other platforms, you're quite likely to reach a mixed group of customers, employees, investors, and fans alike.
You can post job opportunities and connect with potential employees
First and foremost, LinkedIn is a professional social networking platform. And its users are always seeking connections and interactions that will help them grow and develop their careers. So it's a great place for you to recruit the talent your company needs. You can do this through the "Career Page" feature, which is a space separate from your company page, where you can focus on your branding as an employer.
You can build a community
Your LinkedIn company page is a place where you can build a community of LinkedIn members that are interested in the business, jobs, and updates that you have to share. It gives them a place to connect not only with you, but each other over their common interests or projects.
You can grow and maintain a consistent brand image
If you are active on other social platforms, having a LinkedIn company page can help you reinforce your branding, and generate more brand awareness. This can be achieved through consistency in the profile image, cover image and content that you post. And most social media platforms will allow you to link your LinkedIn page so that you can boost brand recognition and gain more followers.
You can improve discoverability on search engines
LinkedIn company pages rank high on search engine results pages (SERPs). Setting up a LinkedIn company page will allow your company to be discovered by those who are searching for your brand in particular, or for the products or services that you provide, more broadly.
Here's how to set up LinkedIn company pages 
Create a new company page on LinkedIn
After you've logged into your personal LinkedIn account, click on the "Work" icon in the top right corner of the dashboard. A window will pop up, and if you scroll to the bottom you'll see the option to "Create a Company Page +".
Choose the size and type of company
Now, pick the size of the business from the first two options that you are given. There are two other options available as well. You'll also see the option for a "Showcase Page" and the option to create a LinkedIn page for an "Educational Institution". For the purpose of this blog, we'll go ahead with the small business option.
Fill out the details about your company
Not every field is required, but try to fill in as many as you can. We've given you some pointers for a few of the fields in particular.
Name – give the complete name of the business for searchability and discoverability. 
The LinkedIn Public URL – when you fill out the name, LinkedIn will automatically input the URL to match that. Ideally, it should be your company name so that your brand identity is reinforced in the URL. 
Website – now enter the website link to your business. This is not required, but this information is still rather critical because it will help you connect LinkedIn followers to your company website. 
Industry – you can then choose this from the drop-down menu. This is what will help LinkedIn categorize your company for potential page visitors. 
Logo – upload a high resolution image that you've also used on your other social media accounts. The recommended dimensions are 300 x 300 pixels.
Tagline – you have 120 characters to describe what your business does. Be sure to be consistent with how you represent your brand.
Complete the LinkedIn Page for your business
The final step in the creation of your page will give you the Admin view of your LinkedIn company page. This will be the behind the scenes dashboard from which, you can make any changes to your Page. If you happen to be building your page from scratch, you will get a helpful checklist from LinkedIn that you can use as a guideline for actions to complete. This will also help you to unlock features like "Content Suggestions", "Invite" and "Follow" that can help you to grow the page that you have.
Some pointers to help you with setting up your page
Description – add an About Us section that will help describe your business. It should definitely be longer than your tagline (you have up to 2000 words to work with), and provide more of an in-depth view of your business. Be sure to focus on keywords and phrases that potential followers will search for when looking for a product or service like yours on search engines.  
Locations – here you can list your HQ and also mention other locations if you'd like. 
Cover photo – add a picture that will help you engage and draw visitors to check your page. The image has to be 1128 x 191 pixels. 
Hashtags – it is not really common on LinkedIn, but using hashtags will give you a way to connect with your followers. So add at least 3 hashtags that are related to the company, industry and the audience. They will be added as community hashtags.
Join conversations that will add value 
Use the LinkedIn app to post and respond as well as edit your page. 
Try sharing a wide range of content – like PowerPoints, word documents, and PDFs 
React and comment on the hashtag feeds that you have associated with your page. Connect with your community in real time using LinkedIn Virtual Events.
Get to know your audience
Use LinkedIn to discover content that trends with the target audience.
Encourage specific actions with customizable call to action buttons. 
Monitor activity with LinkedIn's visual analytics, including the option to view all of the page followers individually.
Engage your Team
Reshare some of the best @mentions that come from your employees and other LinkedIn content. 
Let your employees know what your most important page posts are so that they can share it and boost organic reach.
Give a shout out to your employees and recognize them via your page. 
Use the "My Company Tab" so that you can encourage internal engagement through a trusted and employee only community.
Share content regularly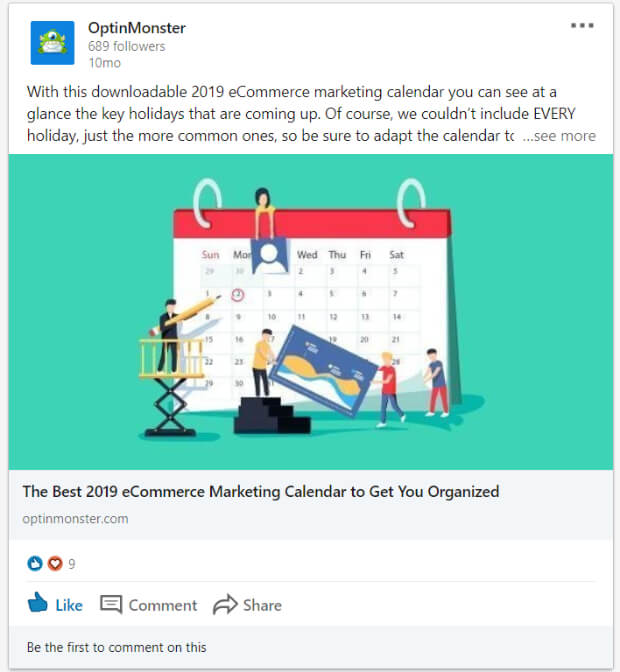 Once your page has been set up, it is time for you to start sharing content. Don't sweat it though, you do not always have to create new content. One productivity hack is to create branded templates for different categories of posts. This way your designer will simply need to update image, text and maybe tweak the layout a little.  Using a service like Kimp, where you get unlimited design revisions can come in really handy for this. And you can also curate and post content that will be relevant to your audience. 
By sharing great content, you'll be able to position yourself as a brand that's active and engaged with industry trends. And in turn, you'll find that your page gets more followers.
Promote your LinkedIn page
You can get started by engaging your employees on LinkedIn. Simply ask them to add your company profile as their place of employment so that you are able to build the credibility of your business page. You will also be able to access their existing networks. Now, here are some other ways in which you can promote your page:
Promote your LinkedIn page on profile on your other social media. 
Add buttons to your website, email newsletter and email signature to make it easy for potential followers to find you.
Create an email marketing campaign specifically to promote your LinkedIn Company page.
Post content regularly and use hashtags.
Use the LinkedIn ads and the sponsored content to create targeted campaigns. 
Get started with your LinkedIn company page
Whether LinkedIn will become your primary focus or not, setting up a company page will help you get your brand on your audience's radars. So start steady and small if you like, but get started. Increased visibility for your brand, and higher engagement is just a LinkedIn company page away.