Why Unlimited Design Is The Best 99designs Alternative
Content creation in any firm is your biggest ticket to reaching your desired demographic. The more people hear about your business, product, and services, the more they are likely to actually work with you.
But how do you ensure that the content you create sticks? Whatever medium you choose, there is no dearth of promotional and advertising content. However, there is one thing you can include to ensure you get the most eyeballs on everything you generate, and that is graphic design.
People are more likely to keep visual information than text-based content. Having said that, we know it is difficult to find a designer that easily today.
Thankfully, the internet has been a savior for many startups and small businesses. You can find high-quality graphic designers via many platforms and services today. 
And one popular option for a long time now has been 99designs. This company changed the way people hired designers and has been going strong for many years now.
However, hiring designers for each project is not exactly straightforward. That's one of the reasons why brands switch to unlimited design subscriptions.
In this blog, we explore some alternatives to 99designs and specifically how an unlimited graphic design service can help your business.
Graphic-designer-for-hire platforms: 99designs & similar 
The first option most people consider when they look for designers for their projects and business needs is the for-hire platforms. They allow you to connect with freelancers and small agencies as per your needs.
99designs is the leader in this category. Since 2008, the company has connected many clients with talented graphic designers (mostly freelancers) for their design requirements. The platform is active globally and helps you find talent from any corner of the world.
The process is quite simple too. You can either choose your designer by a skillet or category-wise search or hold a design contest.
In the latter, based on the budget you choose and the plan you are on, you can invite designers to submit concepts for your brief. Out of these concepts, you can pick the one that works the best for you.
If you choose a category-wise search, you can request samples and price negotiation meetings before finalizing a designer.
In both cases, you can have multiple revisions until you feel satisfied. There are multiple pricing plans for different volumes of work, support, and fasciitis you require. You can view the full pricing here.
This way, you can explore before deciding what works best for your business interest. However, there are some drawbacks to 99designs that may want you to look for other options, too.
Cons of choosing 99designs for graphic design : 
Very transactional and leaves no room for developing a proper client-designer relationship so that you can extract the best out of someone. 
It can also be hard for you to get the same designer the second time you have a project, making you explain the brand design guidelines all over.
Because of the possibility of working with different designers, branding consistency becomes a major challenge.
Since the projects usually carry a low price tag and faster TAT requirement for the designer to be profitable, quality and innovation often take a backseat. Also, during design contests, designers may churn out similar types of designs based on what you liked in the past. 
99designs and similar platforms involve a long hiring process that either involves sifting through multiple profiles or evaluating a ton of concepts you receive via design contests. If you have some urgent requirements, this could be an issue.
So, what can you do? How can you have access to high-quality graphic design and still avoid the disadvantages that exist in 99designs?
Well, there are some options out there that may suit you better based on your unique situation. Let's check them out.
99designs alternatives for graphic design 
While there are many ways to hire a graphic designer to supplement your business needs, we have picked out a few that are popular and successful for the majority.
Freelance graphic designer 
Finding freelance graphic designers is indeed quite a popular choice for small businesses. It is also an ideal choice if you have a specific and niche design need such as web page design, visiting card design, or signboard design. These designers tend to be cost-effective but they also lack time management, broad design skills, and a professional approach in most cases.
Since you don't have a permanent relationship, you cannot rely on them for 24×7 availability, which makes you always be on the lookout for design help. It is also difficult to have a consistent turnaround time and deliverable commitment with freelancers.
Graphic design agencies 
If you are looking for a long-term, professional, and committed association, hiring full-service graphic design agencies is the way to go if you have a large budget. Design agencies have designers from different backgrounds, experience working in various industries, and a very professional approach to the workflow.
However, there is usually a contract involved that limits the deliverables, revisions, and even the type of designs you seek from them. While it is truly a value add working with a design agency, it is not always an ideal choice for small businesses or growing startups. You may need more flexible options where you have a stronger hold on the deliverables.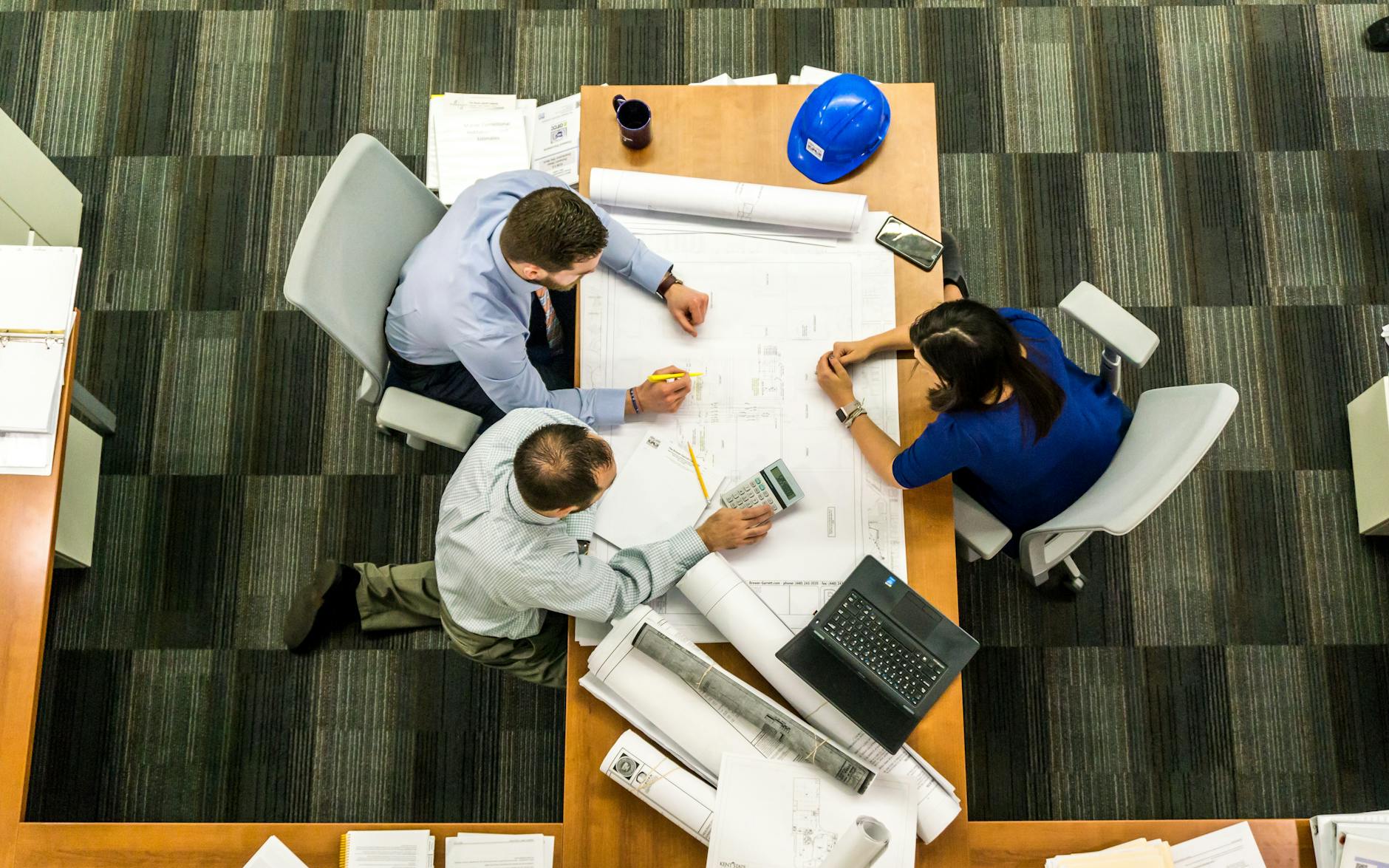 Graphic design agencies have members with diverse skills who can collaborate and deliver high-quality output.
In-house design team 
Hiring an in-house design team allows you to have complete control over the design process, TAT, and deliverables. You can monitor the development of your branding closely and ensure that the design team truly knows the brand's values for better results. You also have the luxury of multiple iterations, innovative designs, and new formats whenever you want.
One of the downsides of having an in-house design team is the expense of recruiting, maintaining, and subsidizing a whole team with employee benefits, too. It also can stagnate your creativity and put added pressure of hand-holding the design process on you.
Unless you have a design background and very regular large-volume design works, we recommend choosing an unlimited graphic design service instead.
Unlimited graphic design – why is it the best 99designs alternative?
If you have looked up graphic design services for your business, you probably know what unlimited graphic design services are. For those not in the know, here is a quick overview.
Unlimited graphic design services are a happy marriage between design agencies and in-house design teams with a side of freelancer benefits. Businesses can avail of these services for graphic design and motion graphic requirements. Most of them offer unlimited requests, revisions, and users under a flat monthly fee-based subscription.
When you are a growing business or budding startup, you have regular graphic design needs that all have to speak the same language. The volume is also quite high and you have some diverse requirements.
A cost-effective and efficient solution to all of this is truly hiring an unlimited graphic design service. Intrigued about how exactly unlimited design can be the best alternative to 99designs?
Why wait, in that case?
Let's jump into the advantages of choosing unlimited design as a 99designs alternative.
Smoother graphic designer hiring process 
With services like 99designs, there is a limit to the number of designs you can avail of, and you have to hire the designers yourself too. The designer you choose may not have the skills you need for every project, so the hiring process goes on for a while.
However, with unlimited graphic design services, you get a team that handles all your designs. Based on the plan you choose, you can have all the services you need to be handled by a single team itself.
This also saves you from any branding inconsistencies or having to explain the brand values, personality, and brand guidelines over and over again. 
Design team with a varied skill set
One of the challenges with 99designs is that you hire designers based on a design contest or a specific design skill set. However, as a business or startup, more often than not, you are going to have diverse design requirements.
Businesses usually need logos, branding materials, marketing collaterals, package design, advertisements, billboards, videos, GIFs, infographics, and a lot more. It can be hard to design a single designer who can do it all. 
With unlimited design services, you usually have a team of 2 or three designers who can deliver all you need. It saves you the time of looking for a new designer and ensures that output matches the rest of the creatives.
You can just keep adding design requests to the bucket without having to worry about who is going to take care of it.
This facility in a design agency will easily cost 5-10x more than what an unlimited design will bill you for. 
Flexible commitment
We discussed how graphic design agencies come with a lot of rigid conditions on deliverables, timelines, and billing. That is not an ideal situation for a growing business. You need the flexibility of additional workload, newer design categories, and prioritized deliverables. Freelancers can give you this but it is too hard to find a good one who can handle end-to-end design projects.
The solution? Unlimited graphic design services. You can sign up for monthly subscriptions that you can pause anytime you want. Most of these services offer unlimited design requests, users, branding profiles, and revisions under a flat fee model.
You can hire an entire team of designers for as long as you need and load as many requests in different design categories such as graphic design, animation, video editing, and motion graphics as you want without any additional charges.
Most services may require you to top up for a faster TAT but that is also for that particular month, and in exceptional circumstances.
Financial advantages
You may be wondering how unlimited design services are more cost-effective than 99designs. The basic plan there, for contests, costs $299 while paying just a little more gets you unlimited designs with unlimited design services. 
For starters, these services include video design, GIFs, illustrations, graphic design, UI/UX design, and animations. And you don't have to spend time choosing these designers too.
You get unlimited designs and revisions for as many brands as you want across these design categories.
This flexibility makes your marketing and advertising campaigns much more effective and attractive, making this investment worthwhile in terms of ROI. 
Professionalism
When you are running a business and your marketing plan relies on good quality and timely graphic designs, you need a team with professionalism.
Graphic design agencies promise professionalism in deliverables and management, however, they are quite expensive for a new business. Freelancers are comparatively inexpensive but not so good at professionalism and management.
A better way to have a cost-effective professional service is via unlimited design service. They are reliable, available 24×7 via customer support, and usually consist of a project manager to help you with communication, project management, deadlines, and revisions.
Unlimited graphic design services also provide high-quality design deliverables as part of their package. This means you own all the original work that is done and you can reuse it later wherever and however you want, without any reliance on the designer.
In terms of management, you can easily track the progress of your request via a dashboard in real time and prioritize any project you want.
Services like KIMP are also available in timezones that work best for you and have an extremely transparent approach to the whole process. 
Customized Design Approach
Unlimited design services allow you to add multiple branding profiles to your account and create graphic designs unique to each brand.
With this service, you can create custom design briefs for each design and still have them work with the overall brand design guidelines. Since a particular team handles your requests, this is easy to manage without any hiccups.
Most services like KIMP also allow you to replicate a design across web and print mediums with minor tweaks without compromising on the brand values. Since you don't have "per design" prices or contest concepts like in 99designs, this does not affect your design budget at all. 
You can also tailor your videos and other social media content to different channel requirements without spending additional on editing and repurposing. This is great for an upcoming brand with a full content marketing calendar.
When is unlimited graphic design service good for you? 
There are a lot of advantages to choosing an unlimited graphic design service for your business. You get flexibility in design requirements, fiscal advantage, and utmost professionalism.
Graphic design plays a very significant role in running and promoting your business today. Everything your customer interacts with is drenched in design and that makes them engage with you better.
So, if you see a prolonged role for good and consistent design in your business, unlimited graphic design service is the way to go. It provides you with an opportunity to explore different design styles and visual tools to discover your branding identity without budget constraints.
You can also experiment and create the design library you want at a minimal cost for your business.
KIMP- The best unlimited design service for your brand 
KIMP is a team of designers who work diligently to give you the best possible graphic design solutions for your brand.
We work with you not just to supplement your marketing with designs but to develop designs that make your business shine. KIMP Graphics and KIMP Video can help your business soar with unlimited design requests, revisions, and branding designs at a flat monthly fee.
No strings attached. Just a pure design partnership.
Sign up for the free trial today and explore the designs of KIMP.