Start An Etsy Shop: A Guide To Branding That Drives Sales
Want to sell on Etsy? But don't know how to start an Etsy Shop that drives sales? Well, to make a success out of your Shop you need to be more than just artistic. You need marketing savvy and the right Etsy shop designs too.  
There are over 2 million sellers, and over 39 million buyers on the platform, worldwide. And you can bet that they're all pulling out all the stops on being creative too. This is why you need to customize the look of your Etsy shop to drive sales.
You might have few questions at this point. It can seem like a lot to figure out. How do you get started? What does Etsy branding look like? And what do you need in terms of assets?
We feel you. And we're going to share how you can make your own mark with your Etsy shop designs. Hang in there and read on.
A few stats on Etsy that you need to know
Before we jump into how to start an Etsy Shop that drives sales, let's take a look at why selling on Etsy can be such a great opportunity. This way, you'll have some extra motivation to make your Etsy Shop designs really stand out.  As of the second quarter of 2020, there were 60.27 million customers on Etsy. And they are often repeat customers! Over 40% of Etsy buyers purchased more than one item in 2018.
Also, just like most shoppers, Etsy shoppers love a good deal. 50% of them said that they would be less likely to buy something if the shipping fees were high, or more than usual.
Almost 67% of site visits come from mobile traffic, and about 55% of sales do too. Roughly 34% of Etsy customers are not based in the US. So it's important to keep your customer personas in mind as you develop your Etsy Shop designs to make sure that they resonate.
At this point you might be thinking, but what about the impact of Covid-19? Well, in Q1 of 2020 Etsy has reported that it had a 34.2% YOY increase in sales. This came about from a 16.4% increase in shoppers, as well as a 26.4% increase in active sellers. And this increase has remained steady since.
How to start an Etsy Shop that drives sales
Now let's take a look at some helpful pointers on driving sales with your Etsy branding. 
Start an Etsy Shop: Get original 
Having an Etsy shop of course means that you'll be selling goods on Etsy. Whatever you'll be selling, make sure that you have unique offerings. And make sure that you're focused. Don't jump all over the place, trying to sell 10 different things. It'll make it harder for you to specialize and harder to target a specific niche audience.  
Your Etsy shop name should achieve one of two things. It should be unique and memorable, capturing your brand's personality. Or it should tell your potential customers exactly what you specialize in. They may land on your shop through Google or Etsy searches when they're looking for products you sell.
But however they land on your shop you want to make sure they're absolutely clear about the value that you have to offer. Your Etsy Shop title will also help with this. It's a field on your shop page that you can use to briefly describe what you have to offer.
Start an Etsy Shop: Develop branding
Once you've figured out the unique offerings you'll be selling and have your Shop name and title down, you're all set to develop your Etsy brand. So what do you need to communicate your brand?
Graphic designs
Products
Brand/product imagery
Text copy
You can use all of these methods to deliver information about your brand to your customers. And in order to do this, you need to be very clear about what your brand is, and make sure that everything on your Etsy shop emphasizes it.
To get started with your branding try describing your brand like it was a person. Through this exercise, you'll be able to get a good sense of the brand personality you're trying to represent. Maybe it's playful and youthful or serious and informative. Or somewhere in between. Figure out exactly where your brand falls, and then you'll be able to determine the types of Etsy shop designs and content that you need.
Start an Etsy Shop: Emphasize your brand
When you start an Etsy Shop keep your brand attributes in mind. Some of the areas on Etsy where you can reinforce your brand and its personality are: 
Your Etsy shop name
Your Etsy shop title
A shop announcement – this can be a greeting of some sort, an update or even a longer brand description.
Your Etsy shop banner
Your Etsy shop logo/icon.
Images of your products
Product descriptions and listings
Product videos
Your about page
Your seller profile (a photo and bio where you can your website or social media links)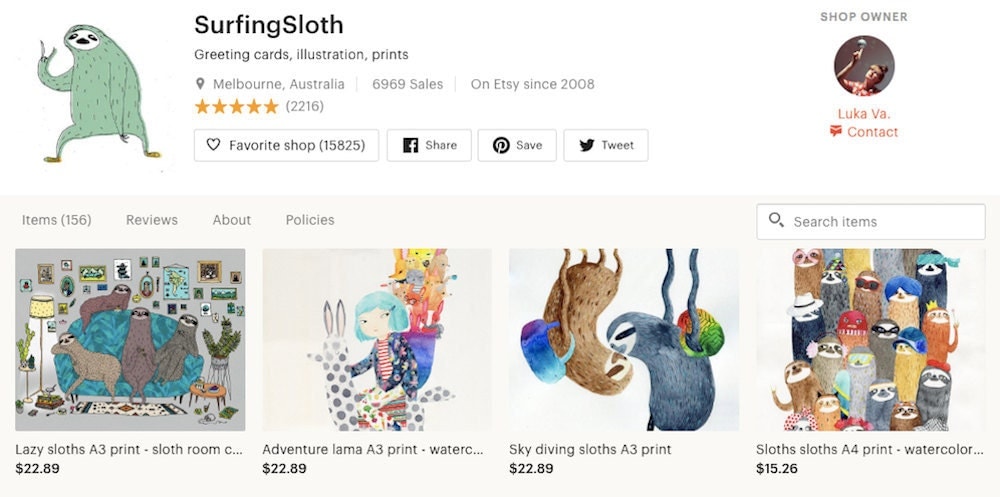 Start an Etsy Shop: Use visuals to tell stories
Your Etsy shop icon works alongside your banner to represent your brand and your products. This is similar to the way a profile image and cover photo work on social media. Together, they should be able to represent the brand as a whole. And tell your customers what you have to offer them as soon as they see your Etsy shop.
Start an Etsy Shop: Designing your shop icon 
Your Etsy shop icon is a pretty small graphic, yes. But it's an impactful one! It will represent your Etsy shop across the entire site. This includes on your homepage, on your shopper's homepage feeds, and product round-ups. So it's one of your most important Etsy shop designs. And for these reasons you want to make sure that you get it right.
It needs to be an easily identified and understood image which reflects your brand. The best shop icons are meaningful, include simple graphics, and the least amount of text possible. As your icon will be scaled down for different placements, the less text the better as it won't be legible otherwise.
A few tips to follow with your shop icon:
Make sure it's easy to understand. It should be clear what your icon means and why it represents your shop.
Make it memorable. According to Samuel Sherman, who is a senior art director on Etsy's brand design team, simple and minimal logos as well as icons are most recognizable. This allows for customers who have added your shop to their favourites or have bought from your previously to easily recognize you via your icon.
Make it scalable. Your Etsy shop icon will display at full size which is 500 x 500 pixels on your shop home. But that's not the only place that it'll appear of course. On activity feeds, and receipts, and on the Etsy app, it'll be much smaller. However, it will appear much smaller on activity feeds, the Etsy app and on receipts. So make sure to ask your designer to help you preview your shop icon design in different placements before moving forward with it.
Start an Etsy Shop: Use beautiful banners 

Your Etsy shop banner is the very first graphic that buyers see when they land on your page. It's also the biggest graphic out of all your Etsy shop designs. As far as sizes go you have 2 options for standard sizes.
Big banners – prominently placed at the top of your shop, they need to be 3360 x 840 pixels to perform optimally. And they can be a minimum of 1200 x 300 pixels as well.
Mini banners – if you'd like your shop icon and listings to take more of a focus, opt for mini banners. They need to be 1200 x 160 pixels and because of their size they allow your listings to be shifted higher up when your shop home is viewed on a desktop. They are not visible on mobile devices.
Need some ideas for what to include in your Etsy shop banners? Try your logo and a tagline. Or a quote from one of your satisfied customers. A clear CTA is always a good addition. And you can also try keeping customers informed with things like shipping times.
A few more tips for your banners:
Include only your best photography and designs
Use as little text as possible
Add a link to a listing or a section of your Etsy shop – big banners allow you to do this!
Share your brand's milestones
Ask your designer to get creative!
Start an Etsy Shop: Include great product images 
Unlike a brick-and-mortar shop, your customers can't come to your Etsy Shop and interact with your products in any way. So when you start an Etsy shop, you need to make sure that your product images show and highlight every aspect of what you have to offer. 
The product images that you use should be well lit so that all the various features are clear. Avoid having distractions in the image, and just focus on what's essential. For some products, having no background is ideal. To achieve this look you'll need a lightbox. For other products, context is important. So you'll need to set up your products alongside the items that make their intended uses clear.
Since you have the option to include several images of each product, think about the different angles and contexts in which you want to show your product off.
And try out these tips:
Always use natural lighting as much as possible. Avoid using a flash.
Have a common object present in the image that will help customers to understand scale.
If your product is intended to be held, worn, or used, then show it in that context.
Stick to a look that will fit your brand and creates a sense of symmetry between your product images. Consistent backgrounds, lighting, styling, and propping can help.
Do not use any muddy and dark images or imagery that is cluttered and grainy. They will not make your products look unprofessional.
Start an Etsy Shop: Curate your listings
Your featured listings for your products are about as close as you can get to the window display of a physical shop. They're positioned above your shop announcements, and so they're in a great space to grab attention with your best products.
Through choosing the best of the best of what you have to offer you'll be able to give your shoppers a quick intro to your brand and why they should look further.
Here are few tips to follow:
Use all four featured listings. And then some. You can add up to four featured listings at the top of your Etsy shop home. And you can add as many listings as you'd like to your queue. Filling up your listing is a good practice to follow as your featured listings will automatically get updated as items sell out. Include the products that you have the most stock of if possible.
Stay on brand. Your featured listings need to be consistent in terms of how they represent your brand. There needs to be a sense of cohesion amongst them to help buyers understand your brand. So opt for listings with main photos that complement each other when it comes to lighting, colours, and backgrounds.
Add variety. Experiment with showing off different product combinations. You could for instance display a best selling item in its four most popular colors. Or a combination of items that are often used together.
Update often. Don't just set it and forget it. Play around with your featured listings and use the space to highlight new products, limited time offers, or seasonal offers.
Start an Etsy Shop: Share your story
Your about page is a great place to let your customers know more about your brand, and more about yourself. Etsy shoppers love buying from real people. So when they get to know more about you and why you do what you do, they'll be more likely to feel confident in your brand and loyal to you. And this in term will make them more likely to buy from you.
When you start an Etsy Shop, on your about page you'll want to share details like why you started your business. And how you make your products. To help your buyers really connect with your story, be sure to include pictures of where you work, examples of the creative process, and some of your top sellers being prepped for sale. You'll also want to try out these tips: 
Include people. Adding pictures of your team will make it easier for your buyers to connect to you. And connection = trust.
Get on the carousel. In the about section be sure to use the carousel feature to complement your story with pictures.
Include video. With a shop video you can give your shoppers an up close and personal look at your behind-the-scenes processes or production.
Get started with your Etsy shop designs
Creativity is amazing. It makes life so much richer. But when you start an Etsy shop, you can't just rely on creativity. You need to make sure your marketing is strong enough to sell your creations. So pour all of that artistic energy into your Etsy branding. Look for inspiration from the shops that are doing well. Get help from great designers, or maybe a dedicated Kimp Design Team. And put your own unique twist on how you customize your shop. 
Need help getting all your Etsy Shop designs done? Try a Kimp subscription! We offer graphic designs and marketing videos that will help you brand your Shop, get your customers' attention, and drive up sales!