The Top 2021 Ecommerce Design And Marketing Trends
We've seen ecommerce explode this year. With the pandemic's arrival, and rolling lockdowns and restrictions, ecommerce businesses have had to expand and others have had to venture online for the first time. And now the stage is set for ecommerce to be a dominant force in 2021. So we're looking ahead to the top 2021 ecommerce design and marketing trends.
It is estimated that by 2022 e-retail revenues will increase to $6.54 trillion. In comparison this amount was only $3.53 trillion in 2019. But you can't just set up an ecommerce shop and hope for the best. Ecommerce is an industry that is constantly evolving. Each year, there are several trends that show up. And if you play them right, you can drive engagement and sales.
Before we get into 2021 ecommerce design and marketing trends you need to know, let's run through the trends that have made an impact this year.
Ecommerce design and marketing trends in 2020
This year, we've seen quite a few trends emerge in ecommerce. Let's take a look back at some of the most memorable.
Adaptive websites
Websites optimized for mobile, with the ability to adapt to various screen sizes are more important than ever. It's been increasingly important to take a mobile first approach in recent years. And this year with many consumers preferring to shop safely online, often using a mobile device, businesses focused on mobile optimization even more so.
Interactive shopping experiences
With consumers working, playing and shopping from home interactive shopping experiences became a necessity by demand. Ecommerce sites were seen using a whole lot of animations, GIFs and motion graphics to increase interaction. This included cool buttons, animated loading bars and icon rotations. These also grabbed the attention of potential customers better. GIFs were also used more and more as homepage banners and in any background images. Essentially, the use of static images saw a decline as dynamic and moving images came into wider use.
Bold colors and engaging typography
White space has its place but so did striking colors and engaging typography this year. 2020 saw much experimentation with vibrant and bold colors to make website pages stop customers in their tracks. Not just any bold colors however, as color psychology had a role to play in determining the colors used to hook consumers. The colors used needed to be ones that would help convey a message, evoke the right emotions and create positive shopping experiences. Typography and letters with highlights played an equally important role in the ecommerce designs this year.
Augmented reality came into play
Augmented reality has become one of the biggest game changers in online shopping. It has helped people visualize what they are looking for, regardless of the nature of the product.
Shoppers now have the ability to see what their living room would like with a rug of a certain color or decide what t-shirt they would like to wear based on how they look in it. Because this helps customers through that biggest pain point of not being able to see what they are buying, it took comparison shopping to the next level.
Even though fast shipping times have helped people get that sense of gratification that they do with in-store shopping, the advent of AR in ecommerce helped customers feel way more reassured about what they are putting money down on.
AR in ecommerce: IKEA's Place app
A good example of this would be IKEA's IKEA Place app. This augmented reality app changed the way people looked at buying furniture online. All customers had to do was take a photograph on their phone for the space that they would be buying the furniture for. The app would automatically measure the space and give customers recommendations on the furniture that they should buy. IKEA actually had one of the first apps this year that utilized augmented reality for a better and more immersive shopping experience.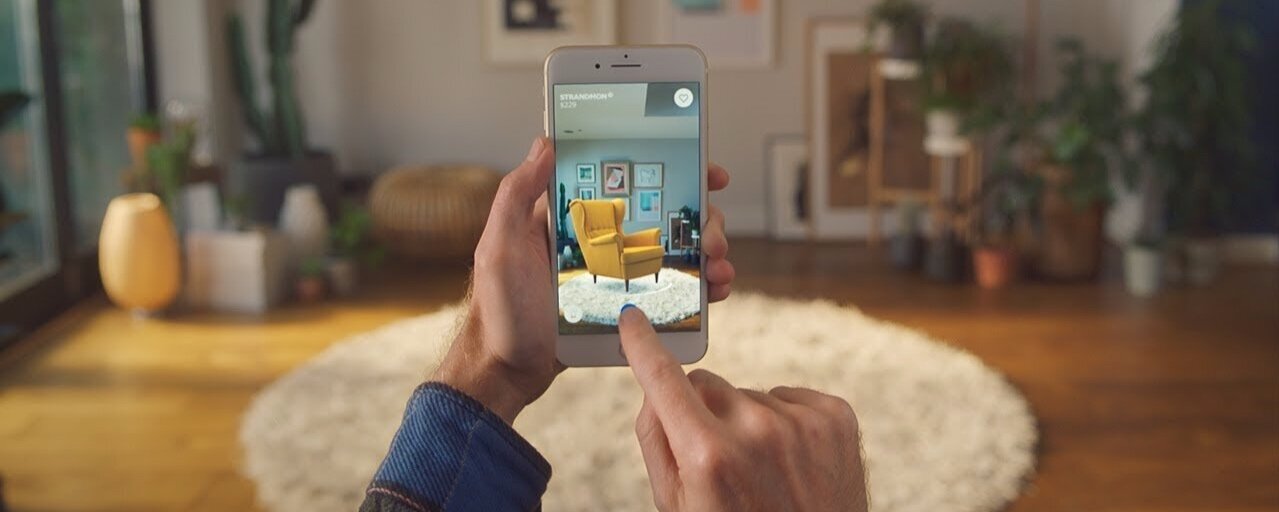 AI and online shopping
One more trend that made a statement this year was Artificial Intelligence. Even in-store associates can't always offer the kind of personalized advice that shoppers need. Artificial Intelligence has helped stores provide a versatile and more personalized shopping experience for their customers.
AI can also help you:
Learn more about your customers' needs so you can serve them better.
Connect your customer data with real time insights that will make way for a better shopping experience.
Automate many tasks like customer support with the aid of chatbots so that your customers have support around the clock.
Create offers in a timely manner.
Provide the best pricing and discounts as well as demand forecasting.
2021 ecommerce design and marketing trends
Now let's take you through some of the trends that are projected for the upcoming year. In the examples we cited above, you can see how staying up to date with ecommerce trends can help your brand. So here are some very important trends that you really shouldn't miss out on.
Social proof your ecommerce
The majority of decisions that we make, whether purchasing or otherwise, are driven by our emotions. Social proofing looks like it is going to stay on as one of the biggest 2021 ecommerce design and marketing trends.
Social proof allows you to let your new customers know that you have already made other customers happy with your products and services. Using social proofing could help new customers feel much more confident about the decision to buy from you. It can lead them to feel safe about spending their money, and will compel them to click on that call to action button. It also offers your business a ton of credibility. When customers who have never bought from you before see all the positive reviews and engagement that you have already received, their hesitancy will go out the window.
So what forms can it take? Here a few ideas:
Social media posts featuring testimonials
Website sliders featuring happy customers and excerpts from reviews
Carousel ads featuring product reviews
Adding badges to your ads and other designs that highlight your accomplishments
Need some help getting all these designs done? A dedicated Kimp Team can help!
Visual commerce will have the limelight
Visual commerce refers to the images that you put on your ecommerce website and other channels you communicate to your audience with. These will help you encourage more purchases from your customers. Some of the major retailers out there such as Bose are using this trend already so that they can increase the amount of online shopping from their customers.
They usually feature high-quality images on their pages and provide customers with shortcuts that make the shopping process easier. Here are some helpful pointers on how you can leverage this specific trend for your ecommerce business.
If your default product images are in JPEG format, change them to JPEG2000 or WebP so that the quality is better along with the speed of loading.
Put together 360 degree images and/or 360 degree videos of your best selling products
Try a visual search tool. These are great for allowing customers to search for the product that they need using images instead of keywords.
Make use of visual shopping ads on Pinterest that will help you drive traffic more to the website and increase the number of sales.
Use and repurpose any user generated content you can, so that your customers are more likely to trust in your brand. It can be as simple as the image below.
This user generated content above for Starbucks is a great example of customers providing the brand with high quality imagery of their products that will appeal to other customers. The image is appealing visually and highlights the product while also being in trend with the recent style of images that customers would post to brand pages. It helps customers relate better to the brand and also encourages them to try out the particular beverage.
Add product highlights into your designs
Images of your best-selling products need to be included in your marketing. That goes without saying. This 2021 ecommerce design trend takes this rule of thumb and makes it into a dazzling tool at your disposal. We're talking about hero images and even background effects that represent your bestsellers for an immersive experience. Check out the example below to see this effect in action.
The goal with this type of design style is to take key features of your products (think features that are the easiest to recognize at a glance) and build your designs based on that. You can also try doing the same with dominant colors of your product or shapes or even the motifs that are associated with your product. Whichever feature you take as inspiration, inject it into everything from the typography to the different shapes and palettes you use. One example of this trend is to include product photos that have a cut-and-pasted look to them, which you can use in your backgrounds. Or you can even ask your designer to use them to create structure in your layouts with.
Use dark mode
Dark mode has been popular in 2020 and is expected to be one of the dominant 2021 ecommerce design and marketing trends too. With dark mode enabled your customers will be able to view your pages and products without straining their eyes. Google initially launched this in 2019 and since then, social media platforms have been using it more and more too.
Usually, dark mode will turn on automatically at night. This happens when it is detected that there is a lack of light in the space where the device is being used. iPhone users actually have the ability to turn on dark mode wherever and whenever they want and they can also leave it on throughout the day, irrespective of the natural light available. Google Chrome meanwhile offers a transition to dark mode automatically.
You may not like dark mode personally, but as a business, you should think about what your customers prefer and give them the option of viewing your content in the way that they believe is best suited for them. It is also very important that you work with your designers to ensure that your landing pages or website still looks visually appealing even in dark mode. If you're not sure if your brand will be represented well with dark mode try getting some mock ups done before you take the plunge.
Try intuitive navigation
In 2020 brands began experimenting with their multi-product galleries by adding multi-directional layouts with engaging animated transitions. This means that instead of just allowing navigation up and down, options to go from left to right, forwards and backwards and even diagonal emerged.
This approach plays into creating a more interactive experience by allowing shoppers to navigate how they prefer to as opposed to following a particular structure. With the focus on mobile-first experiences, intuitive navigation, like the example below from Zhenya Rynzhuk, is a trend we expect to see a lot of in 2021.
Emphasize your navigation
When you think about where it would be best to place the menu for your site, what do you immediately think of? The top right or or left corner? A menu bar at the top? Likely the case since we're all so used to experienced websites in this way. Keep them easy to spot but out of the way as much as possible. But one of the 2021 ecommerce design and marketing trends is to actually have navigation be the focal point of your design.
Navigation tends to be the first thing a potential customer looks for when they land on your site. This trend plays to that need by having your design built around your menu and your branding (i.e. your brand colors and fonts). For first time site visitors, and those who haven't shopped with you for a while, this new experience is sure to help them navigate to their purchases faster than ever.
Play to voice search
We are now living in a world that has Google Assistant, Siri and Alexa. They have made our online experiences so much more efficient. And this has been incredibly helpful in a year filled with isolation and lockdowns.
These devices are making drastic differences in our lifestyles and they are also driving voice search and a need to optimize for it. This trend is one that is discussed rather extensively in ecommerce and 2021 is going to be a year where it will definitely be used. Not only will this change the face of the ecommerce world, but it will also impact SEO strategy heavily. Businesses need to tailor their messaging to the ways in which consumers are searching for them based on keywords they're likely to use while speaking.
Increase 'contact us' touchpoints
People are busy and unfortunately also have a very limited attention span. If we were to sum up two of the most pressing challenges facing marketers, we'd say it was those two. So if your customers have to keep searching endlessly to find your contact details, they will probably rather move on to a different business altogether.
Your customers may need to contact you for any number of reasons. They could be having questions about the product that they want to purchase or they could just need some quick support with a problem that they are facing. Either way, as a business, you need to communicate clear and trustworthy means of efficient communication in order for your customers to trust you.
You should also include many different options for how your customers would be able to speak with you. These could include the phone, submission forms, emails, live chats and chatbots. Here are a few places you'll want to make your contact info is highly visible and easy to access:

Social media profiles and posts.
Website slider images and footers.
Email newsletter templates and e-blast designs.
Product package inserts and thank you messages.
Enhance page transitions with animations
In 2021 we expect to see a lot more animations to create interactive shopping experiences. In particular, we expect to see a whole lot of creative page transitions through animations. They'll be subtle and don't necessarily serve a purpose in terms of function – they're often playing a cosmetic role. But they'll play a big role in enhancing user experiences. With enhanced user experiences comes more time spent on a site, and more engagement. And likely a few extra conversions too! Check out an example of this in the landing page below.
In some cases, animations used for page transitions can go beyond the superficial and offer up some practical uses as well. This is more often seen with products that have features that can be demonstrated.
Make waves with omnichannel shopping
Just like the other 2021 ecommerce design and marketing trends, omnichannel shopping offers shoppers a more seamless shopping experience. This means that consumers will be able to carry on with their shopping regardless of the channel that they have started out on (Facebook,Twiter, Instagram etc). And regardless of which device they're on.
A Harvard Business School survey found that 73% of customers used different channels for their shopping. With smartphones and voice search in the mix, more and more consumers are preferring omnichannel shopping.
2021 will be a good year for ecommerce – are you ready?
With so many businesses changing the focus from in-store to going online and so many customers doing the same, next year is definitely looking good for ecommerce. And regardless of whether you're a seasoned ecommerce vet, or a relative newbie you'll be able to tap into the power of the 2021 ecommerce design and marketing trends. Of course there will be fierce competition, but that will only challenge and inspire you to innovate.