How To Make The Most Of Your Social Media Cover Designs
The very first thing that your customers will notice on your social media profiles are the cover images. So your social media cover designs are your best chance to communicate what the brand means to your target audience. And to also create that strong and lasting first impression.
Bearing this in mind, it's unfortunate that a lot of companies seem to just be uploading an image or design that is dull and boring and calling it a day. This effectively gives off an inaccurate, and altogether forgettable, impression of your brand's personality.
Your social media profile is just as important as your company's website. And you will need to make sure that you plan out how it will look, and how it gets updated, so that the correct message is delivered. Especially, when we talk about the visual elements that come into play. You need to get creative so that you can stand out and catch your audience's attention. This is why good social media cover designs are so important. And regularly updating them.
Let's take a look at some of the best practices that are needed to get good social media cover designs, what changes for each platform, and the correct dimensions that you should work with.
Best practices for amazing social media cover designs 
Think of the cover image as your storefront
Want to let your customers know what they can find inside your store? The best way is to give them a great chance to window shop and this is something that you offer through your social media cover designs. Your image doesn't need to cram in everything you offer. It ideally just has to get enough attention so that people would look through the rest of your profile.
The image should have lots of personality to reflect your brand and also give a feel of what the customers can expect from your store and your feed. This is one very good reason not to default to stock images because they can lack uniqueness. But if you work with a good designer, they'll be able to help you source and customize stock images for your designs.
Alternatively, you can get custom images for your brand by setting up some photoshoots. Keep in mind, you should be updating your social media cover designs every so often to keep your page looking fresh. So, don't stop at one or two images during any photoshoots. Below is a good example from Bed Bath & Beyond where they use their cover image as their digital storefront.
Drive and inspire action
You should think about getting a CTA or a phrase that generates interest added to your social media cover designs. They have a prime location they have on your profiles. And so you'll want to take advantage of this. Now, keep in mind that it does not need to have a straight-up sales pitch for people to come visit you or buy from you. All you need to do is get creative enough so that the design of the image will drive action from customers. In this example from Dunkin' Donuts, you can see that they are piquing the curiosity of their followers. They just gesture to their contest, and encourage people to find out what it is and take part without giving them an utterly direct CTA.
Treat it as the best promotional space that you have
You can use your social media cover designs to promote your products and services, with a creative twist. The regular posts that you put up on social media can easily get pushed out of view with all of the content that you post daily. But the cover image will always be at the top and stay clearly visible. If you think about it that way, this is the best possible place for you to show people what you have in store. And also promote any events that you have coming up. You may not want the cover image to be a full-out promo, with all the details crammed in. But you can certainly use it to make that special announcement. If you take a look at the social media pages of brands like McDonald's, you will see that they use this strategy frequently.
Use it to narrate your brand's story
You can also use your social media cover designs to tell a story related to your brand. Or just your brand story. It does not have to be too complicated or fancy. All it needs to do is give people some insight into the brand. Maybe a behind-the-scenes view. People always prefer to buy from brands that they feel they can connect to. So giving them an idea of what happens behind that logo can be a great approach.
In the example above, Vans uses their cover image to flaunt the most popular shoes that they have. And they also find a clever way to connect with the skating culture. If your social media cover designs are designed well, they can create an impression with the customer that will last.
Use very little or no text at all in some of your covers

We process images about 60,000 times faster than we do with text. Images actually get access to our long term memory directly and with greater speed. So, you'll definitely want to create some of your social media cover designs with little or no images. While there will be times when you need to include text to get a message across. There will be other instances when your message comes across through images alone. In the example above, the brand does not use any words at all. However, they do showcase a range of products that they offer customers in an attractive way. As they've chosen a template for their Facebook page that includes a "Shop Now" CTA, no additional words are necessary.
Make them simple, emotionally driven, and dynamic 
MIT conducted a study on what would make an image memorable. They found out that the more human subjects were featured in an image, the better the likelihood that it would be remembered. Key image components like people, foregrounds, interiors and social institutions play a big role in memory as well. 
Now, you could choose to include or not include people in your social media cover designs, depending on what's relevant to your brand. But what you should definitely do, is to leave the most engaging element of the design right in the center. As your profile image will cover a portion of the image to the let, you want to create a strong first impression by pulling focus to the centre of the design.
Social media cover designs that have just one primary point of focus will create more engagement. For example, NASA accomplished the feat of making a massive impression with the use of this beautiful image below. They used this for their Twitter account.

Now that you know about some of the best practices that you can follow for social media cover designs, let's take a look through some of the best practices for different platforms. 
Facebook
Use the right dimensions. That would be – 820 pixels wide and 312 pixels tall for desktop, 640 pixels wide by 360 pixels tall for mobile.
Be sure to check out the guidelines on Facebook's support pages as they'll change from time to time.
Give your cover image a primary focal point, near the center or towards the right part of the design.
Use your brand colors or those which complement them.  
Make sure the contents in your social media cover designs don't blend with your profile image. 
Draw as much attention as possible to the action buttons that will be on the bottom right. 
Try to align your cover image design elements to the right side. 
Keep in mind that the majority of users will view your page on mobile, so optimize for that as well.
LinkedIn
If you are using LinkedIn, chances are that you're promoting yourself as a brand and as a professional. Here are some best practices you need to follow when getting your cover image designed. 
According to LinkedIn, cover image dimensions for a personal profile are: 1584 x 396 pixels and for a company page they are 1128  x 191 pixels 
PNG, JPG and GIF file types will be accepted. 
Depending on your goals for your company page, and your personal profile you can consider what you'd like to highlight in your social media cover designs. 
Just bear in mind that depending on the device, your social media cover designs will be cropped quite a bit or have a particularly significant overlap with profile image. Try testing out a few layouts to see what will work best and highlight what you want to have highlighted.
For your brand, focus on your value propositions and highlighting an aspect of your product or service.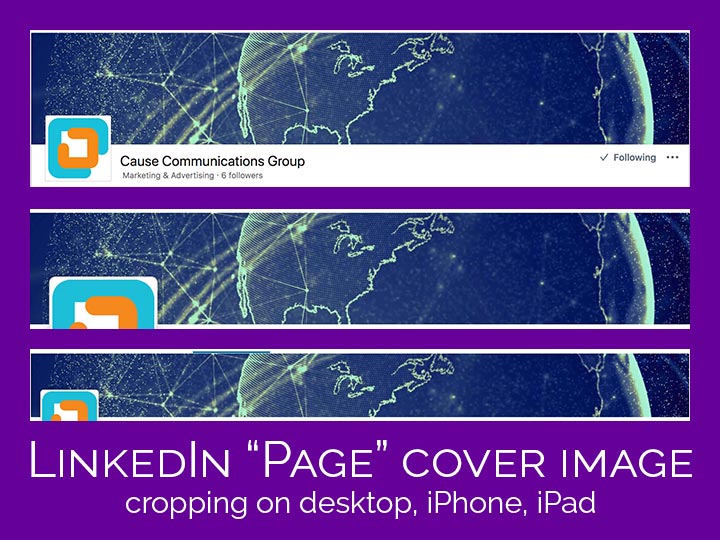 On your personal profile, infuse the cover images with your hobbies, travel, experiences and the likes. It gives it depth and character. 
Twitter 
Use the recommended size for the image always. This is 1500 pixels x 500 pixels.
Leave enough space on the bottom left corner of your image so that the profile image can fit in. 
Leave empty space both on the top and bottom of the image. This is because about 60 pixels could get cropped off depending upon the display size and the browser used to view your profile. 
Keep your design simple, and keep important elements near the center of the image. 
You should use your logo as the profile image and not the cover image. 
Use high-resolution imagery always. 
Stick to a few carefully chosen company colors.
Pinterest 
On Pinterest, once you have  claimed your website or claimed your Instagram, Etsy, or YouTube account, you'll have the option to customize your profile cover with an image or video.
Profile cover images are recommended to be at least 800 pixels wide x 450 pixels tall, using a horizontal image with a 16:9 aspect ratio.
Choose imagery that represents your brand well. 
Consider adding some text if it will help you get your message across better. 
YouTube
Use the dimensions recommended – 2560 x 1440 pixels. The channel art will look very different on different devices. 
The minimum safe area for text and logos are 1546 x 423 pixels. Larger images may get crossed on some displays. 
The maximum file size would be 6MB but it can be smaller. 
Minimize the amount of text used. 
Try and convey the style of videos that will be featured on your channel. 
Use colors that are consistent across all your channel art. 
Consider using a powerful CTA
And you are finally ready to get started
Ready to get more creative with your social media cover designs? Great! Be sure to let your designer know everything you'd like to incorporate and the kind of aesthetic you want to maintain for your brand. If you're just starting out, no worries. Provide as much information as you can about your brand, target audience, and examples of your competitors. Armed with all of these details, they'll be able to help you maintain the brand's visual identity across all of the social media platforms that you have profiles on. This in turn, will help your customers identify you immediately as a brand.