8 Halloween Symbols: What They Mean & How To Use Them In Designs
Did you know that the word Halloween means "hallowed evening"?
Well, the spooky season is here. Time to work on some campaigns to engage your audience. To give them the fright. And what better way to capture the Halloween theme than by using well-known Halloween symbols in your marketing designs? But have you ever wondered what these symbols mean and why we use them? Let's find out.
But to understand Halloween symbols and their connection with the occasion, let's also talk a bit about the history of Halloween first.
Halloween – looking back at history
Today Halloween is all about costumes and eerie decorations and trick or treating. But was it always this way?
There have been many stories. But the most common one is that Halloween has evolved from a Gaelic festival called Samhain, nicknamed the "festival for the dead". The literal meaning of the word Samhain is "end of summer". Since the festival was celebrated on the first day of winter which was also observed as the dawn of a new year.
According to Irish mythology, there was a belief in the Celtic culture that by the end of summer, the shield between the world of the living and the dead was the thinnest. So, most of the traditions observed during Samhain involved welcoming the spirits of ancestors revisiting from the world of the dead, and warding off any evil spirits.
Now let's talk about the origin of current-day Halloween traditions.
We have bonfires today. In the past, there were "bonefires" from the burning of cattle bones in winter.
And people used the ash from these fires to disguise themselves from unwanted spirits and hence the tradition of dressing up.
There is an Irish tale of Stingy Jack who is believed to have fooled the devil and roamed the earth with his sinister-looking turnip lantern. Which has now led to the modern-day Jack-o'-lantern. More on this a little later in this blog.
So, if you plan to draw inspiration from any of these traditions for your brand's campaigns, there is rich history for you to pull up.
Now let's talk about the symbols that scream Halloween.
Halloween symbols and the meaning behind them
Symbolism is a pretty valuable tool in marketing design. The ability to convey information without using words comes in handy both in traditional and digital advertising channels. But if you want to really make an impact, you should know the history behind the symbol you choose, the interpretations. That's when you can choose the most relevant ones that resonate with your customers.
So, when it comes to Halloween aesthetic, here are some symbols you should know about.
1. Jack-o'-lantern
Halloween decorations feel incomplete without a Jack-o'-lantern. Celebrations in most places feel incomplete without pumpkin carving. But did you know that originally these lanterns were carved out of turnips?
The original practice was to carve eerie faces out of turnips. And these were turned into lanterns by placing wooden embers in them. This was believed to help keep evil spirits away.
A plaster cast turnip carving from The National Museum of Ireland
And ever since the story of Stingy Jack became popular, these lanterns were called Jack-o-lanterns. It is believed that Irish immigrants in America used pumpkins in place of turnips during times when turnips were hard to come by. And Halloween as well as practices like pumpkin carving spread far and wide through them.
So, to decorate your storefront or even to Halloween-ize your ads, you can use Jack-o'-lanterns in many creative ways.
So, if you are looking to give your marketing designs a twist, you can even use symbols of carved turnips. Of course, this idea will work only if you are sure that your audience will get the meaning.
2. Bats
The connection between bats and Halloween does not have a traditional story as with Jack-o'-lantern. We spoke about bonefires (burning of cattle bones) that were popular during the Samhain festival. These fires at night and mass gatherings meant swarms of bugs were common in those times. Naturally, Samhain celebration spots attracted bats.
Over time the association between bats and bonfires and Samhain or the current day Halloween became strong. Adding to this, bats have mostly been seen as sinister and mysterious creatures. And anything eerie goes well with Halloween.
If you want to keep your aesthetic bright and somewhat on the happy side, a lit-up Jack-o'-lantern works. But if you want to add a more serious tone, a bat symbol might do the trick.
And since bats and vampires have an inseparable connection, you might also see vampire symbols or vampire fangs appearing in Halloween designs.
3. Witches
Since the connection between evil and Halloween is clear you perhaps think that the association between witches and Halloween is straightforward. However, the truth is that witches were originally not considered evil. Witches were once regarded as "wise people", healers. But later as witches were connected to evil, witch costumes became popular during Halloween.
Naturally, when a witch is a relatable symbol, anything that goes with this symbol, like a witch's hat or even a cauldron or broomstick can all be used as visual cues to capture the Halloween theme.
4. Spiders
Like bats, spiders have always been subjects of several superstitions. Spiders have long been associated with witches. Technically, the increase in the appearance of spiders at the closure of summer and the beginning of winter is evident. That makes another connection between spiders and Halloween, the festival once celebrated to indicate the end of summer.
So, if you want to add a hint of Halloween theme without disturbing your existing design too much, a layer of cobweb with some spiders crawling in will make quite the difference.
However, arachnophobia is real. And it's estimated that 3% to 15% of the population might be afraid of spiders. So, understand your audience well before you use these Halloween symbols in your campaigns. After all, you do not want to ward off your customers for wanting to look up-to-date.
5. Ghosts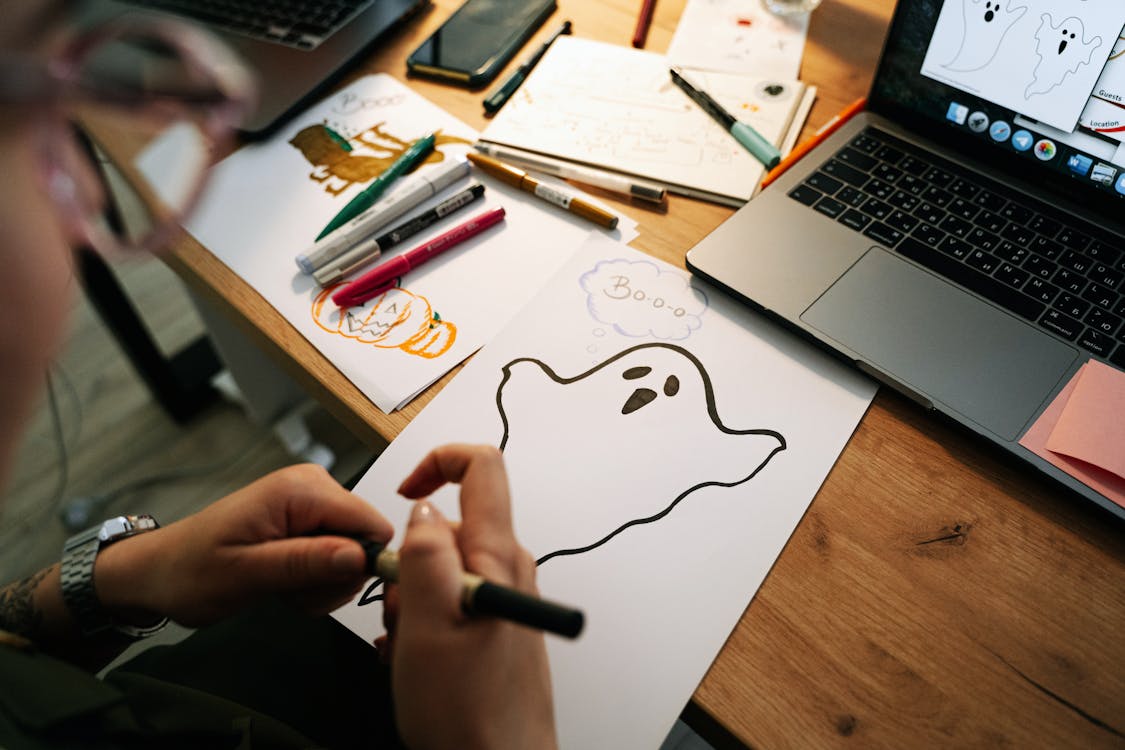 The connection between ghosts and Halloween is perhaps something you understood the moment you read about Samhain and the belief in evil spirits entering the world of the living.
You'll see all types of ghost symbols being used in Halloween aesthetic. These range from foggy apparitions to the very popular ghosts wearing white sheets. These symbols have mostly been popularized by pop culture – from horror movies and TV shows.
Or you can even use some fun twists to give emotions to the ghost symbols and make them relevant to your brand's tone of messaging.
6. Skulls and skeletons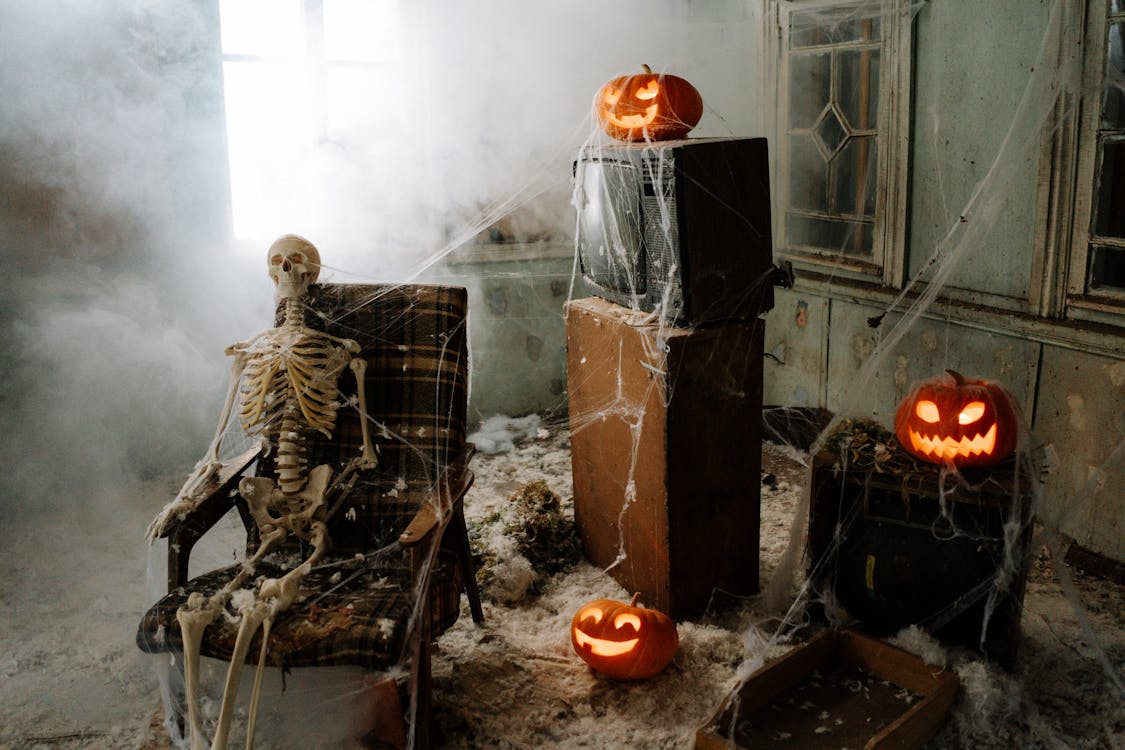 Skeletons have been widely-known symbols of death. Naturally, when it comes to representing the idea that the dead return, skeletons are inevitable inclusions.
You will see diverse applications of the skeleton symbolism. Some use skulls to create a spooky effect. Others combine the elements related to death like skeletons and graveyards too. Either way, this is a representation of the origins of the Samhain traditions. Of the "festival for the dead".
7. Black cats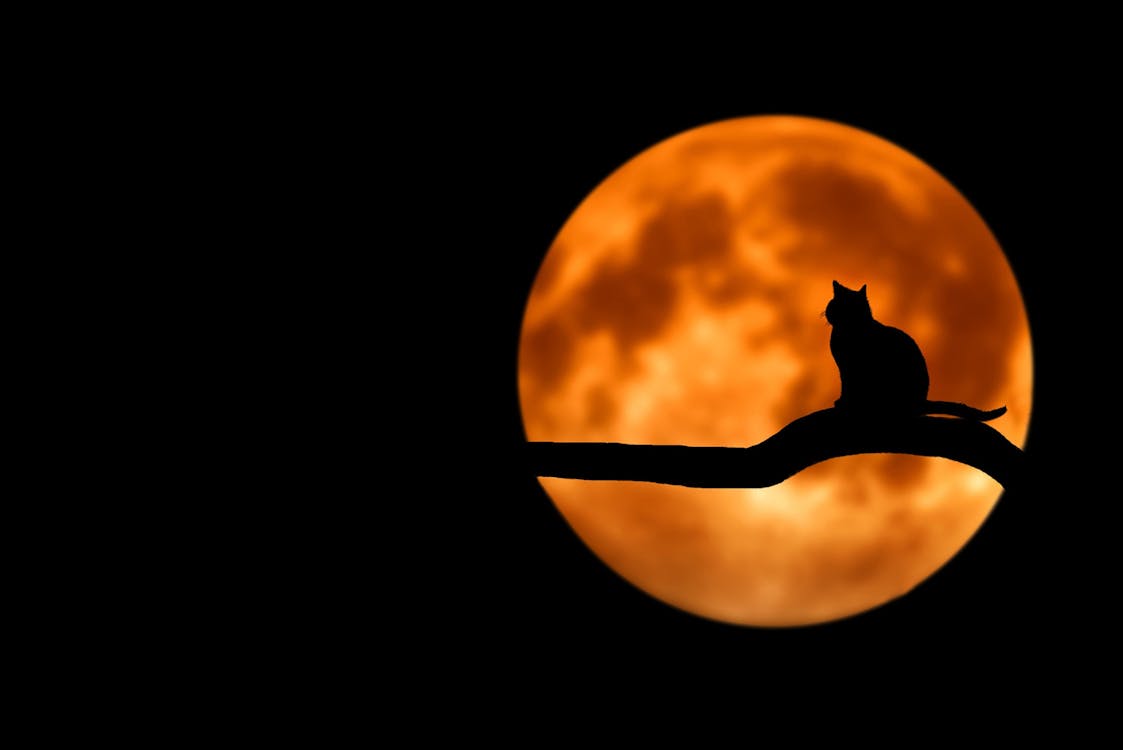 In most historic representations and even modern-day references to witches, you will see a black cat somewhere in the vicinity. Black cats grew to be associated with evil in medieval Europe.
There was a belief that heretical cats are nothing but transformed forms of devils. And these were believed to give witches their black magic. In short, the devil, or the black cat, was seen as a companion of a witch.
Due to several such myths, the black cat is now associated with "evil" in several places and therefore makes a relevant symbol for Halloween.
8. Full moon
There is no direct historic connection between the full moon and Halloween. But you will find it used in many places. In fact, the image of a witch in her broom with a bright full moon in the backdrop is perhaps one of the most common Halloween images you will see.
Some believe that this is perhaps due to the fact that Halloween has a connection with the beliefs of supernatural entities and the concept of evil and good. The full moon is no different. Lunar calendars have long been used in foreseeing the future and the moon in general has had many references to supernatural convictions.
Having said that, you should also know that Halloween falling on a full moon day is a rare phenomenon that only happens once in 19 years. And these full moons are all Blue Moons.
Did you know that the next instance of Halloween falling on a full moon day will only happen in 2039?
Other than these spooky symbols that have been used to represent Halloween for ages, you can also use candy corn, cornhusks, scarecrows, zombies, and other modern-day versions that talk the horror language. Pop culture references are also a big hit. If you are appealing to the millennials or baby boomers, reference to movies like Psycho, Scream and The Shining might work. For the younger generation, Stranger Things and other more recent horror flicks will give you better ideas.
Where can you use these Halloween symbols?
Now that you have a bunch of symbols to incorporate into your designs, the question is where do you use them? You cannot alter your existing brand identity too much. There are many branding and marketing designs that look good with a Halloween makeover. The key is to identify channels where you get the maximum engagement.
On-pack promotions
If you think that your social media presence is not too strong, and if your packaging design has a strong reputation, you can use this as a tool to drive your Halloween campaigns.
Modifying your packaging design to suit the trend is not so difficult after all. You can introduce a limited edition with Halloween packaging. Fanta's 2022 campaign is a good example. The brand saw a 12% value growth from last year's on-pack promotion. This trend works for small brands too.
With a Kimp Graphics subscription, your dedicated design team will take care of all types of print marketing designs and digital ones too. So, you will find it easier to align your digital ads and packaging designs to your Halloween theme.
Give your logo/mascot a makeover
You don't even have to change your logo everywhere. Just on the campaigns for Halloween week, you can have a slightly modified version of your logo flaunting a witch hat or your mascot holding a Jack-o'-lantern. This version of the logo also makes a great profile picture for your social media pages.
Dress up your website for Halloween
If you want to go big with your changes, you can always dress up your website home page with some Halloween elements. Animated spiders, ghosts, and flying witches can all make your website come alive.
If you do not want to make big changes, you can always add web sliders and headers to capture the theme.
Need help creating web sliders for the festive season? The Kimp team is just a click away.
Social media
Social media is one place where you can experiment with different types of content both for evergreen and seasonal marketing campaigns. And since you will find people from different demographics on Facebook, Instagram, and other social media platforms, this makes a great place to use these Halloween symbols and flaunt your Halloween-ready aesthetics.
And since most other brands will be doing this, you can use custom illustrations in place of traditional stock elements.
Kimp can help you make the most of Halloween symbols in your Halloween campaigns
Using these Halloween symbols and coming up with timely campaigns for the holidays helps you make an emotional connection with your customers. It shows them that your brand is always ready to embrace the trends. And occasions like these also give you an opportunity to come up with creative social media campaigns and connect with your customers more deeply. Are you ready to create spooktacular Halloween campaigns for your brand this year?
Go sign up now for Kimp's free 7-day trial and see how a design subscription can make this happen.