9 Spooky Halloween Marketing Ideas To Scare Up Sales In 2022
Between the colored leaves and the chill in the air, one thing is becoming clear: the holiday season is right around the corner! For consumers, this means planning, shopping, parties, and fun. For marketers and businesses, their marketing campaigns cannot kick off soon enough.
The anticipation of sales can make anyone a combination of antsy and excited. But before you go giddy at the prospect of holiday sales, you have to get a good start on your marketing campaigns. And to kick it all off, we're looking at Halloween marketing.
Yes, we know. Halloween can come across as a small ticket holiday compared to the Cyber 5 (the week of Black Friday and Cyber Monday) and Christmas season. But it can still create great opportunities to connect with your target audience.
Plus it can set the stage for all of your upcoming holiday campaigns too. Topical content and campaigns are the perfect way to rack up brand awareness and social media engagement.
So in this blog, Kimp is bringing you simple and engaging Halloween marketing ideas to scare up some sales in 2022.
But before we get into it, let's take a deep dive into the effectiveness of Halloween marketing and consumer behavior around this time of the year.
Halloween Marketing
Halloween marketing is a cannot-miss event for every brand out there. Especially since every other brand is going to be out there trying to reach your audience too. Whether you go big or small, you want to get in on the Halloween action.
And how big is this action? Well even in the midst of the pandemic, a record number of 148 million people found creative ways to celebrate Halloween in 2020.
Now with the pandemic-imposed restrictions gone in most places, businesses have all the more reasons to celebrate.
For most brands, the planning starts at least a month ahead of Halloween. Especially if their marketing involves things like setting up displays, costumes, and other creative elements. Or if the brand caters to Halloween-relevant merchandise.
And this year there's other factors to consider. Recent inflation has drastically altered purchasing behaviors. Weeks ahead of Halloween, there was a 13.1% hike in the price of candies. The present-day informed consumer is very well aware of these trends. Therefore, planning and purchasing start in advance. So, if you have not already started planning your Halloween campaigns, there's no better time for it than now.
Whether you started your planning a few weeks ago, or are just getting going, keep this in mind to achieve the best results from your Halloween marketing campaigns in 2022: maintain a healthy mix of print and digital content that spans different channels. In other words, update your content at all your customer touch points and interaction channels.
As you can see above, Halloween spending is on the rise over the last few years. So let's get to your Halloween Marketing. Keep scrolling for some spooky Halloween themed marketing ideas for your brand to ace your sales in 2022.
9 Spooky Halloween Marketing ideas for 2022
Halloween is a holiday that is popular among people of all ages. The approach may change, but most people are pretty fond of this fang-tastic holiday. So, while you'll want to tweak your ideas and content a bit based on the target audience you serve, be sure to stay on theme.
Speaking from a design perspective, Halloween marketing designs usually depict fall colors with the scary additions of black, fluorescent green, and some glow-in-the-dark effects.
Choose a color theme that works with your existing brand colors and does not overpower your brand identity. You can also consider using a font that captures a Halloween vibe, and complements your brand. Or playing with other branding elements this way.
1) Boo-tify your Website
Halloween shopping is an experience. In brick-and-mortar shops, this means it's important to incorporate Halloween-themed decor. And on ecommerce stores this can look like updating color schemes and imagery.
Each customer touch point needs to reflect the Halloween theme and reinforce your brand.
Remember, if your audience forms a great impression of your brand through your Halloween marketing they'll be more likely to come back later too. And you have a higher chance of racking up sales.
Some ways to boo-tify your website include:
Exit pop-up designs
Homepage designs including updated headers, footers, and/or banners
Product page designs
Landing page designs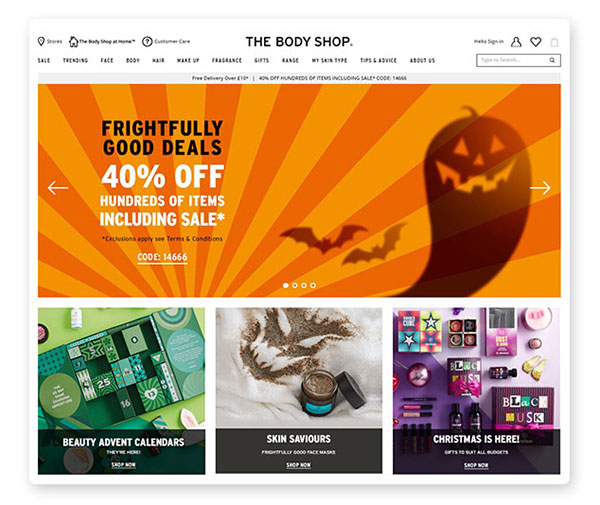 Kimp Tip: Before you finalize your design updates for Halloween, try getting a mockup done to see how the new design theme and elements interact with the existing elements on your site. The last thing you want is to diminish the user experience in the process.
Best to test it out and then go live. With Kimp Graphics, there are no additional charges for revisions or a limit on the number of designs you can request. We will work with you until you are happy and all for a flat monthly fee!
2) Try creative AR Filters on Social Media
Most holiday experiences went digital in 2020 because of the restrictions posed by the COVID-19 pandemic. Though we're seeing some in-person experiences return this year, digital experiences are here to stay.
While planning in-person events is still a good idea, keeping the options open for virtual interactions can be a great boost to your Halloween marketing.
Thanks to digital innovation, we can now bring people together virtually and have them experience almost the same things they did at parties. This way they have fun, and your brand gains some really heavy brownie points!
A simple way to do this is to launch a Halloween-themed spooky photo booth filter on platforms like Instagram, TikTok, and Snapchat. Encourage your followers to snap their favorite moments and share them so you can repost them. If you sell a product be sure to incorporate it.
Snapchat is a great place to try out AR filters for engagement during the Halloween season. You can also launch branded Instagram Reels and Tik Tok Transition filters so that customers can create Halloween-based content featuring your brand.
Below are Fanta's Snapchat Filters for their Halloween Marketing campaign.
Kimp Tip: Brand Identity and Product placements must be seamless but prominent in these AR Filters. Work with a graphic design team to strike the right balance since millions of users on these apps could potentially come across your filters. Get it right and see your brand awareness skyrocket!
3) Make your Social Media Profiles spooky
Have you noticed how Google dresses up its logo every time there is a holiday or a special occasion? Well, that is how you want to stay on trend too. Now, you don't need to change your logo or branding for every holiday. That is expensive and can have negative effects on overall brand awareness.
But Halloween is a very graphic-based and visual holiday. Adapting your social media profiles to this theme can engage your users, indicating that you have something special in store for this holiday. Or just connect with them if they really love Halloween.
This includes changing your Facebook cover image, Twitter cover image, all your Social media profile pictures, and more. Wherever you have a presence, amp it with a Halloween flavor.
Motorola India has the right approach. The logo turning into scary decor from Halloween is a great way to get attention from customers even if you do not have a product to promote.
Kimp Tip: Try to use Halloween colors and imagery when you revamp your social media profiles. Make it obvious and keep it simple. Also, if you want to extend this beyond the Internet, work with your design team to see if your Halloween themed designs can be made print compatible too.
4) Try ghoulish Email Marketing campaigns
If you have an ecommerce or physical retail store that deals in goods directly related to Halloween, then you must seriously consider email marketing. Your email list is gold. This is a list of people who know you and want to interact with you. Converting them for another sale is easy if you reach them with some creative and strategic messages.
Via email marketing, you can share images, videos, GIFs, product catalogs, discount codes, and so much more to promote your Halloween sales.
You can also send shopping reminders, pumpkin carving ideas, decor inspiration, and so on to drum up customer attention.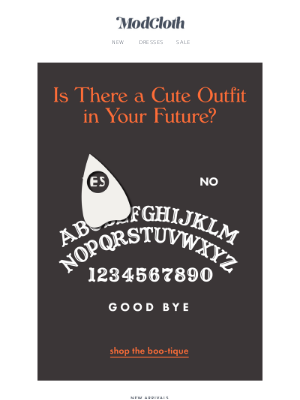 There are some areas of the horror genre that are overused and some left untouched. The ouija board concept in the above example is one such. And that's why emails like the one from ModCloth in the above example are hard to ignore. Fun and interactive concepts like these are the ones that get your customers to click that CTA, especially during the festive season when their inbox is flooded with marketing emails.
ModCloth has the right approach here. Halloween-centric products with an extremely engaging design layout that is easy to follow, make this email design a sure winner.
Kimp Tip: In email marketing, design matters as much as the content. So pay attention to aspects of your newsletter design right from colors, typography, layout design, to imagery used. Use high-quality visuals to step up the customer experience.
With Kimp Graphics and Kimp Video subscriptions, you can choose from a wide range of services, right from catalog design to video creation to enhance the standard your email marketing templates.
5) Run Halloween-themed Contests
What is the first thing you think of when you think of Halloween? Costumes, right? So why not use those in a Halloween marketing campaign.
The more you engage your customers in Halloween festivities, the more likely your brand will stay top of mind for them.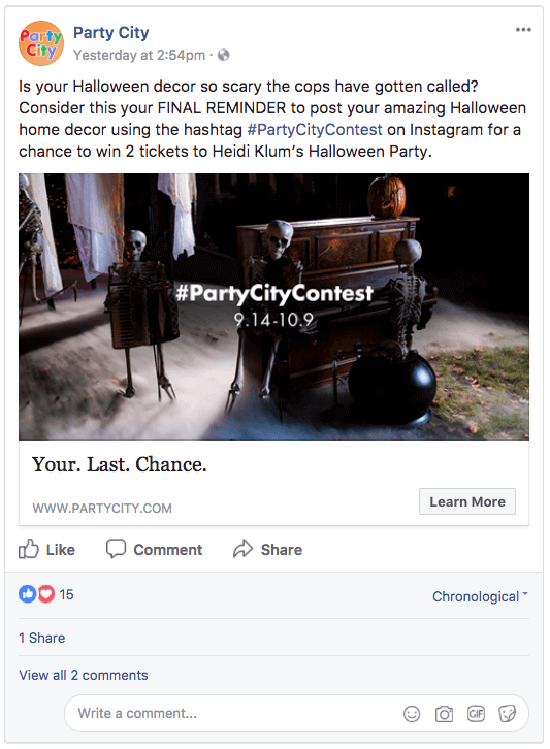 If you have a physical business you can consider hosting a costume contest event. Or you can hold a virtual costume contest on social media. Get creative with the criteria and try to make it as simple and accessible as possible.
Take Dunkin Donuts, for example. The brand features user-generated content of people dressed up as donuts and gives away prizes to entice people to dress up.
When it comes to your contest prize, try to choose something that aligns with your marketing goals. For instance, are you trying to drive up awareness and sales for a particular product? Pair it with another popular item and make that your prize.
Once your audience finds out about your content, the flood of content and comments will improve your engagement while building goodwill in your online community.
For in-person contests, you can use posters, and flyers to invite people to your stores during Halloween. And also promote on social media and your website too, as you would for a digital contest. Holiday foot and online traffic usually converts into sales if you play your cards right.
Kimp Tip: Announcing, promoting, and putting out reminders for the contest are great ways to fill up your content library with branded visuals. Be sure to have your brand front and center in each of these announcements.
6) Special edition product promotion
Most retail brands work on Halloween-themed products, package design, or at least Halloween-themed content to promote their products. It's a brilliant marketing strategy. And since you have more than one avenue to reach out and impact your customers, make the most of your special edition designs.
In the past, Pringles launched their glow-in-the-dark chips containers, M&M brought in a ghoul-inspired package design, and Coca-Cola and Pepsi fought via memes during Halloween.
The bottom line is to attract a higher volume of customers and potential customers you've got to get their attention with creative design and marketing.
Kimp Tip: Do you have a product launch coming up that coincides with Halloween? Even if it is not a physical product, you can still tap into this concept. Create a horror movie-esque reveal video for your product or announcement, and watch it go viral.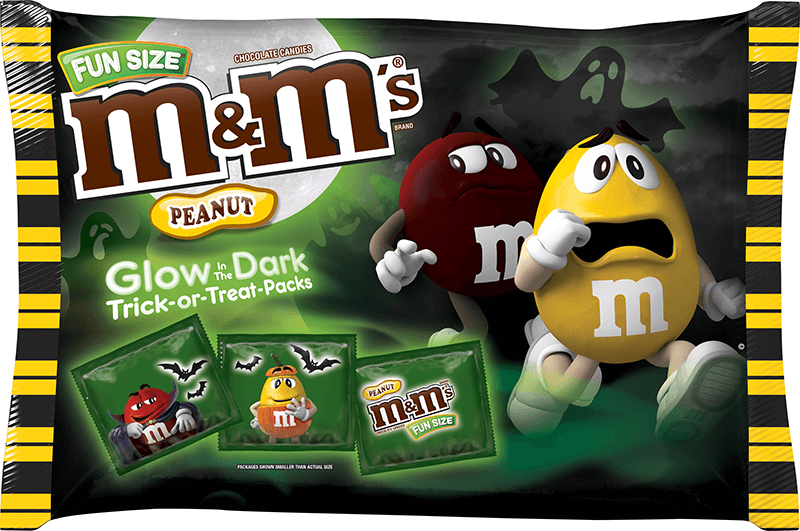 A Kimp Video team can help you create videos even if you don't have the time to shoot footage. Just send over your brand assets and the specs for your video. We'll come up with a creative way to pull it altogether.
7) Halloween-themed content marketing
Social media content marketing is a vital part of Halloween marketing. And it doesn't have to be complicated. Some subtle imagery play and color schemes, a cool font, and bam! You have a great post on your hand.
Here is how Starbucks announced its Pumpkin Spice Frappuccino. Creative animation does the trick!
For retail stores that carry products that include apparel and fashion, the possibilities for Halloween marketing are endless. Check out this curated content by Payless shoe store for Halloween costumes. It's helpful, educational content, AND they are highlighting their product at every step.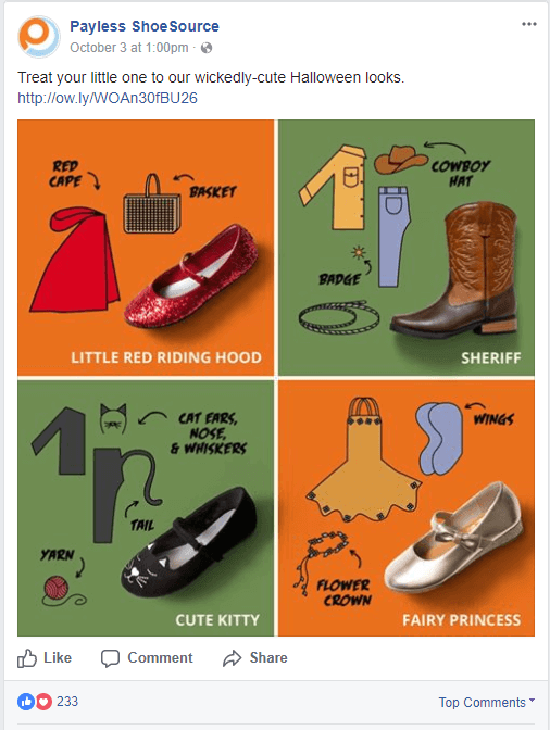 Kimp Tip: Fill up your social media content calendar for an entire month with occasional non-promotional or subtle Halloween marketing posts. This includes Halloween humor in the form of memes or even quick facts about the celebration. If not for direct sales these posts with relevant Halloween hashtags will improve your engagement rates by leaps and bounds.
Need some help with your Halloween marketing? Sign up for Kimp Graphics or Kimp Video and get unlimited design.
8) Interactive content on Social Media
Halloween is not the month to go slow on content creation and distribution. But what should you create if you do not have a specific product or service that relates to the holiday? Do not worry. Social media content creation for Halloween marketing has boundless possibilities in interactive content.
Some ways to improve brand awareness via Halloween marketing on social media include:
Animated Holiday memes or quotes with your brand identity that customers can share over the internet, improving your engagement rates.
Interactive Instagram/Facebook stories with Polls and AMA sessions on Halloween themes.
Twitter Polls and interactive threads between brands and customers on Halloween themes.
Halloween-themed advertisements, such as a horror-movie style edit of a product or promotion.
Gamified content on Instagram, Snapchat, Twitter, and Facebook featuring games/puzzles/quizzes inspired by Halloween.
Kimp Tip: There are many ways to get in on the Halloween marketing game, even if you do not have a direct connection to the Holiday. All you need is an enthusiastic and creative design team like Kimp!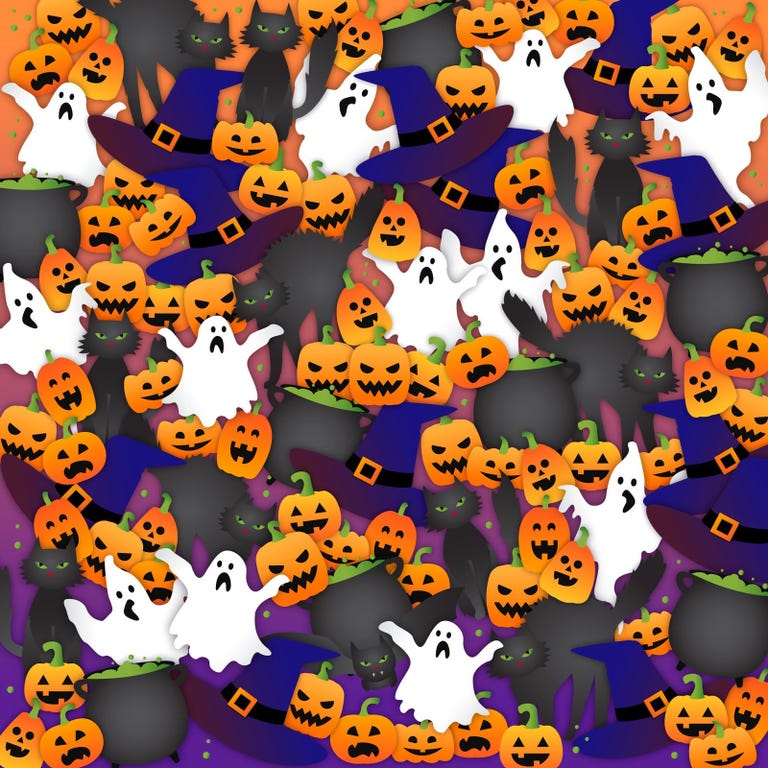 9) Store decor
Now, Halloween may not be a big enough sales opportunity for your brand to invest in billboards or TV commercials. Holding costume contests or parties may also not be on-brand. But don't miss out on all the foot traffic you can get with some fun decor.
A simple signage revamp with a Halloween element, a few posters, lighting designs, and spruced-up display stands can change the vibe of your store in an instant. The external storefront design can also intrigue the customer to walk into your office/store. Even if they don't make a purchase, you got your brand across to a new customer, and that is a big win.
Investing in store decorations during the Halloween season can only improve your brand presence in the market, so go for it!
Kimp Tip: If you have an active online Halloween marketing campaign, then you must ensure that the Store decorations and physical signages follow the same design language. The best way to be certain of this is to hire a design team that can deliver digital and offline-ready designs.
Kick off a spooky Halloween Marketing Campaign with Kimp
Ready to kick off your Halloween marketing? And the rest of your holiday marketing along with it?
With the busy holiday season coming up, you need a trusted partner like Kimp. We offer both graphic design and video design services so that you can get all the creatives you need from one team.So experiment away and fill up your Halloween and holiday marketing calendars. Sign up for our free trial to get started.