Essential Food Ad Elements Restaurant Owners Should Know
How do you know if your restaurant ad is good? Well, does the ad make the audience hungry? If so then it is a great ad!
With constantly changing diet cultures, customer expectations in food ads are continuously evolving. An elegantly plated meal is not enough to grab your audience's attention as they busily scroll down their social media feeds.
Nearly 90% of guests spend some time researching restaurants they wish to try before they actually visit the place. So, your restaurant's digital presence has a stronger role to play in your reputation, now more than ever before.
And this isn't just true for smaller brands. McDonald's is perhaps the first name that comes up when you talk about burgers. Despite being such a popular brand with a strong global presence, McDonald's spent around 489 million U.S. dollars on advertising in the year 2020 alone. This shows that no matter how small or big your restaurant business is, you can never stop working on your marketing.
Even if you have the best marketing plan today, you should continuously work on it and keep catering to the changing expectations of your customers. Only such consistent efforts will help your restaurant survive and emerge in a competitive market.
With that being said, let's look at some food ads that truly made the audience crave for more.
A look ahead at what's in this blog:
Famous Food Ads We Can Learn From Them
1. Hiltl shows the strength in visual metaphors in a food ad
A visual metaphor in marketing is where you draw parallels between two or more similar things or situations and visually describe your products or services. Hiltl, the oldest vegetarian restaurant in the world, shows how this is done. Just take a look at the ad below:
Kimp Tip: When you use visual metaphors like the one in this design, you create an experience more than an advertisement and so, the results are long-lasting. If you are unsure about how to integrate visual metaphors in your ads, just outline the goal for your design in your design brief and Kimp's design team can take it from there.
2. Wendy's lighthearted take on its competitor
Sometimes, in a competitive market, it is all about showing your restaurant's strengths. Wendy's "Where's the beef" campaign from 1984 is proof that, when it comes to restaurant marketing, it has always been a battlefield out there.
This ad is nearly four decades old but it still makes audiences laugh. It shows the fast-food chain Wendy's taking a dig at its competitor McDonald's and implying that Wendy's offers "more beef" in its burgers. The campaign was a huge hit and "Where's the beef" emerged into a catchphrase that was then predominantly used in Wendy's campaigns in the years to come.
3. Chipotle hits the bull's eye with a social message in this food ad
When your ad campaign is more than just about your business, when there is a strong social message in it, it can be of great value to your brand identity. Chipotle's "Back to the start" campaign is one of the best examples of restaurant ads with a deeper meaning.
In this ad, the restaurant chain Chipotle talks about the importance of sustainable farming methods. On seeing such socially responsible ads like this, customers tend to gain more trust in a brand.
4. Starbucks tapped into the holiday spirit
Starbucks, the globally popular coffee shop chain, has always been seen as a trendsetter in digital marketing especially when it comes to embracing seasonal trends. The ad below will show you why: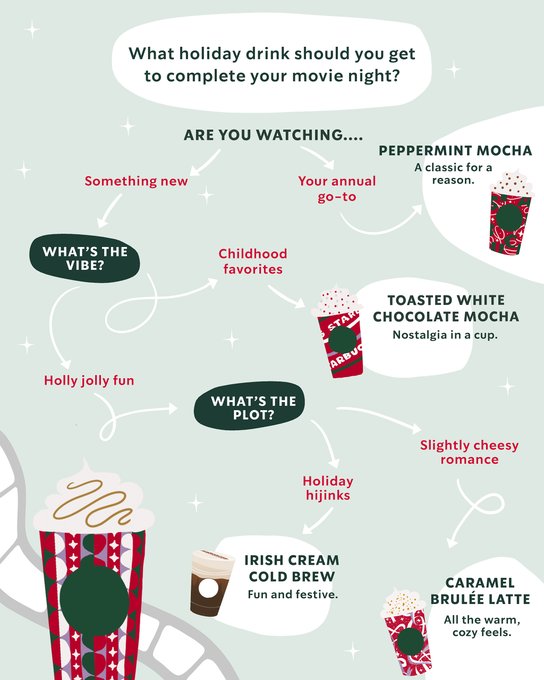 Starbucks' ad is simple yet interactive and displays a host of items from its menu as recommendations for different holiday movie themes. The ad perfectly captures the concept of how there is a Starbucks beverage for every mood.
Kimp Tip: Whether you are looking to increase the traffic to your restaurant website or improve sales, tiny tweaks to your holiday marketing strategies can go a long way! Get in touch with Kimp's graphic design team to understand how to ramp up your social media posts for any holiday season.
5. Subway's no fluff campaign
Subway, the fast-food restaurant, made heads turn with its simple yet impactful ad that shows that sometimes subtlety can be your biggest strength in marketing.
This ad shows a simple video that looks like a low-budget ad but the brand hits the mark with its funny take on how it spends a bigger budget on its meat than on its marketing.
Ads like this one work for two reasons – one, people stop scrolling and watch the video to know why a popular brand like this one went for anything less fancy than its competitors. And the second reason is – you cannot deny that there is a comical tone to the ad and it conveys the brand's message without any fluff.
Kimp Tip: Crisp video ads are great because you can reuse them across different social media channels. Kimp can help you create catchy video ads to harness the power of social media marketing for your restaurant business.
As you can see, when it comes to marketing for your restaurant, there are so many ways to do it. If you are looking for creative ideas for promoting your business online, then do check out Kimp's blog on the most effective design ideas for restaurants.
Restaurant Marketing Challenges and How to Overcome Them
When you look at it superficially, marketing efforts for a restaurant business might look somewhat similar to that of other businesses. But there are a few challenges in restaurant marketing that aren't talked about enough:
Lack of localization in the marketing efforts – even if your restaurant chain has multiple outlets in different geographical locations, you might need different strategies for each region. Within a country, or even a city, there could be diversity in terms of the preferred local dishes which means that your marketing strategies should be customized for smaller target groups.

For each region, you should target your audience by letting them know that you offer the local favorites or at least make a connection with the local culture somehow.

Too much focus on the food alone – while the food you serve might bring people to your restaurant, the service you offer will keep them coming back for more.

Nearly 85% of adults around the world consider dining at a restaurant to be a great way to socialize and spend time with their family members. Show how your restaurant would make this experience worthwhile. Use your ad to show customers that your restaurant is a cozy place for them to meet and greet their friends and family members.
To overcome these challenges and give your restaurant advertising plan a new look, below are some ideas and tips to inspire you.
Food Ad Tips Every Restaurant Owner Should Know
1. Have clear marketing goals
Here are some of the factors that push restaurant owners to revisit and upgrade their marketing strategies:
Opening of a new restaurant outlet
Expansion of the menu
Addition of new services in the restaurant like takeout or home delivery
Announcement of a new app for food delivery or table booking
Introduction of a new promotion or festive discounts
While these are common motivators, you should also have campaigns aligned for ongoing goals like improved brand awareness, enhanced customer interaction, better lead generation, and more.
When your marketing goals are clear, you will know which social media channels to focus on and what kind of ad designs to use. Take a look at the below ad for example. It has a brief copy that gets straight to the point.
It is hard to miss the message in this ad. When the goal is clearly laid out in front of the customers, they are more likely to take the step you want them to take.
2. Let your food speak for itself
One of the easiest tricks that work with restaurant ads would be the use of powerful food photography. Nothing shows your customers how delectable your menu is than the actual food you serve. And as you already know, it is all about how you present the dish.
In the above food ad, the perfectly plated platter is enough to make any customer want to try it out. Ads like these make your stomach growl and your taste buds crave for that one bite into the yummy goodness displayed on the screen. And with such ads, you can see a good increase in conversions.
3. Your packaging design is more important than you think
If you think advertising ends with billboards, posters, and social media ads, think again. There is one other design that markets your brand silently, but strongly. Packaging design!
Both for takeaway orders and home delivery of food, packaging design is an important part of your marketing strategies. When you market your brand as an environmentally conscious restaurant that focuses on reducing waste and uses organic ingredients and you end up delivering food in plastic containers, will it make sense? It won't! It is in these small details that you make a huge impact.
The above picture shows eco-friendly packaging that also looks appealing to the eyes. Designs like these are sure to leave an impression on your customers.
As you can see, you can use your packaging design for:
Showing your sustainable approach
Making the dining experience more practical for customers
Letting customers unlock special offers
Providing a channel to encourage customer interaction
Advertising your brand's special promotions or new products
Kimp Tip: Your packaging design will be a reflection of your brand image. So, use your restaurant packaging to strengthen your branding efforts.
Did you know that packaging design is also part of every Kimp Graphics subscription?
4. Emphasize the USP
Do you have a special dish that your restaurant is best known for? Talk about the dish or make a video of the preparation process. Or, does your restaurant have a USP? It can be anything from the kind of ingredients you choose to the source of ingredients or the cooking process and other details. These are the things that make your restaurant special.
Take a look at the ad below:
Homemade cakes always have an allure. You know that they are made-to-order. So every cake is special. This ad captures the process that reminds you of the charm of ordering homemade cakes. And this in turn makes it hard to resist ordering from this one.
5. Want to make an impact? Try visual storytelling
Sometimes it is about the food and sometimes it is about the mood.
In the mood for catching up with friends? A burger joint or a fast food restaurant is perhaps the place to be. For a romantic date night kinda mood, a fine dining restaurant would be the immediate choice.
See how we connect different types of restaurants and dining joints with different moods? Tap into the power of this and make use of commonly relatable emotions to market your restaurant.
Show how your restaurant would be the perfect setting for a first date or to grab a bite after working late.
The above ad instantly makes you realize that the advertised restaurant is a great choice for romantic date nights. You don't see the restaurant or the food in it. You see something even more important in the whole experience, the mood of dining there. Providing a virtual experience, as this ad does, draws more customers in.
6. Experiment with new ideas
Your restaurant ad does not always have to be about the preparation of the food and the ingredients alone. You can bend the rules a little and try something new.
For example, if you have a traditional dish on your menu, you can talk about the origins of the dish. Or if yours is a multicuisine restaurant you can even engage your customers in a food trivia quiz series on your social media.
The ad below shows a fun take on restaurant advertising.
7. Focus on your customers and you cannot go wrong
While advertising your restaurant is important, your marketing strategy should also include a plan to engage your customers and add value to them in some way. Fun promotions that will get customers excited are the best kind of advertising for your restaurant.
The ad above, for example, promotes something fun. This is the kind of event that most foodies will look forward to.
8. Build a rapport with your customers
Marketing should never involve one-way communication. As much as you speak about your restaurant and your food, you should provide your customers with a reason to engage with your brand. When customers regularly engage with your posts on social media or talk about your restaurant on their social media pages, it consistently strengthens your brand image.
Taco Bell is one brand that shows us how this is done. Let's take the Emoji incident that made Taco Bell quite popular on social media for example.
When you are texting your friend to plan a quick meet-up over dinner, how many times have you used the taco emoji? Did you know that Taco Bell had a strong role to play in the introduction of the taco emoji?
Back in 2014, Taco Bell put together an online petition asking the Unicode Consortium for a taco emoji and by 2015 the emoji was launched.
Once the emoji became popular, people who knew Taco Bell, thought of the brand every time they used the emoji. And people who did not know the brand instantly recognized it from the emoji they had been using in their conversations. That's how you creatively place your brand in everyday things in order to strengthen your brand identity.
8. Go beyond advertising
For your restaurant marketing to be successful, you should focus on more than just improved visibility and increased sales. Other than creating and publishing the best food ads you should have a campaign that delves into the value offered to your customers. To this end, loyalty programs are some of the most successful marketing add-ons that restaurants follow.
And when you do introduce such campaigns, make sure that you update your customers about them. Campaigns like these will make it easier to retain customers and track the progress of your marketing strategies.
10. Word of mouth marketing never goes out of trend
Do you know, there is an influencer who can advertise your restaurant and bring in credible leads? This influencer also plays a major role in making more people fall in love with your place even before they actually visit. Wondering who this mystery influencer is? Your existing customer. Yes, each one of your customers can be the best influencer for marketing your brand.
With things like food where people are not ready to take any risks, they often trust what other customers have to say more than what you say about your own restaurant. So, encouraging customers to give reviews for your restaurant and giving them a shout-out when they do, will be a good strategy to add to your marketing plan.
Make your food ads delectable with Kimp Graphics
Do you want to know the secret ingredient that can differentiate a normal food ad from one that converts? Hint: it has something to do with the visuals in your marketing strategies. That's right we're talking about well-designed marketing creatives.
Need some help getting your food ads designed? How about a flat-fee, unlimited design subscription? Get in touch with Kimp today and start designing food ads that are sure to make your customers crave what you have to offer.
Start a free trial with one of Kimp's unlimited design subscriptions and you'll be drawing in more customers in no time!