How To Create A Great Facebook Page For Your Business
Creating a Facebook page for your business allows you to develop relationships with your customers, in many different ways. They can include responding to customer feedback, nurturing new prospects, and simply sharing content. Not to mention that it allows you to have a presence on a social media platform with over 2 billion active monthly users.
If you've been wanting to create one, or to ramp up how you use your Facebook business page, read on. This blog will give you some tips and best practices to help you get the results that you are looking for. And the stats below will reinforce why you brand needs to have a presence on Facebook.
How to set up a Facebook page for your business
Start by filling out the basics 
Head over to Facebook to create your page. You can also do this at any point by selecting 'create a page' from the drop-down menu, located in the upper right corner on Facebook. You will now be given two options, 'Business or Brand' or 'Community or public figure'. Here you must choose what best describes your brand. For the purpose of this guide, we are going to take you through the steps after you select the "Business or Brand" option.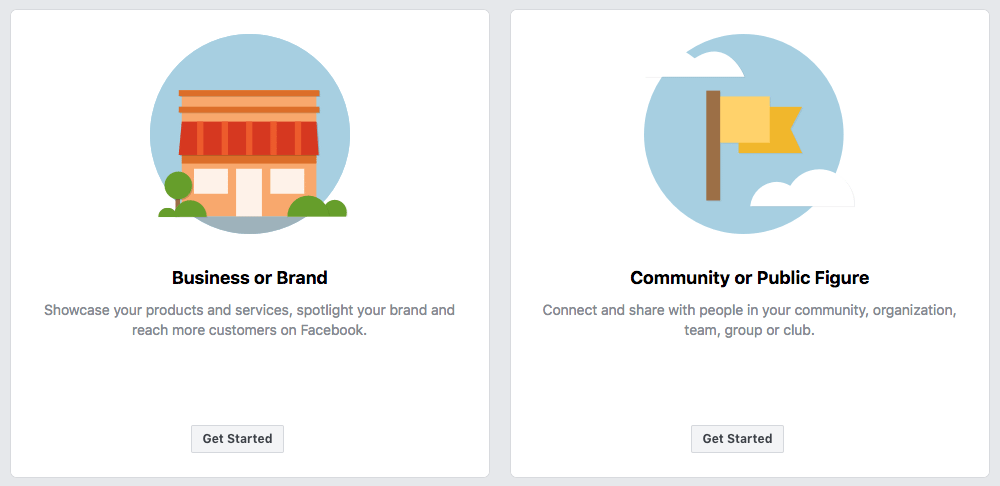 You will now have to fill out the following details:
The name of your page
The categories that best describe your business
Address (consider including your HQ if you operate remotely)
Your phone number
You will always be able to update the various fields if needed later, but you will not be able to change the name of the Facebook page for your business.
Add your profile and cover images
The dimensions of your profile image will be 170 x 170 pixels. Your profile image will be the one that appears next to a post that you share on a news feed every time. So if you can share your company logo here, that would be ideal. The cover photo dimensions are 820 x 462 pixels and it will be displayed across the top of your page. You'll want to update your cover image from time to time, and always keep it relevant to what your brand is promoting or offering at a given time. You can also consider updating accordingly to new seasons and holidays.
Fill out the page information
In the middle of the new Facebook page that you created, Facebook will give you a few tips that will help you complete your page set up. You can click on 'see all page tips' and get a pop up that will give you the steps to fill out the page information that is needed. You can also go to settings and then select the page info tab to start this process. The areas that you will need to fill out are:
Description – what is your page about? Let customers know in 155 characters.
Categories – pick up to 3 that will help people find your page more easily. 
Contact information – if you have a business phone number, website, and email address, add them here.
Location – physical business location, if any, should be added here. 
Hours –give them your business hours. 
More – if you want, you can set up your rough price range here. 
The information you fill out here will be shown on the Facebook page for your business. And you will also be able to share more details such as the story behind your brand, awards that you have won, and more.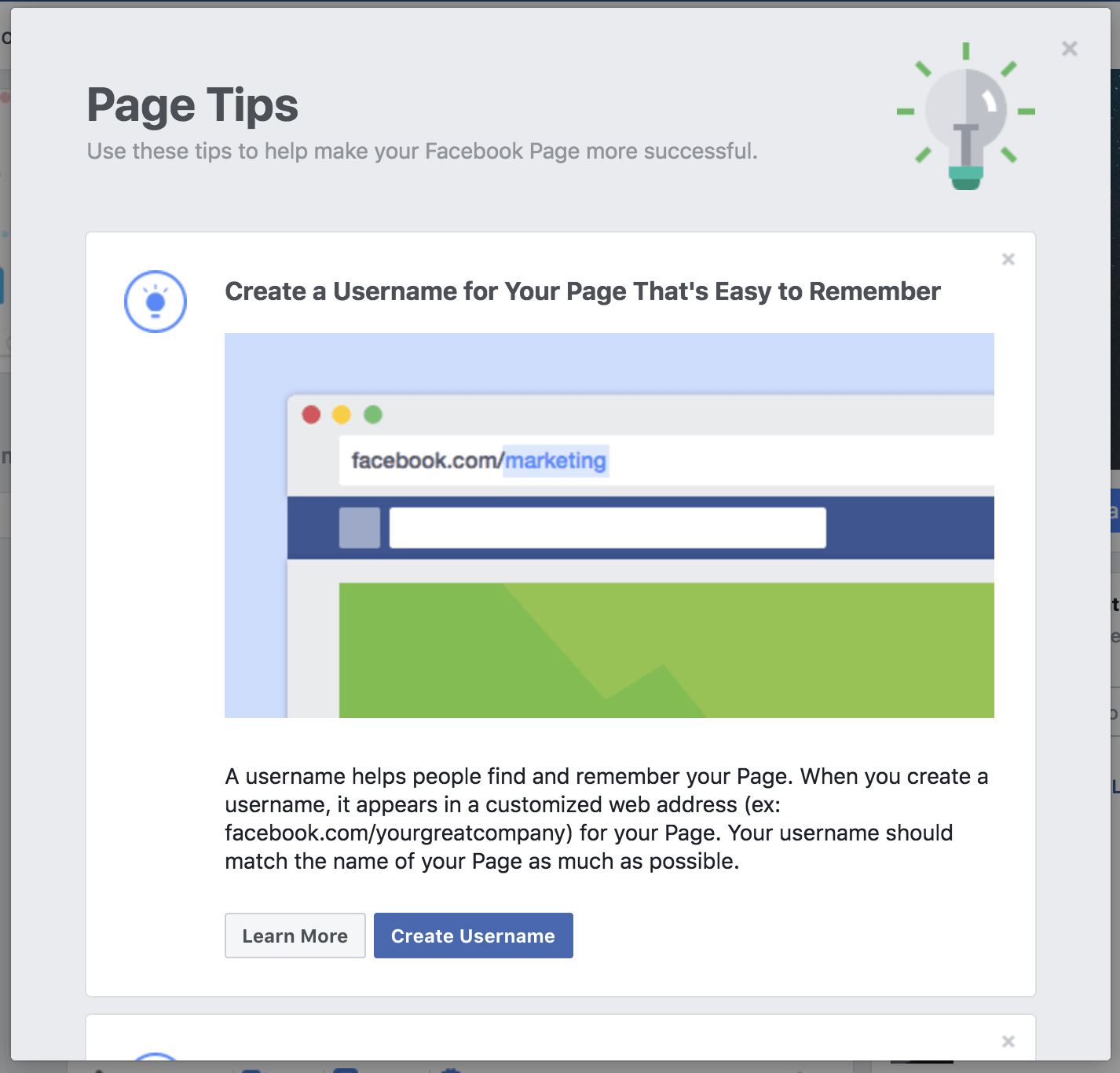 Now on to customizing your page
Facebook will let you customize your page. In the page settings, you can click on templates and tabs. This will let you configure the look and feel that you want your page to have. The tabs are different sections of the page. These include your posts, pictures, reviews of the brand, and more. You can decide what tabs you would like on your page, and how you would like to order them.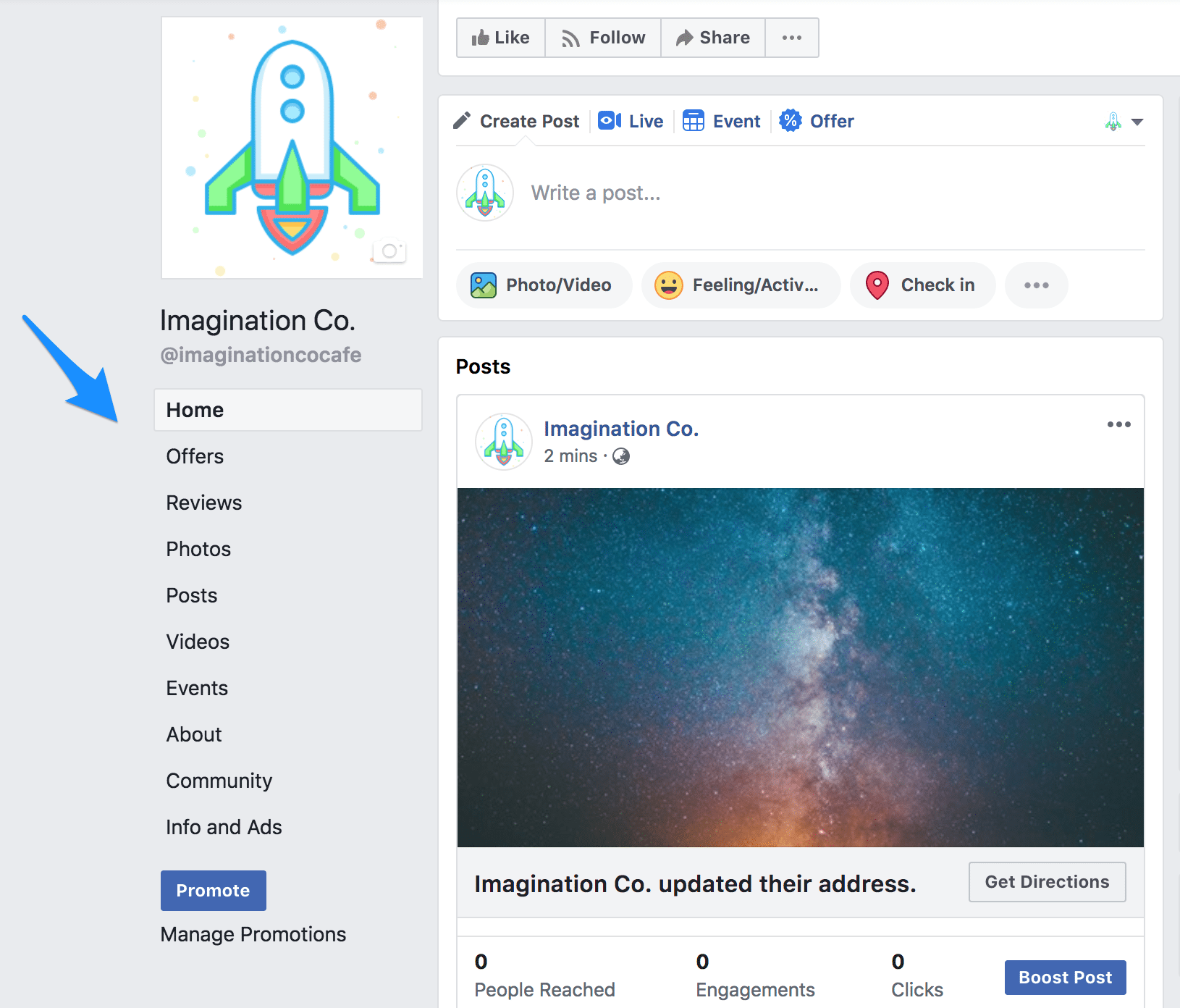 Page templates include the options below. As a business or brand, you'll likely want to opt for "Shopping", "Business", "Services" or "Restaurant & Cafes".
Shopping
Business
Venues
Movies
Nonprofit
Politicians
Services
Restaurants & Cafes
Video Page
Standard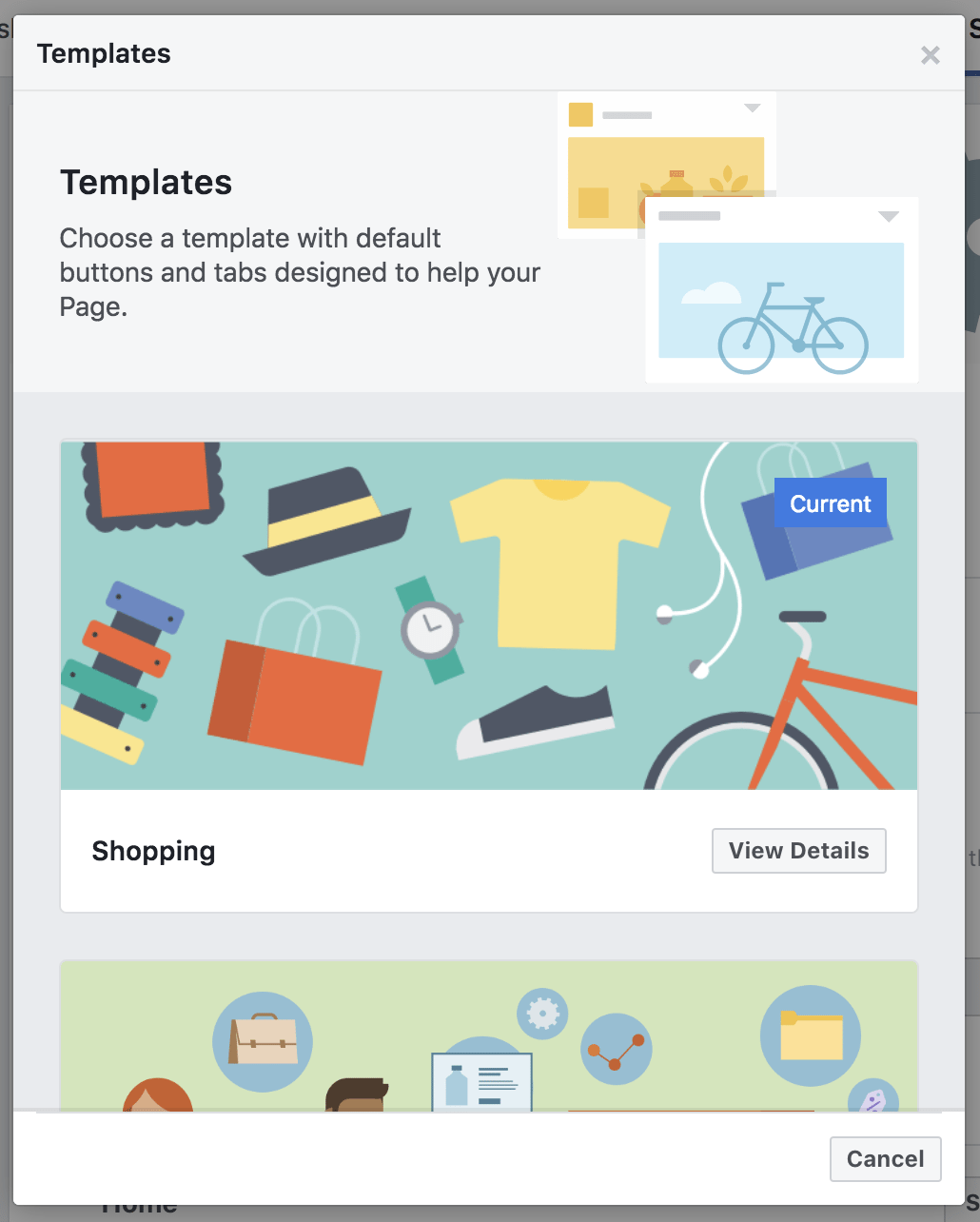 Add collaborators to your page
If you have a social media marketing team that works with you, you'll want to give them access to your Facebook Business Page. Fortunately Facebook provides you with different roles, and varying levels of permissions, so that you can give each team member the appropriate access:
Admin – they will have access to everything (as the page creator, you're an admin by default).
Editor – they will be able to edit the page and send messages. They can also post as the page and create Facebook ads. They will have access to insights and see which of the admins created a specific post.
Moderator – they can respond to comments and delete them as well. They can also send messages and have the same access as "editors".
Advertiser – they can create ads, see insights and see who created a post.
Analyst – they can view which admin created a post or comment and view insights.
To add your collaborators, go to your page settings and then go to the page roles section. You can then type the name of your Facebook friend or a person who has liked the page. You could also type an email address in there and proceed.
Post ideas for a Facebook page for your business
Once your Facebook business page is up and running, your first instinct might be to invite as many people to follow it as you can. But, you'll do much better with your outreach if you have some content added to your page first. Aim for about 5 posts before you start sending out your invites – and make sure you have a calendar in place to keep the posts going up steadily afterwards too.
Types of content to post
There are 5 types of posts that you can try out and alternate. They are photos, custom designs, videos/stories, text updates or links. The one common denominator across all these post types is that you'll want them to represent and reinforce your brand. That means you should incorporate your brand colors, fonts, and the types of imagery that represent your brand.
Also important to keep in mind – video continues to be the type of content that gets the most engagement. A Buzzsumo study actually found that across 880 million Facebook posts, that were published by brands and publishers, videos got 2X as much engagement as other content types. And that's on average! 
Pin your most important posts
Similar to Twitter, Facebook allows you to pin an important post to the top of your feed. This can be really handy as an important post will simply get pushed down otherwise, as you add new content. Now when we say important, we mean things that are relevant or helpful enough to your audience, that they will benefit from seeing it at the top of your page. For example, new offers, an upcoming event, or important product updates.
The next time you want to pin a post, you'll just have to click the drop-down arrow in the top-right corner of your post. And then select 'Pin to Top.' Your pinned post will now appear at the top of your page, until you're ready to remove it.
Best practices for posting content
To figure out the types of posts that will work best for your brand, be sure to experiment and sprinkle in a few of each as you get started. The same goes for figuring out the dates and times that are best to post. With Facebook's ever-changing algorithm, the best practice is to monitor your insights and adjust accordingly. You'll be able to see how much or how little your followers are engaging with your various posts, based on when they are posted. And you'll also be able to see when your followers are online, so that you can tweak your scheduling based on data. And not just hunches.
Speaking of data and targeted approaches, Facebook gives you the opportunity to target specific audiences with certain updates. These audiences can be segmented based on age, location, gender, relationship, interests, or educational status.
To take advantage of this, click on the bullseye symbol at the bottom of the post you're publishing. You can then set metrics for a preferred audience, and one that you think would not want to see your content.
Getting your first followers
Once you've got a few posts published, and some others lined up, it's time to get your page some followers!
Invite your team members and coworkers – let everyone know that your business officially has a Facebook page and invite them to follow it.
Invite friends – work together with your team to invite all those in each of your networks that you want to share your page with. Facebook has an automated feature on the right side of your page, which will show recommendations from your friend list to invite. And you can also search by specific names as well.
Promote your Facebook page on your website, through your newsletter, and any other digital channel you'd like – Facebook provides all the widgets and buttons you need to promote your page.
Use the Facebook page plugin – The page plugin allows you to promote your page without ever having to leave your site. 
Use your email signature – make an edit to your email signature to include a call-to-action and your Facebook page link and you'll have yourself a very visible promo opportunity.
Try having a contest from time to time – contests are great for building up your follower base and creating engagement. Just make one of the criteria following your page, and you're all set.
Some inspiration for a Facebook page for your business
Complex Magazine
Complex uses its page for the promotion of its editorial content and its latest videos. It also uses the "shop" tab to sell its merchandise, and the sidebar feature for ticketing and also links to all of their other social channels. With this approach, they turned their page into a mini-website of sorts for over five million users that follow them. 
Mail Chimp
We've got to give Mail Chimp a shout for always being consistent with their branding and customer-focused approach. The content on their page focuses on educating and creating value for their customers. This includes tutorials, articles and how-to-guides.
UPS
UPS uses its Facebook business page to reinforce its branding and the value that it offers. On the branding front, it uses great cover images, related to its latest campaign. And as far as offering value, the company uses its Facebook page for PR, by sharing  user-generated content that highlights how its brand and employees are making a difference for their clients.
Spotify
Spotify is a streaming platform that uses its Facebook page to increase engagement through discussions, and fun conversation prompts. They do this in addition to sharing posts about album releases, updates and anniversaries. 
Are you ready to start a Facebook page for your business?
Having your own Facebook business page allows you to increase the reach that your brand has, and to widen the scope of it. More specifically a Facebook business page gives you the opportunity to develop a digital storefront, grow your audience, and learn more about them too!
There are 3 tactics that you'll want to focus on in particular as you get started. Building a community, using Facebook business tools, and getting to know your customers. To build a community around your brand, you'll want to use Facebook's features like publishing posts and communicating with your customers via direct messages and comments. To use Facebook's business tools, try out options like creating events, managing appointments, hiring employees, and/or selling your products. And to learn about your customers, use your page insights to find out how they engage with you, and what they seem to care about most.
With all of this at your disposal, soon enough you'll be wondering how you ever got on without a Facebook page for your business.