Design A High-Impact Coming Soon Landing Page
Launching a product or service is monumental. It's a moment you dream of and work hard for. And to make that launch as successful as possible you've got to generate interest and demand before your product or service is even available. This is where a coming soon landing page comes into play. 
It can prove to be a valuable asset to generate interest and buzz. But when designed and implemented well, it can also help you get a good amount of traction quickly and allow you to collect feedback. For all these reasons and more, a coming soon landing page can be the best way to kick off your marketing. Even while you are still preparing for the launch of your product or service. 
Not sure whether you need a coming soon landing page? 
Let's assume that you are actually planning on launching your own business and not just a product. In this case you may want to start with a small coming soon landing page for your ecommerce business. Sometimes, these are also known as pre-launch pages.
A coming soon landing page is the first place people will go to learn more about your business or product. It's always a tool for building your email list and raising awareness for your brand through word of mouth marketing. And yes, all this can happen before the actual launch! Unlike permanent pages on your site, a coming soon landing page is a temporary placeholder. Or it can be a standalone page, without any accompanying FAQ, About Us, or Contact pages.
Benefits of a coming soon landing page
This is just one page and not a complete site. So you can set it up and reach out to your market pre-launch, in just a few hours. Meanwhile, you can work on the complete site slowly. 
Using the coming soon landing page and your social media, you can build an email list. And this will allow you to have an audience to market to when the product is ready. 
When you place your product in front of your customers, you will get a real measurement of their interest. You will also be able to collect feedback from them.
What should a good coming soon landing page do? 
The ideal coming soon page should be concise and clear. In some cases, depending upon what you want out of the page, you can include more details on your page. This will depend on whether you just want this to be a temporary placeholder page or not. Some businesses use it as a strategic destination for something that they will eventually build on. 
For your coming soon landing page to be a success, it needs to be in line with certain objectives. It also needs to have specific components. Below we expand on these ideas and how you can utilize them.
Tips to create a successful coming soon landing page
Creating the right coming soon landing page designs starts with figuring out exactly what you want to tell your audience. And in the briefest, most concise way, you need to let them know why they should anticipate your launch.
Explain your message clearly
When you plan out a coming soon landing page, you need to keep something in mind. This page is not only about seeing what kind of demand is available for your concept. It is also about finding out how people will react to it, before they buy from you. This is actually invaluable feedback that can help you further develop your product. Or it can help you decide on your brand positioning, and your website design as well. 
To build a sense of anticipation, display your launch date or even a countdown timer. This will give your audience a definitive timeline. And this countdown is something you can create content related to on social media as well.
Building a pre-launch email list
Bear in mind that when you drive traffic to your coming soon landing page, there isn't anything immediately available to purchase there. So you will need to ensure that you have a plan to keep them from losing interest. The last thing you want is to generate traffic and then send them to your competitors.

One approach you can take is to focus on building your pre-launch email list by promising incentives. These incentives could include: 
Early bird pricing
Exclusive discounts and freebies
Content that adds value 
A contest with great prizes
Early access to products or exclusive access to limited editions
To make sure that you don't miss any leads, you can also have an exit intent pop up. This can prompt customers to subscribe just as they are about to leave the page. Make sure that you start sending out regular messages to subscribers to keep them in the loop on your launch.
You can include updates, previews, and testimonials from influencers or those who gain early access. You can also ask them for feedback on what they've seen so far. Or what they'd like to see, and ask them to share your page with their networks. 
Make yourself accessible
Your prospective customers should have at least one way to get in touch with you. And it should be easy. Feedback and inquiries about your product will offer you important insight. This insight can be on everything from how your product looks, to how your marketing can be more clear. And you don't have to wait until everything is launched for you to benefit from this information.
Encourage your coming soon landing page visitors to get in touch via social media, email, and/or have a live chat available on your site. This will help you engage with customers who are considering your product and are eager to know more. By addressing their questions early on you'll be better prepared to anticipate and address those of other customers. And to set up resources that can help. Besides, where else do you think you'll get your FAQs from? 😉
When you make yourself available to your potential customers even before you launch you stand to earn their loyalty. And you'll get them invested in your brand. So make sure to prioritize this.
Encourage your visitors to spread the word
If your potential customers like what you have to offer, there is a higher chance of them referring you to friends and family. Increase the chances of this by making it convenient. Include social sharing buttons on your coming soon landing page. You can promote this more by giving your customers an incentive to share the page with their friends and family. 
You can take this idea even further by creating a viral loop. This means that every person that shares your page will be given an incentive like a discount or an entry into a contest. Increase the impact by providing more incentive, or contest entries, if they sign up for your email list as well. 
The difference between compelling and overwhelming
Less is always more with a coming soon landing page. There are really just two messages that you want to draw attention to. The first message is the reason why your audience will like your new product – the "X factor" if you will. The second message is to give them an action to take to stay in the loop. This could be like subscribing to an email list. These two messages can be broken down as your headline, and then your descriptor message. Both of these should focus on the value you can give the customer. And what you can do to improve their life.
Eliminate unnecessary steps
Your coming soon landing page should be different from a traditional landing page. A traditional landing page can actually have up to two or three forms that customers can fill out. But when you're announcing that you have a new product or brand, you want your customer's focus to be on that alone. And you definitely don't want to be splitting their focus across multiple offerings. The more steps you require a customer to take, or the more options to navigate, the greater the risk that you carry of losing them. 
For instance, you might have a coming soon landing page up as part of a site that has a few other pages (About Us, FAQ, Contact Us, etc). And not having navigational links can increase conversion by 100%. When you reduce the number of possible actions that a site visitor can take, you can help them stay focused on your core message.
Include a great looking countdown 
The coming soon landing page that you are designing is unique. That said it can still utilize some of the same methods of getting a customer to convert that other landing pages use. One such method would be to set up a countdown. You can easily do this by setting up an actual clock on the website that physically changes. Or if you are still unsure of the launch date, you can also say something like "Coming This Fall', ' We will be here for Christmas.' etc. Just be sure to send an email out when your date is finally confirmed. And to update all of your social feeds accordingly too.
Be mobile-friendly
About 50% of all web traffic comes from mobile devices. Based on the industry that you are in this number can actually be even higher. So remember, whether you target B2B or B2C customers, a mobile-first approach will help the design of your landing page.
This means things like including enough padding in your design, and choosing easy to read fonts. Your customers will be engaging with you across different devices. And you've got to have your coming soon landing page ready to look great no matter when or where it's accessed.
Inspiration for your coming soon landing page
Have ideas on how to set up your coming soon landing page? Great! We've got some inspiration to help you get your creative juices flowing.
CloudResize's Coming Soon Landing Page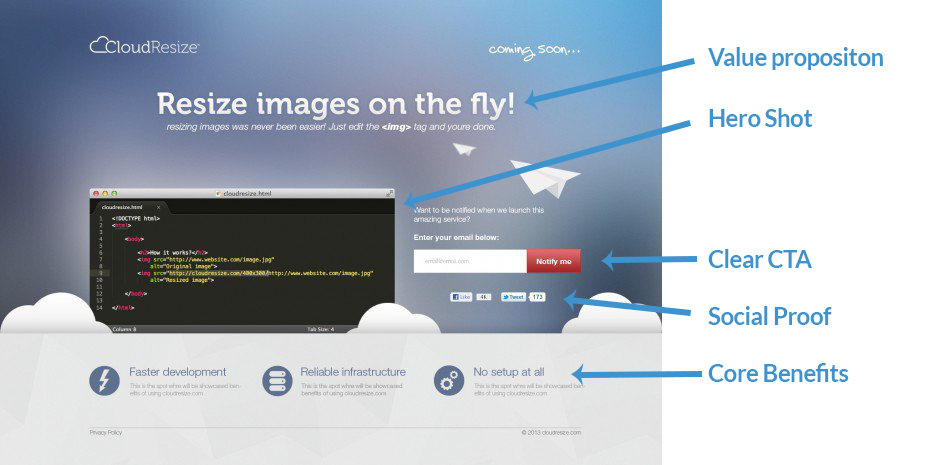 CloudResize's coming soon landing page nailed the to-do list when it comes to the elements that are must-haves. They've included:
A compelling and direct value proposition.
A concise list of the core benefits of their product. This can take the form of a bulleted list or a concise sentence too.
A clear call to action (CTA).
Credibility by means of social proof. 
A hero image of the product in use (you can include multiple images if that will be more impactful).
LandApart's coming soon landing page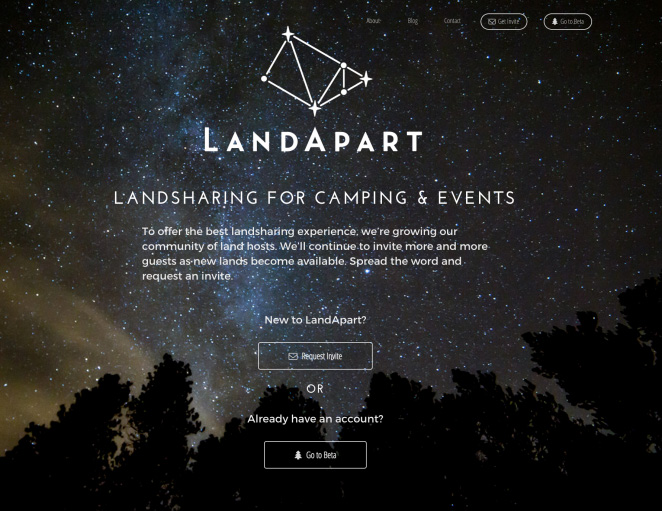 We are all drawn to things that are not commonly found. And we assign more value to things that are scarce. This is why products that have been made in limited editions have a higher potential to sell out. This is also why limited-time offers sell better. To create that feeling of scarcity you can actually use your CTA. With phrasing like 'request an invite' as opposed to 'Join Now' you'll radiate an air of exclusivity.
LAB Petite's coming soon landing page
First of all let's look at LAB Petite's copy. "Are you ready for the best modern handmade goods for your little ones? From clothing to toys, we're going to showcase modern makers from around the world who make great things for kids. Sign up below to be informed when LAB Petite launches." The copy delivers the message as to the benefits of the product, the range of products, AND it provides details on an action to take to stay in the know. 
Next, in terms of other design elements LAB petite uses a countdown clock on their page. And it's set to countdown to the last second. This builds up anticipation as there will be quite a bit of movement on the countdown even while someone is quickly browsing. And just below the countdown is the CTA to stay in the loop – "Notify Me".  
Your coming soon landing page 
When you're getting ready to launch a product there's a lot you need to plan and prep for. But don't leave your marketing to the last minute. A coming soon landing page can help you build up momentum. And it can help you engage your audience, even while you're working out a few kinks.
In fact, your coming soon landing page might be the reason you come to know about kinks in your product at all. So don't hesitate, or worry about it being perfect. Just take the first steps and use all the invaluable insight you'll gain to keep course-correcting as you go.