How To Optimize Landing Page Designs For Conversions
Marketing and advertising help businesses generate qualified leads. And while they can also help achieve a bunch of other goals, Lead Generation truly is the holy grail. Because a steady stream of leads is the clearest indicator that your marketing and advertising are working well.
But, what happens to a site visitor after an ad click? You may have created an amazing advertisement and brought them to your website. That's not your only goal, though. You want to take them from being a lead to a customer. And the customer journey from here, through your landing page, is what makes all the difference.
Landing pages are the linchpin in this lead-to-customer cycle, and it's time to invest in them.
A well-optimized landing page gives you results with actionable insights into your customers.
Before we dive into how to optimize your landing page design, let's look at how landing page designs differ from a typical website homepage design.
Landing Page Designs vs. Home Page Designs
Are you diverting all the inbound traffic from your blogs and advertisements to your homepage? Here's why you are making one of the biggest mistakes in lead conversion.
What your website homepage is:
An introductory section about your brand, products or services, and customers.
A place where customers can browse without engaging or providing any actionable information. If they leave after navigating here for any reason, you typically have no information about them to follow up with.
What your landing page is:
A specific page to collate details about your inbound leads.
Once a lead clicks on your CTA, the landing page captures their details (name, email id, and source) while referring to the benefits of sharing these details, in brief.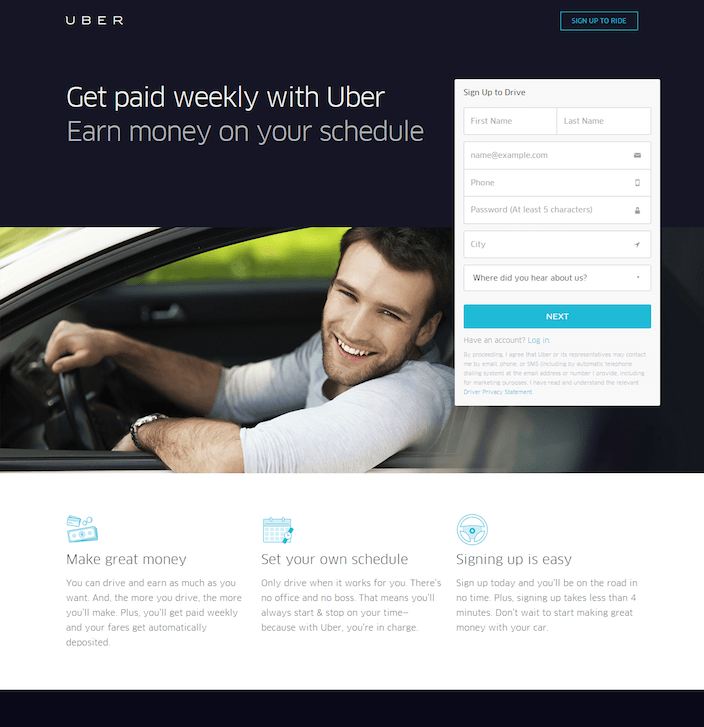 Stand-alone Landing Page Designs works wonders for your business because:
They are optimized for a targeted audience
Provide only a snippet about you, creating curiosity
Allow for quick engagement 
Help you collate detailed insight into your target audience
Chances of Traffic getting Diverted to Landing Pages >> Chances of Traffic getting Diverted to Home Page. 
Proof that Landing Pages Help Businesses 
To reinforce why landing pages are just so powerful, here are some statistics from some marketing giants:
Landing Pages average a 2.5% conversion rate across industries. The top 25% meanwhile convert at a rate of at least 5.31%. And the benchmark for a good conversion rate is said to be 10%. 
An optimized landing page can improve your conversion rates by 30%. It's no wonder the most successful brands and businesses create dedicated and optimized landing pages.
We said the traffic that lands on landing pages convert faster, right? Here's the proof. A study by marketing charts tells us that visitors who land on product pages generate only 50% of the revenue of those that come to your landing pages.
What does Landing Page Optimization mean?
In the previous section, you might have noticed an Easter Egg. We referred to an optimized Landing Page.
Sounds impressive right? But what is it exactly?
Well, improving or revamping your landing page to drive the highest conversion rate is the process of optimizing a landing page. So an optimized landing page is one that's been tweaked to generate the highest results.
Kimp works with businesses across industries to create optimized landing pages to aid their marketing efforts. Often we are also called on to improve our client's existing landing pages.
You may be wondering why not get it right the first time? Or just stick to what you have for a longer stretch? Why optimize and build a new one again?
Well, because there is no landing page that's completely finished. There's always some trial and error involved. And unless you keep on tweaking it based on how it's performing, you're not going to see much of an ROI.
In other words, your landing page is only working:
If the information on it is current and updated
When the CTA clicks are not dropping
Once your A/B testing is complete
Constantly optimizing, testing, and analyzing your landing page designs keeps you on your toes and keeps your conversion rates where you want them.
Landing Page Designs – When to Optimize them?
But, when should you optimize your landing pages? Is it when you no longer like it or when the audience doesn't like it?
The ideal time to optimize your landing page is when:
Your product offering is changed
You need a new look to match a branding update
Click-through rates have been dropping
Industry design standards have changed
Your target demographic is changing
Now that we've set the stage, it's time for the gold at the end of the rainbow. And why you clicked to read this blog:
Tips and Best Practices in Landing Page Design Optimization
We, at Kimp, love it when our designs work and get results for our clients. For us, the aim is to hit the bull's eye every time.
So from a team that loves getting it right, here are some tips for landing page designs that never disappoint.
First off, design is one of the most valuable aspects of your landing page. We might be a little biased here, but it's also the truth.
An ideal landing page has 10% text and 90% leverages the power of design. Human beings are visual in nature and have short attention spans. Remember this when you're creating a brief for an attention-grabbing landing page.
Try to keep your text short and to the point so that it's not cluttering the design.
Well, design is important, but how do you understand what's working? Fortunately, that's one of the easier steps these days.
Advancements in analytical tools have made it easy to ascertain customers' preferences.
User Movement Mapping tools
Movement mapping tools are one of the best ways to understand exactly how a visitor is interacting with your landing page. You can use tools like:
Heatmaps – To see heat prints of where someone is clicking on the page.
Scroll maps – To check where people are spending time on your page and what they're skipping.
Confetti maps – Track individual clicks on the page to detail what seems to be important for a visitor.
Overlay maps – Tells you the percentage of clicks on different page elements like banners, product images, or CTA.
A/B testing
Are you confused as to whether your landing pages need work or improvement? Then you need to use the tried and tested method for optimization – A/B testing.
Design two landing pages with varying features like different CTA button positions, banner images, color compositions, and copy. Try to focus on one feature, or very few varying features per test if possible, so that you have a clear sense of what is making the difference. 
Once your landing page designs are ready, start using them to see which generates the most clicks.
As the customer is king – go with what works for the demographic you are targeting.
Kimp Tip: A/B testing also allows you to understand the effect of varying landing page designs on cold, warm, and hot leads for better funnel optimization. 
Want to try the A/B testing method for different customer groups? Book a call to find out how a Kimp design team can help you get started. 
Landing Page Design Optimization Best Practices
Less is More
A landing page is meant only to be a gateway. It has 2 purposes: to collect information from site visitors and give them enough reasons to click on your CTA. So a simplistic landing page that clearly communicates the value you have to offer is what you need.
Some tips to optimize your designs for effective but minimalistic landing pages are:
Keep the background neutral and subtle.
Do not overcrowd the landing page with too many details. Keep it only to the bare essentials. The copy is only there to generate curiosity and get the form filled.
Use negative space so that the copy and design shine.
Opt for subtle animations that are easy to load and do not take attention away from the message.
A sticky header with a CTA button reminds the visitor why they are on the landing page. Keep guiding them to the button subtly.
Keep the flow natural and guide the visitor to the form and CTA button.
Remember, you need the details and the CTA click. That is all that matters!!
Kimp Tip: Talk to your designers about your audience's preferences and your goals for your landing page designs. This will help them optimize them to generate better results.
Want to learn more about the types of information you should include in your design briefs? Set up a call with a Kimp Team Member or hop on the live chat at www.kimp.io.
Branding Consistency
More often than not, those who visit your landing page get there after clicking an advertisement. So it can be a big turnoff, and not-to-mention confusing, when the landing page design does not match with what they just saw.
You must always keep your landing page designs in line with your brand. As much as possible, keep the imagery, font, and colors the same as the source of your inbound leads (e.g. the ad they clicked on).
Consistency in promise and design builds trust with your potential customers and brings them one step closer to clicking that CTA button.

Kimp Tip: If a new design team is working on your landing age, share your marketing collateral or ad designs with them. This will help you get branding consistency across your creatives.
Benefits over Features
It's more effective to emphasize benefits over features in your copywriting, in general. But this has 100x more importance for a landing page.
Why, you ask? Well, a landing page visitor is already interested in your service and is here to listen to what you have to tell them. So, talk to them. Tell them why they need you.
Appeal to their emotional side and establish a connection in the few seconds you have with your customer.
For example, if the product provides "2GB storage free", position it as "store X files for free". This shows what they get rather than just displaying the features.
Social Proof
Nothing like good old peer pressure, right? Or what marketers like to call social proof. Well, what's in a name? The fact is it pays to tell people how many customers you have and what they say about you.
Adding small details like the number of downloads or customer testimonials can help cement trust and brand value for first-time visitors.
If for example a customer sees that 20K+ people have downloaded your app, they're a lot more likely to think it's worth checking out too.
Leverage this thinking and get the details.
Exit Popups
This is the last resort to get what you want, but it is important too. An exit popup that adds value to choosing your product or service, and makes your customers think again, is a win.
An exit popup must be simplistic in nature and address the reason why the customer wants to leave. You can include social proof, offers, and other lead magnets like free ebooks to take them back to the landing page.
Landing page mistakes to avoid
We shared some of the best practices of landing page designs with you. But, what are the red flags to avoid? Which practices really hurt you? Take a look:
1) Do not disappoint the customer
Always, always, and always deliver what is promised on the landing page. Did you offer a free ebook or content on the advertisement? Include it without fail. And keep the branding consistent.
If you promised a list of reasons to buy, it is time to deliver without making them jump through any more hoops.
2) Don't ignore the data customers share
Just like the landing page is the next step after traffic generation, using the data from the landing page is the next step in marketing to the customer.
Use the data to share personalized emails and advertisements with them. If you demonstrate that the information is being utilized, it builds social capital for your landing page.
3) Avoid overwhelming the customer
The landing page must have a single objective. It must lead to a single CTA button and not overwhelm the customer with multiple outbound options.
An overwhelmed customer is more likely to get distracted than someone whose sole option is to click one single button. So, keep it simple and get that button clicked.
4) Do not ignore the analytics data
This is self-explanatory. But, it is important enough to be repeated. Track the visitor from the advertisement to the landing page and beyond. Listen to what the analytics are telling you.
Go back to the drawing board with the designer and tweak the landing page if there is a disconnect. Landing pages will always be dynamic, requiring constant attention.
Choose the best for Conversion – Choose Kimp
For your landing page designs, you need the best. This is where the magic of turning a visitor into a customer happens.
No compromises here.
Kimp has created thousands of landing pages for our customers and made it work for them too.
Hear it from our customers here, and join the list of businesses getting successful landing page designs from Kimp.
Or sign up for the free trial today.