6 Chinese New Year Social Media Post Ideas + Design Tips
All brands want to invest in holiday marketing. It is a goldmine for generating leads, sales, and just overall brand awareness.
But for a long time brands in many countries stuck to the regional holidays, missing out on many others.
Those days are changing now. Globalization has made it possible for brands to access customers worldwide, so there is no reason to limit yourself. On that note, Chinese New Year is a festival that a majority of Asian populations worldwide celebrate. Not to mention, that the Chinese population is a major market for major tech, fashion, and other lifestyle brands.
In fact, experts estimate China's consumer market will reach 8.4 trillion dollars by the end of 2022. That is a lot of money and every brand wants to get in on it.
The best part of Chinese New Year is that it is so easy to create campaigns for. It's a weeks-long-festival that involves people getting together with loved ones and many beautiful traditions. And anytime you celebrate something that is inherently cultural, people connect with it, and your brand, instantly.
Prior to the pandemic, people used to travel extensively during this period so it was a bonanza time for the travel industry.
But whether you run a travel-related business or not, if you are a brand looking to connect customers through Chinese New Year marketing ideas, you have come to the right place.
Chinese New Year's significance on Social Media
If you noticed the title, we are here to tell you that you must promote your Chinese New Year campaigns on social media. And now the question comes is why choose social media platforms for this campaign. Why not opt for the many digital platforms that are available and can be more effective in terms of ROI?
Well, keep reading. 😉
Brand Awareness
Not every brand has the opportunity or the necessity to work on a Chinese New Year-related product. It is quite possible that your brand does not directly connect with this holiday and it is okay. In such cases, launching any other full-blown campaign with a huge investment does not seem like a good idea.
With social media, you can use your profiles and share greetings without actually creating a campaign. Features like Stories also make it easy to share greetings and other fleeting posts without it coming on to the feed.
Since hashtags related to the festival start trending as the New Year approaches, using them and creating a few posts makes it possible to take your brand to more people.
Higher Reach
Whatever other marketing platforms have as claims to fame, social media is the one that holds the power to make you go viral. And trendjacking is a great way to do that. #ChineseNewYear is a hashtag with 1 million impressions every year. So posting related content on social media can take you farther than any other medium.
Not just that the population on social media is getting so high that even if you don't reach the audience you want to, you'll still land on the radars of others. And that will help drive up brand awareness.
Better Targeting
With social media, you can pick and choose who sees your message. And you can take it miles away from where you are sitting. This is a significant feature because for Chinese New Year, your target audience can be just about anywhere. And the advertisements you run will reap much better returns when you have the options to target your potential customers based on their preferences.
When you are creating such high quality graphic design, why not optimize its distribution too? This is why social media is the way to go for your best Chinese New Year marketing campaigns.
But it is not the easiest medium to be on especially when you are looking to score with a holiday that everyone is trying to get a piece of.
We know this and that is why Kimp brings you a compilation of the best Chinese New Year social media marketing ideas.
Let's start by taking a look at the design elements that can make your Chinese New Year social media posts shine.
Chinese New Year Social Media marketing: An overview of Design Elements and Platforms
So you are excited to be on social media and start promoting your campaign for Chinese New Year. Understandably, you approach a design team to get the designs sorted. But the issue is that this is your first Chinese New Year campaign or you haven't run many in the past. And you want to get it right.
So here is a quick breakdown of what works best in Chinese New Year Social Media Marketing:
Design Elements
In terms of color, we recommend using bright colors such as red and gold that signify wealth and prosperity in Chinese culture. You can accent this palette with green which also has favorable associations. Also, the 2022 Chinese New Year is the year of the Tiger so you can incorporate colors that bring out this significance too.
Next comes the font selection. This is a season of joy and happiness. Families are coming together and want to celebrate this. Pick fonts that help you convey this message concisely. Sans-serif and Script font styles work the best here. In the case of scripts, use them for headings that are large enough to be easy to read. You can also choose custom fonts that pay an ode to Chinese culture. But always remember: appreciate, don't appropriate. Use elements tastefully and consult others who can guide you in this if you're unsure.
In terms of imagery and styling, we expect to see a lot of tiger and power-based images as 2022 is the year of the tiger. So tigers, their environments, and other symbols of power and joy will surely make an appearance.
In terms of platforms. Chinese New year gets a lot of mentions especially on Twitter, Snapchat, and Instagram due to the young and active users on them.
If you are a B2B brand, you can also consider creating designs that work on LinkedIn too.
Bottega's Hit 2022 Chinese New Year Campaign
Consider the example above from a leading fashion brand – Bottega Veneta. The color tangerine is an homage to the mighty tiger and the clever use of green here signifies prosperity and wealth. This design connects to the culture respectfully while still maintaining the brand's visual identity.
And they didn't just stop there. The design above is part of a spectacular campaign which took over a portion of the Great Wall of China from January 6th to 12th. Their gigantic art installation composed of digital-screened art included the brand's name and a message which translated to "Happy New Year" in English. While this was a physical campaign, it was a hit on social media too.
6 Creative Chinese New Year social media post ideas + Design tips
So far in this blog, we have covered the significance of Chinese New Year on social media, and what an ideal post must look like. It is now time to get down to business.
Social media is an incredibly competitive platform. Everyone is constantly creating and posting. Even with a billion daily users, audience attention is hard to get for most brands. This competition heightens even more when there is a holiday around the corner.
That's why Kimp is bringing you the 6 most creative Chinese New Year social media post ideas. And the design tips you'll need to execute them.
1) Greetings
Assuming that this is either your first or second time promoting your brand via the Chinese new year holiday, let us start off small. The advantage of creating greetings in the age of the internet is that a good greeting design can become an instantly shareable design.
You can use this greeting card format to launch a countdown to any sale or promotions you may launch in the coming days too. Or it can just be a great way to interact with your customers on social media without trying to sell anything.
Greeting cards come in various forms on social media:
A simple static graphic design wishing your audience.
GIFs that engage the audience and allow them to stay for a minute or two extra on your profile.
Video greetings from your brand with/without employees and brand ambassadors. In Asia, the ambassador culture is huge and is very similar to the influencer marketing culture you see everywhere else. So this is a great way to engage the audience.
Kimp Tip: Across these formats of greetings, always ensure that your brand's visual identity is part of these designs. You must balance it with the traditional color and design elements of the holiday for best results.
GIFs are a great greeting idea as it is easy to share with friends and family off the social media platform too.
2) Sale announcements and teasers
Most major brands with a sizable following that celebrates Chinese New Year announce sales and special promotions. It helps them connect with a very particular demographic and shows them that they are special to the brand. If you do not have this data available, we highly recommend sourcing it by having a look at social media metrics.
A majority of your users are extensively active on social media, so out of all channels, this is the place to announce your Chinese New year sales.
If you have a sizable time frame in the lead up to your sale and you want to get your audience excited to know more about the sale, we recommend launching a sale teaser as well.
Customers always watch more videos than static graphic designs, not to mention that most social media platforms promote video content more than any other content form.
Kimp Tip: Keep the sale teaser short and quick. That will make it ideal to use on platforms like Instagram reels., YouTube shorts, and Snapchat to name a few.
Looking to create engaging teaser videos for your social media? Try out a Kimp Video subscription.
3) Giveaways
Who doesn't love a good giveaway? As a brand, you know customers love it when you choose to make them feel special with a freebie. A giveaway goes one step ahead and orchestrates a contest between the customers to choose a winner. This excites people as it is now a competition and also brings in engagement as it usually involves commenting, sharing the post, and so on.
For a Chinese New Year giveaway, you can opt for products that are trending and relevant to the audience for the holiday such as gifting items for maximum engagement.
Wondering how to generate the most engagement and participation for your giveaway? Well, what you say matters less than how you say it.
So, launch an exciting social media post for this Chinese New Year and get people to participate in your giveaways.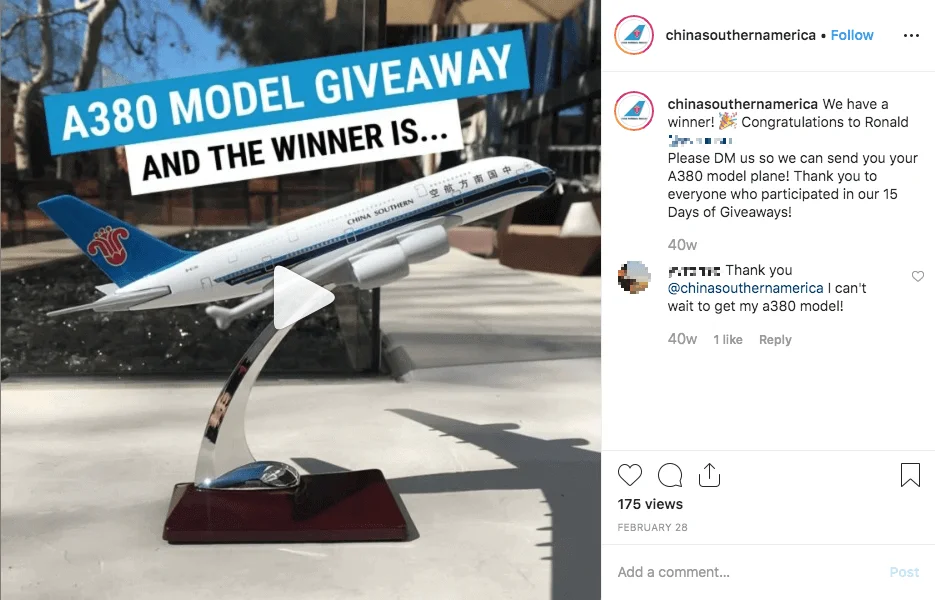 4) Influencer marketing
We spoke of how the brand ambassador culture is huge in Asia. But landing a high profile individual to endorse your brand or campaign isn't exactly possible for small businesses.
So what do you do that achieves the same results but in a much more accessible way? You work with influencers who can connect with the audience, understand the heritage and culture, and can deliver good content that converts.
Most fashion brands leverage this strategy so you will be in good company. Prada for example launched a tiger-based collection for the 2022 Chinese New Year. Instead of traditional models, they chose Chinese influencers to feature with the collection.
Influencer marketing can be tricky as it is still a very new marketing tool. Check out our guide on 2022 influencer marketing trends to learn more.
5) Illustrated posts
Chinese New Year relies heavily on symbolism and animals feature heavily in the content surrounding the festival. Now, an image is worth a thousand words and some images also have the power to evoke strong emotions from your customers.
The catch is that not every image is easy to source and some may not exist at all given how the animal changes every year. That is why we highly recommend creating custom illustrated posts or animated posts that reflect the novelty of this occasion.
Take this example from Gucci. Just by the inclusion of Doraemon, the appeal of this post grew by 100x and that is the power of illustration.
6) Gift guides
Even if the location changes and the culture changes, you will be happy to know that some things stay constant in all holiday marketing campaigns. And one of them is the immense popularity of gift guides.
The Chinese New Year is a joyous occasion and a time when the entire family comes together. So obviously they shower each other with gifts to express their love. No matter what the occasion and culture is, gifting is a joyful thing. But buying those gifts? That's a stressful process!
Why not make it easier for your customers in the 2022 Chinese New Year?
Create personalized gift guides based on your product range and what you think will be the ideal gifting products in each category. Some popular categories usually are gifts for mom, gifts for dad, gifts for wife/husband, and so on.
Publishing these on social media and tagging the products featured reduces the friction in the shopping process and brings in revenue.
Kimp Tip: Attract your social media users to these gift guides by sprucing them up. You can try to create animated videos for Reels, YT shorts, Tik Tok, and so on. You can also create catalog style carousel posts with designs that are appropriate for Chinese New Year. All of this will improve your CTR and engagement rates.
Create engaging social media posts for Chinese New Year with Kimp
Are you excited to share some social media posts this Chinese New Year? And don't worry if it sounds like a lot of work. It is completely worth it when you are targeting one of the biggest markets with content that is very significant to them.
To help you ace these campaigns, you'll need some stellar designs. And that's where the Kimp Graphics and Kimp Video subscriptions come in. You get unlimited design requests, revisions, and an expert team to deliver all you want at a flat monthly fee.
So why wait? Sign up for the free trial now and get ready for the year of the tiger.