B2B Marketing: The Top 8 Graphic Designs Your Brand Needs
Whenever someone speaks of B2B marketing, we can see furrowed brows and perplexed faces. The B2C or direct-to-consumer market has opened up a lot to bring innovations for brands to explore.
But the business-to-business segment feels very different.
But most of these assumptions are nothing but that. B2B marketing is a growing field wherein the scope to experiment and approach concepts in a novel way is abundant.
Just because you are selling to a business associate instead of a direct consumer, there is no reason to assume that the factors to success vary. The employee or founder of the company is also a consumer at some level, and you must engage that customer. The same way you interact and engage a B2C consumer or at a higher level.
So throw out the notion that B2B marketing has to be about dry presentations and lengthy reports. Appeal to the consumers' emotions when you pitch your products to see upward trends in your sales and revenues.
And how do you do that? With the oldest trick in the book – design.
Yes, graphic design has the power to educate, entertain, engage, and so much more without it coming off too strong.
Amazing right? But is graphic design essential in B2B marketing? Can it make a difference, and if so, how can you use it well?
Read this blog by Kimp to find the answers to all these questions.
Graphic Design and B2B Marketing
Let's begin with the obvious apprehension that is rattling around in your mind. Maybe your product targets founders of multi-million dollar companies. Or your target audience is a segment of busy business owners. Do they really care about the color you pick for your ad or whether you use stock images vs. custom illustrations?
The short answer is yes.
The long answer is to understand who that person is. Yes, they are running a business, and the product matters more than anything else. But, they are also incredibly busy and probably hear ten pitches a day at the minimum. That is where having a graphic design plan in place comes in handy.
Graphic design brings attention
A good design cuts through the noise and gets the point across faster than any report can. Visual messaging can mean the difference between a discarded file or the brand going into the consideration pile.
Everyone researches before buying a product. It doesn't matter whether it is a B2C product or a B2B product. You want potential customers to gain a favorable impression of your brand and know instantly that you have the solution they seek. For that, your messaging has to be perfectly on point.
Design builds good branding
The success of your branding lies in the perception a customer and the market have of you. When you have the right designs in place to support your marketing ideas, that elevates the value of your brand.
It builds brand awareness, brand recall, and branding consistency by providing a consistent and meaningful visual message for consumers. If a purchasing committee head looks up your brand and sees a well-built consistent branding design, they will not hesitate to move ahead.
Graphic design enhances content marketing
In 2022, B2B marketers predict that content marketing will be a major source of lead generation and conversions. So, content marketing will become a business vertical, and the better your content marketing strategies, the higher your chances of success.
A LinkedIn B2B expert, Robert Rose tells us that upskill content marketing is the need of the hour for all B2B companies and B2B marketing firms. So how do you upskill yourself? By thinking from the customers' point of view and valuing their experience as they interact with the various touch points you have in place.
Yes, we are speaking about the need to include multimedia content, UI/UX design, and quality graphic design. Mr. A. Lee Judge predicts that "B2B marketers will broaden the scope of media content they create. More media, less in-person production". This means that your content must do the speaking instead of your sales team convincing each customer.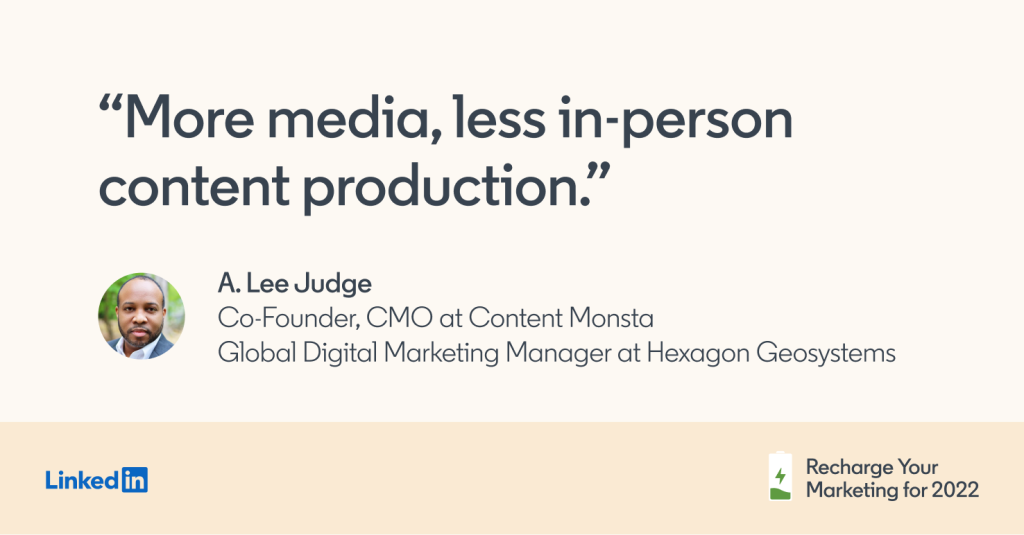 Top 8 Graphic Designs your Brand needs
1. Newsletter designs
Let's start with the most professional and profitable marketing channel in B2B marketing. If you have been in the B2B sector for a long time, you know that email marketing is the holy grail. By building a quality email list, you can ensure that your business never runs out of paying customers.
But how do you step up your email marketing?
Your target customers get hundreds of emails in a day, so how do you ensure you stand out? What is your open rate and CTR? Do you want to get on par with the industry standards?
Did you know that just including the word "Video" in the subject of your emails improves your open rate? And with good design, you can ensure that your customer reads the content in its entirety.
Visualize the data and include more images than text so that the email is easy to scan for your customers. Opt for illustrations to make the reading fun, as you can see from the example below.
Choose to leverage the power of video by including promo videos, How-to videos, or simple animations to explain the concepts instead of a long instruction manual.
Share what your customers are saying about you using videos, animations, or with static images. Using images of the customers or product images builds trust in the authenticity of the reviews.

The B2B market is extremely high-ticket, so you need to show your customers that you mean business and make it easier to decide.
Kimp Tip: There are many designs and design styles to choose from. But keep your branding style and imagery in mind when you finalize your designs. Ensure that they follow your branding guidelines.
Consider a Kimp Graphics design subscription to make your branding shine via your newsletters.
2. Web design
The minute you approach a customer, they start evaluating your brand. And more often than not, that starting point is your website. How you present your website decides what the customer's perception of your brand is. And that's what your peers are investing the most in.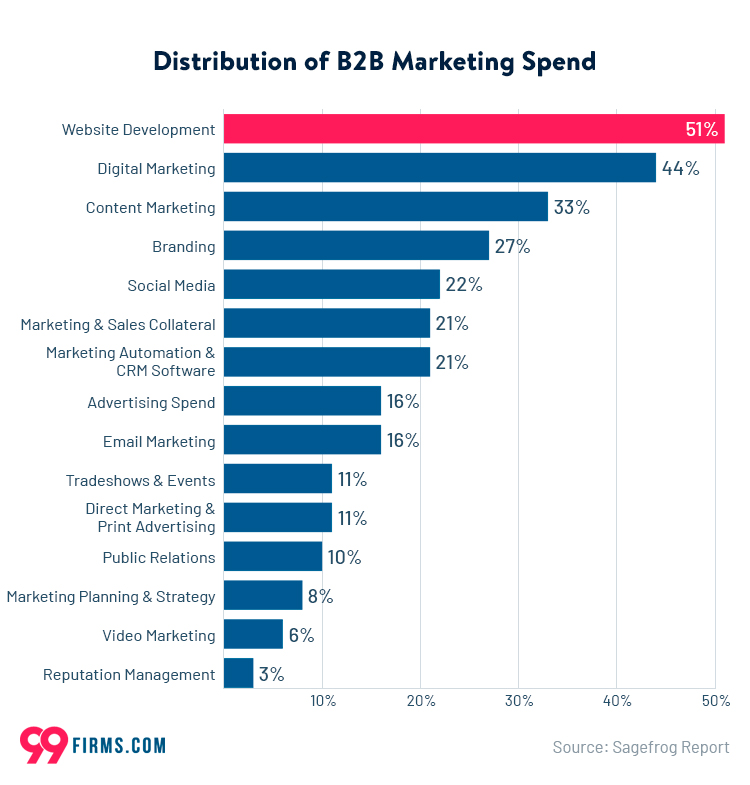 We strongly believe that a website is a vital part of your branding. Your care toward logo designs, branding colors, fonts, and imagery must extend to web design as well. Right from the header images to the presentation of your products, ensure that your designs speak well of your brand.
Good design makes it easy for consumers to navigate your website and understand your offerings in detail. The easier this process, the more your customers will appreciate you.
Kimp Tip: There is no reason to shy away from using colorful designs, animations, and interactive videos on your website just because you cater to the B2B segment. Color, when used strategically, attracts customers and makes navigation easy and interesting.
Check out the example below. It is simple, colorful, and still exudes professionalism from high-quality graphics all over.
3. Advertising Design
If you are not investing in paid ads already, think again because your peers obviously are. And it brings results too. 60% of B2B marketers agree that the ROI from social media ads makes it worth it. And it is even the top marketing spend for 16% of B2B firms.
But we strongly believe that as a B2B firm, you should not hedge all your bets against one channel. Invest diversely. Work with banner ads, outdoor advertising such as billboards, flyers, posters, vehicle wraps, and so on. Ad spending brings brand awareness, which is a great asset.
So what are the advertising designs you can and should explore? Let's take a look.
If you are a product company, try to incorporate product ads on social media via the carousel ads and collection ad formats on Facebook and Instagram.
For brand awareness ads, banner ads on websites and related search ads work brilliantly.
To gain prominence in a particular locale, we recommend launching billboards and other display ads to grab the maximum eyeballs.
You can also launch google display ads to showcase your products to the relevant audience.
Kimp Tip: Do you want to assert dominance over your competitor? Launch engaging comparative ads that subtly highlight your pros over the other brand's cons. Choose visual aids in doing so for better impact.
4. Landing pages
What happens to your customer once they click on your ads? They go to a landing page to understand more about your product, brand, and/or service. This is the space where you impress them so that they, at the very least, become subscribers to your newsletters. A wrong move here means you lose the lead forever.
So, the next important graphic design a B2B firm must invest in with no doubt is landing page design.
Your B2B landing page must:
Have a design that is consistent with your branding design and the advertising design. Seamless continuity makes the customer happy and allows them to take in the message comfortably.
Highlight the message and make navigation easier by employing the principles of visual hierarchy.
Build trust in your brand with high-quality graphic design that enhances the delivery of your message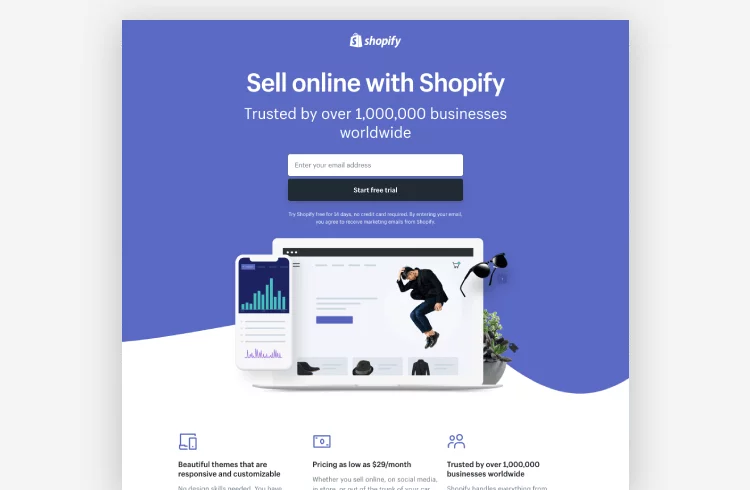 Check out this landing page by Shopify. The primary color is blue, which is also the brand's color. The design attracts customers to two things instantly: the product image and the CTA. Minimalistic design ensures customers can easily scan the landing page to land on what they want.
Kimp Tip: Video landing pages work as an excellent lead magnet. Do you have case studies, webinars, and video footage of your product demos? Use them to build your email list.
Do you also want to build a high-converting landing page for your B2B brand? Sign up for the Kimp Graphics subscription today!
5. Blog images
Now you may wonder, do we really need blog images? Who even reads blogs anymore, and even if they do, can blog images make a difference?
Well, according to studies, business clients read 10+ pieces of content before they decide on a product. This means you have the challenge of standing out amidst those 10-15 blogs and convincing your customer to give you more attention than they give other brands.
Can text alone do that? Doubtful.
Blog images break up the monotony of long-form content pieces, and the visual aids make it easier for the reader to grasp the concept. As a B2B firm, you may create many educational pieces of content (as you should). And custom-designed blog images can accent those pieces and put you in the running to get a conversion.
You can use blog images to break up the text or summarize the content and present it more engagingly.
Kimp Tip: If you have a bank of custom blog images that supports your brand, you can repurpose these into your social media marketing content pieces. They also make for great thumbnails for your video pieces. All in all, blog images are highly versatile and something you need.
Need help with your designs? Consider a Kimp Graphics + Video unlimited design subscription to level up your content marketing game!
6. Video
Whatever results content marketing is bringing you, trust us video can leave all those numbers behind. 70% of businesses agree that watching a relevant and engaging video from a brand is part of their product research process. Now, you may already have blogs, testimonials on your site, instruction manuals, and everything. But want to see better and faster results?
Repurpose your content into videos so that the designs you painstakingly create brings you the results you need.
Videos in your B2B marketing make storytelling easier. Your customers can easily envision the solutions you propose, understand complex concepts, and retain that information longer with a video story.
For social media marketing too, video content brings you the highest engagement, reach, and conversions. Every social media platform is moving towards video, so start investing in this now.
7. Infographics
The biggest argument against the usage of graphic design in B2B marketing is that the details are more often than fairly technical. And that is why we present to you infographics.
Businesses want to see relevant and educational content from you. But we know that engaging an audience with this content is an enormous challenge. As a result, we highly recommend our clients to repurpose and reimagine their technical data, instructional content, and product specifications as infographics.
This way, the content is easy to understand and digest. Not to mention that infographics are highly shareable and play a major role in helping your company's SEO efforts.
Over 70% of businesses want digital interactions. So make your virtual pitching sessions and sales meetings easier with well-designed infographics.
Above are examples of B2B Infographics from the Kimp Graphics team. Looking to design infographics for your business too? Connect with the team today and get started with a free trial.
8. Product marketing designs
How many times do you get a chance to pitch your product in person? Hardly any, right? And what happens on calls? How many of your sales calls end with the phrase "Send me an email, the team will look it over"? Too many to count, yes?
Solving this problem and reducing friction from this stage of the sales process is easier than you think. When you know that the world is moving to digital sales presentations and emails, you need to make your content speak for itself.
Ensure that your flyers, catalogs, presentations, and product pages stand on their own. Leverage the power of graphic design to ensure customers call you back by just taking one look at them.
Your product marketing designs can:
Make your product shine
Break down the barrier of information between you and your customers
Reduce the workload on your sales team and allow them to close deals faster
Improve your conversion rates
Step up your B2B Marketing with Graphic design from Kimp
We think it is pretty clear that graphic design can change the face of your B2B marketing campaigns. Quite literally, too! We know how competitive this industry can be, and you know it firsthand.
Our unlimited graphic design subscriptions, Kimp Graphics and Kimp Video can help you gain an edge over your competitors and deliver world-class campaigns without breaking the bank.
At a flat monthly fee, we provide an expert team to cater to all your needs, unlimited design requests, and unlimited revisions. No additional charges on any of these services.
And we have a 7-day free trial for you to explore before you commit.
Sign up today!