6 Tips For Facebook Ecommerce Ads That Convert
Running a business on the internet is a dream for many. And this dream became a reality for many in the last couple of decades. Shifting consumer sentiment about online shopping, the growing infrastructure, and the increasing number of platforms facilitating these businesses has made this possible.
By 2021, at least 65% of the world population had made one digital purchase.
But, as the ease of doing business on the internet grows, so does the competition. So, if you want to ensure that your target audience notices you amidst the literal million other brands, go big. It is time to time to put your money where your mouth is and invest in paid promotion – aka advertising.
Speaking of online advertising, there is one platform you cannot go wrong with. And that is Facebook. It is one of the biggest social networks worldwide and has a global audience unmatched by any other platform.
Running Facebook ads for your e-commerce business is your gateway to reaching a diverse audience in the shortest time frame possible.
But creating the perfect Facebook Ecommerce Ads can be a challenge. There are many variables and factors to that process.
Understanding Ecommerce marketing, the sales funnel of a typical e-commerce business, and how Facebook ads strategies can make that easier.
So, with no further delay, let's get right into it.
Ecommerce marketing
Ecommerce stores can look easy to market, but ecommerce is one of the most competitive spaces out there. Personalized marketing is your best bet.
To that end you need to understand your target customers, their buyers' journey, and their needs at different stages of their interaction with your brand. This will allow you can give them exactly what they need when they need it. There are many third-party platforms, such as Google Analytics, Facebook audience insights, and AdEspresso analytics, to name a few that help you with this.
Before you venture out to advertising, this step is crucial. It is what makes your ads work. That and an excellent website.
We cannot stress the need for a well-designed and well-optimized website for e-commerce stores enough.
Building solid brand identity in the market lays the foundation for your success in Facebook advertisements for your Facebook ecommerce ads. And not just any ads. Ads that convert.
Facebook Ecommerce Ads
Yes, ecommerce marketing is a challenging task. But why pick Facebook for it when there are many other platforms available?
It is because Facebook is a unique and helpful platform. You can find a diverse audience, tailor campaigns to your sales objective, and get appropriate metrics to measure your success.
When you advertise on Facebook, you are targeting an active, engaged, and digitally accustomed audience. You can choose to measure from a wide range of metrics, such as reach, clicks, video views, page likes, engagement, and conversions, to name a few.
Facebook is also one of the most intuitive and profitable platforms for e-commerce ads, as the network allows you to grow a campaign from scratch and choose the audience you want to cater to.
Most social media platforms have one dominant content form, and businesses get forced to create campaigns only in that format. This can be limiting. But, with Facebook, there are no such limitations.
You can choose to use an image, video, product catalog, collection, or a series of images/photos to advertise your product. Facebook also has an excellent retargeting campaign that effectively captures your audience outside of the platform too and shows them curated ad campaigns.
In short, running Facebook ecommerce ads helps you build brand awareness, improve conversions, and generate higher ROI on your ad spend intuitively.
5 types of Facebook Ecommerce Ads you need for your Store + Best Practices
As we said before, the benefit of choosing to advertise on Facebook for your e-commerce store is creative freedom. There is an ad format for every product type. You can experiment, innovate, and explore until you find the ad that truly works for you.
Broadly, there are five types of Facebook ecommerce ads that can up your conversion rate. And they are:
1) Image Ads
As the name suggests, image ads feature a single image that carries the copy, the creative, and the Call-to-Action for your product. This is a budget-friendly ad type and is effective for generating interest in an audience that's scrolling through content.
Posts with images on Facebook perform better than those without, and the same goes for ads too. You can use these ads for showcasing products, new discounts, customer reviews, or giveaways, and much more.
Kimp Tip: You need the scrolling thumb to stop when it comes across your image-based ad. Choose a professionally designed ad that satisfies the platform's requirement and does a brilliant job in building brand recall for you, too.
Try a Kimp Graphics design subscription to leverage the principles of good design to make your ads convert better.
2) Video Ads
In the last couple of years, audiences have time and again chosen video content across platforms. In fact, video is one of the most engaging formats on Facebook too. A video ad on Facebook allows you to leverage this newfound interest in motion graphics and makes your ads work better.
According to Facebook, well-performing video ads must be less than 15 seconds with easy-to-understand visuals that can work without the audio too. Video ads are versatile, and you can use them to feature products, tutorials, USPs, brand stories, and customer reviews, too.
Kimp Tip: Video ads are a great way to improve the ROI on your Facebook ecommerce ads. But you need people to watch them in full and click where you want them. A clear intro, message, and outro with the CTA are key to that. Most times, it all comes down to the editing. With a Kimp Video subscription, you can ensure your Facebook ecommerce ads tick all the boxes.
3) Carousel Ads
Much like Instagram carousel posts, carousel ads on Facebook allow you to add multiple images or videos in a single advertisement. This opens up many possibilities such as featuring multiple shots of a product, a step-by-step guide, or even a large image broken into smaller frames for aesthetics.
You can include more information than you can in a single image ad and at a competitive cost compared to video ads. How cool is that?
4) Collection Ads
This ad functions as a digital catalog. In the collection ad format on Facebook, you can pick the category of product you want to feature from your ecommerce store. The ad works on a single screen with a cover image and a selection of related images in the following sections.
If you want an ad that works best on a customer in the conversion stage, this is your best bet. An ideal ad type for the "Shop Now" CTA, carousel ads are the best choice for purely sales-driven ad campaigns.
Kimp Tip: When you design an ad for higher conversions, everything needs to be perfect. The first impression has to be just right so that the audience clicks through the ad. For a collection ad, this means getting the cover image and the rest of the grid right. While the cover image has to speak of your brand, it is important that the other images follow the same design principles as well.
5) Dynamic Product Ads
If you have ever seen the same product ad on Facebook you browsed for an hour ago, you know what a dynamic product ad is. This ad type works heavily with the help of the retargeting tools Facebook owns.
For this to work, businesses must upload their product catalogs, including branding for individual files and the prices, so that the proper information reaches the customer accurately at all times. Dynamic Product ads have a high conversion rate if done well.
6 Tips for Facebook Ecommerce Ads that convert
There is a lot more to acing Facebook ecommerce ads' conversions than just understanding the types of ads. Kimp brings you a collection of tips that can guide your ad design and help you improve performance.
Let's dive right in.
1) Quality matters over quantity
Facebook ads are expensive for a new ecommerce business. And we understand the temptation to invest all the money in running those ads rather than designing them. DIY websites and freelancers look good when you want to improve ad spend to reach more people.
But the key here is not the number of people you reach, it is how many connect with your ad. Facebook's ad policy too recommends getting it right the first time.
So, spend time and resources in ensuring high-quality graphics, professional video editing, and the right sizing so that it makes an impact in the first go itself.
Did you know that with Kimp Graphics unlimited design subscription, you can create unlimited ads and get high-quality output each time?
Kimp Tip: A picture can speak a thousand words, and as per Facebook's 20% text-only rule, your image advertisement has to speak loud and clear. Graphic design and editing can ensure that the ad has a clear visual hierarchy so that the message is clear for all without using a ton of text.
The Kimp Graphics team can help you create ads where the audience notices the elements you want them to with utmost certainty.
2) Create as many video ads as you can
There is no limit to the effectiveness of a video ad. If your one video takes off, it is going to make it rain orders for your ecommerce store. With video, it is easy to convey complex emotions, show detailed product features, display social proof via reviews and testimonials, and engage an audience.
Video ads create an immersive experience that can do wonders for your brand. But, designing video ads can be tricky.
You must ensure that the video format is appropriate for your audience, simplistic, uses text overlays smartly, and has in-built captions so that it works without sound too. Video product ads are perfect for apparel brands, electronic products, lifestyle products such as skincare, makeup, or jewelry, and institutions as well. It is truly versatile.
Kimp Tip: The thumbnail and first five seconds of Facebook ecommerce ads make or break the entire experience. Design an attractive thumbnail that gets you clicks and the best intro that hooks your audience in. Talk a Kimp subscription for the best Facebook video ads for your ecommerce store.
3) Customize landing pages for each product
What do you want from your Facebook ads majorly? Sales and paying customers. So you have to focus on what happens after the click as much as the ad. If people don't take action after the click, it is just not going to bode well with the platform, too.
Now, if you want to know beyond any doubt that your Facebook ecommerce ads are working, direct them to landing pages. And make sure that they're designed to get you results just like your ads!
Design landing pages that are unique to each product the customer clicks on. This creates a consistent branding experience and reduces friction in the final sales process.
Check out Kimp's guide on landing page designs here.
4) Tailor ads to suit the buyers' journey
As we mentioned before, Facebook is one of the largest social networks in the world with a truly diverse audience. This means that it is a perfect miniature world where you can find customers in different stages of the buyers' journey. Some may know your brand and some may discover you for the first time here.
So, it becomes important for ecommerce stores to tailor their ads for each of the customers, at different stages of the buyer's journey.
Facebook also allows you to define your success metrics or campaign objectives based on the different buyer's journey stage you target.
For example, for a customer in the awareness stage, the ad must speak more about the brand and its value proposition than pushing the sale. If you want to make an impact on someone in the conversion stage, comparative ads are your best choice.
Tailoring ads to different buyers' journey stages improves the effectiveness of each campaign and fulfills the needs of the customer – and your brand – in the best way.
5) Repurpose high-performing posts
Are you worried about creating something new for your Facebook ad and it not performing as you hope it will? Well, do you have a really well-performing post on your page that you're looking for ways to boost further?
Look no further. You can easily repurpose that post into a Facebook advertisement that benefits your brand and builds traction for your profile, too. And repurposing does not have to be within the same format. You can convert a collection of images into a carousel ad, a video, or repurpose a blog into an animated post as well.
The options are endless, and all you need is a little imagination and a competent design team.
Kimp Tip: Sizing is very important in Facebook ads. Across the different formats, your content only works when it sticks to the guidelines in place. So, ensure that you publish the right size and redesign your images and videos to suit them well.
With a Kimp Graphics design subscription, you can get unlimited edits and repurposing requests with no additional fee.
6) Ad placements must guide design
We spoke of how versatile and flexible Facebook is for advertisements. The platform extends this benefit in ad placements too. You can choose to place your ad in the desktop news feed, messenger, mobile news feed, desktop right column, in-stream video, and audience network.
However, the catch is that not all of them have the same sizing, format, and design guidelines. So before you design your ad, finalize the placement. Also, you can only build visual flow in the ad design when you consider how the audience will view it.
When you draft the design brief for your Facebook ecommerce ads, ensure you include the possible ad placements so that the design team can take them into account. For more help with this, check out Kimp's guide to writing a design brief that gets you results.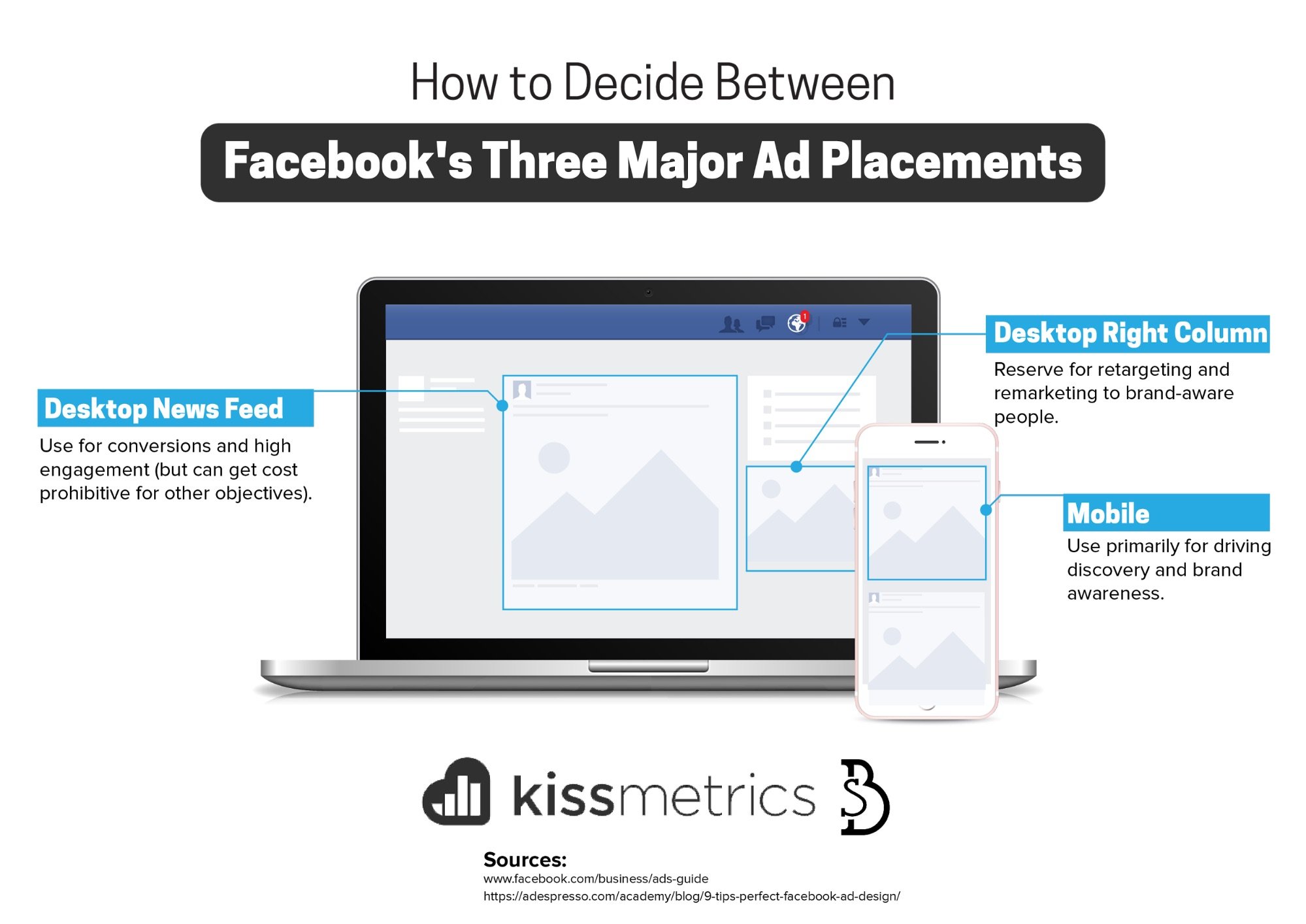 Choose Kimp to design Facebook Ecommerce Ads that convert
By now, you know that Facebook advertising is an essential part of any e-commerce business. But it is no piece of cake.
That's why having a professional design partner like Kimp is so important. Not to mention that with Kimp Graphics and Kimp Video subscriptions you can create unlimited designs with unlimited revisions, for unlimited brands, at a flat monthly fee.
Make Facebook advertising easier with Kimp for your ecommerce business.
Sign up for a free trial today