Use Facebook Shops To Sell Your Products Online
Isn't it great that businesses today have increasingly easy, affordable ways to sell online? Especially in the face of COVID, businesses need to be able to thrive and that calls for a greater need to broaden and reinforce their online presence and selling strategies.
Enter Facebook Shops. You can use Facebook Shops to set up a customized online store. If you're in the U.S. that is. The feature is still being rolled out more broadly.
"Sell from anywhere in your Customizable Online Shop"
This is the tagline that Facebook uses to roll out their latest feature. And these are the 3 main reasons you'll want to use Facebook Shops:
Customizable collections that will help you showcase your featured products
A single shopping experience that works on both Facebook and Instagram
Design features that personify your brand and give life to it
Facebook has shared some fantastic benefits, including those below:
It allows for a seamless shopping experience that lets your customers buy without having to leave Facebook or Instagram. 
A simple setup that allows you to customize your shop and collections in just minutes. 
The ability to build your brand identity through the use of fullscreen imagery and simple, but creative tools. 
People from anywhere in the world can shop from you through Facebook, Instagram or your Instagram Stories
You can also use "Meta Blueprint Courses" to help grow your business on both Facebook and Instagram. You can access these courses on the Facebook site . Once you have all the information that you need, the next step is to set up and customize your Facebook Shop.
Setting up your Facebook Shop
Setting up your Facebook Shop is not difficult, nor does it require you to be immensely tech savvy. Below you'll find a simplified overview of how to set up your Facebook Shop.
Step 01 – Go to your Facebook Page and set up the Shop page
Log into your Facebook business page, and you will need to have admin privileges. When you log in as an admin, your Facebook Shop page will be visible. While your customers will not see this separately, you will. You will see the Shop tab to your left, click that to begin the process.
Assuming that you cannot see this Shop tab, here is what you will need to do:
Go to 'Settings' and then to 'Templates and Tabs'
Find the area named 'Current Template'
Click on the 'Edit' button
Apply the 'Shopping' template
Step 02 – Set up the details of your shop
When you select the Shop tab you will be shown a pop-up. It will explain the setup process that you will go through. Once you have read it carefully, click on 'Get Started'. You will now receive a series of pop-ups, each of which, will ask you to fill in certain details that are relevant to your business. This includes business type, business address, the state where your business is located and your tax registration number. After each pop-up is filled click 'Next' to move forward through the setup. An example of a pop-up is shown below.
Finally, you will provide shipping options, return policies, and customer service email information. You can simply pick the right option from the ones indicated in this final pop-up.
There are a few key points to remember here. Facebook rules say that you must ship the package to your customer within 3 days of receiving an order. And you customer must receive their order in no later than 10 days (this is also one big reason why people like to shop on Facebook). You must use shipping services that have features like tracking as well as delivery confirmations. Your customer can cancel their order within 30 minutes of purchase, if it has not been shipped out. And finally, you are not allowed to sell to any country outside the one that your business is located in.
Step 03 – Configure your payment details
Based on your country out of where you operate, the Facebook Store will give you a specific set of options. You can choose to use your bank account details, PayPal or Stripe.
Step 04 – Add your products to your Facebook Store
Facebook will always encourage you to add your products first. You can easily do this by clicking on the 'Add Product' button. After that has been done, you will be given some options to fill out, but it will again differ according to the country that you are operating out of.
It is a must that you add your product photos and videos. The minimum needed would be one image. You can click on the 'Add Photos' option to upload your images.
The name description segments should be filled out based on how you want your customers to see your products. You can tell them, for example, about what makes this product special or what makes it stand out.
Give the correct pricing clearly.
Your inventory will help you keep a track of your volume of sales as well as the stock that you have.
When you are filling out the product details make sure that you also select from the shipping options that you selected at the beginning so that your customers know what to expect.
Tick the box that says, "Share this product on your page" it will then be easily visible to your customers as soon as you have approved it.
Set your visibility to "Public"
Click on the "Save" button.
Your product will be displayed as below:
Step 05 – Manage your orders
Order Management is not a feature that has yet been rolled out to stores worldwide. It is, however, available in the US and a few other places. If you want to know whether or not you have this feature, go to your Publishing Tools from the main menu. After you click on it, you will be able to manage your orders, check all details of each of them, communicate with buyers and see their info and finally complete your order. Whenever an order is placed, you are notified.
Ways to use Facebook Shop successfully
Once you have set up your Facebook Shop, you also need to invest in the strategies that would help you make the most of it. This means working on your Shop consistently and making sure that you don't leave things to happen 'by chance'. Here are some easy ways in which you can make this happen.
Have amazing Facebook ads.
If you are looking to get more customers and you want to increase your conversions from your Facebook Shop, you will also need to grow your Facebook audience. How can you do this the best possible way? Use Facebook ads!
Facebook has over an average monthly user base that exceeds 1.5 billion people and therefore is an integral component of the e-commerce world. It also happens to have the largest audience out of any of the social media platforms. Facebook also offers its customers a lot of value as well as potential reach. You can boost or sponsor Facebook posts to increase audience reach.
High quality Facebook videos and photos
The images that you post make up for some of the most important social media content about your brand. They also lend to the success of your e-commerce business. And so, it is important that you develop a strong brand strategy so that you can stand out from your competition. High quality product photography should entice and convince your customer to buy from you. The imagery should also be simple and clear as well as creative.
Post high quality and relevant content
You will be able to implement the two strategies above and get in more customers but on one condition – you keep posting consistently about your products. In the context of a Facebook Shop this means that you have to always keep updating your product descriptions, images, videos and anything else. It will also call for you to be creative with how you choose to showcase your products. Don't just say 'Buy Now'. Drive a sense of urgency, make your customer believe that your product needs to be part of their lifestyle. Showcase the great product reviews that you have. And educate your customers on the many ways your product can be used.
To help you get a better idea of the kind of audience that you will have access to, here are some statistics.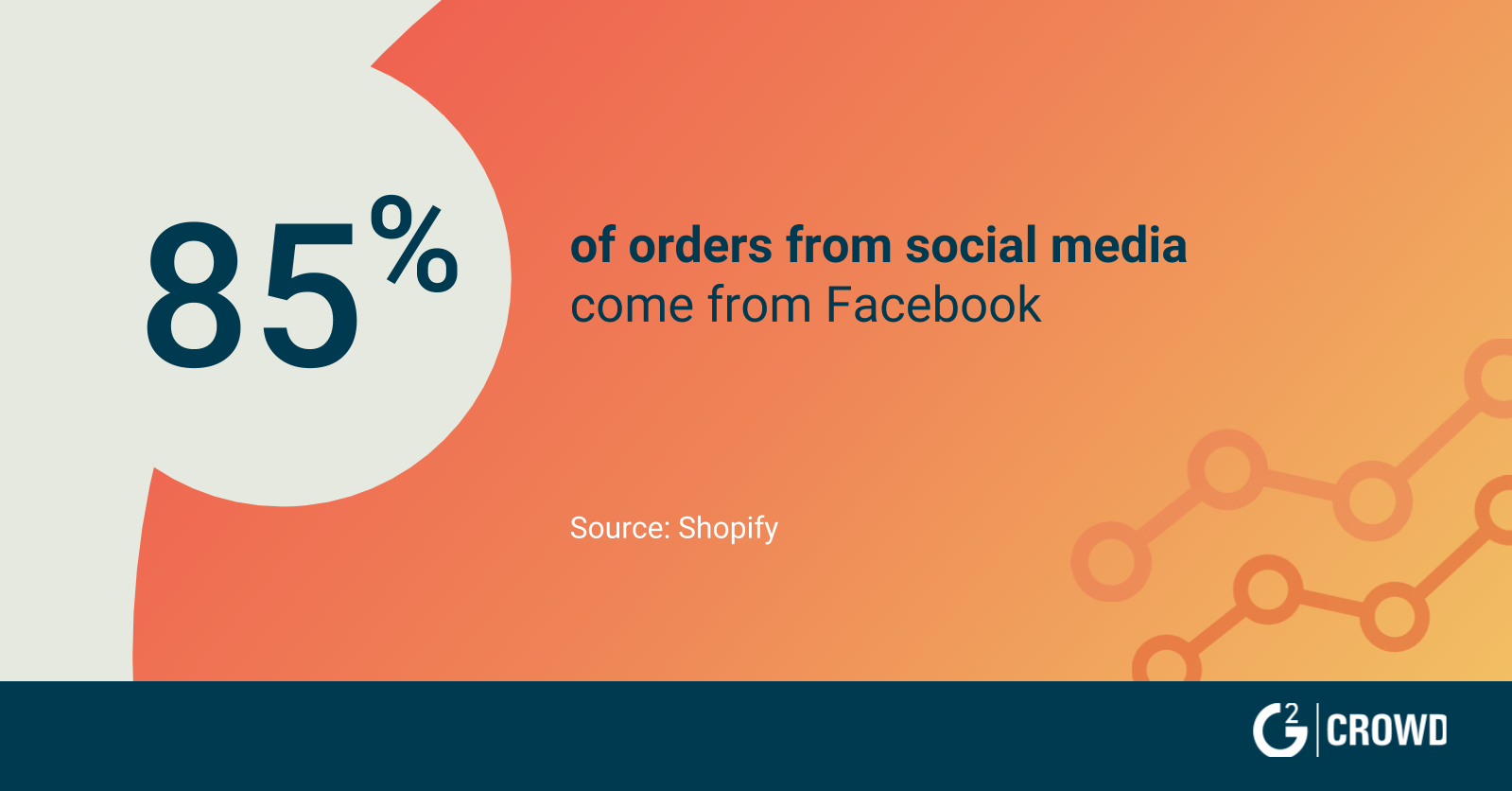 Mistakes to avoid in marketing with Facebook Shops
Not displaying a personal and relatable side of your business – you are going to be communicating with people and therefore, you need to be able to build that connection. You could add things like employee stories, upload the odd picture now and then again of your team and your workplace. It will add to the brand. You can also make use of Facebook Live to speak about your products and your business.
Do not make it about you – it is only if your content is engaging, relevant and informative that your audience will follow it. On LinkedIn you could share all the sales numbers to impress the professional network, but on Facebook, add a light-hearted but positive message to let your customers know that your brand is growing.
Not having enough variety among posts – have you taken a look at the social media imagery that you use? Do they all look similar to the point of being cookie cutter copies? That will not serve your business. Create posts with videos, humor, high resolution imagery and announcements on various exciting contests and the likes. You can also add in infographics.
Why you should use Facebook Shops
One of the main reasons as to why Facebook Shops has become so popular is that they also come with many benefits. Here are some of these perks that you can enjoy:
Customers will be able to leave reviews on your store page allowing others to buy from you (provided that you maintain good business)
Reach local audiences with your Store Traffic when you publish the correct content.
Easy access to a much larger audience at a lower cost.
Easy access to insights. If you have separate stores all of these will be also viewable separately and together on the main page.
Customize your collections so that your customers are able to gain a better idea of what you offer. This will also make your brand attractive.
You can literally bring your brand alive through the use of the right designs, content, and the right level of responsiveness with your customers.
Facebook Shops is linked to Instagram Shopping to help get your products across to your audience. Not sure how to? We happen to have just the comprehensive guideline for you to take a look at and start your Instagram Shopping experience on.
So what's the verdict? We say, try it out. Facebook is offering you a great way to build your business and the statistics seem to be talking loud about its success. Use Facebook Shops with creativie marketing and promotional strategies and we are sure you will be able to see those purchases increasing in no time.