Set Up Instagram Shopping To Help Customers Discover Your Products
Instagram has gone from being a hugely popular photo sharing app, to a driving force in ecommerce. The popularity of the platform has motivated many businesses to set up Instagram Shopping to try out its features and harness the benefits that it has to offer.
Instagram Shopping, will give your business an immersive storefront where people can explore the best products that you have to give them. With this Shopping feature, you can also share with potential buyers, any highlighted products, using your organic posts and Stories. And you can direct your customers to Search & Explore.
The platform has fast become the perfect marketing tool for e-commerce businesses. 83% of users stated that they discover new products and services on Instagram.
What does it offer you as a business?
According to Instagram itself, Instagram Shopping makes it possible for people to shop as soon as they discover something that they like. To give you a quick idea of what this offers your business, let's take a look at the many different aspects of the feature.
Shops – this is a customizable storefront that allows people to shop directly via the business profiles.
Shopping tags – this allows you as a business to use tags to highlight your products and services so that your customers would find it easier to shop.
Shop in Explore – dedicated to those potential shoppers who are looking to discover products and services. On explore tagged content from brands as well as creators are visible.
Collections – this is the best place for you to curate themes for your products and take an editorial point of view.
Product detail page – all of the information that is relevant to your brand's items like the pricing, descriptions and media will be indicated here. People will also be able to see how each product can be used in more ways than one.
Shopping ads – you can use this to reach out to your audiences at scale through boosting your posts in Ads Manager and drive your own website.
Checkout – this native feature allows customers to pay securely and complete the shopping process, without having to leave the app.
Shopping from creators – if you are a creator you can use this to let your followers shop looks that you inspired them with without leaving Instagram.
Product launches – this way you can announce upcoming products so that potential buyers can preview them and set up reminders to buy once the product is in stock.
@SHOP – this is essentially a real-time reflection of the community's interests spanning the leading shopping categories like beauty, home decor or fashion for example.
Have businesses actually succeeded with this?
Yes, they have. But it is normal to feel nervous when you are about to try out something new as a business and set up Instagram Shopping. That is why we're giving you some great success stories and statistical insights that you can make use of before you take the plunge.
If you are wondering why you should sell on Instagram, these statistics will help you make up your mind.
Success on Instagram isn't just dependent on what we do, however. It's also important to know what not to do. Neil Patel offers up these 7 marketing mistakes to avoid:
Not having a strategy that is goal-driven
Lack of a link in your bio that can drive clicks and traffic
Leaving your Instagram account on 'Private' settings
Posting duplicate images/photos continuously
Lack of responsiveness on your user comments
Focusing on quantity and letting the quality slip
Misusing the hashtags
Businesses that made it big with Instagram Shopping
Artifacia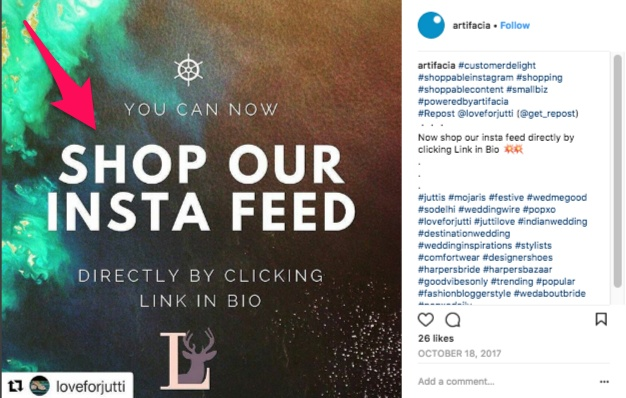 This business made complete use of all the great tools that Instagram makes available to businesses to let their customers know that their Instagram is shoppable. Take a look at this post below. Perhaps, you can get some inspiration from how they managed to pull this one off.
Dear, Klairs
This Korean beauty brand ran a campaign on Instagram that was used to test the impact of branded content ads as well as Instagram Shopping ads against campaign performance. The results? It brought in 1.8 times higher returns on their ad spend and a 41% increase in the number of people who were reached. You can take a look at their Instagram business page here.
Nordstrom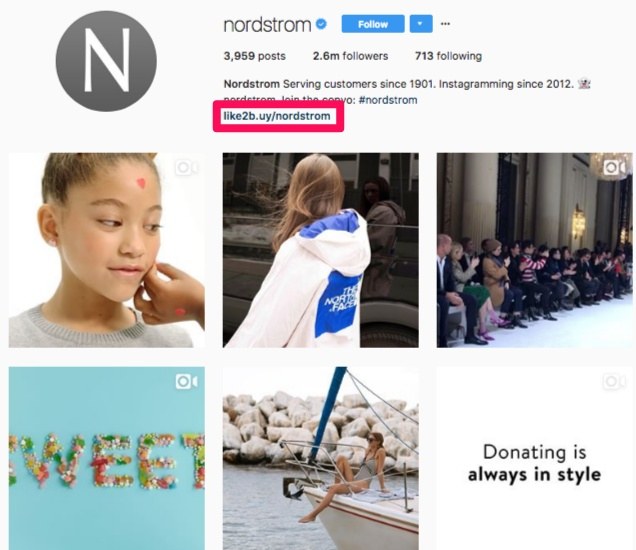 Now, it is also important to make sure that you build up a gallery of your products with high quality imagery on the page. It will help drive sales. Do not use any filters as that can actually distort the imagery and make your products look different. Customers do not like buying something and receiving something that looks different. In fact studies indicate that posting images of real customers using the products can get you more engagement.
In addition to this you'll want to give detailed and descriptive captions. Your customers want to know as much as possible about their potential purchases.
Set up Instagram Shopping
Now that you have an idea of what Instagram Shopping can do for you, it would be good to know how you can set up right? Here is a brief overview so you can get started.
There are a few steps that you need to follow here. Let's look at them one by one.
Step #1 – Confirm your eligibility
To qualify, Instagram asks that you fulfill these 3 requirements;
Step #2 – Convert your account to a business account
You can go through the steps indicated here, to change your personal IG to a business account. Once you get the business account, you will be able to add in the right information like your opening hours, the address of your business, a link to your website as well as the phone number.
Go to the business IG profile
Select the option "Edit Profile"
Under the "Public Business Information" section you can click on the "Page" option
Choose the Facebook page that you would like to connect the profile with
If you do not have one, you can also create a Facebook page. The option is provided
You do not need a Facebook Page Shop. You only need a Facebook Page.
Step #4 – Upload the product catalogue for your business
You basically have 2 options for this;
Step #5 – Go through the Account Review
Once all the above steps have been completed, you can submit your account for review. This process could take a few days so bear with the platform till they get back to you. The steps that you need to follow are;
Step #6 – Turn on the Shopping
Once the account is approved, you can turn on the shopping features. If you do not see Shopping in your settings yet, it could mean that your page is still under review or that it has not been approved.
Step #7 – Start the tagging
Once you have enabled shopping, you can add tags to highlight your products. You can get a step by step guide to this process here. You will also be able to see how you can put shopping stickers in stories on the same guide.
What other ways can Instagram help you with e-commerce marketing?
Once you've set up and optimized your Instagram profile, there are 3 main tools that can help you drive more organic sales. They can be summarized as follows:
The product tags in your posts – the tags that you use on your products will allow your shoppers to quickly shop from your catalog. More convenience = more shopping.
Product stickers in Stories – when you use these stickers in your Stories, it allows you to highlight and tag specific products, thereby creating more awareness and reach.
The Shop tab indicated on your profile – your visitors can find all of your tagged products in your Instagram posts as well as the content that features them.
What are some tricks that you can use to generate better sales?
You now know about the tools and the facilities that Instagram Shopping makes available to you. But even with all of that, your content will drive a lot of the sales in – or out. Here is a quick list of things that you can do to make sure that you get those sales in.
Use high quality product photos – no exceptions.
Convenience the customer and showcase your products to them as they are a part of a lifestyle.
Look for the user-generated content and curate that. For example, if customers are posting about your products on social media, use those posts in your strategy.
Are you ready to try out Instagram Shopping? It's something that can really revolutionize your e-commerce journey. It can help you boost your sales and also drive traffic to your website. The trick lies in how you leverage this to your benefit. The statistics and the success stories are on your side. It is a matter of getting creative, staying original and putting out the best that your store can offer your clients.