6 Ideas For Thanksgiving Email Marketing + Examples
Thanksgiving may be a holiday that's all about feeling warm and fuzzy inside, but Thanksgiving marketing is a race. Who reaches the customer first? What can you do to ensure your campaign is the one that sticks and converts into a purchase?
In this race, brands choose many approaches, such as different mediums, formats, advertising channels, and so on.
One of the biggest challenges for businesses during the holiday season and especially the Cyber 5 weekend that begins with Thanksgiving is balancing ROI. Advertising spots, both digital and offline, get crazy expensive and end up limiting marketers from reaching their entire target audience.
So you need something you know will connect with your audience without fail. And email marketing can be that X-factor.
The holiday season is the season to go all out, attract new customers, and try to improve your brand awareness to the most possible extent. But you should always connect with your existing customer database so that you can entice them back to you for their holiday shopping.
Given that Thanksgiving marks the beginning of the start of the big holiday season, it helps to hit the inboxes bright and early.
So Kimp is bringing you some tried and tested marketing campaigns so that you can begin your Thanksgiving marketing campaigns with the flair they deserve.
But before we move on to that, let's take a look at why email marketing is your ace in the hole for thanksgiving marketing.
Thanksgiving Email Marketing
With Thanksgiving marketing, you want to start early, and you want to use a channel that a customer trusts. Newsletters top that list because the audience opts in, and you can personalize it to any extent you want.
Marketers love email marketing with close to 80% of businesses relying on it for customer acquisition and retention. This is a favored channel for ecommerce stores and the brick and mortar fraternity. 
In 2019, 20% of online visits in the holiday season came from email marketing. Purchases from this route also had a 138% higher spend compared to other advertising channels.
Now that the lockdown restrictions are easing and customers are back in shopping mode with newfound enthusiasm, these numbers can be even higher for brick-and-mortar stores.
Another reason to leverage email marketing for offline sales is that people still aren't out and about more than necessary. The probability of them seeing a marketing newsletter is higher than a storefront sign or a billboard. The odds are better here, and the investment is cheaper too. It is a complete win-win.
Email marketing during the Thanksgiving and holiday season can make a great impact irrespective of the nature of your business.
So let's dive right into the process and ideas that can make your newsletters the best this Thanksgiving season.
Making your Thanksgiving Email Marketing stand out
It's November and that means Thanksgiving and Cyber week sales are fast approaching. Your customers are going to receive a ton of promotional emails. So how do you stand out? And how do you ensure that your emails truly add value to your audience base?
We have some tips on that:
Segment your audience based on location, age, demographics, customer acquisition channel, previous purchases, and more to send targeted emails.
Customers respond to personalized emails more than generic emails. So work with third-party tools to personalize your messaging.
Since email marketing is an effective method across the buyer's journey, plan to create specific emails for each individual stage. Your message must be able to create awareness, help the customer consider your product, and also refer to you post-purchase.
Include Emojis and intriguing words such as "Video" or "Infographic" in the subject line to improve your email open rate.
CTAs are not just for ending emails. For an effective conversion rate, especially in product-centric emails, it is best to distribute the CTA across the different sections so that customers do not have to wait till the end to move to the next stage.
Ensure that all your emails display as you intended on mobile.
Opt for high-quality visuals in your email in contrast to a basic design that is text-heavy. Images and videos are much more likely to affect the customer with your message than lines of text.
Kimp Tip: Personalization does not just mean including the name and details of the customers. You can even personalize the design elements and theme based on their demographics or interests.
Also, since you will send multiple versions of the same emails because of segmentation and personalization, work with your design team to create a basic template you can use.
Instead of opting for a template for the internet, you can choose Kimp Graphics' unlimited graphic design services to create unique, branded designs that generate more value.
6 inspiring Thanksgiving Email Marketing Ideas + Examples
With best practices in mind, let's now consider what ideas may inspire your customers to become repeat-customers. Again, Thanksgiving sets the tone for all your holiday marketing so it is best to start on the right foot.
Kimp has worked with thousands of brands and businesses in designing their holiday marketing campaigns right from Halloween, Thanksgiving, to Christmas. With our experience and expertise, we have compiled a list of ideas that can make your Thanksgiving email marketing a perfect hit.
So with no further ado, let's dive right into it.
1) Thank you emails
Starting with the obvious: you want customers to get into the spirit of Thanksgiving before you can actively start promoting your products. And what better way to do it than with thank you emails.
Now, you can be as creative as you want with these emails. Thank you emails can include:
A compilation of the best achievements of your company including a personal note to thank customers who helped you reach them.
A video of your employees sharing what they are thankful for this year – including your awesome customers.
How your favorite products can improve the Thanksgiving experience for you and your customers.
A simple holiday greeting thanking customers for their support during the pandemic.
Kimp Tip: Everyone likes pretty designs, especially when they tie to a theme. Work with your design team to create holiday cards, posters, and videos with undertones of Thanksgiving. If the employee video feels expensive to shoot, you can always create an animated video or get a video designed using photographs with the Kimp Video team's expertise.
Want to find out more about what you can get done with a Kimp Video subscription? Book a call.

2) Gift Guides
The holiday season is gifting season and, as always, people get tired just from browsing through all the options from the million brands out there. What if you were to present your audience with neatly compiled gift guides for different categories of people? It will solve an enormous problem for them, and you now have given them a mini wishlist to choose from.
Now, instead of just listing the products or linking to them, concentrate on making them engaging and easy to remember.
Use Thanksgiving themes and colors to connect with the audience and show why the products are perfect for holiday season gifting.
You can also work on creating personalized and category-based gifting catalogs that link back to your ecommerce store for easy conversion.
Kimp Tip: Holiday marketing must always have a sense of whimsy and fun in it. Animate your products with GIFs, or add holiday-themed illustrations in the gift guide to get in the spirit. When you have the Kimp Graphics + Video unlimited design subscription, these don't even cost extra, so why not go the extra mile.

3) Promotions and Offers
Over the course of your holiday marketing you'll launch many promotions, such as discount offers, giveaways, and referral bonuses. And so the logical step is to reach out to customers who have a prior connection to your business so that you can drum up sales early. That's the group that's most likely to jump on your deals.
Now, as with any offer or digital announcement, there are many steps to revealing these promotional offers to your customers.
You can start by creating teasers and countdowns that not just evoke the customers' curiosity but also ensure that they keep an eye out for updates. This ensures they don't miss your messages and they may even reach out proactively.
Kimp Tip: For the teasers and countdown, you can choose to evoke some holiday-themed images such as the turkey in the oven, fall elements – like leafs – surrounding discount codes, or revealing the countdown via animation. The key is to stick to a theme and merge it well with your brand identity.

4) Dynamic content
Once you've shared time sensitive details like coupon codes and promotional offers, update customers on the expiry dates or last dates for any offer. These emails are what we call dynamic content. While the email design and theme remain constant, the content will change every day.
You can create basic and advanced email templates so that your team can just input the changed value for the day to shoot off the email with no delay.
An interesting way to use dynamic content in email marketing is to send customers cart abandonment emails, product stock depletion, and also shopping reminders with a countdown of sorts to keep the urgency going.
Such elaborate campaigns show the customer that you have a business ready to cater to their needs and also improve brand recall. The more they see relevant emails from you, the higher chances of conversion.
5) Illustrated, non-promotional Holiday Emails
Taking the baton ahead from the Thank You emails, consider mixing your email marketing with non-promotional but still holiday-themed emails to your customers. Everyone's inbox is going to be full of discounts, offers, and product guides. Sometimes, a brief respite from all this can be refreshing. And that respite can come from you.
You can share an illustrated holiday greeting that customers can share with their friends and family. Illustrations are just the right combination of formal and informal design elements that will appeal to your audience in the holiday season.
Illustrations can also help you bring your brand closer to the customer base by using your company logo, mascot, or other branding elements in a memorable design.
Some other non-promotional holiday emails that work great in illustrations include promoting charity causes and sharing fun holiday stories for entertainment.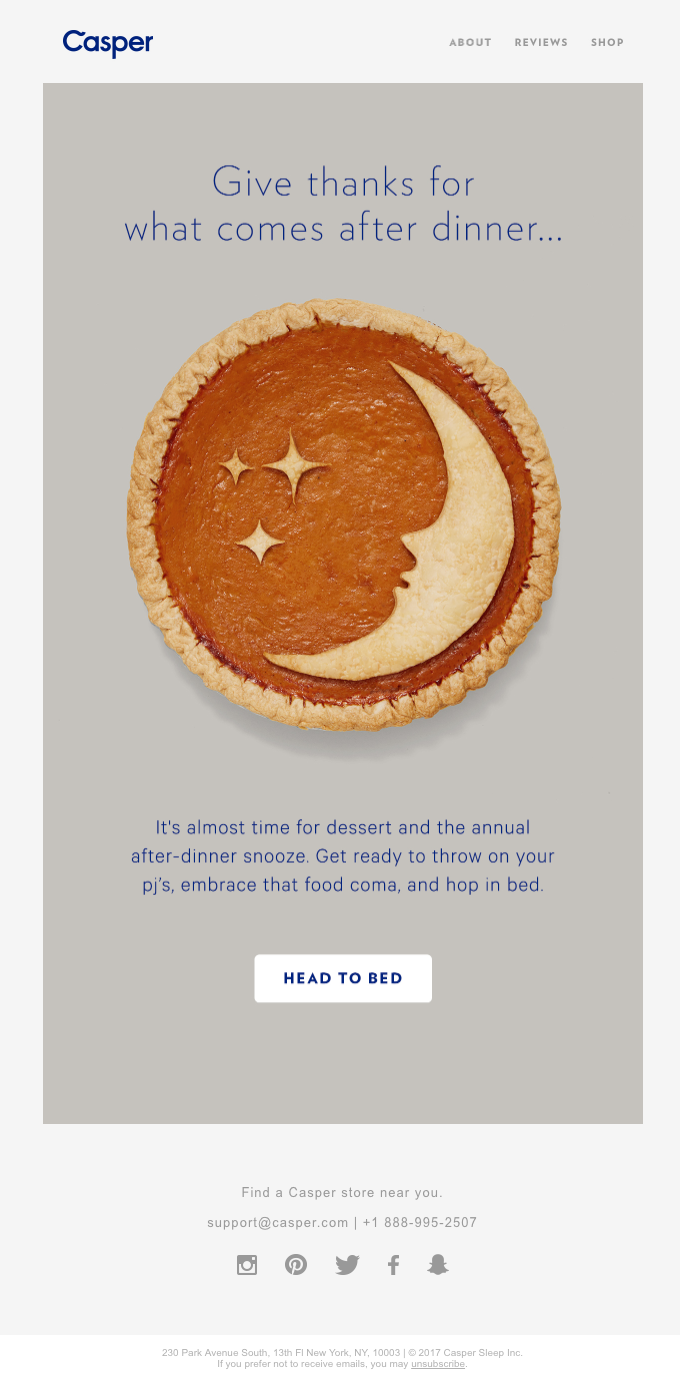 6) Holiday-themed educational content
Value-add emails can set you apart from your competitors by a mile. Educational content is always a hit across every platform because it aims at teaching rather than actively selling. For Thanksgiving email marketing, the same principle applies.
Given that this holiday usually entails a lot of work within a household, you can share informational content on:
Thanksgiving-themed quick and easy recipe ideas
Decor inspiration to set a Thanksgiving table that impresses guests
Products that make life easier before, during and after Thanksgiving
Outfit Ideas for Thanksgiving
These are just a few, but you get the gist.
Kimp Tip: If you want to take your educational content up a notch, we suggest the usage of videos or infographics to simplify the messaging. Instead of lines of text, opt for visual aids to transfer the message quickly. Your customers will appreciate it more than you think.

Enhance your Thanksgiving Email Marketing with Kimp
Thanksgiving email marketing is all about variety, consistency, and volume. And many times that can end up pinching pockets for an up-and-coming business. So unlimited graphic design services can really save the day.
You can create unlimited design requests for your email marketing campaigns, work with the design team to include animations and GIFs or even videos with the Kimp Graphics + Video subscription.
All these services come at a flat monthly fee with no additional charges or long-term commitment.
So what are you waiting for?
Sign up for the free trial today!