Everything You Need To Know About Pop Art Advertising
Why do brands invest so much of their time and resources in advertising? Sometimes even more than the product development itself? Is it just to tell the world about what they do? If so, why do new concepts and designs in advertisements break the internet every day?
It's because good marketing and advertising campaigns aim a little higher. They help customers to form an emotional bond with a brand. And to make brands relevant to customers' every day life so that brand recall and connection becomes more instantaneous.
What better way to do this than using the biggest phenomenon that connects every living person on this planet? We're talking about pop culture. A culture that derives inspiration from things that excite customers everyday. And includes art that celebrates it aka Pop Art.
Pop Art as a design style is not new. In fact, you can date it back to the 1960s ever since consumerism became a thing in the post-war world.
This design style is omnipresent. Right from the art world, to street design, to even things like interior design, Pop Art exists in many different forms. But if we had to give credit to one particular format for bringing pop art into the mainstream it would be advertising.
Pop Art Advertising is an effective marketing design strategy across industries today too. Understanding this unique design style and its power in advertising can help you achieve your goals faster.
So today, Kimp is bringing you a roundup of everything you need to know about pop art and how using it in advertising can enhance your campaigns.
The growth of Pop Art
Pop culture is everywhere. Just do a quick Google search and you'll find countless blogs and pieces of content decoding how popular movies, books, and social media have had a profound effect on our everyday life.
Pop Art was born out of the realization that pop culture can inspire, engage and move people when it is transformed into artwork.
Back in the post World War II era in Britain and America, it became an alternative to elitist fine art. For many, what was considered "fine art" was extremely disconnected from the realities of life as they knew it.
Meanwhile, Pop Art had a vivid color palette and drew on imagery and styling from comic books, popular products, movies, and other elements of everyday life.
Over time, Pop Art's presence grew with the advent of television and movie culture. In fact, the most common images featured in Pop Art from this era were of Marilyn Monroe, TV sets, and theatres.
Since the 1960s, New York city has hosted several art shows to showcase the work of very popular Pop Art designers. From then to now, Pop Art has only become more and more relevant and an extremely effective medium of communication. Trends have come and gone, but Pop Art has stayed constant.
Which brings us to the question you're probably thinking right now.
What makes Pop Art so attractive?
Right off the bat we can rule one thing out – the internet. Pop Art came about long before we were hitting like and share to spread the word about content we enjoy.
So what made Pop Art so engaging that it has transcended generations with ease?
First of all, let's get the obvious answer out of the way. Art that connects is design that works. And in this Pop Art takes the cake every single time. The references based on which artists build this design/artform is extremely special and personal to the audience. It has the ability to connect with them on a deeper level by evoking their sense of excitement, nostalgia, and fond memories.
In terms of design style, Pop Art was a bridge between fine art and everyday life. It made unique designs and novel artwork accessible to everyday, "normal" people..
Pop Art's design style uses vivid colors, unconventional shapes, lines, and patterns that immediately grab viewers' attention. They are truly stylized illustrations that take reference from pop culture and target a younger audience. Design styles that capture the imagination of a younger demographic of any culture have always stood the test of time since they can be quickly adapted. And this is a great example for that.
Pop Art Advertising – Best Practices
Advertising and marketing campaigns that leverage the power of pop culture, and the emotional connection people have to it, is known as Pop Art advertising. Some of the most popular Pop Art designers gained fame only after dabbling in ad design using the principles of Pop Art.
Advertising and marketing campaigns that leverage the power of pop culture, and the emotional connection people have to it, is known as Pop Art advertising. Some of the most popular Pop Art designers gained fame only after dabbling in ad design using the principles of Pop Art.
If you want your advertisements to be show-stoppers, and to attract attention from every passerby (digital and offline), try including Pop Art in your campaigns.
Here's what you need to know to get started with Pop Art in Advertising:
Connect with your audience using themes of materialism by featuring popular products either implicitly or explicitly. Pop Art is very versatile and allows you to connect with your audience using captivating images and minimal text.

For example, iconic images such as a chip bag, soup can, or a Pepsi bottle have been used successfully in Pop Art ads.
We spoke of how TV, movies, books, and comics inspire Pop Art a lot. Even before meme culture took off, artists and designers used references from popular content forms to lure audiences in and convey messages in a forceful and effective manner.

The usage of Marilyn Monroe's image in advertising is a prime example for this. So, borrow from the design palette, iconography, typography, and design styles of these popular works to make your design more effective. And try using custom illustrations to put your own unique spin on it.
When we speak of color in Pop Art, you may notice that the color palette in use here is quite different from what we see in other graphic designs. This is because saturated colors that mimic comic books, and movies, form the basis of these designs.
So, when you are using Pop Art advertising, ensure that the colors you use really pop and evoke some nostalgia and an emotional connection. If you are worried about how these colors will work in tandem with your brand identity, speak to your design team! They'll be able to help you explore how you can incorporate your brand identity and the Pop Art aesthetic.
Popular campaigns that use Pop Art advertising
Advertising brought Pop Art into the mainstream, first via Coca Cola ads. And the usage of Pop Art advertising has grown exponentially since then.
Customers have many touchpoints in interactions with a brand right from website design, to package design, signs, and billboards to name a few. While the usage of Pop Art in these formats is on the rise, the connection between advertising and Pop Art goes far back.
To experience the effectiveness of Pop Art advertising firsthand and see how it is done, let's take a look at some of the ad campaigns that use Pop Art.
Adidas' "Here to Create" 
Adidas is an athleisure brand that has a very massive young audience. The brand has a very deep connection to sports which happen to be a major part of Pop Culture. In one of the most iconic advertising campaigns, "Here to Create", Adidas put out a video ad in which Lionel Messi gets transported to a football field as a Pop Art version of himself.
Combining the live action of football with the whimsy comic-inspired Pop Art, this advertisement is unique, catchy, and makes everyone watch it on a loop.
The brilliance of this ad is that it steps up Pop Art advertising using animation and video design on a whole new level. It is like watching a comic strip in action, where the hero is your favorite footballer.
Fanta Mashup
FMCG products run very effective Pop Art advertising campaigns. Again the preferences of the core audience (a younger demographic) makes it easy to play with Pop Art. And the product itself is a huge part of everyday life so the style fits perfectly.
In this Fanta mashup ad, the brand played with the role of oranges in the drink while using vivid colors and design overlays to create a very engaging design. The thing about this ad is that, in other styles, the color palette may feel overwhelming. But the color orange is monumental for Fanta.
So Pop Art was a great choice that ticks off the boxes of brand awareness and design based on the target audience here.
Kia take on Pop Art
Kia is one of the most beloved automobile brands worldwide. In the ad below, Kia employs Pop Art but with a twist since it's an ad for a car. This is a refreshing break from conventional car ads that showcase cars in either rugged settings or in a showroom to highlight features.
But Kia here showcases its car in an environment built using Pop Art. The vivid colors and strong lines of the background do a great job in highlighting the car and its features. If you look closely, the car is always in motion on a plain terrain. This has the potential to become monotonous very quickly.
But Pop Art stops that from happening by holding the attention of the audience until the very end. This makes it that much easier for KIA to convey its message.
Upwork gets creative with Pop Art
Throughout the years, Pop Art has been known to be a medium that expresses a wide range of emotions through design. From anger, to humour, and even political commentary.
People find that this design style works best for conveying emotions because of the connection it has to storytelling.
Upwork created a very tongue-in-cheek ad following former U.S. President Donald Trump's troubles with social media. Now, the design does not state any names but the imagery, color, and style is enough to tell you all you need to know.
That is the power of Pop Art.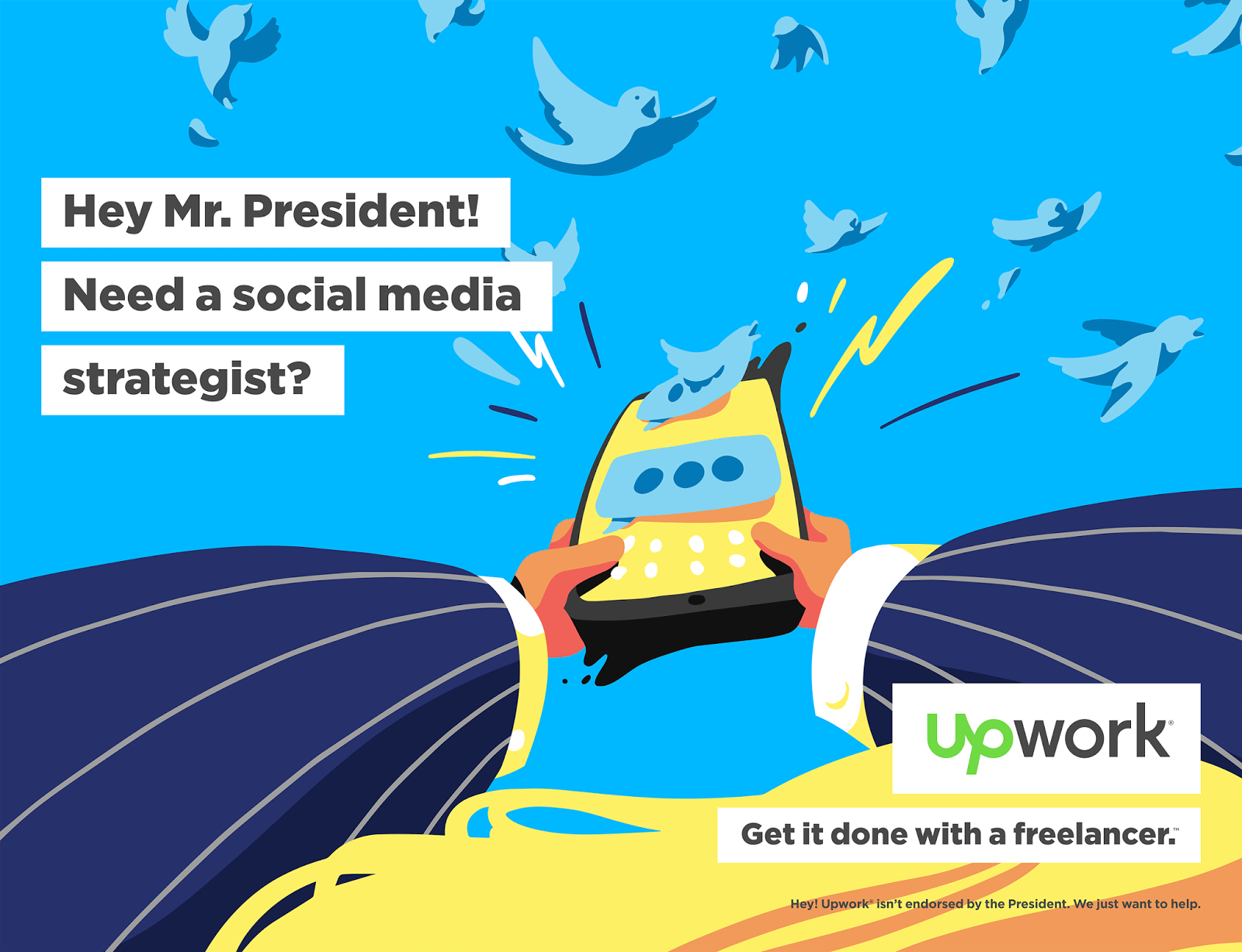 Try Pop Art advertising with Kimp
Who doesn't like creating ads that their audience adores, shares, and connects with? If you are looking for something of this sort for your brand, you have to come to the right place.
But deciding on giving Pop Art advertising a go is just a part of the process. You still need to balance the costs of hiring a designer for your ad campaigns, and getting a bunch of designs done to land on the right aesthetic for your brand.
Well, what if you didn't have to?
With Kimp you can get it all. Custom illustrations that combine your brand elements with Pop Art and awesome ad designs using your illustrations. You just need a Kimp Graphics subscription.
Need some video content too? Get a Kimp Graphics + Video subscription instead!
Sign up for the free trial today.