Are You Making These Critical Packaging Design Mistakes?
Packaging is one of the strongest tangible entities of your brand. It is the way your new customers experience your brand for the first time and your existing customers recognize your brand in a competitive market.
So, whether you are trying to impress new customers or retain existing ones or showcase your brand's core values to your investors and business clients, packaging has a strong role to play.
From the popularity of paperboard box packaging in 1817 to the thoughtful sustainable packaging trends of today, packaging designs have beautifully evolved over the years. Brands brainstorm a great deal about their packaging designs because these have the power to influence buying decisions.
So, it is important to understand the elements of good packaging. You should also be aware of the packaging design mistakes that can be devastating for your brand image.
Packaging Design Mistakes That Affect Your Brand's Growth
1. Boring boxes do not make an impact
A simple cardboard box is enough to keep the product safe during transportation. A plain label with your brand name and logo would be enough for your brand to leave a mark. Then why do you think even small businesses today spend so much time, money, and effort in creating unique packaging designs?
Unboxing videos have been growing explosively across social media platforms. According to Google, 62% of the audience of unboxing videos are people who are planning to buy that product. This goes to show that attractive and aesthetic packaging design has a direct return in converting potential leads.
So, stay away from boring boxes and switch to personalized ones. Simple changes like adding your brand color or patterns can be a huge makeover from a simple brown packaging box. Here is an example.
Kimp Tip: Professional packaging design teams can help you understand the many ways in which you can alter the design into an engaging one for your customers. And this is possible without a drastic increase in packaging costs too.
Sign up for a free trial of Kimp Graphics subscription and find out how.
2. Maximalistic packaging would not be practical
Of course, it is important to keep the product safe and also to add a personal touch. But that should not come at the cost of using excess packaging materials or delivering odd-shaped boxes to conform with the shape of your product.
One of the biggest packaging design mistakes is having too many layers of packaging. This makes the package difficult to open without damaging the product inside. As a customer, would you be interested in purchasing something if you need a toolkit to pry open the box in which the product comes? Products are supposed to make things simpler for customers and add value to them or save their time and not disappoint them.
So, keep the packaging material minimum and practical. As you see in the below design, for example.
Personalized customer-friendly designs do not have to involve too much material. It could be something simple like adding an easy-tear flap for customers to open the package easily. Or you can use a sturdy decorative box that customers can reuse.
The packaging designs of some brands turn out to be examples of how not to package a product or how not to go overboard with the materials used.
Amidst brands like these, there are others like Gucci that continue to impress with their minimalistic and practical packaging. In fact, Gucci's packaging is both sustainable and premium.
52% of online shoppers love to go back to businesses that offer premium packaging. Gucci's idea of keeping it premium while also incorporating sustainable materials is indeed an inspiration for several brands. Keep it simple and sensible and you are sure to make an impact.
3. Packaging redesign should not make your brand unrecognizable
Nearly 30% of businesses have noticed that enhancements to packaging design lead to increased revenue. At the same time, there have been brands that faced big losses after spending millions of dollars on packaging redesign.
Such a thing particularly happens with established brands where customers have become too accustomed to their packages that major changes might sometimes be disappointing.
If the new packaging does not make the same emotional connection it could do more harm than good. Also, if you unnecessarily add or remove materials that can affect the practicality of the packaging it might spoil the experience for your customers.
Another problem could be the use of an entirely different color scheme or drastic changes in logo position or design.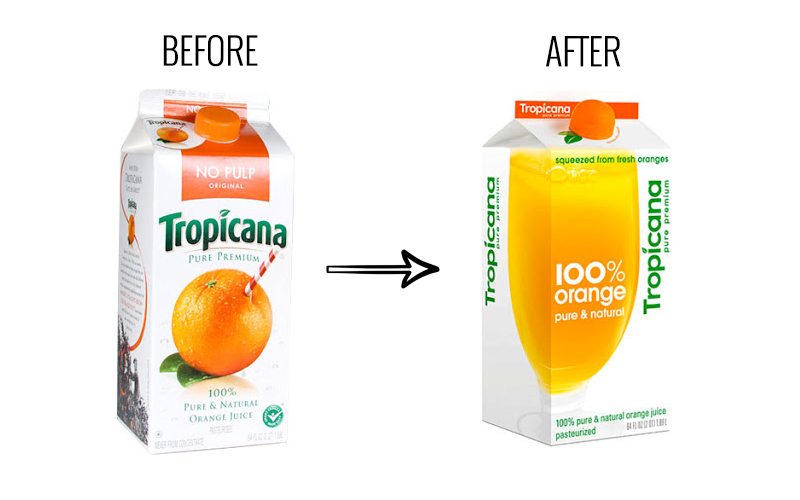 Tropicana's redesign in 2009 is the perfect example of packaging design change failure. The revamped package design was unrecognizable. After all the backlash and the drop in sales, the brand went back to its old packaging design.
4. Ignoring design trends can weaken your stance
Keeping up with the trends is as important as avoiding common packaging design mistakes. Changes to your packaging design do not always have to be huge – even small ones involving the graphics can make a big difference. You can make subtle changes to the design to make it relevant to the evolving trends.
The world's favorite potato chips brand, Lay's has always been a trendsetter in packaging design. The brand's 2019 redesign is an example of how established brands can continue to adopt new design trends without losing customers.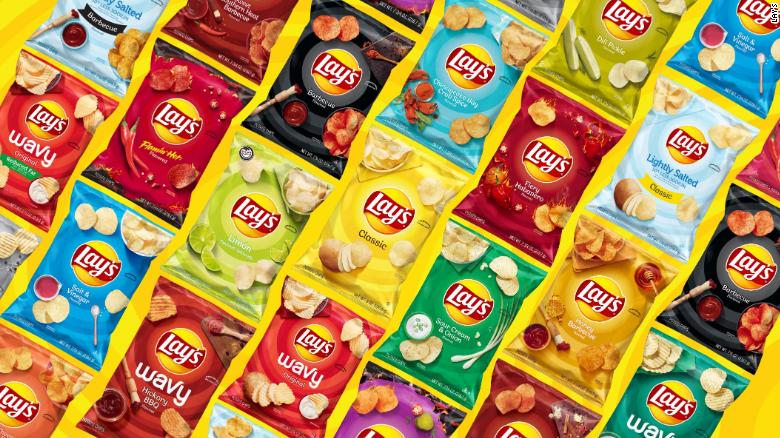 One big change in Lay's redesign was the use of "top-down" photography in its frontside graphics so as to keep it "insta worthy". This little change perfectly lined up with the brand's active social media presence and delivered a great packaging design lesson.
This shows that you can make small design changes to capture the attention of consumers across generations and still keep the package design familiar enough. A brand that continuously conforms to the changing expectations of customers is a brand that survives the toughest competition.
5. Not using sustainable materials makes your brand look bad
The package design is indeed an important aspect of packaging but the primary material used for packaging is even more important. With the growing concerns of global warming and plastic pollution from landfills, several brands are now switching to sustainable packaging materials.
Customers these days have great respect for brands that have an eco-friendly approach to packaging. Using excess materials or adding a plastic wrap layer inside another plastic layer will negatively impact your brand image in such cases.
When the Colgate-Palmolive brand was identified as one of the top names among the global brands contributing the most to the plastic packaging in landfills, the brand quickly responded by announcing its "2025 sustainability mission" as a move towards gradually eliminating the use of plastic packaging in its products.
You can always add your brand's personal flair to the packaging irrespective of the material you use. Using eco-friendly materials and adding a unique label design will be the way to make a statement in packaging design.
Kimp Tip: Some brands find it challenging to make their packaging look chic while incorporating eco-friendly materials. This is where simple personalization ideas like adding custom illustrations or a personal message to your customers would be helpful.
Want to add a personal touch to unique and eco-friendly packaging materials? Get in touch with the Kimp Team today.
6. Poorly designed labels don't convey the USP of your products
Some brands are skeptical about adding extra details to their packaging labels. So, they end up including just the basics like the brand name and ingredients. Do not assume that all your customers understand what your product is and know how to use it.
There is no rulebook that defines what shouldn't be printed on a label, so use your creativity to draw attention.
When you visit any supermarket, you will notice that products in the same category are arranged next to each other. If your brand sells something very common like packaged beverages, your products would be right next to many such similar products.
The little product details you add to the packaging design, about how your product is different from the rest would be that one attractive factor. Simple labels that tell why customers would particularly enjoy it, would encourage the customer to pick your product despite the many choices on the shelves.
The above design shows how adding essential details to your label improves the packaging design tremendously.
You see a lot of food item packaging designs with recipe ideas and serving recommendations today. Did you know that it was Quaker, the popular American food products brand, that actually introduced this trend? Way back in 1886, when brands were still experimenting with basic label designs, Quaker oats added a recipe for oatmeal bread in its oatmeal package. The idea was a hit because it showed consumers something new to try with oatmeal.
Kimp tip: Informative labels should not look crowded. Sometimes the proper placement of content is all it takes for a more practical composition of the label.
Wondering how to create informative labels that do not look too crowded? Get in touch with Kimp today.
7. Cramming up too many things on the label
Yes, we did say that it is essential to get creative with the elements in your packaging label but that does not really mean that you should add too many details and consume the entire label space. Do not ignore the "power of negative spaces".
The below minimalistic label instantly attracts attention.
When you try to add too much information to the label, you might have to switch to smaller fonts so as to accommodate the whole thing in the space available. If your fonts are too small and customers cannot easily read what's on the label, it can be a matter of losing out on the customer experience part. Or even worse, you end up losing your customer's credibility as they do not get the straightforward message of what's in the product.
Use legible fonts, add the essential product information, and a hint of creativity when you showcase the applications of the product and do all this without crowding up the label. A good idea would be to coherently work on your label design and packaging design so that they complement each other.
8. Ignoring branding in your packaging design means a missed marketing opportunity
Believe it or not, your marketing efforts do not end when a customer finally places an order. Marketing continues all the way until product delivery and beyond. Packaging designs play a crucial role in marketing too.
A few good things that can strengthen the branding impact of your packaging would be –
Clear contact details- like the contact number where customers can reach out for feedback
Your brand's social media handle- to encourage customers to interact with your brand.
To make sure that all these details do not take up much space you can also add a simple QR code to take customers directly to the intended links. Adding CTA's in your packaging would be a great way to increase customer engagement.
Another crucial element in your packaging design that will impact your branding would be your brand's personal touch. Look for creative ways to create a visual story – like using illustrations for example. One way to do this can be by adding similar themes in illustrations for each product line from your brand.
Another option is to have different batches of packages each with an illustration that has some connection with the illustrations on the other boxes. Together these illustrations would all form a beautiful story. By doing this, customers will be eager to try your other products as well, thus making this idea great for cross-selling.
Is Your Packaging Design Aligned With Your Branding Efforts?
Now that's the big question, isn't it? How do you really know whether your brand's packaging design justifies your brand image?
Use your social media pages- look for customer reviews on social media and see if there are any common complaints or compliments about specific aspects of your packaging.
If you have your doubts about specific elements in your packaging, use polls and social media posts to interact with your customers and gather real-time feedback.
When you have a couple of ideas in mind you can always ask your customers to choose the design they would like to see on your packages. It would be an even stronger approach to delivering personalized experiences.
In the age of ecommerce, people place their orders online and their products are delivered to their doorstep. There is hardly any room for direct interactions between brands and customers. So, how does a product-based business focus on customer experience when there is no channel to deliver this experience?
By making the most of their packaging design. Good packaging design will make your product stand out even in a competitive market. So, the money spent on professional packaging design will be an investment for the long-term growth of your business, and the best time to make this investment is today. Because working with professionals will be the easiest way to avoid expensive packaging design mistakes.
Avoid These Packaging Design Mistakes by Working With Kimp
Keeping up with the packaging design trends can be overwhelming for brands. The pressure of using sustainable materials, and delivering a delightful experience to customers – there is so much to think about. Working with Kimp's design team can simplify this whole process for your brand.
Sign up for a free trial today.