Snapchat Holiday Marketing: 7 Ideas Your Brand Needs To Try
In the marketing world, it is very easy to get comfortable, use the same channels, and cross your fingers hoping for the best. But remember, stagnation is not any marketer's friend.
You have to go boldly where no one has gone before and seek every member of your target audience. An old but newly popular channel to do this is Snapchat.
The platform marks ten years in the market as of 2021. But, it is only recently brands have realized its true potential.
Often dismissed as a young person's messaging platform, Snapchat today is home to over 280 million users daily. Most of these users are from the Gen Z and millennial population, who look to social media for purchase recommendations.
So in this blog, Kimp brings you a rundown of the Snapchat holiday marketing world with ideas and insights your brand can use.
But before we do that, let's take a look at the platform, and it's inner workings a little more in detail.
Snapchat – An untapped market for most brands
Snapchat is a social media platform that began as a personal messaging app where users could send photos and videos that disappear in a short time. Over some time, the platform added many features, such as Ads, Snap stories, Snap Map, and AR filters that skyrocketed its fame.
This platform is the epitome of ephemeral content (disappearing or short-lived content), which is all the rage now. And the audience base that favors it the most is Gen Z and millennials, who make up over 35% of Snapchat's users in 2021.
This niche audience base is wary of traditional marketing campaigns and seeks authentic and unfiltered content from brands before they engage with them.
The combination of these factors shows us that Snapchat is an untapped and underrated platform for brands to connect with their target audience base. A presence on Snapchat will allow brands to display their real side and engage with their customers who are looking for unique content.
That's why over the past few years, content creators, marketers, and most major brands have ensured that they spend considerable resources on building an audience here.
Why is Snapchat the place to be in this Holiday Season?
Yes, we know Snapchat is home to millions of users every day and has easily one of the largest Gen Z + millennial audiences across platforms. But why must you focus on Snapchat for your holiday marketing? We are sure this question is arising in your minds too, so we have the answers right here for you.
According to recent studies, brands can no longer dismiss this generation as young people without much purchasing power. Millennials alone have a spending power of over $1 trillion.
Also, Gen Z and Millennials rely heavily on social media for gift recommendations, so that makes it important that brands share this information with them on a platform they trust. And for many, that is Snapchat.
Marketing and advertising on Snapchat is extremely beneficial to brands as well. Snapchat's own study suggests that the Snapchat audience spends 1.6 times more than other social media audiences. And 72% of them are interested in promotions like Black Friday and Cyber Monday.
All in all, when you launch holiday marketing campaigns on Snapchat, you are communicating with a highly influential and interested audience. And that is a boon for any brand.
Snapchat Holiday Marketing: 7 Ideas your brand needs to try
Snapchat can be an intimidating platform for people used to polished platforms like Twitter, Facebook, or LinkedIn. Even for brands with an active Instagram content marketing strategy, Snapchat can be a little hard to crack in the beginning.
Imagine only creating Stories for your Instagram strategy and nothing else. It might sound a little limiting, but that's what Snapchat is all about. Moreover, Snapchat has quite a young audience with most of its user base being under 35.
This means that the content design and format you choose here cannot be the same as other platforms which have an older audience.
Since we have established that Snapchat is absolutely pivotal to your holiday marketing campaign's success, let us look at the content you should be creating.
The Kimp Graphics and Kimp Video team have put their heads together to bring you the top 7-holiday marketing ideas for Snapchat.
Scroll on to read more and get ready to begin your Snapchat holiday marketing.
1) Behind the Scenes content
If there is one thing you must know about Snapchat is that the more real you are, the more your audience will like you. Snapchatters look for unique and exclusive content they cannot see anywhere else. And showcasing Behind the Scenes action is the perfect way to deliver on that expectation.
For Snapchat Holiday marketing and influencing customers towards purchasing from you, this is a great avenue too. Seeing the hard work and effort that goes into product creation for small businesses and artists can inspire brand loyalty. This BTS content is not to immediately inspire purchases, it is a medium to create interest in your holiday campaigns.
Some BTS content to plan for your Snapchat Holiday marketing in 2021 includes:
Baking or cooking behind the scenes for food-based businesses.
Order packing behind the scenes for retail brands in lifestyle businesses such as clothing, jewelry, and makeup, to name a few.
The restaurant decor and cleanup BTS for the hospitality sector.
Installing festive decor in retail stores for small businesses and nonprofit firms.
If you have any new product launches or sale campaigns in the works, feel free to share the BTS of that process too.
Kimp Tip: In Snapchat, most people think you can only shoot real-time content, and that it is not a place to add designed content. Yes, that's true to some extent. But Snapchat also has the option of adding designed and edited content via the Memories option. Just ensure that you keep it authentic, and the editing is only to enhance the content's appeal.
With the Kimp Graphics + Kimp Video subscription, you can have real but edited content at your disposal for Snapchat holiday marketing.
2) Interactive Content
As the average attention span of the younger generation keeps going down with the overload of content, interactive content is your way to secure engagement. Instead of having your audience passively view the Snapchat stories you put up, involve them. Create Snaps and stories where customers become participants and actively engage with you.
We call such content interactive content, for obvious reasons. Now, creating interactive content on Snapchat can be easy if you know what your audience likes. So, for the first few times, you have to conduct marketing experiments.
To make your Snapchat Holiday marketing engaging, you can try interactive content ideas like:
Polls where customers tell you which product they like over the other. It engages them, and you get an insight into their preferences.
Animated designs of your products and services that encourage them to tap on the screen and engage.
Create a storyboard within your Snap stories where each slide is a piece of the bigger puzzle. The story narration will engage them to tap and stay with you till the end. And increased presence on your profile ensures you reach more people.
Kimp Tip: When you create interactive content, the copy and the quality of the image/video you use are of the utmost importance. It has to be visually attractive to hold the customers' attention for a long time. Use interactive elements such as emojis, doodles, and illustrations for best results.
With Kimp Graphics and Kimp Video subscription, you can be sure that every creative we deliver hits the mark at all times. Try our free trial to experience all that Kimp has to offer for yourself.
3) Social Proof
A major motive behind your Snapchat holiday marketing is to influence one of the largest audience bases in the current market scenario.
What better way to do it than to share the feelings of your existing happy customers? Social proof ranks highest in convincing customers and building trust for the brand amongst new customers.
Snapchat, being a real and personable platform, perfectly lends itself to this type of content.
Also, you have the liberty of choosing from:
Reposting user-generated content such as reviews, testimonials, and unboxing experiences from other platforms.
Creating a series of Snap stories from the reviews you received personally for a product.
Compiling a series of review and testimonial videos for Snap stories and advertisements.
Irrespective of what format you choose, interactive and Snapchat-worthy social proof content will always get a higher impression and engagement rate over others.
Kimp Tip: Wondering how to make your social proof content Snapchat-worthy? Always remember that customers look for a fun and unpolished narrative from you on this platform. So, try to incorporate emojis, stickers, and other fun elements to make it more personal than a formal video.
Work with the Kimp Video team to find the right Snapchat aesthetic for your brand and target audience. Book a call with us to know more about the subscription.
4) Snapchat Advertising
It is common knowledge that even if you have great organic content, investing in paid content or advertising pays off in the holiday season, And this holds true for your Snapchat holiday marketing campaigns as well.
With Snapchat, you can run advertisements on its gaming platform beside the typical story placement. Snap games' popularity is on the rise currently, and the option to opt-in or benefit from viewing an ad in the middle of a game seems to impress its users a lot.
For Snapchat advertising, vertical videos with full canvas work the most. These videos are the closest format to a typical Snap story and fit right in with the other Snap stories your customer is viewing.

Another format in Snapchat advertising for your holiday marketing is the collection ad format. You can use this similar to Instagram and Facebook's catalog or carousel ads to showcase four of your products, while also linking to your online store. Collection ads have a higher engagement rate than any other story and translate to a higher reach for brands.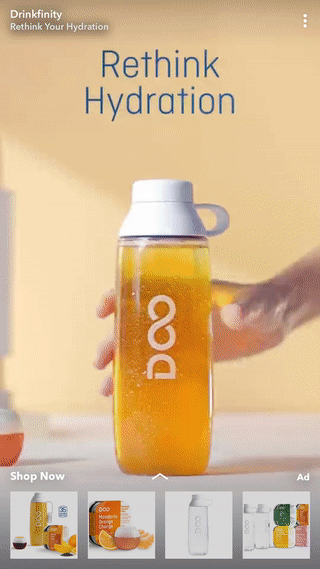 5) Branded AR Filters
If there is one thing Snapchat is popular for, even outside of its active user base, it is the extensive range of filters on that app. While we consider most of them for fun and entertainment, brands have jumped on this bandwagon like never before. And its popularity among the audience is just icing on the cake.
When you are looking to create branded AR filters on Snapchat for holiday marketing, you must ensure you maintain branding consistency. The filter must be a tool for raising brand awareness so that people not just engage with it but also start remembering you.
Some ideas for holiday marketing using Branded AR filters on Snapchat are:
Festive AR filters that promote your brand and inspire a lot of snaps during the holiday season.
Christmas decor related branded AR filters that promote a specific product.
Gamified AR filters so that you clock in a higher product awareness and engagement rate during the holiday season.
Kimp Tip: Designing an AR filter for your brand can be confusing, but it can be a very vital part of your Snapchat holiday marketing campaign. So ensure that the design style of the filter matches your brand's personality.
6) Freebies and Giveaway
Now, it is time for a holiday marketing favorite, and that is giveaways and freebies. Earlier in the blog, we spoke of how most Snapchatters look for recommendations on gifting and holiday purchases. One of the most effective ways to engage with this audience and interest them in your offerings is to host a giveaway.
You can encourage them to connect with your brand, invite friends, or create content using your branded AR Filter. This way, you increase the engagement rates of your profile while also spreading goodwill in the market.
You can also devise interactive and gamified content to host these giveaways for best results.
Another way to improve holiday sales via giveaways is to run catalog ads or deep-link ads on Snapchat that take people to exclusive landing pages with freebies.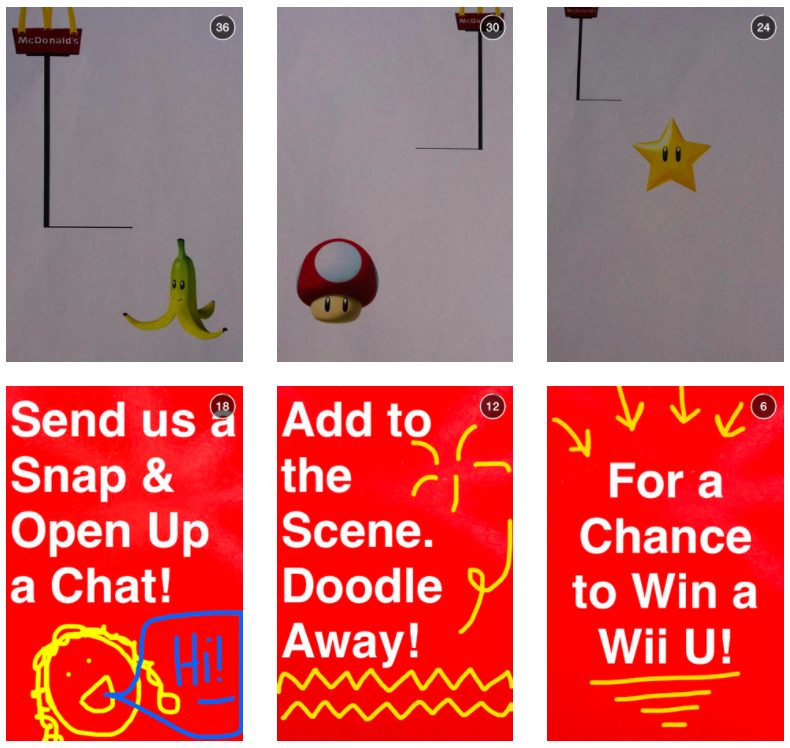 7) Promote Local marketing designs
Last but not the least, Snapchat is a great platform to promote your existing marketing campaigns in place. As a brand working on holiday marketing campaigns, you may have posters, flyers, storefront signs, and billboards all over town. What if you can use these existing creatives on Snapchat?
Yes, you can snap these and upload them on Snapchat for your local audience to know about your offline marketing campaigns as well.
You can also encourage your Snapchat audience base to snap any advertisement they may spot and share it with you. Even better, turn into a contest and offer discounts to those who take part. This will skyrocket your Snapchat reach in the holiday season and bring in new customers too.
Ace Snapchat Holiday Marketing in 2021 with Kimp
If Snapchat is new ground for you, or you want to really step it up this year during the Holiday season, we suggest focusing on your designs to get results. Snapchat is a very visual platform, and you have to be strategic if you want to get anyone's attention.
Snapchat holiday marketing needs a healthy mix of images and videos. What better way to create this than via the unlimited graphic design and video design service from Kimp Graphics and Kimp Video?
Request unlimited designs and revisions for unlimited brands. All at a flat monthly fee.
Sign up for the free trial to see how it all works. No time to delay, the holiday season is here.