How To Design A Holiday Gift Guide That Drives Sales
Preparing a holiday gift guide is one of the most effective ways you can prepare the busy season ahead. It will give you the chance to showcase your products, inspire your shoppers and remain top of your mind for those looking to get the right gifts for those on their lists.
That said, it is also important to know that creating a winning gift guide will require more than just rounding up your products and then putting them all into a catalogue of some sort. Rolling out gift guides is a tradition in the retail industry and this means that yours will need to be curated carefully and thoughtfully designed.
In today's blog, we are going to tell you about how you can do just that. Keep reading for some tips on how to set up and roll out a gift guide that will help you drive sales this holiday season.
What kind of businesses need holiday gift guides?
Regardless of the size of your business, you can use a holiday gift guide as a marketing tool. Holiday gift guides allow you to arrange your products in ways that highlight their features which is already a win. But you can also get creative with the other details that you include. Like suggestions for different types of personas, and recommending which items pair well together or with things that your target audience would likely already own.
The perks of a holiday gift guide
So far we've briefly mentioned some of the reasons why you should consider a holiday gift guide. Now let's take a deeper dive into why holiday gift guides are effective.
Engage with shoppers early on
Getting just the right holiday gifts for the ones that are important to you can be challenging and take up a lot of time. This is especially true when you are also juggling a lot of other seasonal activities and holiday plans. The holiday season may look different this year due to the pandemic, but no doubt families will still be maintaining certain traditions. Including exchanging gifts.
Taking all this into consideration, 54% of shoppers start their research about what to buy, as early as October. Most are motivated by avoiding the last minute rush. And of course making sure that the items that they have in mind are in stock, while also having more choice and selection. The earlier you get a holiday gift guide together, the earlier you can engage these shoppers. And they will appreciate your help too. This in turn can result in increased engagement and sales.
Help shoppers make a choice and increase conversions
The more you tailor your holiday gift guide to the needs of your potential customers, the more impactful it will be. Think about who your products or services are made for. And who might be buying them. Speak directly to the challenges they're facing and the personalities of those they're shopping for. There are a couple of audiences in the mix, so you'll need to cast the net a bit wider with your gift guide.
One way to do this would be to come up with a couple of versions, each tailored to a particular type of purchaser. Or to a particular part of the buying cycle. For example, a more detailed guide for those shopping earlier or wanting to do more research. And a summarized version that serves as a shopping list in the form of a social media post. Almost ⅔ of shoppers would like to have a curated shopping list that will help them shop for gifts easily. So it's definitely a tactic worth trying out.
Entice last minute shoppers with a lifeline
Many holiday shoppers end up having to make last minute purchases, or purchases under an enormous time crunch. In fact, 40% of shoppers will start shopping just 10 days before Christmas. A lot of these shoppers are waiting until the best deals get offered while others are just procrastinating. Whatever the case these shoppers need your help to narrow down options, and if you offer up the right discounts they'll be willing to make a purchase.
Consider rolling out a version of your gift guide tailored specifically to your last-minute shoppers. You can keep the layout the same, if you've still got everything in stock, and simply change up your headlines a bit and sprinkle in a few discounts.
Amplify your email marketing
Emails that feature gift guides generate 48% more transaction potential as compared to other emails. So be sure to include your holiday gift guide, either in its entirety, or snapshots of it, when you send emails to your subscribers. It's content they're looking for, and it's content you want them to engage with, so put it at their fingertips.
With other emails you may be providing information or offers that your subscribers may or may not engage with depending on the time of year, and when they typically buy your products. But around the holidays you can be sure that people want and need promotional offers and recommendations for gifts. So your holiday gift guide can serve as a way to connect with your audience and provide them with direct and immediate value.
It's the gift that keeps on giving
Once you design a holiday gift guide there are a ton of ways you can repurpose it. Videos, social media posts, infographics, blogs, and emails are just the beginning. In this way, you can use it to inspire and engage your audience on a continuous basis, throughout the holidays. From early planners and shoppers to last minute shoppers, you'll have them all covered with your gift guide.
Now, with all this in mind, let's see how you can put together a good holiday gift guide.
Creating a holiday gift guide that works
Review your sales data and trends to select products to feature
Using data to decide which products you should include in your holiday gift guide is the best way forward. Take a look at your metrics to confirm your top sellers and pick out the items that will make for amazing presents on their own or as part of holiday bundles. Include those in your gift guide. Try organizing the items based on who they would be good for, and including a general section for "gifts everyone loves".
Shopper segments and market trends
Your gift guide should definitely appeal to the various segments of your customers. To help with this try pulling up your sales metrics and looking at any data you have about the types of customers who are purchasing each of your products. For instance, if you can segment your customers based on their gender, you can then use that info to curate gifts for him or her.
When it comes to market trends, you're looking at the bigger picture. What are the styles and activities that are most popular with your target market? Are there any trends or even products that everybody seems to be really liking? Get insight into this and incorporate these trends and products into your gift guide where possible. For instance, if something you offer pairs well with a trend, lean into it with your messaging.
Ask your customers on social media
One very good way for you to get genuine feedback on what to include in your gift guide would be to conduct a survey or poll through your social media profiles. Just ask customers what they would like to have as gifts themselves. Or which gifts they'd be most likely to give.
If you're thinking of rolling out a seasonal product and aren't sure if it'll be a boom or a bust, a poll can help you out with this as well. Check out the example below of how this can be done. Try reaching out to customers on Facebook, Twitter, and Instagram in particular. Or the social media profile that you have the most engagement on.
A guide to your gift guide content
Now, you've got a sense of how to figure out which products to include. So let's chat about your messaging. First off, keep your holiday gift guide title short and to the point. You'll be able to expand on this a bit with an accompanying blurb that provides your audience with an idea about what's in your guide and why they need to check it out. Aim to make this a short blurb, of approximately 100 words.
After your main title is sorted, think about the titles and descriptions for each section. Let's say that a particular page or section is for gifts that are meant for toddlers – make sure that this is clear in the section heading. Within each section you that's targeted to a particular segment, you may want to want subheadings as well. For instance, 'Gifts for her under $30.'
Map out a rough layout
There are basically two formats that a detailed holiday gift guide can take on:
A PDF version that will allow for the guide to be viewed online or downloaded.
An on-site version where your guide is created as a new page.
If you have the time and resources you could even tackle a microsite to focus on your holiday gift guide. To give your designer the most detailed brief possible, try sketching out your ideas of how your guide should be laid out. Your primary goal here is to indicate how products should be grouped and arranged relative to one another. You can then organize all of your text descriptions, links to product pages, and images by naming them so that they correspond to your sketch.
If you've got a brand style guide, be sure to share it with your designer. And you'll definitely want to share examples of your branding from your social media profiles to your website. If you've given holiday gift guides a go in the past, provide examples of your past designs and highlight what worked or didn't work. The more information you can provide your designer, the better they'll be able to design your guide.
Collaborate with your designer
If you do not have an in-house designer, you can always work with an unlimited design service like Kimp, to get your guide ready. Or if your in-house designer will be swamped in the holiday rush. With Kimp you get unlimited revisions so you can repurpose your guide design as much as you'd like.
Whichever route you go, be sure to communicate clearly with your designer and provide context so that they understand how your audience connects with your brand and your products. If you don't already have a gift guide that you've done in the past to share as an example of what you're looking for, search for one that embodies the general look and feel you like.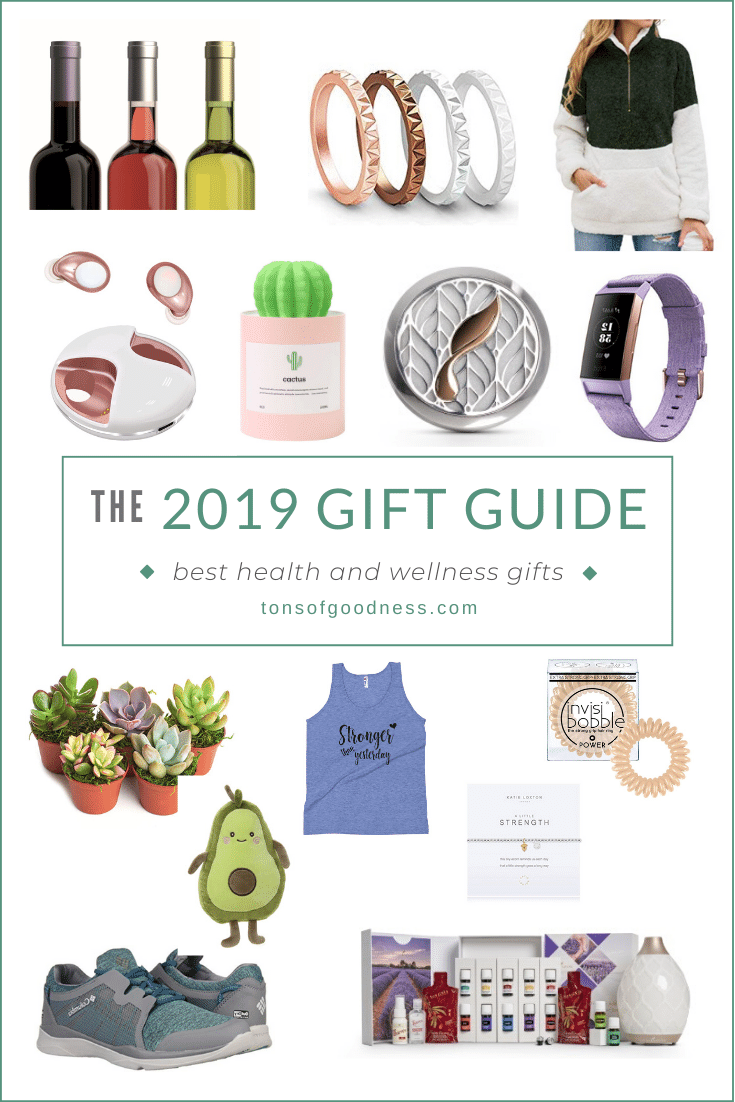 Your gift guide should look good on different channels and platforms
Your holiday gift guide will likely be viewed on different platforms and channels, and via different devices. This means that you need to make sure your design is sized appropriately wherever it's being shared so that it consistently looks good.
If you have a brick and mortar store you might be interested in giving out physical gift guides that shoppers can use while they're in store, or can peruse at home. If that is the case, be sure to choose high-quality paper when printing. This will reinforce the importance your brand places on details and entice them to hang on to it rather than chuck it after one glance.
And when it comes to the images you incorporate, regardless of whether your guide is physical or digital, aim for large, high-quality images.
Where can you promote your holiday gift guide?
You can promote your gift guide across many different channels. You just need to know which mediums would be more likely to get engagement and views. To determine this take a look at your social and web analytics to figure out which channels are performing at the highest levels.
Include some video
Video content performs well across all channels. So consider repurposing your gift guide through some video content. You can create videos for each segment in your guide. Or you can do a countdown of the different products you've included, and why they should be considered. The example below is of a video gift guide that was done by Bed, Bath and Beyond. This retailer did a very quick video that gives its customers a sneak peek of the products they have and the people who they know will appreciate them.
Use your social media channels
You can actually use your social media channels to promote your guide before it's even ready. Do a countdown or a series of teaser posts – or both! Once your guide is ready to be repurposed, create posts that you can use to promote your guide across your different social media profiles.
Be sure to try a variety of approaches including videos, Story posts that offer sneak previews, daily tips, and time-sensitive promos. When it comes to paid ads be sure to try out carousel ads. They have high engagement levels and entice consumers with the option to flip through a bunch of different products and promos at once.
Use every bit of your website
Another great way to promote your gift guide would be to use your website. Update your hero images, and add some banners that direct site visitors to your guide. And for those who've come to your site from your guide, consider adding pop-ups that include recommendations or offers to give your shoppers a little nudge. Make sure that your messaging emphasizes that your holiday gift guide has been curated carefully with their needs in mind.
Blog about your holiday gift guide
Your blog is a great space to raise awareness and also give people tips on how they can use your gift guide. You can do a series of blogs that will create excitement and give people useful information on what they can get out of your guide. Use attractive images and capture the best parts of the guides in your blogs. Try using titles like these to get your audience's interest:
'what we have in store for you for the holiday'
'how to use our gift guide'
'why our gift guide is all you need for Christmas'
Promoting your holiday gift guide through guest blogs on relevant sites is another strategy worth considering if you have the time and resources.
Start building your holiday gift guide
We're in the home stretch for 2020, and the holidays will be here before you know it. So leave the procrastinating to your last-minute shoppers and get going with your holiday gift guide. To really leverage it and get the most out of repurposing it you'll need as much lead time as possible. But in the end it'll be well worth every bit of effort when you've helped your customers in meaningful ways, and generated some sales in the process too!